Keep up with the latest hiring trends!
The untapped tool for creating lasting client relationships

Welcome to SocialTalent's Live & Learn Series!
Each week we gift you with a little bit of info that will help smoothen your recruitment process and expand your knowledge of your industry.
With this Live & Learn series we promise to keep it:
Short
Simple
Ready to use!
Sound good to you? Let's begin!
How to make great conversations
Can you create serendipity? What is the value of finding out the hobbies and interests of your potential clients? The best recruiters know how to make the most of coincidence, and even create it for themselves.
Key Takeaways
Serendipity, or the perception of such, is a brilliant tool for creating and maintaining client relationships that last.
Topics like universities, LinkedIn posts, influencers and hobbies are great sources of insight to drop into conversation.
Google news is a brilliant resource for gaining information about the company and sector of your client
We have a video library that is packed with tips to help you fine-tune your hiring process. Check it out!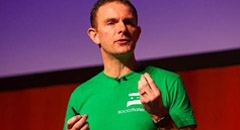 SocialTalent Recruiter Academy
A full library of videos that can help your team transform their hiring process
Find out how the likes of IBM, IKEA and Siemens
drive hiring excellence with SocialTalent
---