Keep up with the latest hiring trends!
Employer Branding Tips (From A Marketing Department)

For marketers (like the one writing this blog), it can be hard to let go of the company branding and messaging, to open it up to collaboration, but as businesses change and transform, employer branding has expanded it's role to the entire business. One of the most note-able collaborations is between the marketing team and in-house recruiters / hiring managers. There is so much that the SocialTalent marketing team has learned from recruiters when it comes to branding, so read on to benefit from our experience (and learn from our mistakes!)
You need to collaborate
We know as well as anybody that marketing teams can feel like a bubble. While we're busy writing ebooks, industry guides, blogs and other materials, we can become a little disconnected from the actual day to day of the company. Big picture marketing doesn't reflect the culture on the ground, so it's essential for businesses to promote a culture of collaboration when it comes to employer branding.
Recruiters and hiring managers can picture in their minds the ideal candidate for an available position, be it sales, customer success, operations etc. Recruiters and hiring managers are in the ideal position to provide a brief to their marketing department outlining the ideal candidate, and suggesting potential messaging. The marketing team then have great direction to do some magic (if we do say so ourselves…).
Employees have authentic voices – use them
As a brand social media manager it hurts to say this – but people want to engage with people, not companies. Take a look around your office – you're looking at the greatest employer branding resource you have. Who better to speak to the culture of your company than the people who work there every day. Hiring for sales roles? Take a salesperson out for coffee and chat about their job – chances are there are challenges and rewards that recruiters and marketers have never even considered.
Broad company messaging is well and good, but if a salesperson is looking for a role in your company, they want to learn about that role from their potential team mates, not from big picture leadership or marketing teams.
No company is perfect, don't pretend yours is
Even if you love where you work, no job is perfect. If you focus too much on the positive aspects of your company's culture and completely ignore any flaws, it will show. Trips abroad are great, as are quarterly parties and office ping-pong tournaments, but the day to day grind is the majority of your work day – so show it!
Making an employer branding video / writing a blog / interviewing members of your team? Ask them about the challenges they face in their roles. Working to impossible targets may sound like a nightmare to some (it does to me), but others embrace this as a challenge. Spending the day reaching out to people on sales calls sounds like it's very own circle of hell to me, but our SocialTalent salespeople live for the grind. Embrace the challenges and you're guaranteed to weed out the unsuitable candidates at the start, and attract those who can love rising to these challenges.
At the end of the day, as long as you can convey that the good outweighs the stressful in your workplace, you're doing employer branding well. Want to learn more tips for attracting the right kind of candidate? Click the link below t learn about the SocialTalent recruiter academy!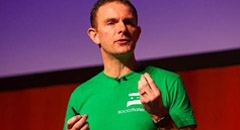 SocialTalent Recruiter Academy
A full library of videos that can help your team transform their hiring process
Find out how the likes of IBM, IKEA and Siemens
drive hiring excellence with SocialTalent
---