Keep up with the latest hiring trends!
/
/

7 Books Every Recruiter Should Read
7 Books Every Recruiter Should Read
We're always reading something here at Social Talent HQ. Our shelves are constantly filled with chunky titles and we're always on the lookout for books we think could be of use to our blog readers and the wider recruitment community. And we thought these books matched that brief perfectly!
P.S. Click the book covers to buy the books from Amazon.com.
1. WORK RULES!: Insights from Inside Google That Will Transform How You Live and Lead by Laszlo Bock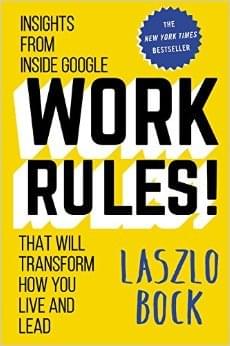 "We spend more time working than doing anything else in life. It's not right that the experience of work should be so demotivating and dehumanising." So says Laszlo Bock, Head of People Operations at the company that transformed how the world interacts with knowledge; Google. And it's that insight that is at the heart of WORK RULES!, Bock's compelling, insightful and surprisingly playful manifesto that offers a number of lessons anyone in business can learn, including:
Don't trust your gut: Use data to predict and shape the future
Hire only people who are smarter than you are, no matter how long it takes to find them
Learn from your best employees – and your worst
Pay unfairly (it's more fair!)
Default to open – be transparent and welcome feedback
Drawing on the latest research in behavioural economics and a profound grasp of human psychology, WORK RULES! also provides teaching examples from a range of industries including lauded companies that happen to be hideous places to work and little-known companies that achieve spectacular results by valuing and listening to their employees. Bock also takes us inside one of history's most explosively successful businesses to reveal why Google is consistently rated one of the best places to work in the world, distilling 15 years of intensive worker R&D into principles that are easy to put into action, whether you're a team of one or a team of thousands!
WORK RULES! shows how to strike a balance between creativity and structure, leading to success you can measure in quality of life as well as market share.
Our verdict:
In a word? Excellent! Read it if you're looking to build a better company from within rather than from above or read it just to reawaken your joy in what you do. WORK RULES! is well researched, well written, and a joy to read. EVERY recruiter should sit down with it in 2016. That's why we've named it Social Talent's Book of the Year for 2016.
2. Good to Great: Why Some Companies Make the Leap… and Others Don't by Jim C. Collins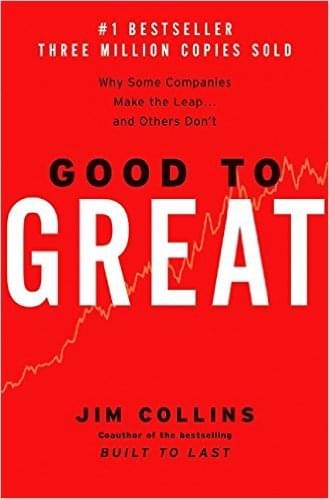 How can good companies, mediocre companies, even bad companies achieve enduring greatness? What are the universal distinguishing characteristics that cause a company to go from good to great? Those are the 2 fundamental questions Jim Collins aims to answer in his book Good to Great.
Using tough benchmarks, Collins and his research team identified a set of elite companies that made the leap to great results and sustained those results for at least 15 years. They then contrasted the good-to-great companies with a carefully selected set of comparison companies that failed to make the leap from good to great, in order to find out what was different and why did one set of companies become truly great performers, while the other set remained only good.
After sifting through mountains of data and thousands of pages of interviews, Collins and his crew discovered the key determinants of greatness, including:
the type of leadership required to achieve greatness
the curse of competence
why a culture of discipline with an ethic of entrepreneurship, results in magical alchemy
how Good-to-Great companies think about the role of technology
why those who launch radical change programs and wrenching restructurings will almost certainly fail to make the leap
"Some of the key concepts discerned in the study," comments Jim Collins, "fly in the face of our modern business culture and will, quite frankly, upset some people."
Our verdict:
Thought-provoking findings you can't afford to ignore.
3. The Talent Code: 
Greatness isn't born. It's Grown
 by Daniel Coyle
This truly fascinating book tells the story of how journalist and New York Times bestselling author, Daniel Coyle, visited 9 of the world's greatest talent hotbeds – tiny places that produce huge amounts of talent – and the pattern he found that's common to all of them.
From a small music camp in upstate New York to an elementary school in California to the baseball fields of the Caribbean, Coyle found that certain methods of training, motivation, and coaching, were all being used in these places to grow extraordinary talent. This pattern, which has to do with the fundamental mechanisms through which the brain acquires skill, gives us a new way to think about talent — as well as new tools with which we can unlock our own talents and those of our children.
Our Verdict:
If you've ever wanted to improve an aspect of your life, be it a sporting technique or something you do for work every day, you NEED to read this book. Coyle removes the mystery that surrounds true talent and gives you access to mechanisms that will help you unlock your own talents (even some you might never have known you had!)
4. Social Media Recruitment by Andy Headworth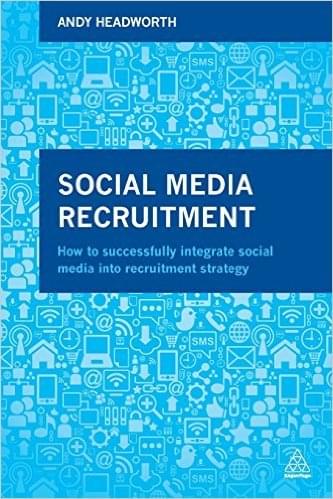 "In order to attract the right people into your organisation despite a global shortfall of talented candidates, new methods are now needed to reach future talent. Social media needs to become a vital part of any recruitment strategy." We couldn't have put it better ourselves Andy! And in his book Social Media Recruitment, that's exactly what Andy Headworth wants to help you do.
Using practical guidance with case studies and insights from industry thought leaders, Andy aims to provide recruiters with a full understanding of what social media means for our industry, and how to successfully integrate and use it in our everyday recruiting and sourcing activities.
Throughout the course of its pages, the book shows you how to create a step-by-step social media strategy (something ALL recruiters need to have in place) including; how to measure ROI and how to utilise big data.
Our verdict: 
Andy has been one of the foremost thought leaders within the recruitment industry for the last 25 years. He knows his sh*t and we're big fans! This book is packed to the rafters with information, hints, tips and warnings about how social media can be used as a recruitment tool beyond just posting jobs on LinkedIn and Facebook.
5. Decisive by Chip and Dan Heath
This isn't the first time these two authors have made it onto our book list. They appeared last year with their other title Made to Stick, an excellent book every recruiter should read about how to transform the way you communicate ideas (read: your open jobs or your employer brand).
In Decisive, the authors are more concerned with the decision-making process and the "four villains" associated with it. "When it comes to making decisions, it's clear that our brains are flawed instruments", they say and according to them, when it comes to making (hiring) decisions:
We have too narrow of focus. We are guilty of "spotlight thinking." We focus on the obvious and visible. We miss important facts outside our immediate view.
We fall into confirmation bias. We develop a quick belief about something and then seek out information that confirms that belief.
We get caught in short-term emotion. We are too emotionally connected to the decision and struggle with being appropriately detached.
We are guilty of overconfidence. We assume that we know more than we actually do know and jump to conclusions, thinking we can accurately predict the future.
Our verdict:
The great value of this book for recruiters is that it lays out a decision-making process that can be used to help and make fair each and every hiring decision you make – which, for those of you hoping to improve the diversity hiring practices within your company in 2016 or tackle you own unconscious bias, is absolute gold!
The process is designed to counteract the influence of the 4 villains we mentioned and consists of 4 sequential steps, known as the WRAP process:
Widen your options.
Reality-test your assumptions.
Attain distance before deciding.
Prepare to be wrong.
Follow this, and we promise you will look at the hiring process in a whole new light in 2016, one that will definitely improve the hiring decisions you make and how you make them. Reading this book is a no-brainer!
6. Predictably Irrational: The Hidden Forces That Shape Our Decisions by Dan Ariely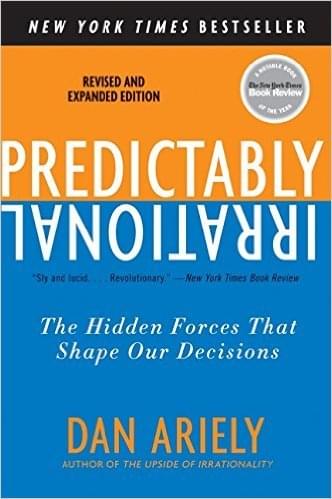 "When it comes to making decisions in our lives, we think we're making smart, rational choices. But are we?" That's the question Dan Ariely wants to get to the bottom of with his book Predictably Irrational, which refutes the common assumption that we behave in fundamentally rational ways when making decisions in our everyday lives.
The book's description notes that from drinking coffee to losing weight, or from buying a car to choosing a romantic partner, we consistently overpay, underestimate, and procrastinate. Yet these misguided behaviours are neither random nor senseless. They're actually systematic and predictable, which ultimately makes us "predictably irrational".
"My goal, by the end of this book, is to help you fundamentally rethink what makes you and the people around you tick" says Ariely, which is exactly what recruiters need to be doing – finding out what really makes our candidates tick so that we can better sell our jobs to them.
Our verdict:
An oldie, but a goodie and a New York Times bestseller to boot! Ariely discusses many modes of thinking and situations that may skew peoples' traditional rational choice theory, which can give recruiters a great insight into how candidates make decisions when it comes to taking a new job and may even help you anticipate any worries or questions they may have.
Recruitment marketing and micro-personalisation are going to be huge in recruitment this year, and if you're better able to understand how your target candidates think and make decisions, you'll be better informed when it comes to implementing a recruitment marketing strategy and tackling micro-personalisation.
7. Headhunters by Jo Nesbø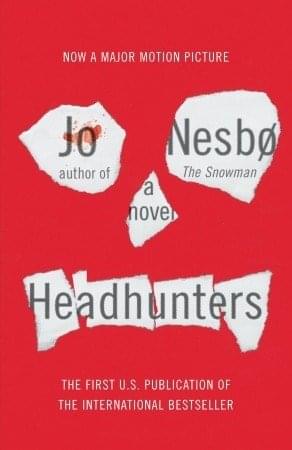 Now, while we usually only suggest non-fiction books in our annual book list, this year our co-founder, Vincent O'Donoghue, brought Headhunters to our attention, and boy, was our interest piqued! Check out this for an official description:
"Roger Brown is a corporate headhunter, and he's a master of his profession. But one career simply can't support his luxurious lifestyle and his wife's fledgling art gallery. At an art opening one night he meets Clas Greve, who is not only the perfect candidate for a major CEO job, but also, perhaps, the answer to his financial woes: Greve just so happens to mention that he owns a priceless Peter Paul Rubens painting that's been lost since World War II, and Roger Brown just so happens to dabble in art theft. But when he breaks into Greve's apartment, he finds more than just the painting. And Clas Greve may turn out to be the worst thing that's ever happened to Roger Brown."
Our verdict:
Funny, dark, and really quite twisted (a bit like Vince ;P)! This novel is an absolute must for any recruiters who happen to be fans of Tarantino or the Coen brothers.
P.S. If you feel like skipping the book and moving straight to the film, the trailer for the Swedish language movie (released in 2012 and starring Jamie Lanister from Game of Thrones) is here:
Download our new whitepaper
"The Ultimate Recruiter's Guide to 2016"
which includes this list suggestions, 5 Things Recruiters Need to STOP Doing in 2016, 9 Twitter Accounts Every Recruiter Should Start Following in 2016, 9 Conferences You MUST VISIT in Spring/Summer 2016 and a printable calendar of recruitment/HR events taking place from January to December 2016, for you to print out and keep. It's FREE!
Find out how the likes of IBM, IKEA and Siemens
drive hiring excellence with SocialTalent
---