Keep up with the latest hiring trends!
/
/

7 Tips for Running a Successful Facebook Careers Page
7 Tips for Running a Successful Facebook Careers Page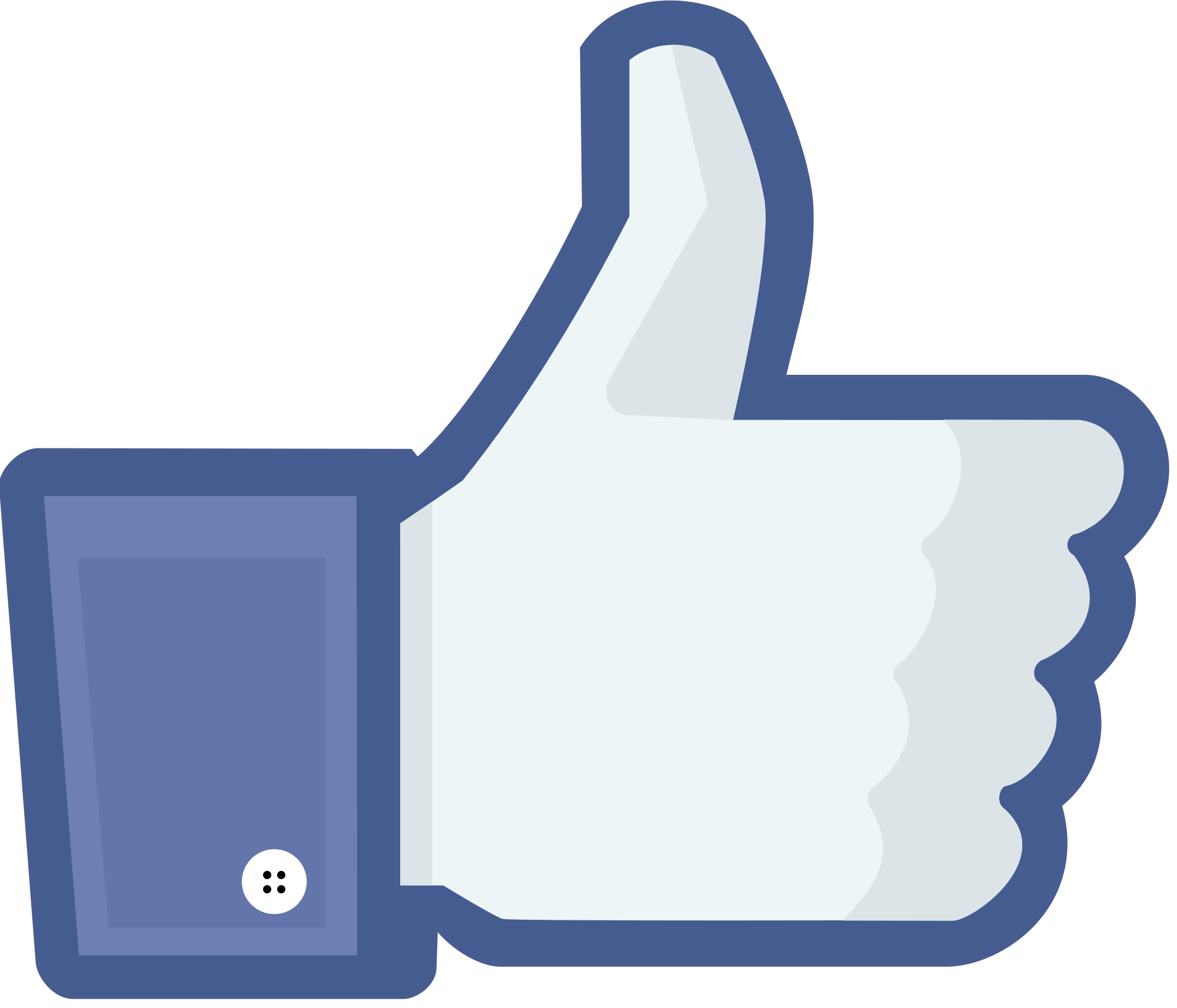 Facebook now has a grand total of 1.49 BILLION monthly active users each who spend upwards of 20 minutes a day peroozling the site. In terms of the type of people it attracts to it's front door, 84% of job seekers have a Facebook profile, 42% of them are male, 58% are female, 30% of Facebook users have earned a Bachelors degree, 91% are Millennials (aka the people you'll want to hire in 2 years time), and even 31% of senior citizens are giving it a go!
Basically, if you're not using Facebook to recruit in some way shape or form, you're missing one of the biggest social recruiting opportunities this side of the galaxy! Don't believe me?
The Benefits of Running a Facebook Careers Page
According to RecruitingBlogs author, Mark Cook in his post "What Good is Facebook in Recruitment?", there are numerous benefits associated with running a specific Facebook careers page:
As Facebook possesses a huge chunk of internet users across the globe, if your Facebook careers page is properly utilised, more people should come across your posts on it then they will anywhere else on the web.
If your organisation is seen to be active on Facebook, it goes to show that your company is flexible and willing to adapt to the calls of time. This is something that potential candidates will notice and find attractive in a potential employer.
When a company attracts candidates and job seekers through social media, it's engaging with them on a much more personal level compared to the likes of a job board or corporate careers page. Research shows that candidates are more likely to choose a job opportunity found through a more personal source as opposed to an online a job board or in a newspaper.
Having a Facebook careers page inadvertently increases your brand's presence in your industry and studies show that people tend to trust brands more when they are socially active on Facebook and other social sites. Win-win.
A dedicated Facebook careers page gives your employees the opportunity to have a simple and accessible way of referring potential candidates to your business, which makes the referral process easier for everyone. And according to LinkedIn, referred candidates are faster to hire, cheaper to hire, faster to onboard, and will stay in their job longer. Similarly, an employee who refers a another candidate will also stay with the company longer than an employee who hasn't referred anyone.
Having a careers presence on Facebook gives you more opportunities to be found by passive candidates who aren't actually looking for a career move at the moment. You won't find passive candidates on job boards of corporate careers sites, but you will find them on Facebook.
7 Tips for Running a Successful Facebook Careers Page
So, in order to help you make the most of the incredible recruiting resource that is a Facebook careers page, I decided to take the list of the Top 10 Global Companies Recruiting on Facebook and scour their Facebook career pages to determine the common denominators that help make them so successful. This is what I found:
1. Regular Posting
Each and every one of the top 10 companies using a careers page to recruit candidates on Facebook, posted status updates on a regular basis. Most of the Top 10 pages posted at least once a day, the others posted between 3-4 times per week.
The fact of the matter is, people are unlikely to Like your Facebook careers page if you don't post regularly. Why? Simply put, there's just no incentive for them to keep coming back or to engage with you. Just because you built it, doesn't mean they'll come. On Facebook, if you don't give, you don't get.
But how often should you post? Well, there is no magic number, but judging by the Top 10 I'd say that you should be posting status updates on your Facebook careers page at least 3 times a week. In order to gauge when to post those updates, don't forget to utilise your Facebook Page Insights to check out which days (and times of day) your audience is most active on Facebook. Just click on Insights > Posts > When Your Fans are Online to find this information.
2. Timely Responses to Engagement
If buying a house is all about location, location, location you could say that running a successful Facebook careers page is all about engagement, engagement, engagement! Timely responses to the questions, queries and comments on their Facebook careers page seems to be a huge key factor in the success of the aforementioned Top 10.

In most cases, any questions or queries from potential candidates were all responded to within a week by a member of the team in question, and questions were either answered then and there or users were directed to PM or DM for further information, or told to visit a specific URL where they could find the answer to their question.


But don't just stop at answering direct questions and queries. Start interacting with your followers' general comments too. Each and every interaction a follower has with your page is an opportunity to convert that follower into a prospective hire for your business. So seize every opportunity!
3. Share Plenty of Staff/Office Photos
People are nosy. We love checking out who's who, and what's what, especially on Facebook! So feed people's nosiness! The Top 10 certainly aren't afraid too!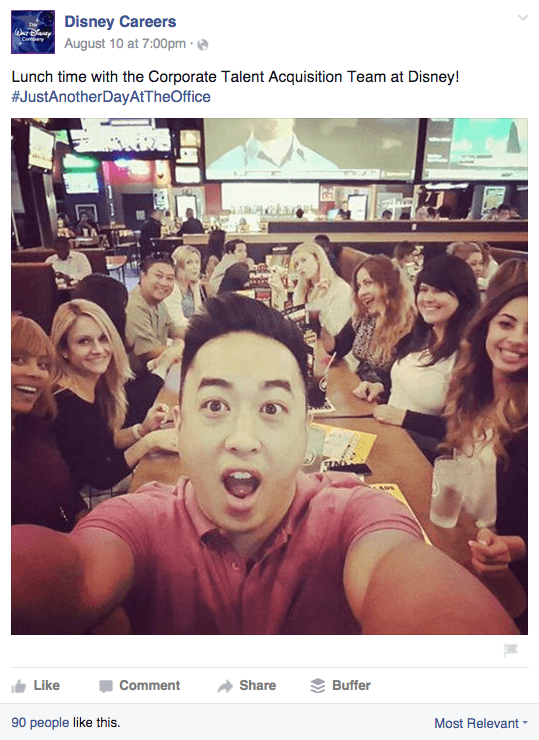 Show them lunch time in the office, show them your mid-afternoon ping-pong tournaments or the coffee orders everybody gets. Show them how well Lisa from Sales did at the marathon she ran last week. Give them glimpses into life and the people behind the brand.
Not only is sharing this a fantastic way to boost your employer branding efforts, it also helps to humanise your brand by putting human faces and names, and real life bricks and mortar to the corporate logo. Many of the Top 10 gave their followers a glimpse into the people and places behind their brands by recognising staff achievements and milestones like work anniversaries and posting pictures of individual staff members and teams to congratulate them on those achievements: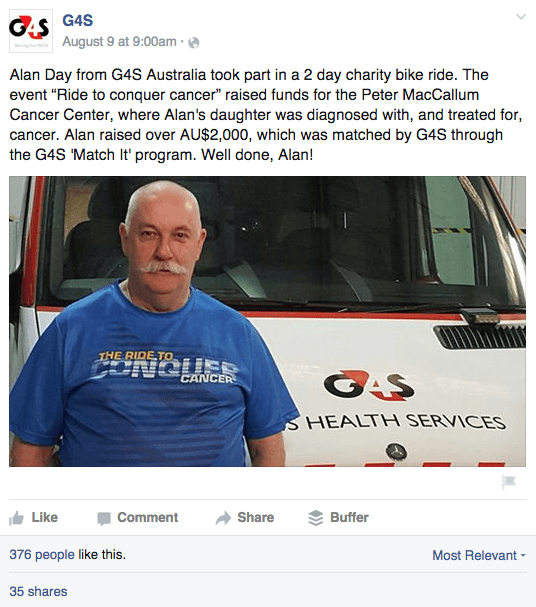 Others highlighted members of staff or teams of people by doing a short profile about them and introducing page followers to individual team members, a bit like we do with our "5 Random Questions with…" staff videos: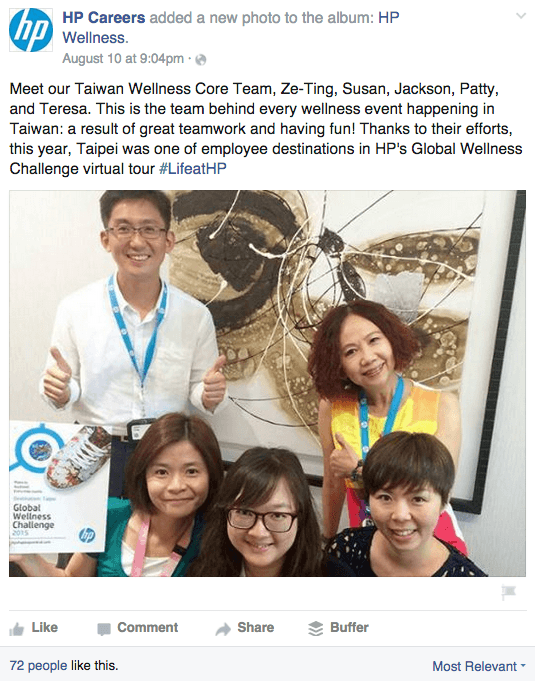 Even if you don't think your office is particularly amazing, believe us, your followers would still love to see it! After all, the vast majority of them are hoping to or aspire to work with you one day, so knowing what the office looks like or even something as trivial as the colour of the chairs you sit in will be interesting for them to see. Bottom line, it's where you work everyday and potential candidates will want to see it: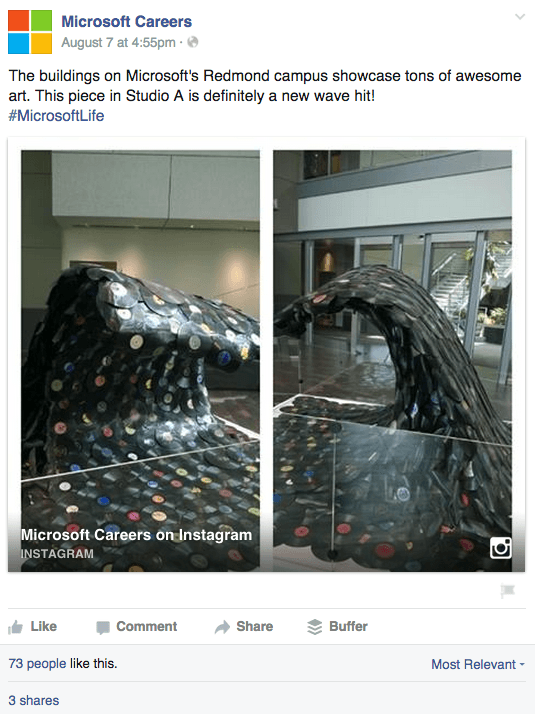 4. Tips from Current Employees
From industry/company specific career tips to a personal recommendation for best dish in the canteen, it's all relevant to someone looking to join your company! Including regular tips from current employees on your Facebook careers page is a great way to encourage interaction from potential candidates: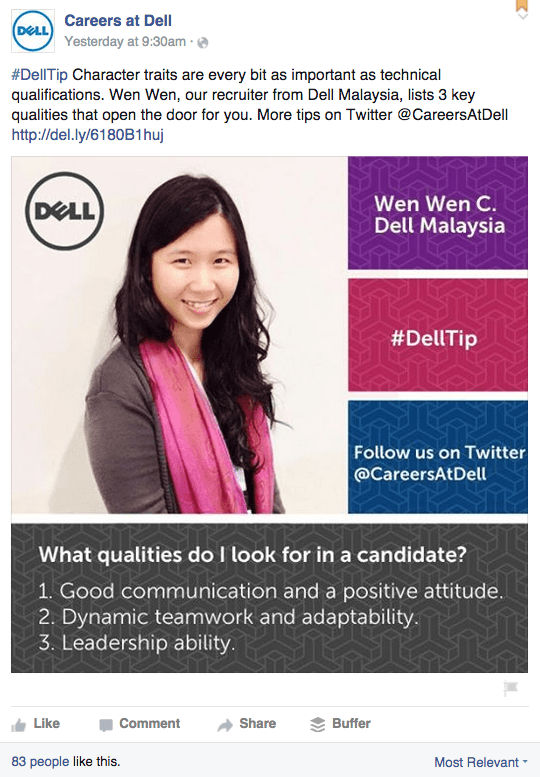 5. Relevant Sharable Content
As our friend Tony Restell points out in his latest article; you work in a niche market. You serve certain geographies, sectors, specialisms – and you want to build your network and brand presence within that niche. On Facebook, one of the best ways to build that network and that brand presence is by making your page a magnet for people in your industry, by consistently finding and sharing content they will want to devour.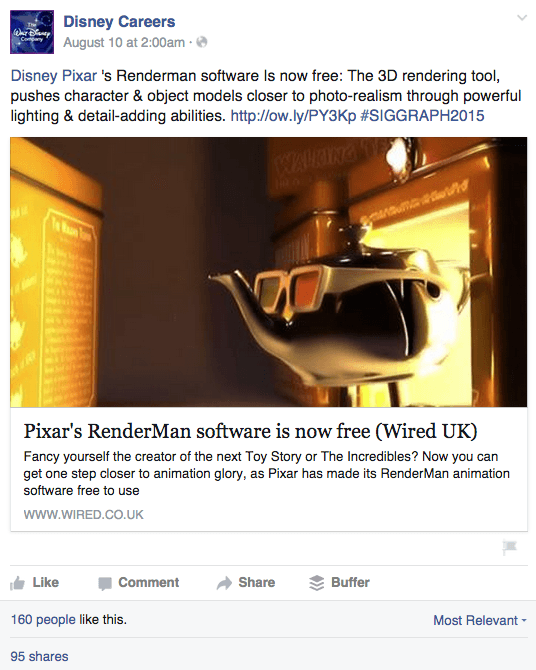 I'm talking financial reports, employee interviews, insight data, careers tips, job insights, product updates – anything that will that enrich the professional lives and pique the interest of your niche band of followers. The higher the quality of the content you provide, the greater authority and awareness you generate for your brand.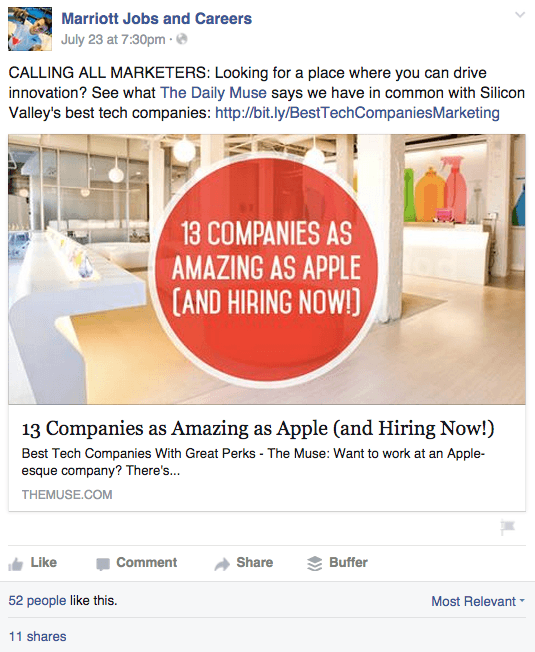 It can be your own content or content that you find elsewhere, but if you are going to share content from other sources don't take credit for it and don't stick with just the most obvious sources in your industry. People are much more likely to have seen those already. Uncover hard-to-find or enthusiast niche blogs, reports and interviews whose content is excellent but is much less likely to have been read. This way you turn your profile into a hub that specialists in your industry feel compelled to return back to in order to, and willingly choose to interact with.
6. Utilise Regular Features
Disney use #WaltQuoteWednesday, while Dell utilise #MondayMotivation. Utilising a regular feature as part of your status updates will help give structure to your posting calendar but also give fans of your careers page yet another reason to keep coming back: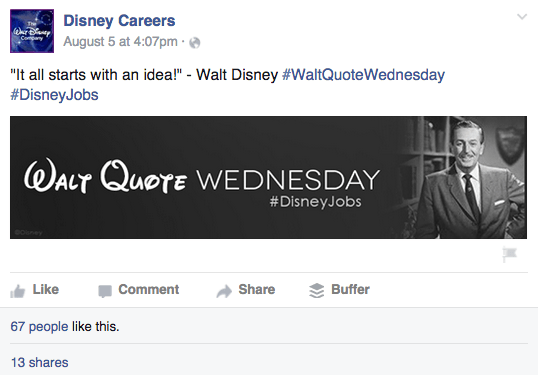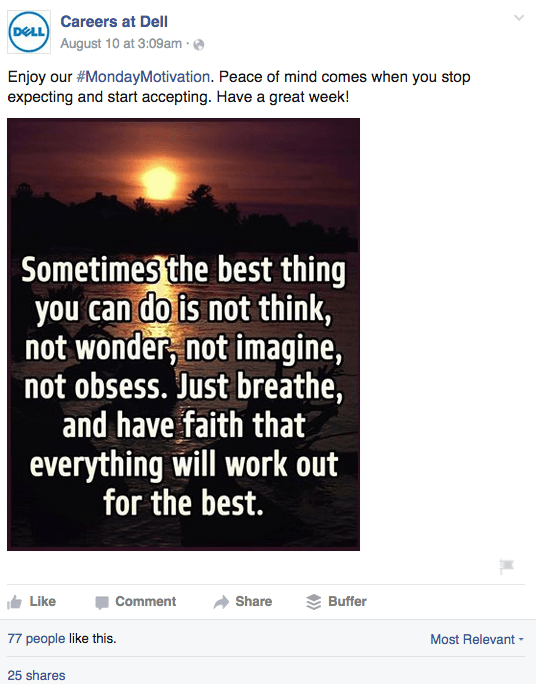 7. Regular Job Ads
A constant stream of job postings is annoying, but concise job postings with attractive images scattered throughout your careers page is excellent. This is a careers page after all, and a careers page needs a good supply of job ads. Most of the Top 10 pages posted one job related ad, once each day: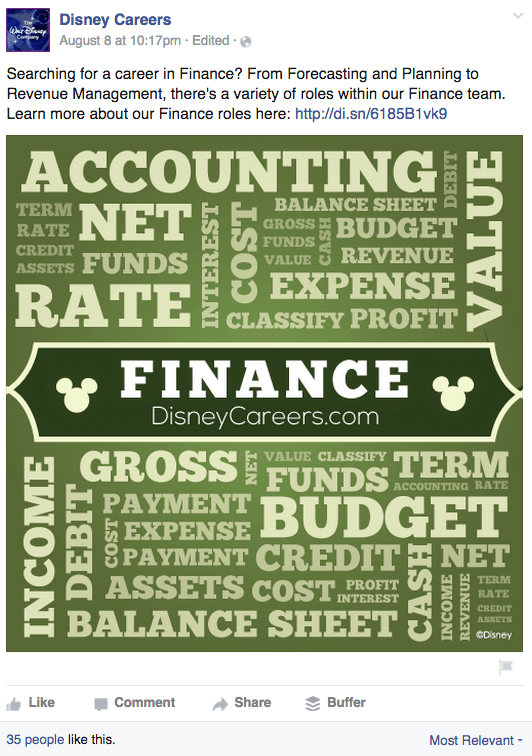 So go on! You now have the knowledge, so get out there and start running your own successful Facebook careers RIGHT NOW!
Find out how the likes of IBM, IKEA and Siemens
drive hiring excellence with SocialTalent
---