Keep up with the latest hiring trends!
/
/

4 Industry-Changing Recruitment News Stories – 23 March 2015
4 Industry-Changing Recruitment News Stories - 23 March 2015
In the news this week:
LinkedIn Data Proves the Impact of a Strong Talent Brand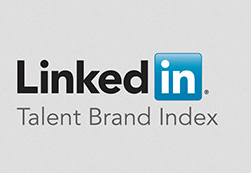 LinkedIn have dug into their extensive Talent Brand Index data pool in order to determine just how much difference a strong talent brand can make to a recruiter's ability to attract and hire talent. And the findings are exceptionally interesting!
1. Companies with a strong talent brand get a 31% higher InMail acceptance rate
We all know that striking up a conversation with someone we already know will be 10 times easier than striking one up with a complete stranger – and it turns out, the same logic applies to companies with a strong talent brand. By increasing company awareness, candidates are more likely to respond to your InMail and continue the conversation. They are more likely to already trust you as an employer, and will have a stronger sense of whether they want to work with you.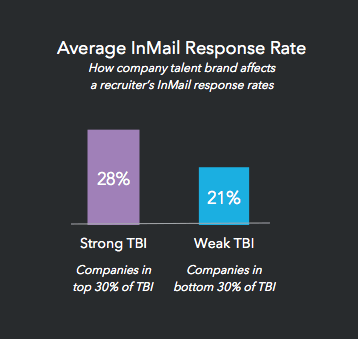 2. They also see a 43% decrease in cost per hire
When LinkedIn compared how much their current customers with a strong talent brand were spending to make a hire on LinkedIn (everything from a job posting to sponsored updates), versus those with a weak talent brand, they found that (on average) those with a strong talent brand spent 43% less. Because their candidates were more aware of them, they had less of a need to spend money creating awareness.
3. They tend to have a 20% faster rate of hire
Companies on LinkedIn with a strong Talent Brand Index (TBI) figure actually grew faster than their counterparts with a weaker talent brand. Why? Companies who can attract more talent, can also hire that talent faster.
To determine this, LinkedIn looked at the percentage of a company's employees that were hired in the past year. Budget and headcount could impact this data, but a 20% increase is beyond a statistically significant difference.
Investing in talent brand warms up your talent pool so you spend less time selling and more time closing candidates.
4. They have 2.5x more applicants per job on LinkedIn
Companies with strong TBI see 2.5x more applicants apply to each of their open roles. Why? Because the more attractive your company is as a place to work, the more people get in line for an opportunity to work with you.
What makes it even better is that these applicants also tend to be better qualified, because they have a higher level of familiarity with your company culture and values.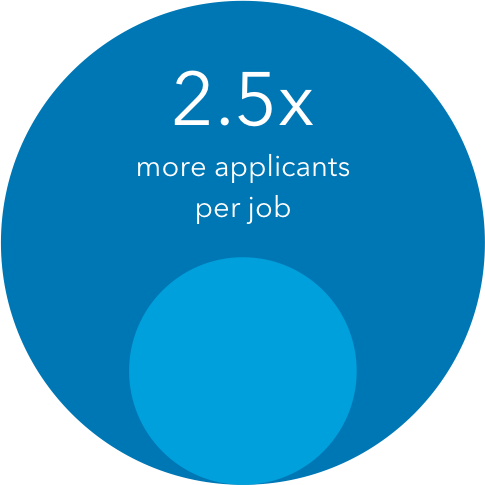 What makes this research even more interesting is that LinkedIn also discovered that while the power of a strong talent brand is extrememly significant on a recruiter's ability to attract and hire candidates, only 56% of global talent leaders are making it a priority in 2015.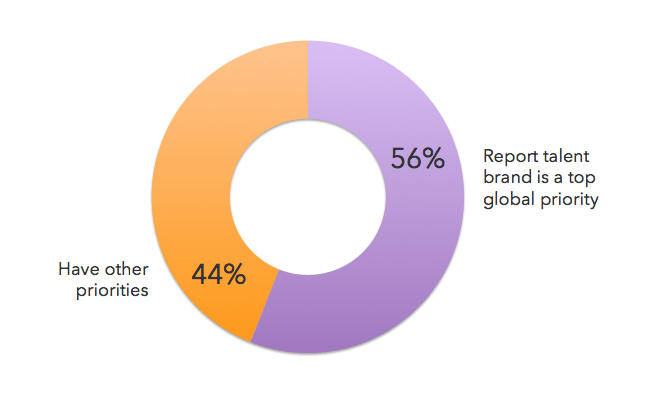 Let's hope you're one of them!
Could NEW Entelo Algorithm Solve the Tech Industry's Diversity Hiring Issues?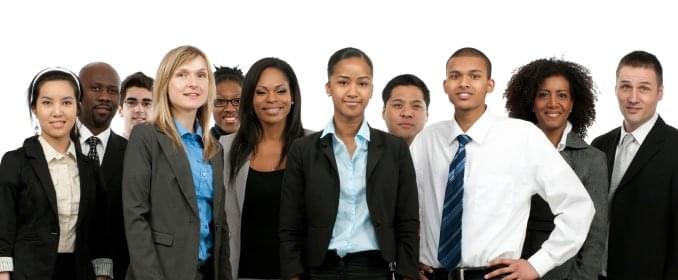 According to Entelo, the answer is yes!
Entelo, a platform that businesses use to search for job candidates, introduced a diversity tool last year that allows companies to find qualified women and minorities as they hire. So far, it's being used by dozens of companies, including Yelp and several Fortune 500 brands.
Using big data, the platform has an algorithm that helps companies match with candidates who have social profiles that indicate they meet gender, race or military requirements. It draws on information already publicly available, such as self-reported data on a social network like gender or affinity group memberships.
As we've seen from high profile lawsuits, workplace culture at many companies does not foster diversity in the field. There's also a pipeline problem in which women and minorities do not study STEM subjects like computer science as frequently as white men.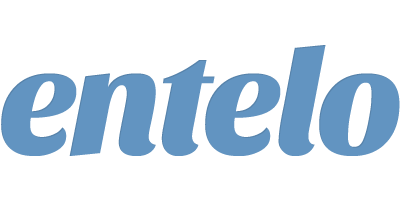 But Entelo wants to fix the matching problem in hiring by making it easier for tech companies to find diverse candidates. You always want to hire the best person for the job, said Entelo CEO Jon Bischke. To find that person, you should be hiring from a diverse pool. Bischke said Entelo's tool is about helping you expand that pool. He said often when early startups are hiring, they don't think about building diverse teams. Companies get started through networks, he explained. Odds are the early engineers in a company are going to look a lot like the founders.
Bischke believes diversity in tech could improve if companies look outside that network early. The earlier companies start thinking about diversity, the more diverse they will be as they scale, he said. Too many companies wait until they hire 40, 50, 60 engineers to think about diversity, he said. By that point it might be really difficult to convince a woman to join the team.
Bischke said Google's decision to release a diversity report last year changed how tech companies view diversity. Now he says there is pressure for the companies who released reports to show the numbers are improving.
Bischke said Entelo saw a demand for a diversity tool from its customers. Entelo itself is expanding quickly, now serving more than 200 companies.
Entelo recently brought on a new vice president of sales, Sam East. East said hiring diverse candidates comes up frequently in meetings with diverse customers. It's coming up again and again, he said. Almost every sales conversation is focusing on diversity as aspect on our platform.
Entelo is also a tech startup itself, and Bischke said the company has tried to be conscious of hiring diverse tech employees. Of the ten members of its tech team, there are three to four women.
For Bischke, bringing this tool to the marketplace is also personal. I have a 2-year-old daughter at home, he said. I want her to grow up in a world where she could do anything.
LinkedIn Announces 3 New Updates to LinkedIn Recruiter and Professional Services Products

Last Thursday, LinkedIn announced several updates to their Recruiter and Professional Services products. And according to LinkedIn, in early tests, they've seen more than a 30% increase in profile views per search (so their searches are returning more relevant people), a 10% increase in InMails sent per search (so relevant in fact, that they reach out to them), and a 5% relative increase in response rates!
Here's what you can expect to from the new updates that promise to help you hire the best person for the job, faster:
1. Search Insights
This Spring, after you enter your search criteria, new Search Insights will show you your talent pool's current and past employers, years of experience, education, and location via intuitive, interactive, and sharable bar charts.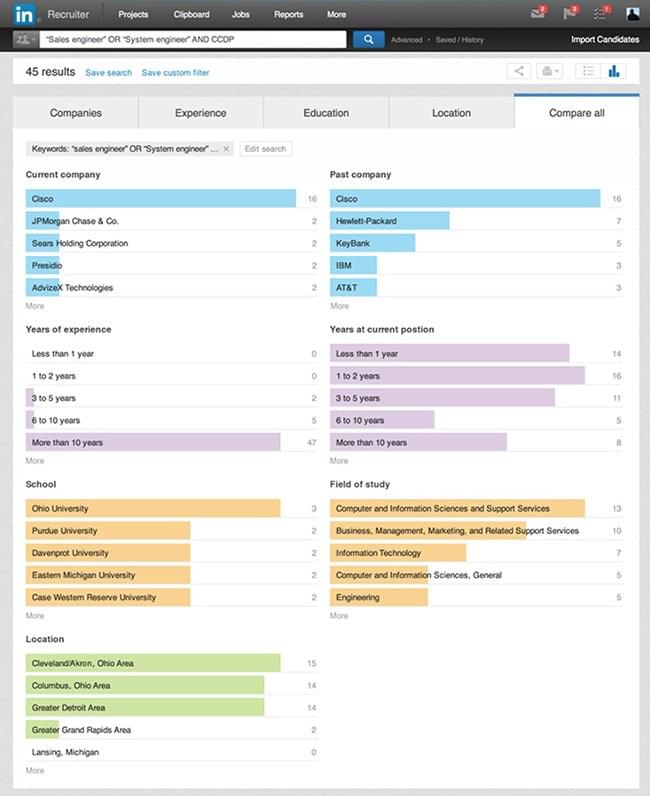 These insights will help you quickly determine, for example, whether you should expand your search to new markets or adjust the compensation or title. Search insights will help you easily set better search strategies and educate hiring managers on market realities.
2. Personalised Search
LinkedIn's new look search interface, called Personalised Search, will remember your most-used filters and automatically surface them atop the new search drop-down. It also features a results counter that shows you how many profiles meet your search criteria as you adjust your search. The redesigned search results page makes it easier to take action on search results by quickly adding candidates to your projects or reaching out with an InMail.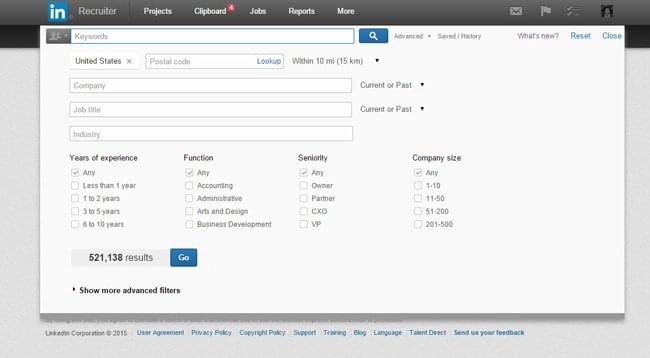 3. Search Relevance Enhancements
The new search relevance enhancements, which is available today, will continue to surface members who meet all your search criteria, but it now analyzes more of the info members put on their profiles.
Here's how it works in LinkedIn's own words:
Let's say you search for a Product Manager in 94101 (downtown San Francisco) for your company, Company ABC. Search will identify all the LinkedIn members who meet 100% of your search criteria. Then it will prioritize your search results the same way it always has '¬€œ based on how well each member fits your search criteria, using things like the prevalence of Product Manager on their profile and how close they are to downtown San Francisco.

If search determines that the prioritization of your search results can be improved upon, it activates the new relevance enhancements. It places members higher in your search results if they've shown interest in your company or industry '¬€œ either by following Company ABC's Company Page, or a related company's Company Page, or subscribing to relevant Pulse channels '¬€œ or have skills, former employers, or education in common with product managers at your company or related companies. The relevance enhancements never exclude or remove members who would otherwise have appeared in your search results based on your search criteria; it merely re-orders them.
How do you think the new updates will benefit your search efforts? Let us know in the comments below.
LinkedIn Extends Self-Service Profile Widget To College And University Sites
Last week, LinkedIn took one more step in a number it's been taking recently to build up its profile with educational institutions and specifically students that are making their way from the classroom to the workplace.
Their latest step is a new self-service widget, where students can add qualifications to their LinkedIn profiles, straight from their college's or university's website, without actually having to visit LinkedIn.

The institutions that have initially signed up for the program are Arizona State University; Kaplan University; University of California, San Diego; Villanova University; George Washington University; Full Sail University; UK's University of Manchester; UK's University of Cambridge; Universitas Indonesia; the UK's Open University; Algonquin College; Keio University; and the University of Melbourne '¬€ 13 in all.
This is an extension of a program that was first launched last year with online learning sites like Lynda.com, Coursera and Microsoft. And it comes on the heels of the company making several other moves to cater to younger users. That has included opening special profile pages for higher-education institutions, lowering the minimum age for LinkedIn accounts to 13+, and giving those younger users a search tool to research and find schools to apply to and attend.
The effort seems to be working. According to TechCrunch, there are now 40 million college students and recent graduates using LinkedIn's platform and this demographic is now open of LinkedIn's fastest growing.
The new functionality getting announced today will allow colleges and universities to add a button to their sites and in emails that will let their students present and past add more credentials to their LinkedIn profiles, specifically in the education section.
The benefits of this new development work in three ways. First, on the part of the user, LinkedIn claims that addition educational credentials to your profile increases the views of it tenfold. In addition to having the credential there for posterity, you also get an alert sent out to your contacts whenever you update your profile, so that too gives you more visibility.
On the part of the universities, this will give them one more contact point with their current students as well as alumni. In the ongoing struggle for funding for higher education, anything that lets these schools continue their link with the latter group is a potential string that ties them in with their alma mater and potentially can be pulled by the school for future fundraising drives.
Or, as LinkedIn describes it, the widget is a helpful service to offer students and a low-effort way to stay connected with them over the long term.
Third and possibly most important is LinkedIn itself. The company continues to look for ways to engage users to continually update and refresh the content on the site, and to visit it more regularly. This is one way of doing that.
Find out how the likes of IBM, IKEA and Siemens
drive hiring excellence with SocialTalent
---