Keep up with the latest hiring trends!
/
/

4 Twitter Products That'll Drastically Improve Your Sourcing Efforts
4 Twitter Products That'll Drastically Improve Your Sourcing Efforts
Looking to take your sourcing efforts up a notch on the world's most popular micro-blogging site? These 4 free-to-use online Twitter products will help you do just that: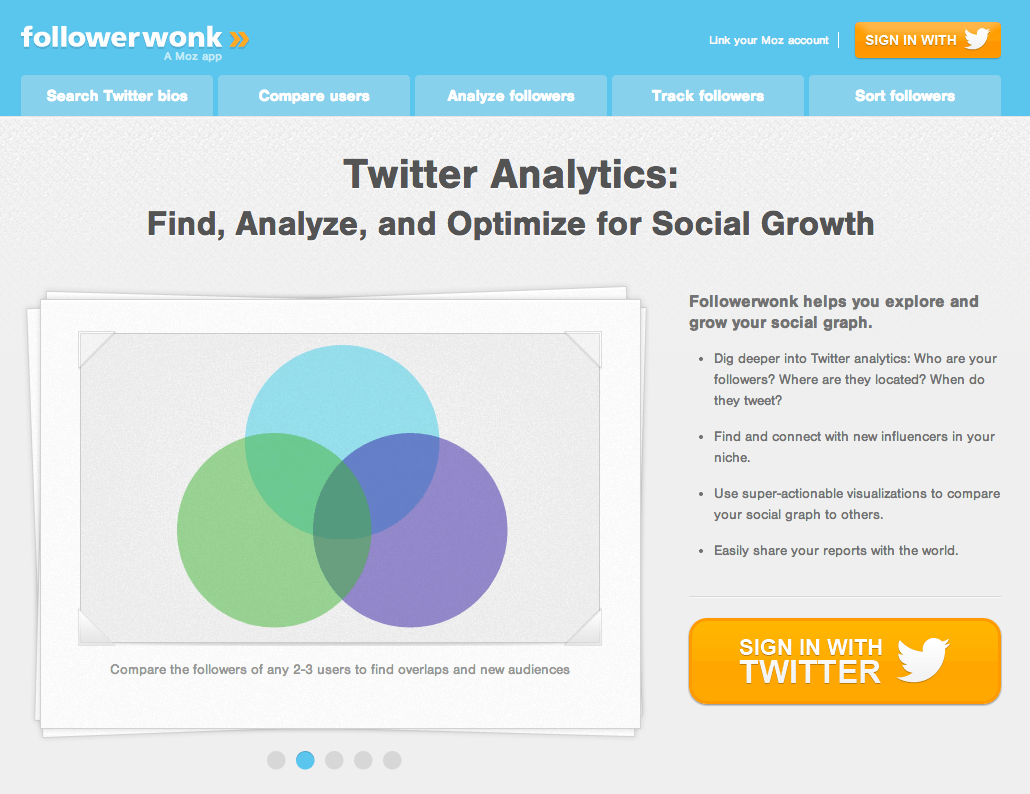 Twitter is a brilliant place to search for candidates. It's fast, you don't need to work out a candidate's email address to contact them, and you have the ability to converse with them instantly if needs be.
But while there is a search box within Twitter.com, it is extremely unadvisable to actually search for candidates using Twitter.com itself. The reason? Well, the results derived from searching Twitter.com are often irrelevant, they're not sortable, and you are unable to filter your results. So the golden rule we have is: don't use Twitter.com to search for candidates. Use Followerwonk.
What is Followerwonk and how does it work?
Followerwonk.com is a free to use website that allows you to effectively search the Twitter bios of every single one of the 255 million active users on Twitter. Looking for a Java Developer living in London for instance? Carry out a quick bio search using Followerwonk:
Sign in to Twitter using the orange button on the top right hand side of the page, before selecting the Search Twitter bios' tab.

Click More Options' (underneath the primary search box) once inside the search Twitter bios tab.
Enter all of the keywords you're searching for in primary search box and select search Twitter bios only' from the drop down menu beside it. (NOTE: although Followerwonk does support Boolean search, it does not support AND, OR and NOT. Use a space between words for the AND, use | for OR, and use '¬€œ for NOT.)
Put the location you're hiring within in the search box labelled Location'.
Press Do It' and off it goes to find the candidates you need.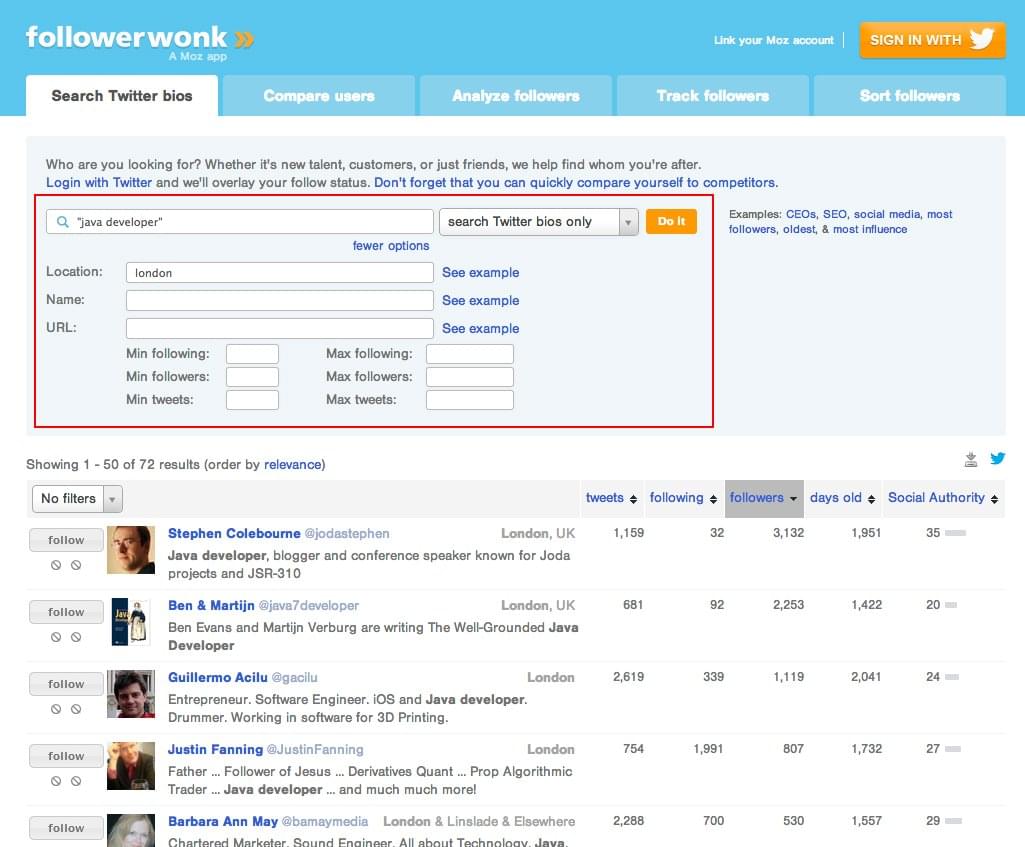 Once you have your list of results in front of you, you can sort them using the columns Followerwonk provides. Active Twitter users (AKA the ones you want to hire) will have lots of tweets, plenty of followers and recent activity. Sort your results by tweets, followers and days old, to get a real sense of who is truly active on Twitter.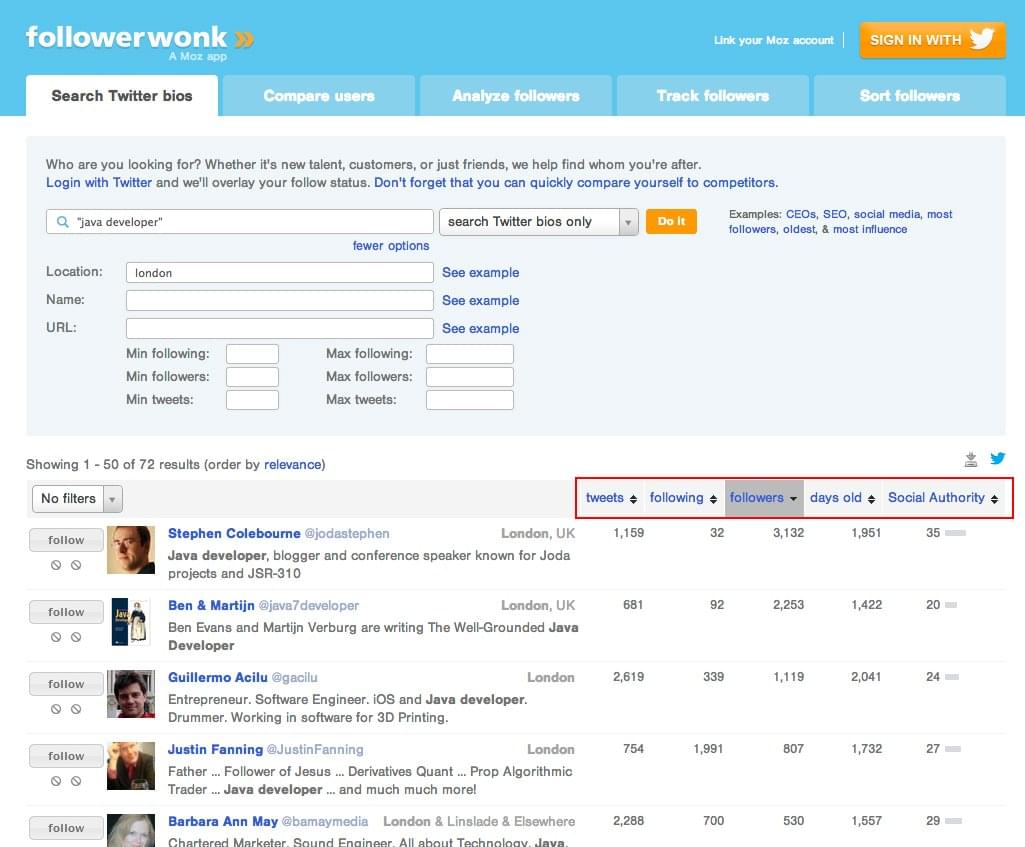 When you've found the right candidate, you can then explore their account to see what they're tweeting about and use that information to engage with them accordingly. For more information on how to do that effectively, download our whitepaper "How to: Recruit on Twitter":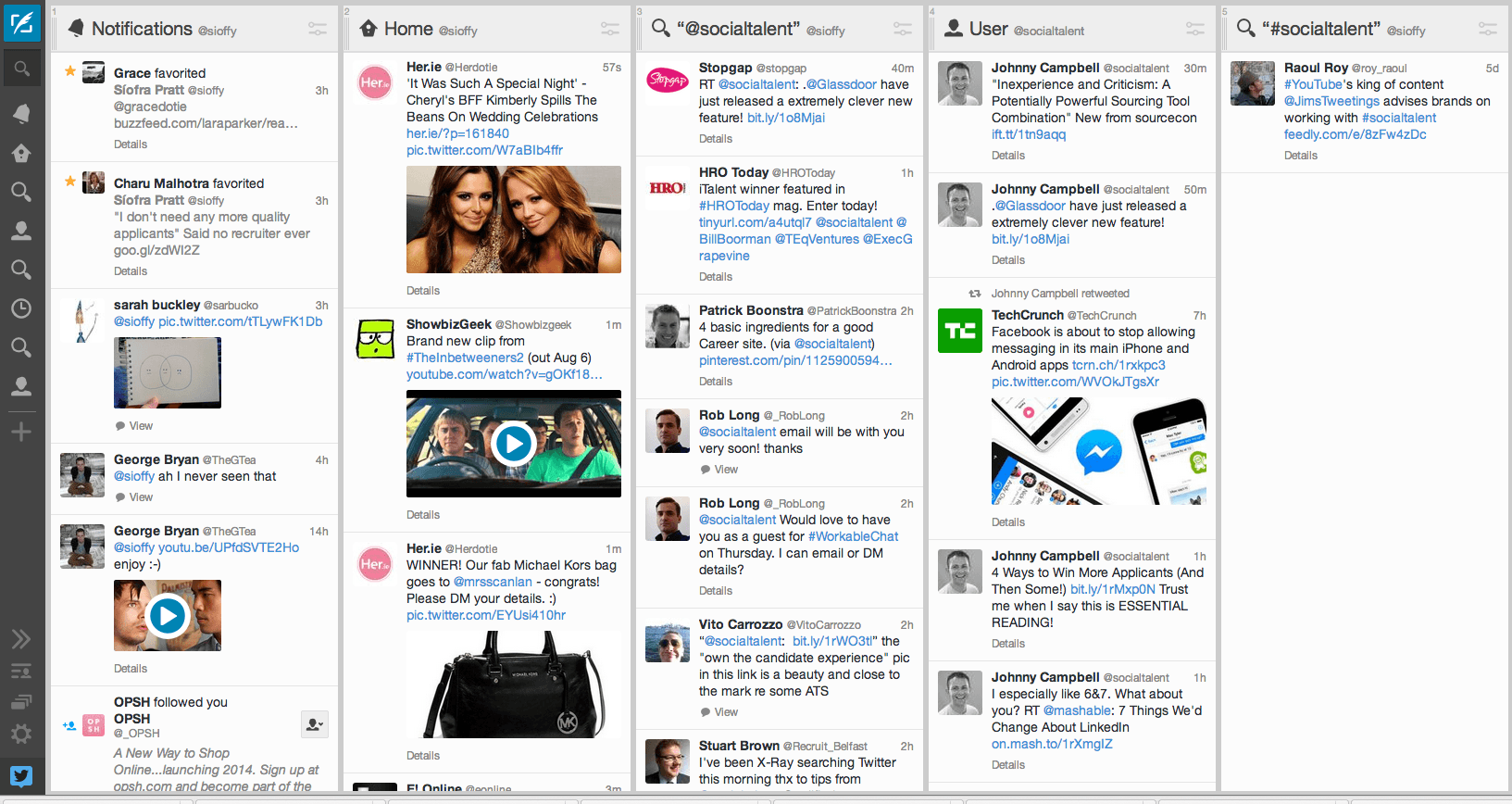 As a recruiter, employer branding (or how your company is perceived by potential employees and the wider public) should be one of your top priorities. And the easiest way to gauge how people feel about your company and what they stand for, is by listening to what they're saying about you. One of the best ways to do this is by using Twitter and a free social media dashboard application called Tweetdeck in particular.
What is Tweetdeck and how does it work?
TweetDeck is a social listening tool and an incredibly handy one at that! It allows you to monitor the social conversation being had about your company and your job tweets on Twitter and it allows you to do so with a series of customisable columns, which can be set up to display your Twitter timeline, mentions, direct messages, lists, trends, favourites, search results, hashtags, or all tweets by or to a single user.
Looking to monitor the number of retweets and mentions your job tweet is receiving for example? Just set up a customised column in Tweetdeck:
Sign in to Tweetdeck with your Twitter account details.

Left the menu of options on the left hand side of the screen, hover your mouse over the + symbol and select 'Add Column'.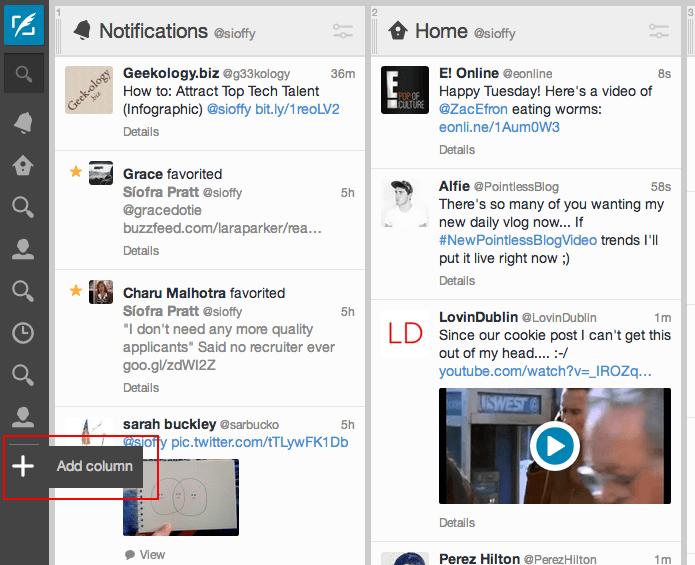 Select the 'Search' option and, when prompted, type in the hashtag you're looking to monitor e.g. #jobfairy, then click 'Add Column'.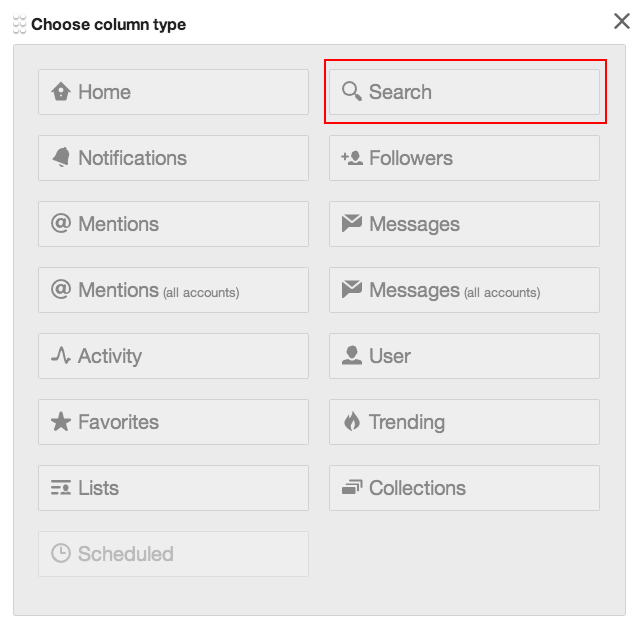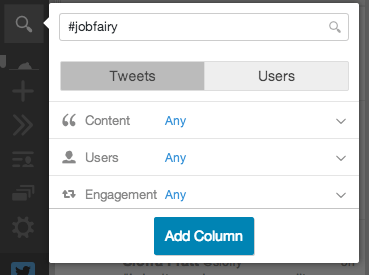 You're newly created column will appear on your dashboard and only tweets containing the hashtag will appear in it.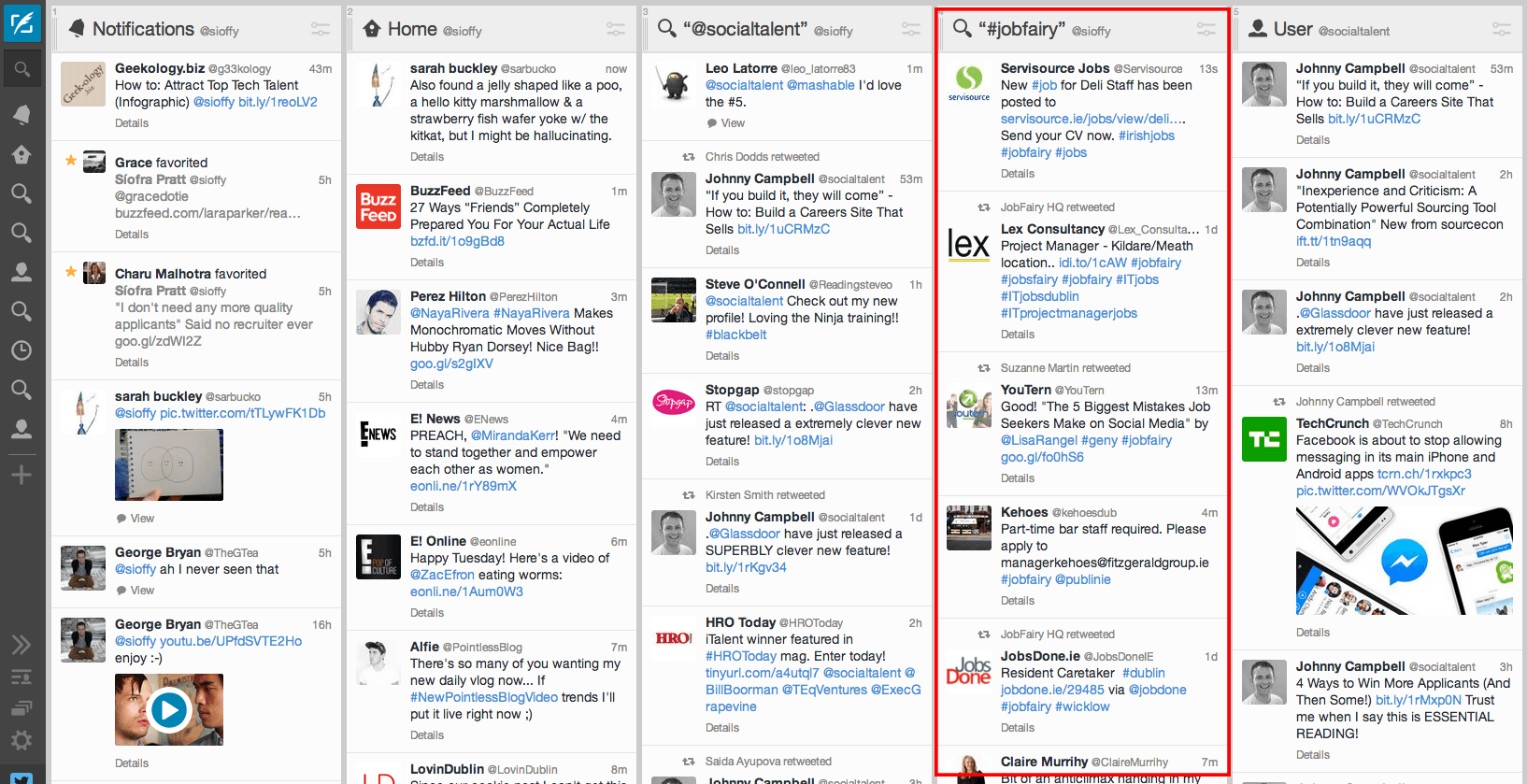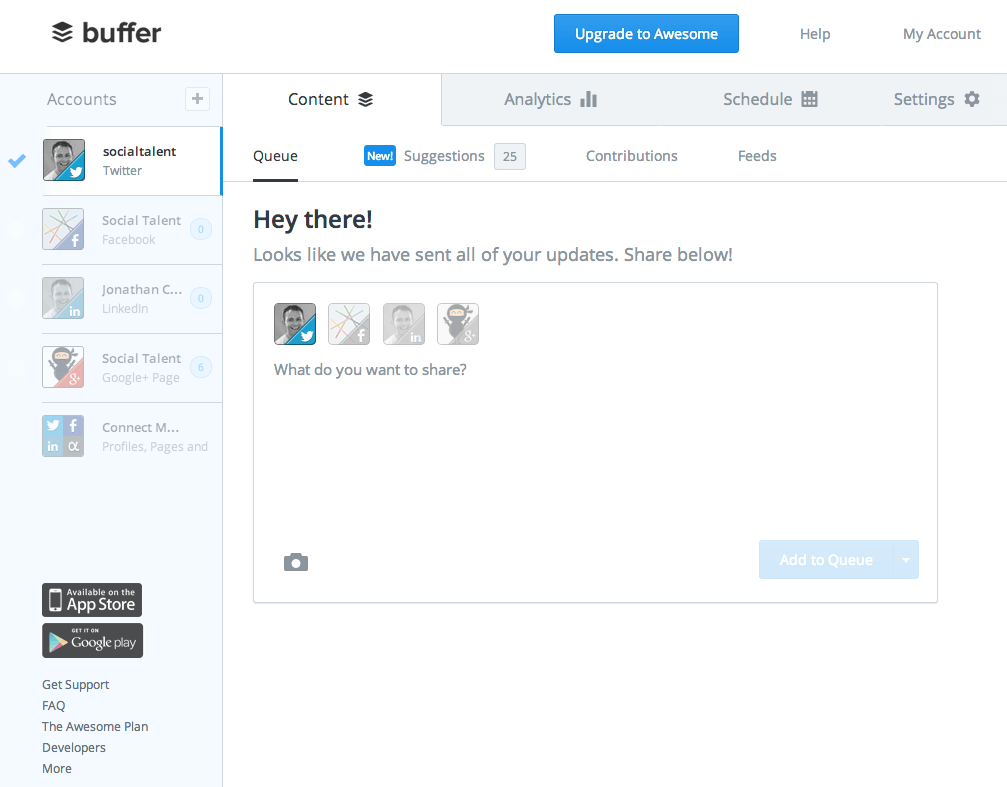 Today's recruiter has to be completely au fait and comfortable with all things social media. But it can be a bit daunting for some,  which is why we are great advocates of any tool that makes the use of social media in recruiting and sourcing easier, faster and more efficient. And Buffer ticks all of those boxes..
What is Buffer and how does it work?
Buffer is an automated social posting application that lets you schedule your tweets (and other social media posts) so that they publish at predetermined times e.g. after work hours when you are unable to tweet.  It also enables you to quickly share any webpage of content (like your job spec or blog) with your chosen social network in one click.
Looking to catch all of those late evening mobile job seekers as per the information contained within Indeed.com's latest mobile recruiting infographic? Use Buffer to schedule a tweet that they will see when they're online at 8PM:
Login to Bufferapp.com and select the 'Content' tab.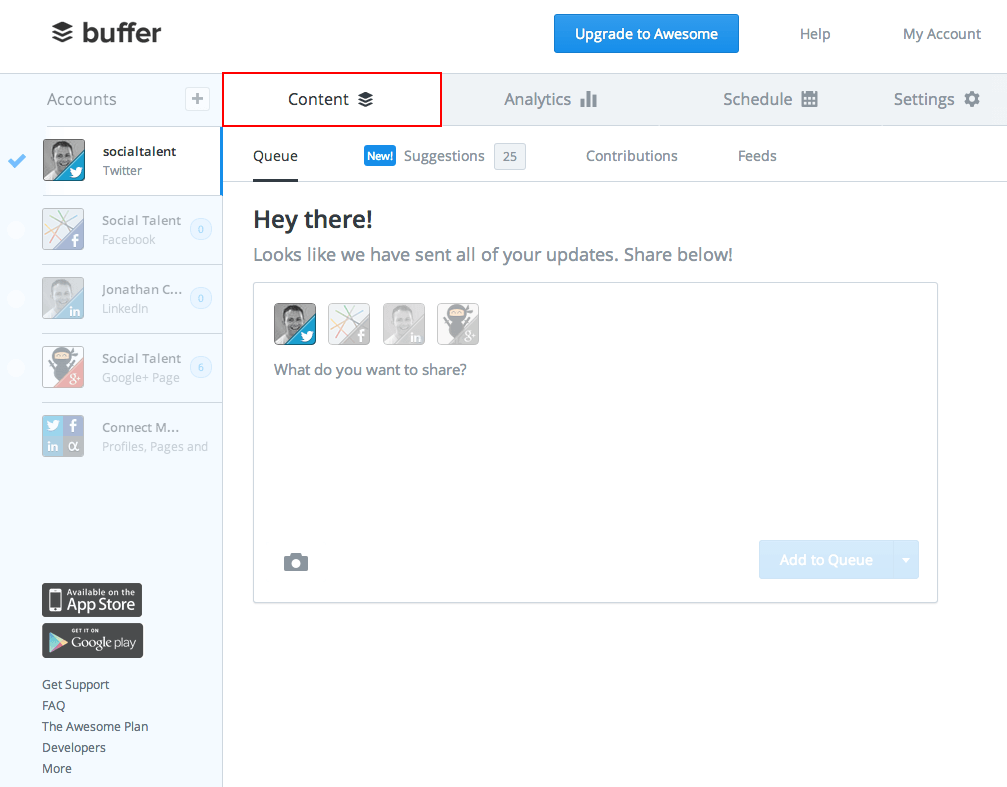 You'll be prompted with a box asking you 'What do you want to share?'. Type in your carefully crafted tweet and be sure to include the link to the careers site where the job seeker can apply.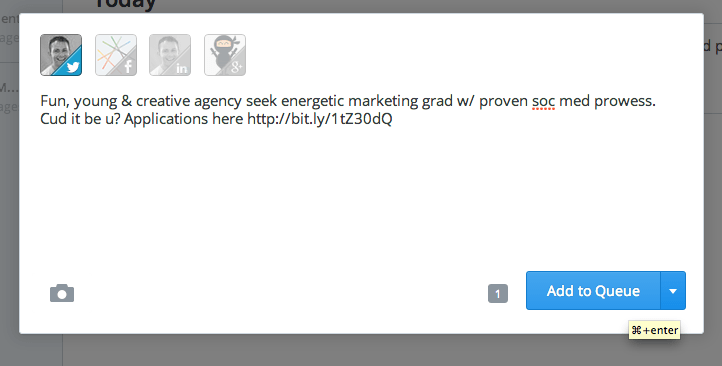 Then click the dropdown menu beside the 'Add to Queue' button, select 'Schedule Post' and enter the time and date you wish the tweet to be posted at. Click 'Schedule' when you're done.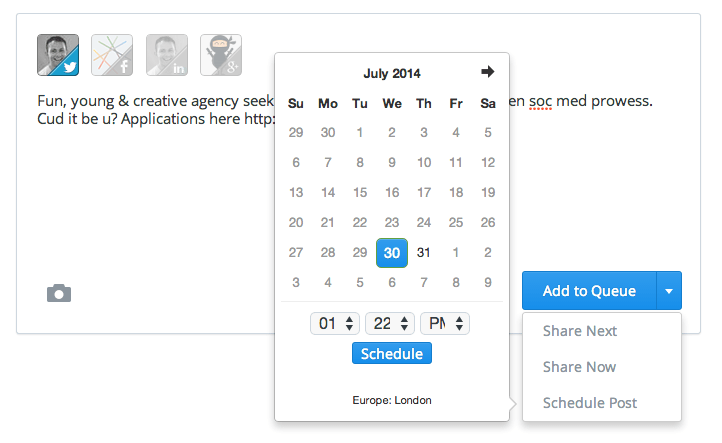 The tweet will be added to a queue and will be automatically posted on Twitter by Buffer at the time and date you have selected.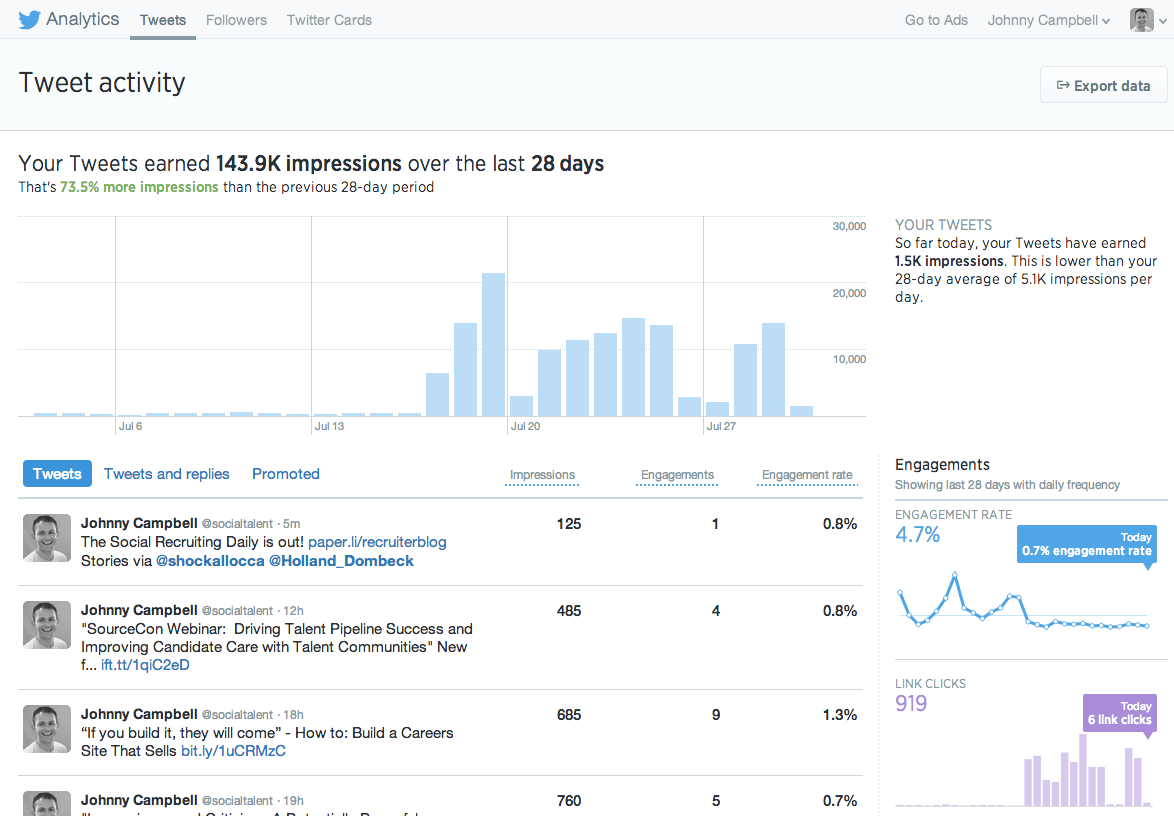 The best decisions are very often informed decisions, and when it comes to communicating successfully with potential candidates, it pays to be in the know about which sort of messages the respond to best. That's were Twitter Analytics comes in.
What are Twitter  Analytics and how do they work?
Twitter Analytics is one of the most comprehensive free analytics products associated with a social network on the market, in our opinion. It offers the user a broader view of their Twitter account's progress and effectiveness and includes really important data like the total number of impressions each of your individual tweets have received, the total engagements they have received, and engagement rates for each tweet. It also aggregates that data for the past month and shows you in a visual graph format, how you've been doing compared to previous months.
From a recruitment perspective you can easily see the tweets that have garnered the most engagement, the most popular hashtags associated with certain jobs, which phrasing was best received by your audience and if your tweets were engaged with more evidently at a particular time in the day. You can then use this information to improve the construction of your job tweets and hashtags, and to alter the timing of your tweets in Buffer.
So, looking to determine if a particular job tweet has been successful? Login to Twitter Analytics and take a look at the impressions it's received, the engagement the tweet has prompted, the overall engagement rate, ands how many retweets, favourites and replies it's garnered:
Login to analytics.twitter.com. If you don't already have a Twitters Ads account you will need to sign up for one (for free) before you can login here. You can set up Twitter Ads with your existing account here.
You will be presented with a dashboard full of graphs relating to your tweets' performance and a list of the individual tweets themselves.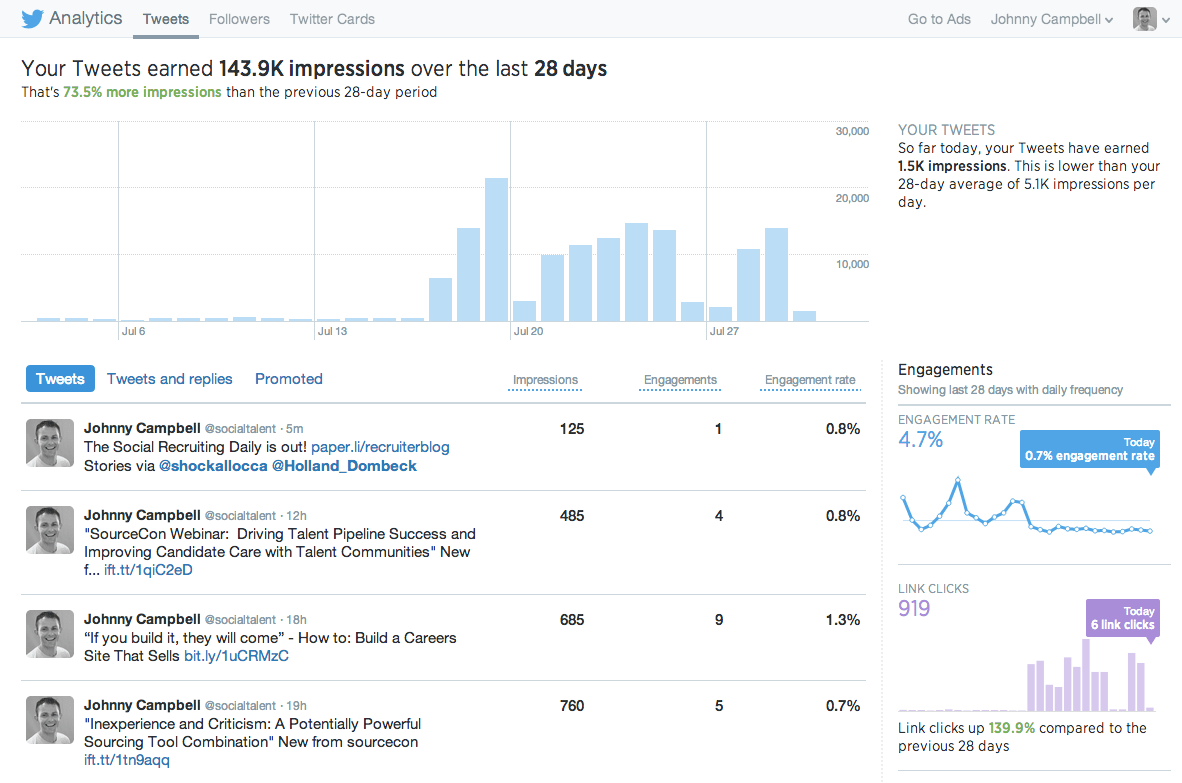 Find the tweet you wish to access the effectiveness of from the list of of tweets. To the right of the tweet you can see the impressions the tweet has had (the higher the better), the engagements (or actions) the tweet has caused readers to take e.g. reply, favourite, link click etc., and the overall engagement rate (again the higher the better).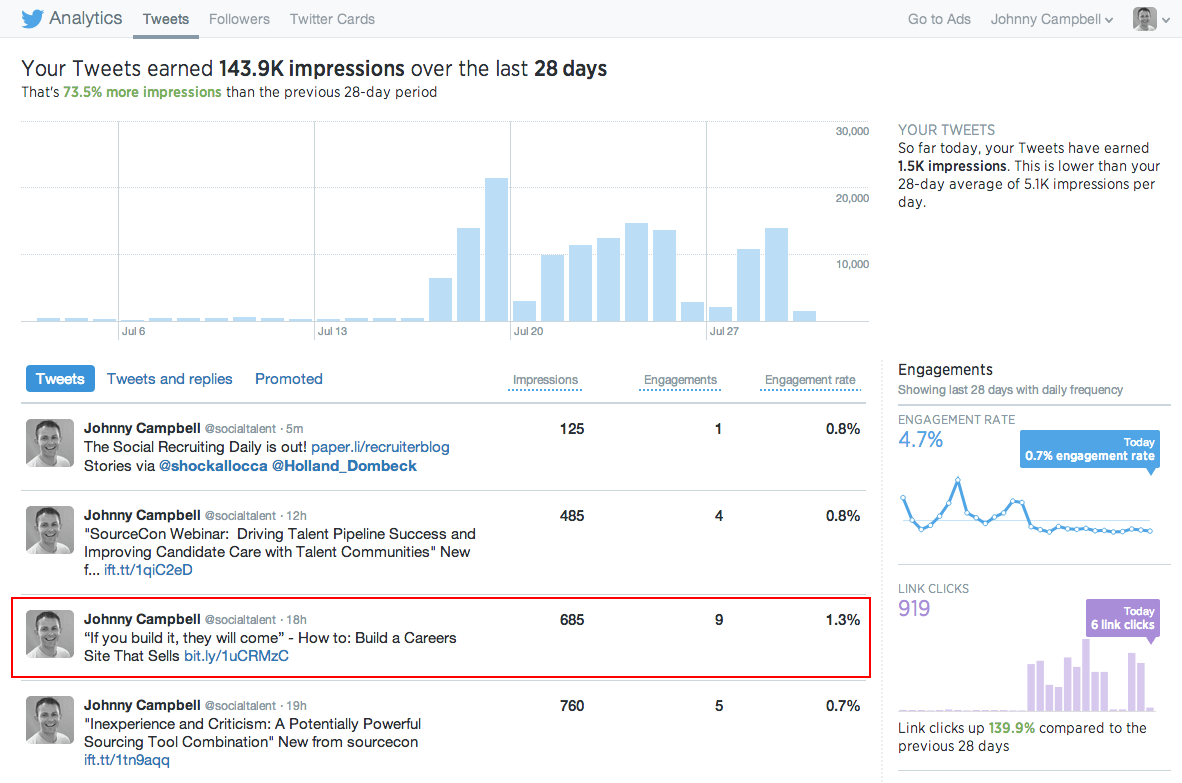 To discover how many retweets your account in general has received in a day or a number of days, turn your attention to the graphs on the left hand side of the dashboard.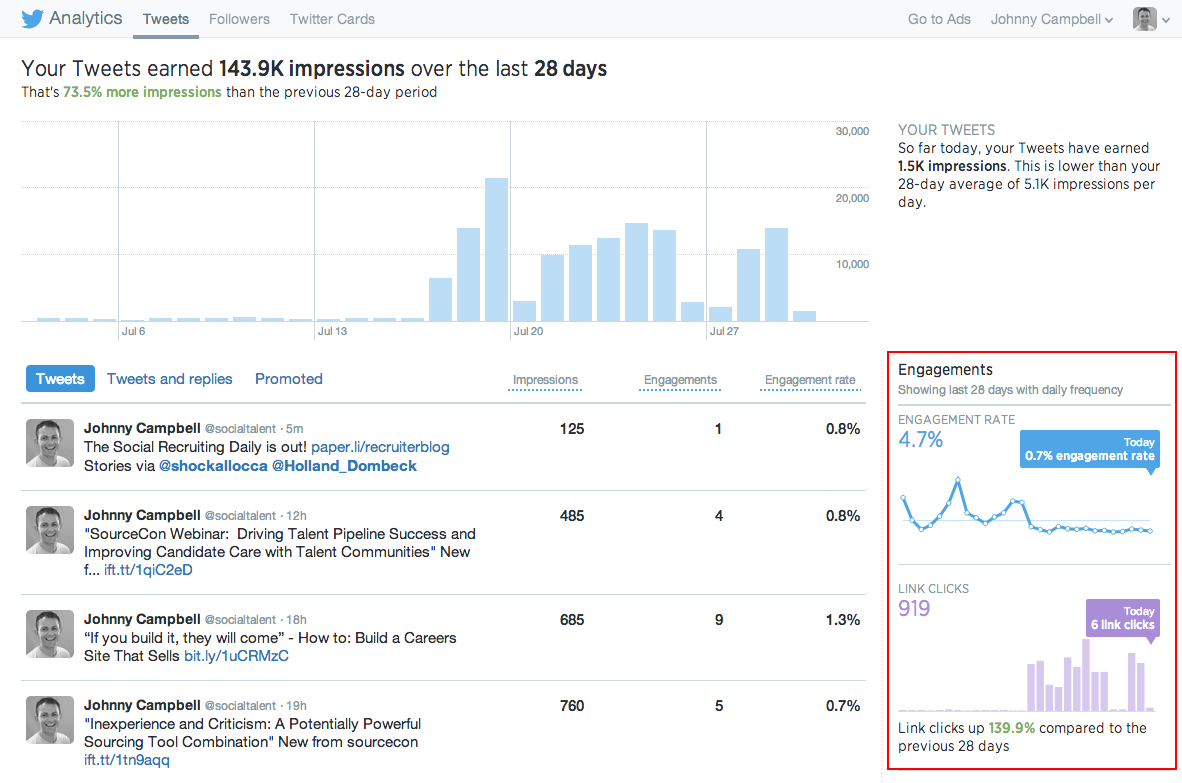 Find the graph relating to Retweets and simply hover your mouse the day you wish to discover the number of retweets for.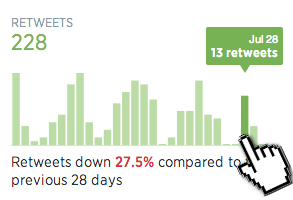 Have you got any Twitter related products you couldn't be without on a daily basis? Then please be sure to share them with us in the comments below. And if you'd really love to amp up your sourcing efforts on Twitter, look no further then our FREE whitepaper "How to: Recruit on Twitter". In it you'll find comprehensive tips for how to go about finding, attracting and contacting candidates through Twitter in the most successful and efficient ways possible. So what are you waiting for?! Download it here now!
Find out how the likes of IBM, IKEA and Siemens
drive hiring excellence with SocialTalent
---