Keep up with the latest hiring trends!
/
/

5 Essential steps before you dive into Social Recruiting
5 Essential steps before you dive into Social Recruiting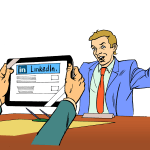 So, you've heard the buzz, your competitors are on Facebook, the CTO is Tweeting about the company and the new Intern has just blogged about her first day.  It's time you got into this whole Social Media/ Social Recruiting thing; or is it?
Too many people jump headfirst into social media without really spending some time asking themselves why.  Your time is precious, most companies have little to no spare budget for new technologies and the fact is that social media is not for everyone (although it is for most!)
If you want Social Media to work for you, you should take the time to follow these 5 simple steps before you start tweeting or set up a Facebook Page.  Essentially they are common sense, but like most things, we often overlook the obvious!
1. Set your objectives
You need to firstly define what it is that you are hoping to achieve with social media.  If you don't have an objective, don't do it.
Most businesses see social media as a way of branding or marketing their products or services.  This is a noble ambition and social media can be a great channel for branding.  I'm a recruiter so my primary objective when engaging on social media is to find candidates.  In fact, if truth be told, my primary objective is to make money by placing said candidates in vacancies with my clients.  Just finding candidates is not enough!  I recommend you follow the SMART process for objective setting, make sure your objectives are Specific, Measurable, Achievable, Relevant and Time-Specific.
2. Know your audience
No matter what your objective is, you are sure want to target a specific audience.  If you know your business, you already know who your audience is; if you don't, you need to go back to basic marketing before going near social media!
In recruitment, your audience may be the candidate base that you most frequently recruit from.  Social Media can be great at targeting specific niches whether they be defined by geography, age, profession, or any other key demographic.  I would recommend avoiding a "catch-all" approach as it is hard to be successful with such an approach.  If your audience is wide, focus on the customers or target audience that will account for 80% of your business.
3. Decide on one core channel
Your audience will dictate which channel is most appropriate.  For example, if you are targeting lawyers, then a blog might be most appropriate whereas if you are targeting graduates, Facebook is probably the best channel for your audience.  Each social media channel offers different ways of segmenting and targeting your audience but don't forget that people have different expectations depending on the social channel they are interacting with.  Facebook should be fun and casual, LinkedIn is about business, Twitter is about information, YouTube can be all of these things.  Don't try to be "all business" on Facebook and make sure that your target audience is actually on the social channel you decide upon!
4. Design a content calendar
This step is essential but often overlooked, even by experienced marketers.  Many people run out of things to say after a couple of weeks or else or saying the wrong thing and find themselves surprised when social media doesn't work.  You need to step very much into your target audience's shoes and think about what they want or need.  If your target audience are Sales People in the FMCG Industry in Ireland, then you need to think about what they would want to read, discuss or watch on your chosen social media channel.  If you're not sure, do a bit of market research and ask them!  This doesn't have to be complicated, pick up the phone to ten people and get a sense of what they might expect.
Once you have a content strategy, you need to plan how you are going to deliver it.  I recommend that you start with a 3-6 month calendar outlining how often you will post videos, photos, blogs, comments, questions etc and then then map this schedule on a calendar.  You should then decide on the individual posts, videos, questions etc or at the very least decide upon a theme for each and assign them to your calendar.  You will quickly realise that some effort is going to required to generate all of this content and it will take time so plan accordingly.  It is much easier to spend a few days designing a content calendar and then just rolling it out rather than struggling to come up with something engaging every day.
5. What are you measuring?
Lastly, think about your objectives again.  What can you measure to see if your objectives are being met?  If you followed the SMART mnemonic then your objective is already measurable.  You will need to source tools to measure your results against your objectives.  It should be something simple such as the number of placements or hires you make from social (if you are a recruiter).  You may need to improve your normal business processes to do this as many recruiters do not track their source of hires (amazing, I know!).
I don't recommend wishy-washy objectives such as "brand awareness" as they are hard to measure and not the end goal for any business.  The only reason that you want increased brand awareness is to drive sales, so make sales the objective you are trying to measure.  It is also important to measure the funnel to get to your objective as you need to be able to make corrections when things go wrong.  Decide on the steps that are necessary to achieve your objective such as number of CVs, number of those CVs that are interviewed etc as this may show up problems that can be easily remedied allowing for improved results.
By taking the time to think a little before you dive in, you will be better positioned to get the most out of social media, better positioned to justify the time spent and you will also come up with a better strategy to achieve your objectives!
Find out how the likes of IBM, IKEA and Siemens
drive hiring excellence with SocialTalent
---