Keep up with the latest hiring trends!
/
/

5 Recruitment Bloggers in Australia to Follow on Twitter
5 Recruitment Bloggers in Australia to Follow on Twitter

Are you a recruiter in Australia?  Today we're sharing our five favourite recruitment bloggers in Australia that you need to be following on Twitter.  These five individuals have their collective fingers on the pulse in terms of what's happening in the recruitment industry Down Under, along with offering major insider tips and sourcing know-how.  With decades of experience under their belts, even the most seasoned recruiter could learn a thing or two from them.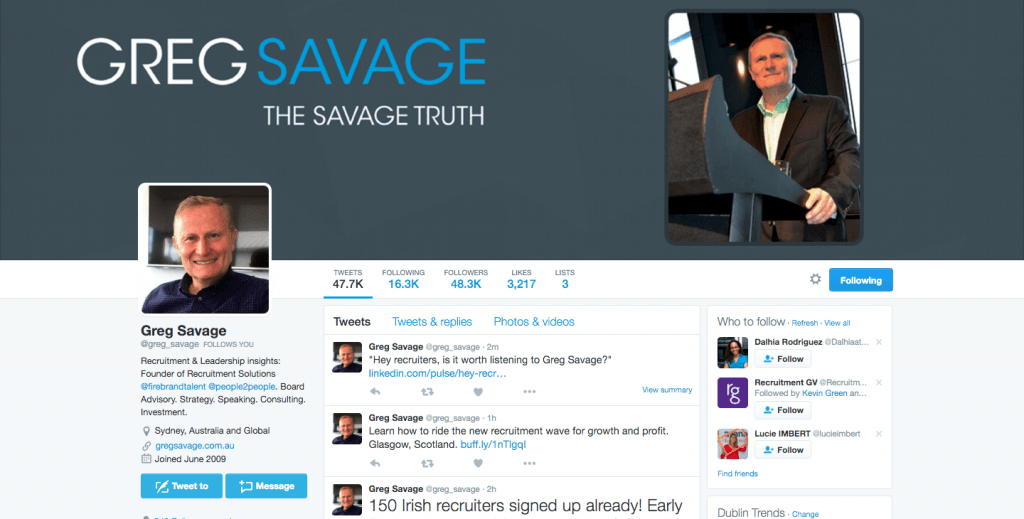 Greg Savage is a serious force to be reckoned with in the recruitment field – not only in Australia but across the globe.  His blog The Savage Truth was named one of 'Australia's Top 20 Best Business Blogs' in 2015 and Greg himself was recently voted 'The most influential person in the Australian recruitment industry in the past 60 years'.  He has over 35 years experience and is a regular keynote speaker at recruitment conferences around the world.*
(*Shameless Plug: He's also heading up our Recruitment Masterclass in Dublin on June 2nd 2016, where he'll be sharing the opportunities that will exist for recruiters over the next few years.)
Follow Greg Savage on Twitter here.

Nicole Underwood runs a hugely successful executive search and consulting firm in Adelaide and takes a holistic approach when it comes to talent management.  Interestingly, she was actually hired by Greg Savage way back when to set up the Adelaide office of the firm 'Recruitment Solutions', and so her recruitment journey began.  Nicole's blog incorporates leadership insights with discussions on retention, work-life blend and leadership to name but a few.
Follow Nicole Underwood on Twitter here.

Michael Specht is Head of Customer Success at HROnboard, an employee onboarding vendor specialist.  He also has over 20 years of experience specialising in the technology industry, focusing hugely on the impact that technology has on management practices and the broader organisation.  Michael doesn't post on his blog too often, but recently shared a piece about the various technologies that have the ability to profoundly change jobs in the workplace.  This is definitely one to keep an eye on…
Follow Michael Specht on Twitter here.

Alli is actually American, born and raised in Philadelphia, but she's taken up residence in Australia since 2012.  Last year she was named as one of Inc. Magazine's '100 Great Leadership Speakers', and mainly focuses on facilitating workshops, coaching and speaking globally.  Her blog Break the Frame touches on topics like personal leadership, communication, instinct and success, both as a recruiter and as an individual.  You'll take something away from this blog every day that you can easily apply to your career and personal life.
Follow Alli Polin on Twitter here.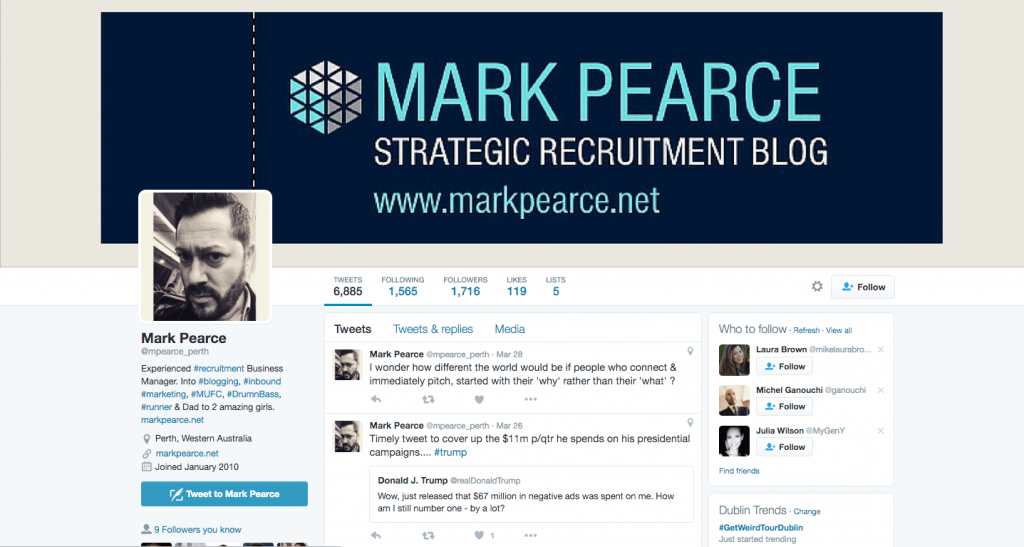 Mark Pearce originally hails from the UK, but now works as Client Relationship Manager at Fircroft Australia which is based in Perth.  His blog is aimed at both job seekers and recruiters, and touches on topics like 'Why Candidates are losing faith in Recruiters' and 'Has Curiosity Become Irrelevant in Recruitment?' Some great food for thought for recruiters.
Follow Mark Pearce on Twitter here
Who have we missed?  Tell us who your favourite recruitment bloggers in Australia are by commenting on this post, or feel free to tweet us @socialtalent with your suggestions!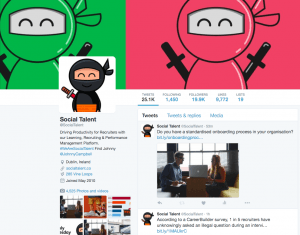 (RELATED POST: Top 10 Australian Job Boards – 2016 Edition)
Find out how the likes of IBM, IKEA and Siemens
drive hiring excellence with SocialTalent
---