Keep up with the latest hiring trends!
/
/

5 Ways to Find Email Addresses for Passive Candidates
5 Ways to Find Email Addresses for Passive Candidates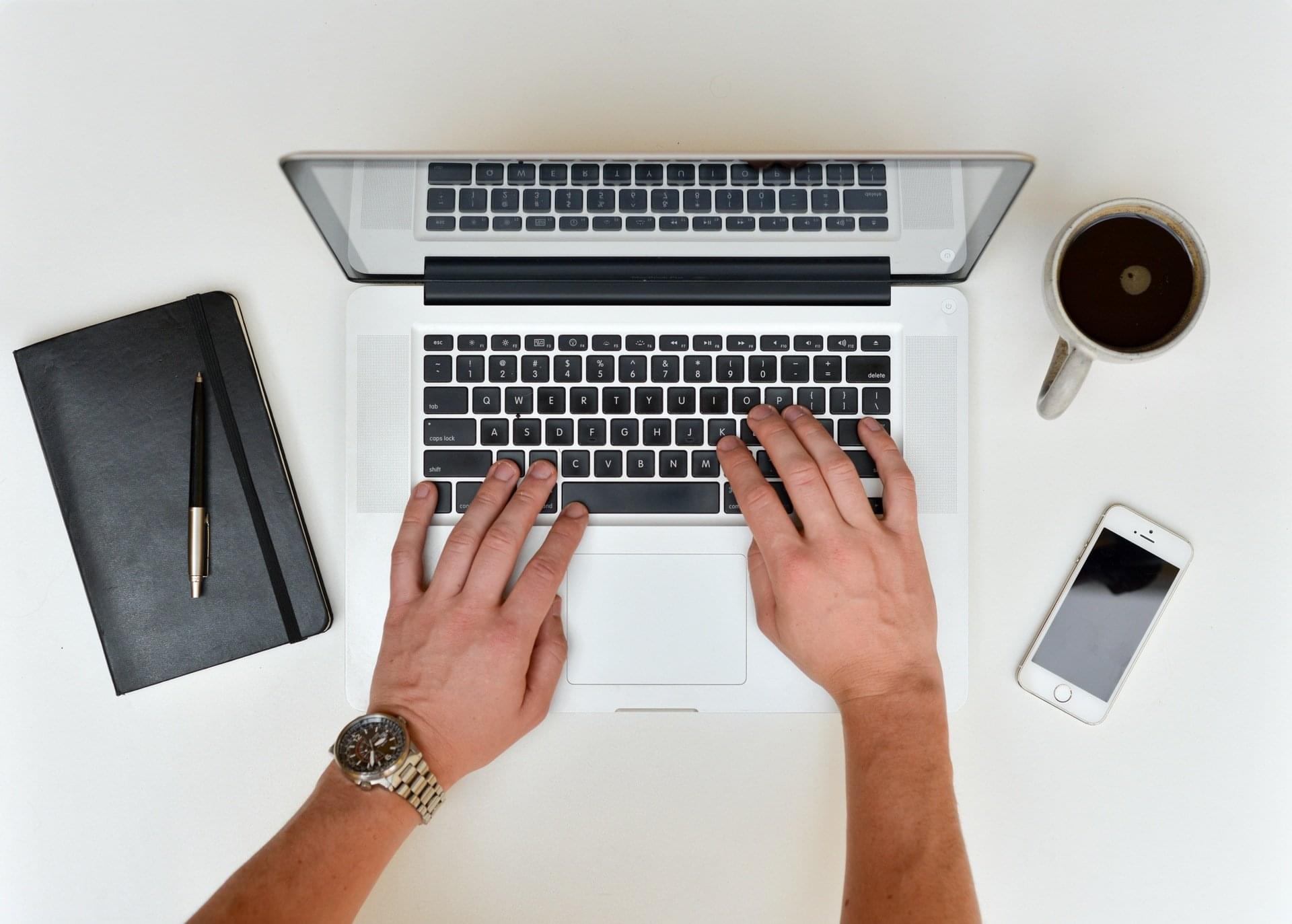 There are many different types of potential candidates out there based on their different motives and levels of interest.  One of the effects of the job landscape being so candidate-driven is that the market is flooded with more passive candidates. Indeed, 75% of the people recruiters want to hire for non-critical jobs are passive candidates while 95% of the desired candidates for critical jobs are passive according to LinkedIn's Global Talent Trends.
But what are the characteristics associated with passive candidates? Passive candidates are not actively looking for new opportunities and haven't expressed any sort of interest in your company. This means the onus is on recruiters to engage in more proactive sourcing, meaning they have to initiate the first communication. Let's just say you found the perfect candidate but because the person hasn't engaged with your company in any meaningful way, you have little information about them. You have their full name and you know the name of the company they work for but you don't have any of their contact details. How do you go finding their email for example in order to start a conversation? Well there's a few very cost-efficient ways out there that will enable you to do this. See some of our favourite tools below:
1. Twitter Search

Somewhat of an untapped source for many recruiters is Twitter search. It is pretty common for people to get asked for their email on Twitter and using Twitter search, you will be able to quickly search and find any mentions of a person's email address on the platform. The best way to do this is to insert the following query into the Twitter search bar: (at) (dot) from:[company name] e.g. (at) (dot) from:marketo. When you search for this, you get the following results on the right:
From here, you can quickly determine the email format for the company that your potential candidate works for. One recommendation from us is to always search for '(at) (dot)' as searching for the word 'email' will generate a huge list of tweets on the topic of email and not actual email addresses.
2. Voila Norbert

Voila Norbert aims to help people find anyone's email address by only having their full name and company domain. All you need to do is enter in these details and Norbert pings the mail host to confirm what the correct email address is.
Things to note with this service is that you are limited to a certain number of free searches, after which you can pick a pricing plan (all very cheap). Volume discounts are available too. It does produce mixed results as there are certain servers that do not allow email verification.
3. Prophet
Prophet is a great way to uncover email addresses.  It's a Google Chrome Plugin which will try to find email addresses for social profiles. Prophet uses an advanced engine to predict the most likely email combination for a given person based on name, company and other social data. Then, Prophet verifies this email to ensure it is correct and deliverable. Here's how to use Prophet once you click on someone's social profile: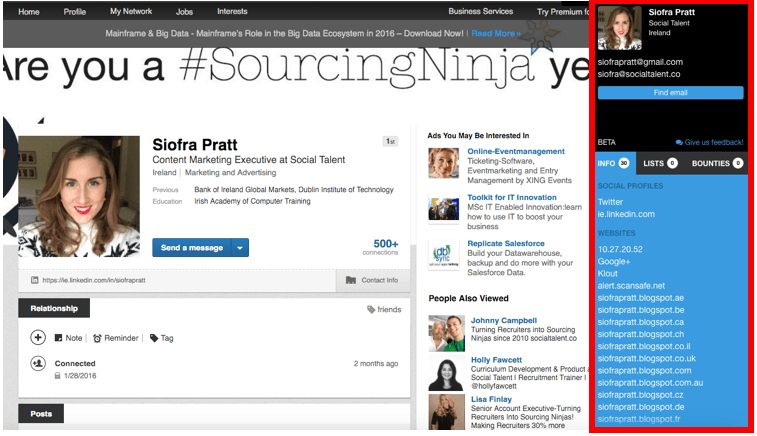 Click on the blue box or the black arrow in the top right corner of your page
You will get a small dashboard of information on that person, including email address and social profiles
Sometimes it will not have an email address, in which case you click the 'find email' button
If the email is verified, it will have an envelope or thumbs-up icon next to it. If unverified, a question mark will appear next to it
The email address may work but you can't be certain if the question mark icon appears
You can download Prophet for free here: bit:ly/prophetchrome
4. Email Hunter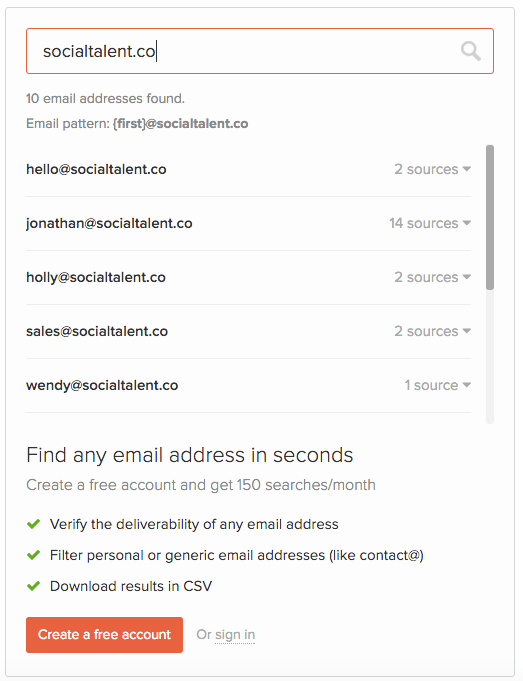 Similar to Voila Norbert, Email Hunter allows you to enter information you already have into the available fields to uncover more publicly available information. The only difference between Email Hunter and Voila Norbert is that Email Hunter does not require first and last name. All you need is the domain name and Email Hunter will generate a list of emails related to it found online. Surveying this list, you can quickly see the email format of the company domain you entered in.
A nifty feature that this product has is it's Verifier tool. Once you punch in the domain name and find the person's email address, you can then verify this email address and Email Hunter will tell you whether the email is valid. Email Hunter also has a Chrome extension to help you source emails more efficiently. You can get 150 free requests a month by signing up and you have the option to upgrade to paid plans which will give you more searches.
5. The Classic Way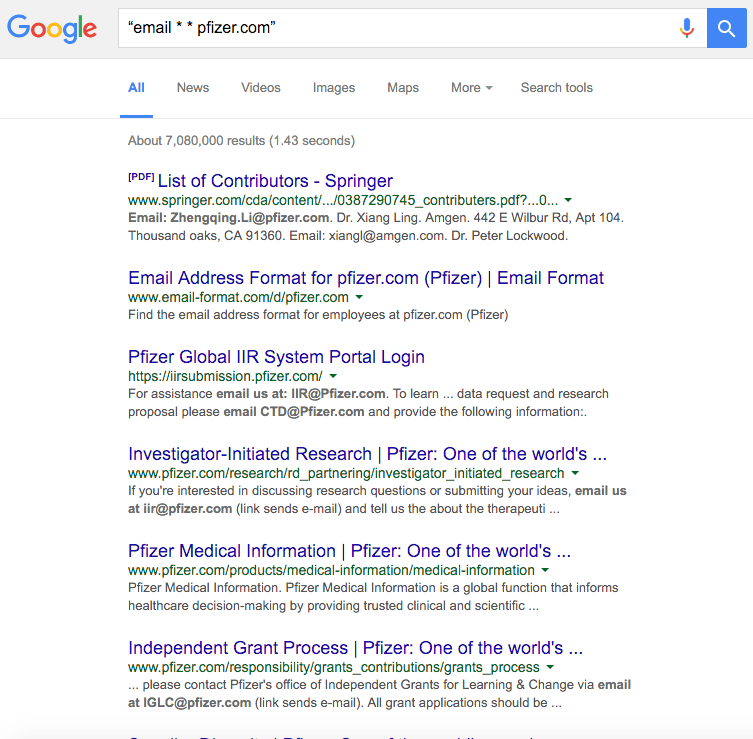 Out of options yet? Well if you're not having any luck on any of the above tools, you can always use the classic way and search for email formats through Google. You can use this method to try and identify patterns for companies. The following are standard patterns that most companies use for their employees:
firstname@company.com
firstname.lastname@company.com
a.lastname@company.com
alastname@company.com
first_lastname@company.com
So to search for email patterns for a particular company, you need to enter 'email * * company.com' in quotations into the Google search bar. The asterisk used in the formula is a proximity operator in Google which basically means you are asking Google to show you web results that have the word 'email' pretty close to the company domain. For example: searching for "email * * pfizer.com" will give you results seen on the left. It's important to scan through a few pages of results and ignore role-based emailed which typically appear first.
So there you have it –  a list of tools that you can use to source emails for potential candidates. Since recruiters are operating in a primarily candidate-driven market where applicants can be more selective when it comes to jobs, this is a particularly useful skill to have as it enables recruiters to make the initial contact in a professional manner. If you are looking to engage passive candidates over the phone (a very effective but often under utilised tactic!), you should check out our free whitepaper here.
Find out how the likes of IBM, IKEA and Siemens
drive hiring excellence with SocialTalent
---