6 Unmissable Recruitment News Stories to Soak Up this Week - 17th October 2016
In recruitment news this week:
LinkedIn Announce 3 New Talent Products and Enhancements to Drive Opportunities for Recruiters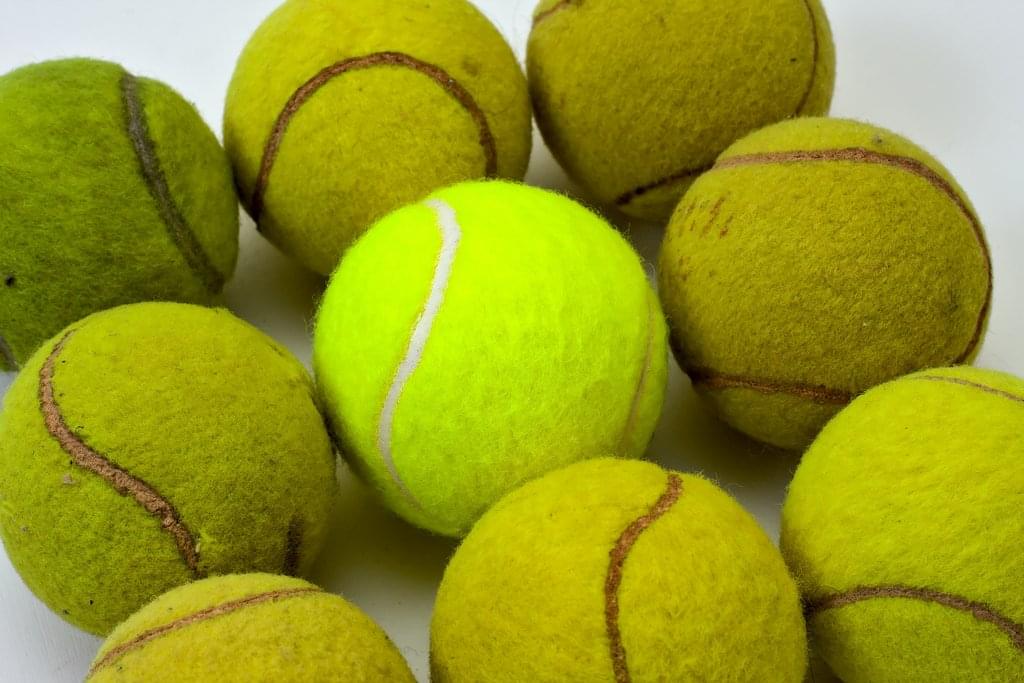 Following on from Talent Connect 2016, LinkedIn have introduced three shiny new additions to their Talent Solutions portfolio, that should "make it easier for recruiters to find open talent and build a better pipeline of highly qualified candidates":
Open Candidates
Apply Starters
Next generation LinkedIn Career Pages
Open Candidates
Open Candidates is a new feature that makes it easier for candidates to connect with their dream job by allowing them to privately signal to recruiters that they're open to new job opportunities. Candidates can specify the types of companies and roles they are most interested in. All of which will make it easier for recruiters to zero in on leads who are 2x more likely to respond to outreach, learn candidate interests up front which wouldn't normally be evident until a phone screen, and disqualify candidates who aren't a fit. The Open Candidates signal will be hidden from recruiters at the candidate's current employer or affiliated company recruiters.
Candidates can access the Open Candidates feature from the "
Preferences
" tab on the
LinkedIn Jobs home page
. All they need to do is turn sharing "On" and fill in some brief information about the type of roles they're interested in. US, UK, Canadian and Australian are able to use the feature immediately. It will be rolled out globally in the coming weeks.
Apply Starters
In the same vein, LinkedIn want recruiters to be able to find candidates who show interest by starting the application process even if they don't complete it. As many as 74% candidates don't finish the application process on company career sites. And there are a myriad of reasons why applicants fail to complete applications, ranging from a cumbersome mobile application process to lengthy questionnaires.
Apply Starters has been launched to combat this issue by giving LinkedIn members the ability to share their profile with recruiters when they start applying. This will give recruiters access to at least 2x as many candidates for their jobs, and those candidates are 4x more likely to respond to outreach from a recruiter.
Next Generation Career Pages
LinkedIn Careers Pages have been "significantly revamped" to make it easier for you "to tell an authentic story about your culture and careers, improve discoverability of your jobs, and give you robust analytics to measure performance and optimise results".
The new page design puts the spotlight on company culture and job opportunities, by organising the page into 3 distinct sections — company overview, relevant jobs, and culture ("life").
Company Overview
From the Overview tab, candidates will see visual tabs with personalised previews of content on the "Jobs" tab and "Life" tab, encouraging them to discover more about your culture and careers. And early results show that it's working — in just 4 months, LinkedIn charter customers have experienced a 60% average increase in page views per unique visitor, and a 175% average increase in job views from Career Pages.
Relevant Jobs
A new dedicated 'Jobs' tab gives candidates personalised job recommendations and insights into the company's current employees. The tab is powered by an improved jobs algorithm, leading to higher conversion rates and more qualified applicants. In the "Meet the team" section, candidates can view employees at the company who are similar to them to give them a sense of who their potential colleagues could be. They can also gain insight into your employees — their education, previous companies, skills, and what they have in common, empowering them to understand the path to hire, and better assess fit with your organisation before they apply to your jobs.
Culture ("Life")
The new Life tab lets you share what life's really like at your company. Through this tab, you can showcase articles and photos created by your employees, along with engaging videos, photos and posts from your company. The content modules include:
Employee Perspectives: long-form written posts
Photo Gallery: photos generated by company and employees
Company Leaders: featured profiles introducing key leaders
Automated Company Insights: aggregate data on company and culture
Hero banner: add video to your top banner and make your culture come to life
Many of these modules suggest pre-populated content or allow you to select employee-created content, making it easy for your Career Pages admin to manage your page.
For those of you that opt to create multiple versions of the page in order to target different audiences (i.e. tell a different story to an engineering candidate than a marketing candidate), you'll now have the option to make any or all of these views browse-able. This lets visitors explore content tailored by job function and geography, and interest areas like diversity or veterans so they can more deeply discover your organisation. Expanded in-product analytics will also give you access to more real-time data and insights, that should help you hit hiring goals and better understand your competition.
Job Boards Are More Popular Than Rec Agencies and Social Media Among Jobseekers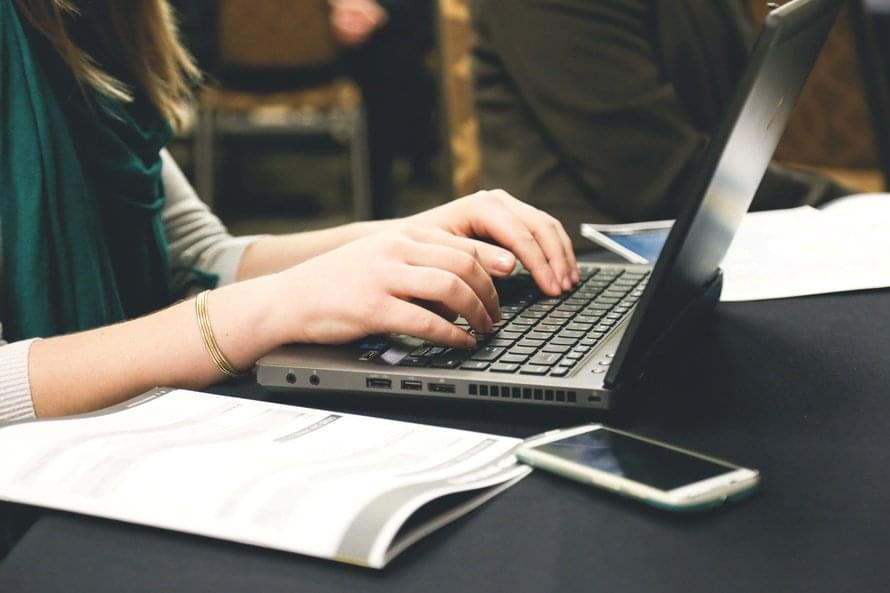 According to a new survey of 1,000 UK employees carried by industry analyst Opinionography on behalf of Bond International Software, only 25% of candidates would choose to use social media to help them in their job search. While 81% of candidates have used online job sites in the past year.
Yes, online job boards have emerged as the firm favourite of applicants looking for a role, with 68% of those asked saying that they found them helpful. Comparatively, just 38% of those asked said the same of recruitment agencies. While just 14% of those asked said the same of social media. In fact, given past experience, if searching for a job today 94% stated that they would be likely to use an online job site.
Commenting on the finding, Toby Conibear, European Business Development Director at Bond International Software said, "from the lack of social media use, to the rise of industry specific job boards, there is a clear need for recruiters to get specialist. Those recruiters that harness and improve candidate relationships, offer industry specific advice, and can provide end-to-end excellence in recruitment processes will be the ones to win over the competition."
ZipRecruiter Testing "Check Salary" Feature on Job Ads

ZipRecruiter is testing a new feature on its site that it hopes will get more employers to provide salary information about a job. Yes, at the end of some of the job ads on ZipRecruiter, there is an extra button that gives job candidates the choice of either applying for a job or checking the job salary. If someone clicks on it, ZipRecruiter makes a log of it, and provides the hiring manager with a tally of how many overall people have requested salary information for a job. That note provides a link for managers to update the salary. If an employer then updates the salary, the job seeker gets a link letting them know.
The button only appears on job ads where the employer has failed to post a salary along with the job requirements.
But ZipRecruiter isn't the only job board that's starting to focus more on salary transparency, global job site Indeed has also just unveiled a new salary search tool that will give jobseekers and businesses unprecedented access to salary data from their database.
Bill Richards, UK Managing Director at Indeed, comments that research from his employers has shown that "including salary data in job ads significantly increases applications from the most relevant job candidates. Companies who provide compensation details in their job postings, even as a salary range, get more interest from the right candidates and fewer applications from candidates less likely to make it through the hiring process."
Furthermore, their research found that including salary data in a job advert increases applications by the most relevant candidates by 5%.
P.S. Stay tuned for another salary tool related feature being brought by another big industry player!
[cta-blog]
Stack Overflow Puts a NEW Spin on Resumes for Developers
Last week saw the expansion of Stack Overflow's job service with the launch of "Developer Story" – a new kind of resume that aims to free developers from the shackles of the traditional resume.
Stack Overflow VP of Community Product Jay Hanlon told Techcrunch.com, in working with potential employers, his team realised that traditional resumes put their emphasis on job titles, schools and degrees — but that doesn't always work for developers. In fact, according to Stack Overflow's latest survey, the majority of developers don't even have degrees in computer science.
"[Traditional resumes] are optimised for conveying the importance of your pedigree," said Hanlon. However, the things you've achieved, tend to be hidden in tiny bullet points underneath those headers. So the idea with Developer Story is to pull out your achievements — the problems you've solved, the open source projects you've contributed to, the apps you've written — and highlight those. "Developers, fundamentally, are makers," Hanlon said. "They are less like a business analyst where a title conveys authority."
Developer Story offers two views:
A traditional resume view for employers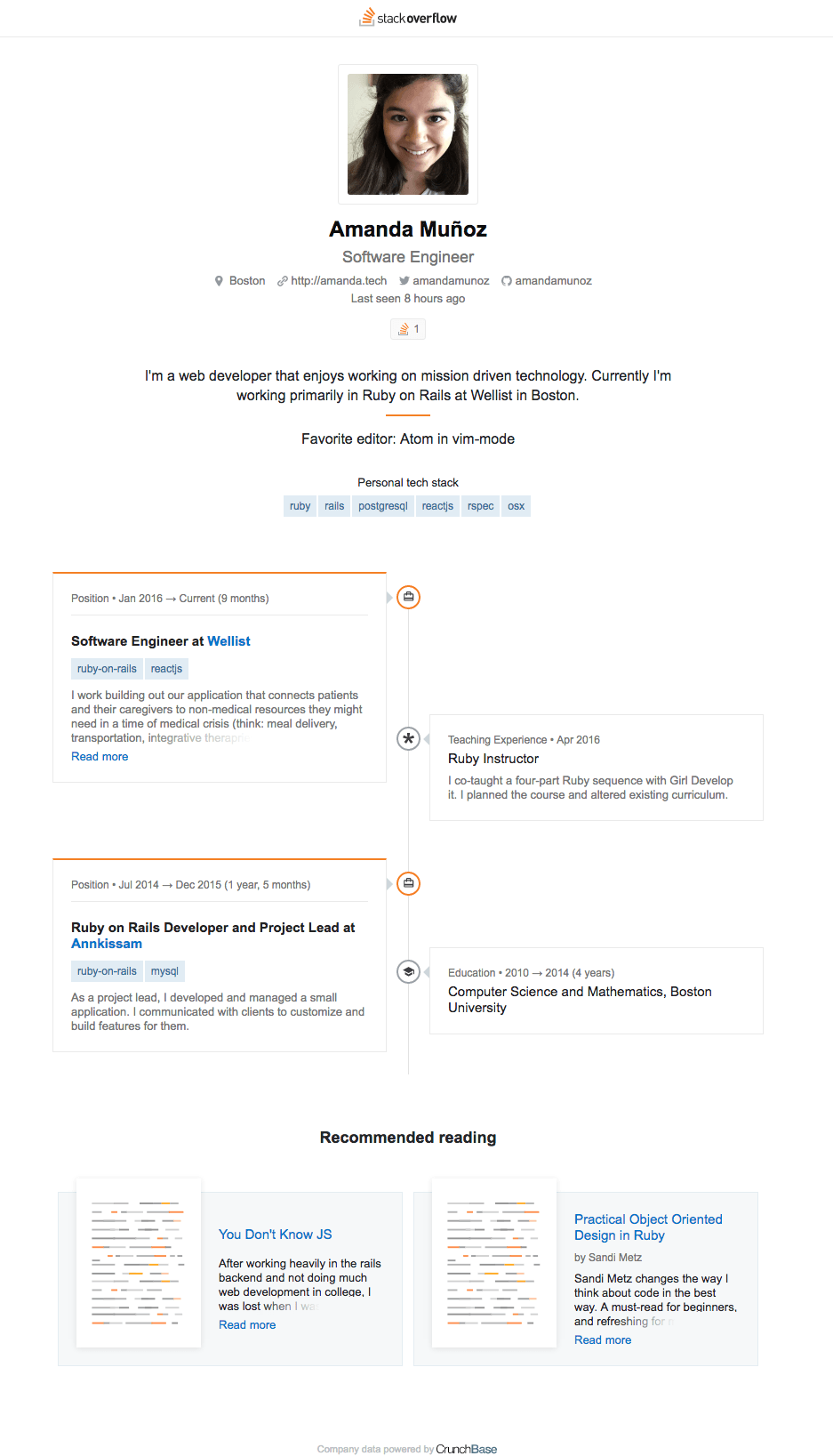 2. and a more modern timeline view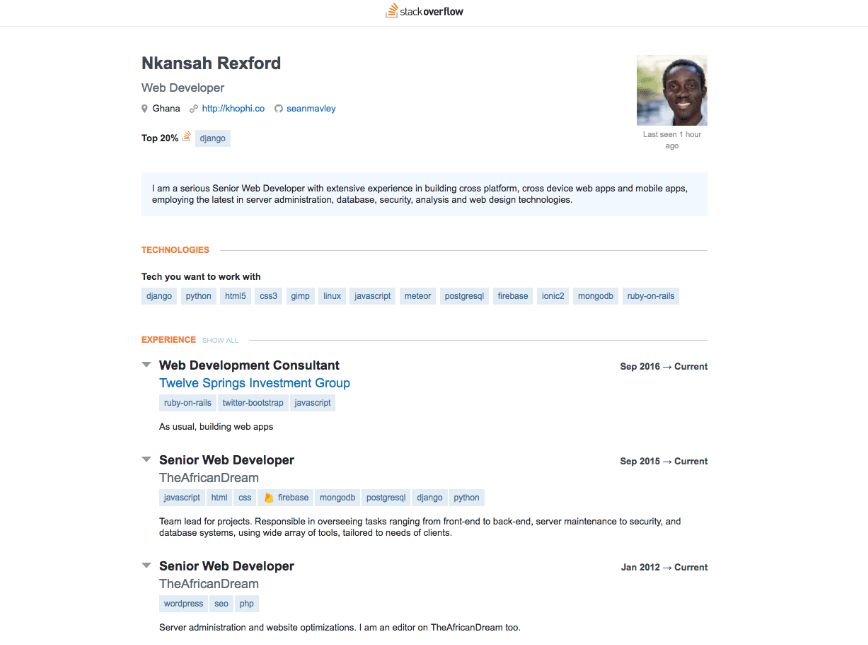 It's the timeline view that emphasises your achievements, but even the traditional view puts its emphasis on which projects you have contributed to, which languages you've used, which questions you've answered on Stack Overflow, etc. What's important to note is that it's the developers who gets to choose which accomplishments they want to highlight to potential hiring managers.
Hanlon stressed, the idea here isn't just to help developers present their accomplishments, but also to help potential employers find the best candidates to fill their job openings. Stack Overflow's most recent survey of its community showed that only 15% of developers are actively looking for new jobs at any one time. However, more than 60% are open to opportunities. "A huge percentage of developers actually never go looking for jobs," Hanlon said. "They have people come to them. One of the things Developer Story is optimised for is these people."
Developers can also use these new resumes to signal that they are interested in a new job (or not) and tell recruiters what kind of salary they are looking for.
If you want to give it a try, the new service is now available on Stack Overflow; like all of the company's other services for developers, it's available for free. But remember, Stack Overflow itself only works with employers directly (or the agencies they hire), but doesn't allow individual recruiters onto its platform.
Job Recognition is More Important to Millennials Than Freebies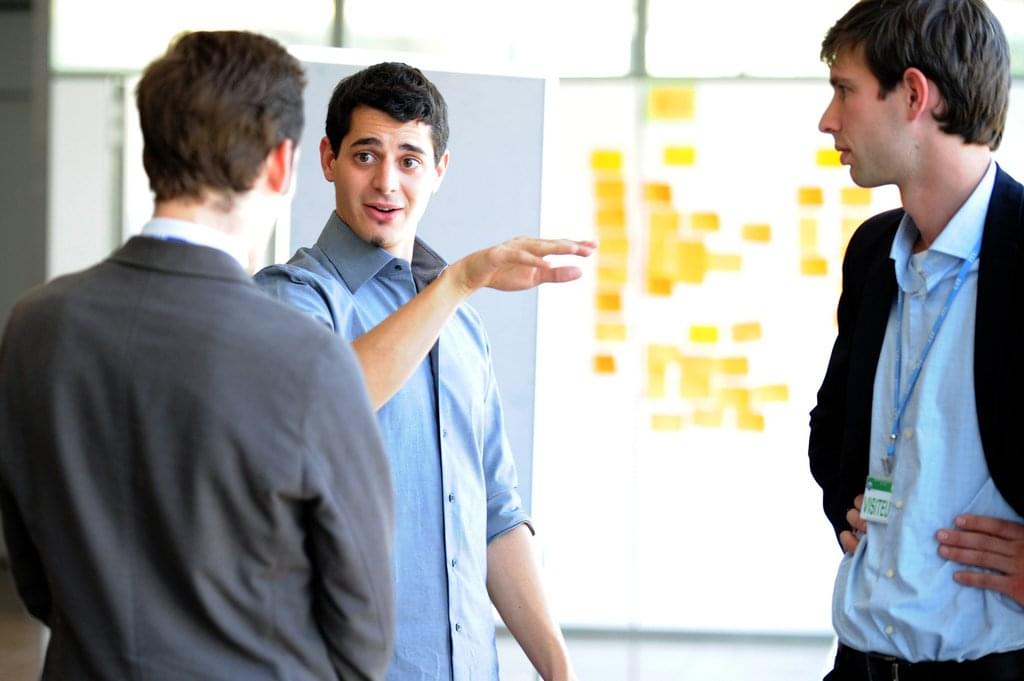 A new survey, conducted by Direct365, has found that only 40% of 18-24 year olds claim they are interested in job perks, showing more interest in peer recognition and general job satisfaction. That's in contrast to 70% of 35-44 year olds who take incentives into consideration when job seeking.
Phil Turner, Head of Digital at Direct365, says that attractive incentives may only give employees a short-term boost: "The problem with a lot of job perks are that the companies offering them don't take into consideration what the employee could really use. Fun incentives may look great on paper, but the reality is very different and companies should be working to give staff what they genuinely want. Perks that make your working day a little easier will always be attractive – not to mention peer recognition, appraisals and real career progression. These are priceless."
Everyone's Favourite Facebook Sourcing Tool Just Received A Major Update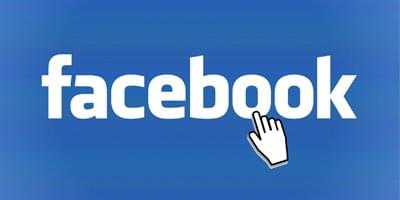 Shane McCusker announced a few days ago that the latest version of his Facebook sourcing Chrome extension has been updated. It now includes Facebook searching for People, Posts, Pages, Events, Groups and Photos.
According to McCusker, "perhaps best of all for sourcing, I have been able to introduce AND and OR searching on top of Facebook Graph. I don't think that this as ever been done before." And the feedback so far, has been very positive. Sourcecon's Shannon Pritchett said, "I noticed the results right away. The ability to use the OR operator works very well." In a post about the update, Pritchett also included a number of screenshots of searches she had undertaken using the new tool. Some of them can be seen below:
Facebook Search for a female recruiter living in Dallas: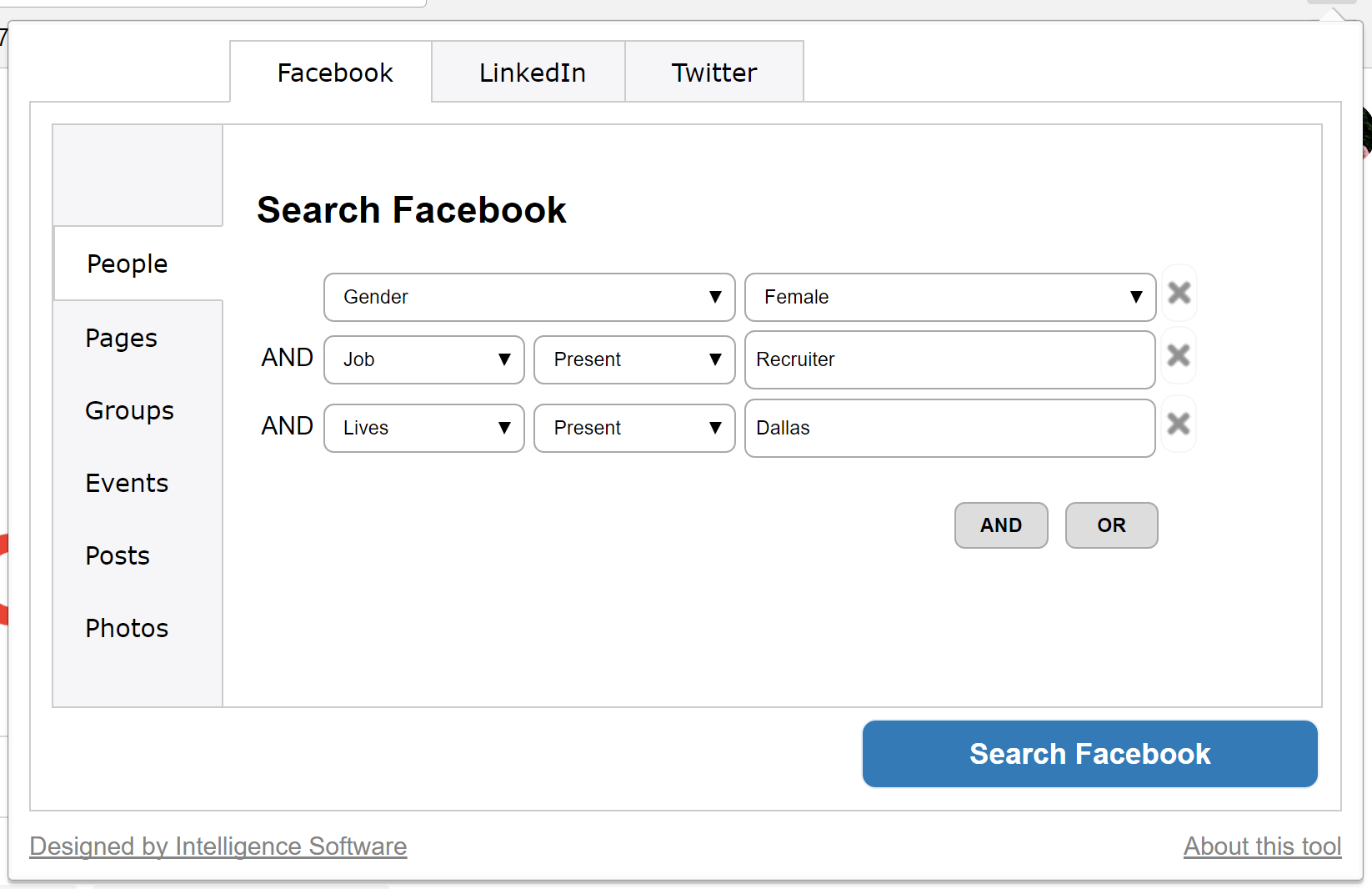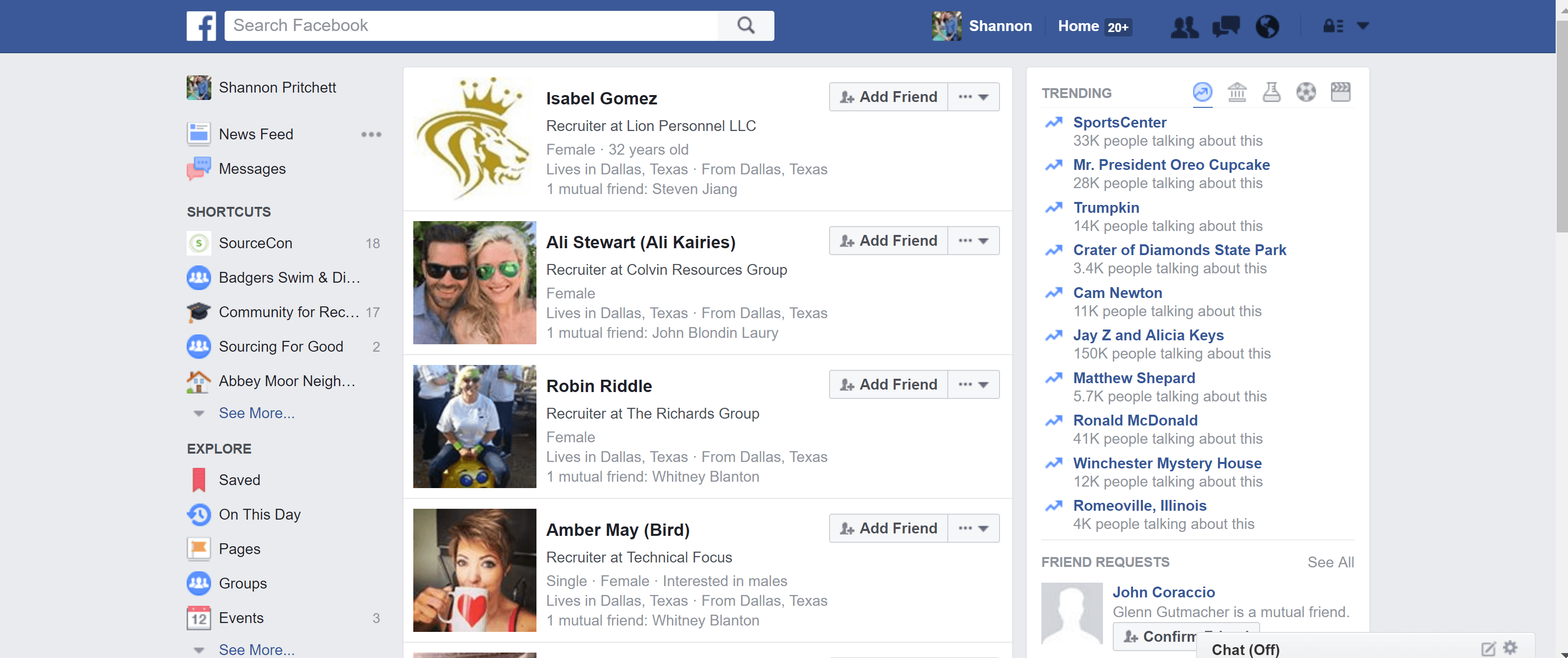 Facebook Search for a recruiter living in either Madison Wisconsin or Milwaukee Wisconsin: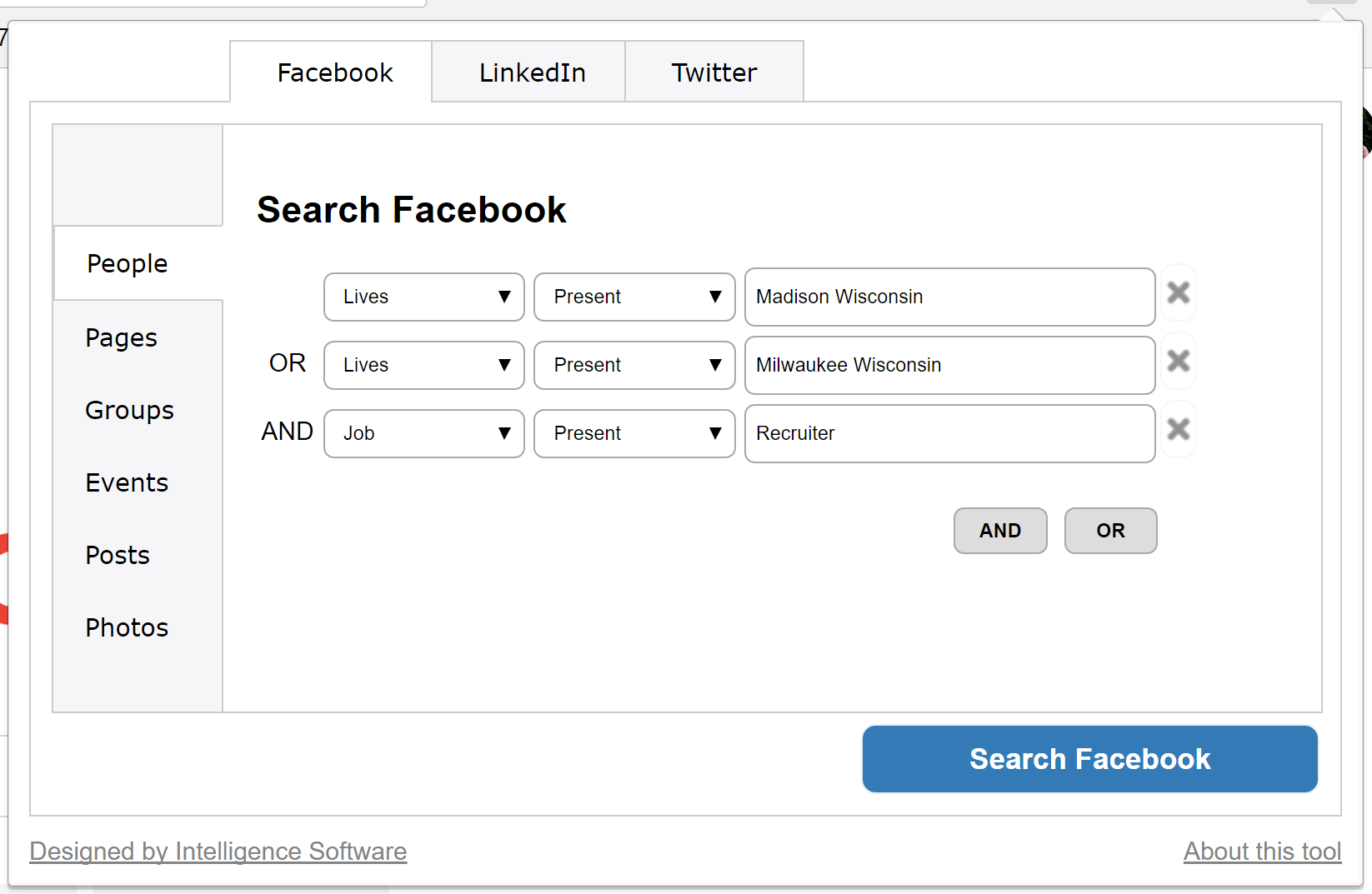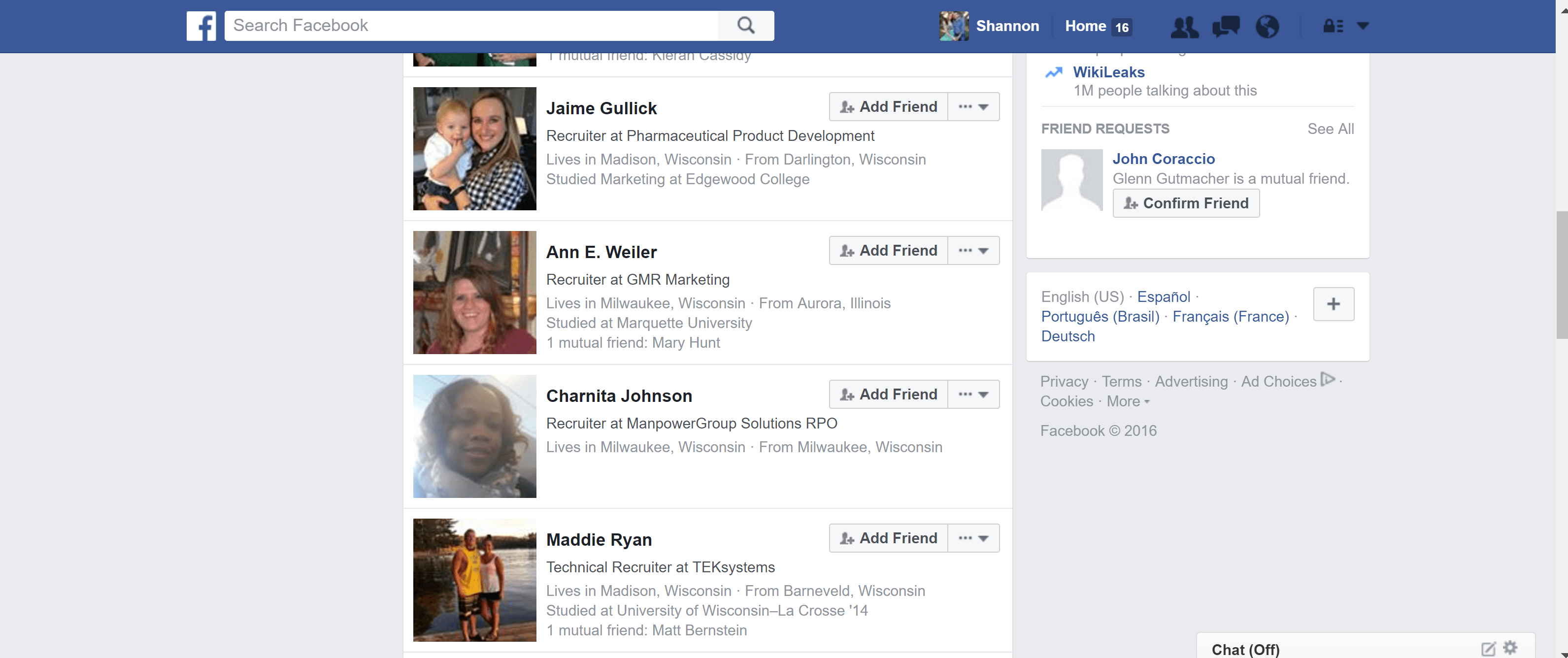 You can download the new tool here.
Want to keep up to date?
Join our 75,000+ subscribers who do!