7 Headline-Making Recruitment News this May Bank Holiday - 2nd May 2016
 In recruitment news this week:
Shocking Statistics Reveal True Lack of Diverse Hiring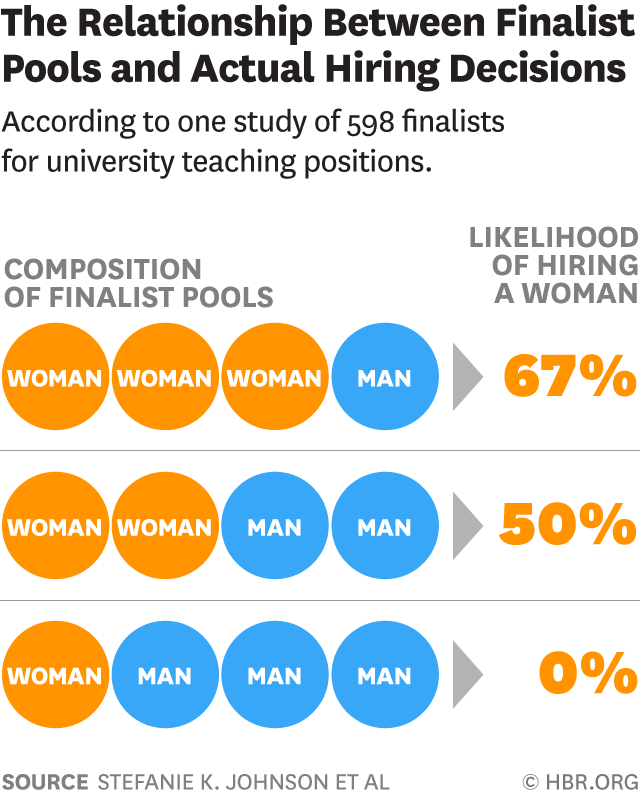 A new study of 598 job finalists from the University of Colorado has revealed the shocking true impact of unconscious biases on the hiring process. According to their findings, when there is only one woman in a hiring pool of 4, she does not statistically stand a chance of being hired, but that changes dramatically when there is more than one. Each added woman in the pool does not increase the probability of hiring a woman, however — the difference between having one and two women seems to be what matters.
There were similar results for race when the researchers looked at a pool of 4 candidates. The odds of hiring a minority were 193.72 times greater if there were at least 2 minority candidates in the finalist pool. This effect held no matter the size of the pool (6 finalists, 8 finalists, etc.), and these analyses excluded all cases in which there were no women or minority applicants.
The authors commented that this "get-two-in-the-pool effect" could be a step in overcoming unconscious biases and ushering in the racial and gender balance that's wanted in organisations.
(RELATED: How Badly is Your Unconscious Bias Affecting Your Recruiting Skills?)
Apple Has Laid Off ALL Its Contract Recruiters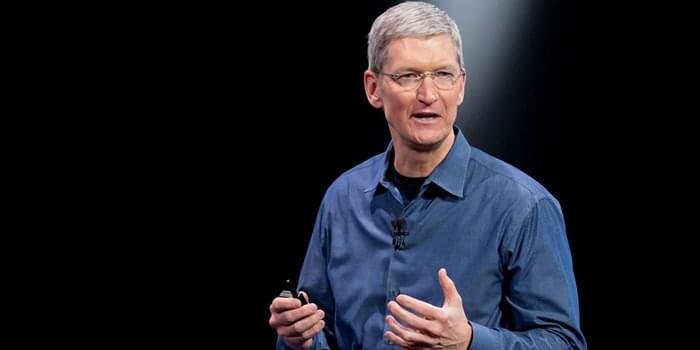 According to VentureBeat, tech giant Apple has been cutting all of its contract recruiters in the past few weeks. The company is also additionally beginning to let go of some full-time recruiters as well, a source familiar with the matter told VentureBeat. In all, more than 100 people could be affected by the moves, the source said.
"You always need to have something new coming out to justify hiring," the source explained. "Essentially, the recruiting engine inside Apple has slowed down, and the company is reevaluating its activities in that area".
In addition, Apple has changed the incentive structure for its remaining recruiters. A bonus that gives recruiters 40% of a new employee's base salary has been dropped to 10-15%, and the bonus may even go away entirely, the source said.
Apple has not yet responded to a request for comment by VentureBeat, and the company currently has no public job postings for recruiters.
CareerFoundry Raises $5M to Make Learning Tech Skills More Social
CareerFoundry has just closed its Series A round with funding of $5 million for its online school for web development, iOS development, UX and UI design. But while the company's product may not interest recruiters, it's ultimate aim will.
Interestingly for recruiters, the idea is that the site works with employers worldwide to place its alumni into paid jobs. CareerFoundry's community provides students, mentors and employers with a network of people to tap into for employment. It's seeded the community with expert mentors from tech giants like Apple and Amazon who coach students one on one, and claims its alumni have gone on to work for the likes of AT&T, Donna Karen and Wagepoint.
Unusually, it also offers a full refund of course fees if a student isn't placed in a "job they love" within 6 months of graduating. This is possibly a first, but may also be hard to define.
Raffaela Rein, CEO of CareerFoundry, says the funding will allow them to "sharpen our focus on community, student success and employer relations."
BBC to Anonymise Job Applications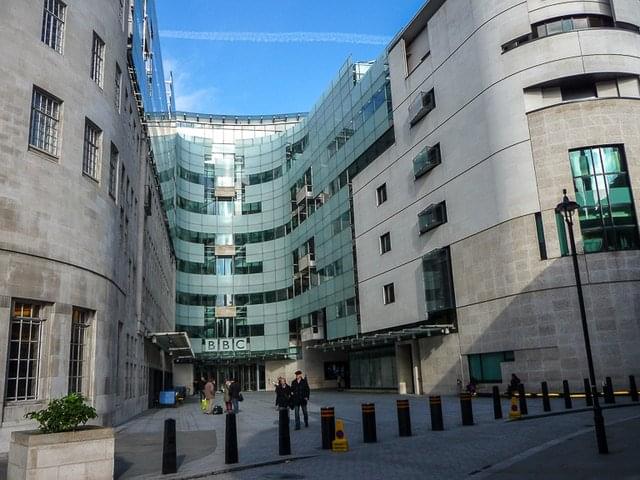 The BBC has decided to anonymise names and universities from job applications in an effort to tackle unconscious bias. In addition, the corporation says it will ensure interview panels contain both male and female candidates and those of ethnic minorities "where possible".
The policies will be implemented to encourage underrepresented groups to make it to the interview stage, and to detach itself from its 'middle-class Oxbridge graduate' reputation.
Previous research has shown the influence of 'name bias' on decision making with candidates, with names representing ethnic minorities receiving less positive responses than applicants with a typically British name, according to a study by the National Centre for Social Research.
Coming down on discrimination, last week the BBC introduced targets to increase diversity. By 2020, the corporation is determined to have women make up half of the workforce and have 15% of staff from ethnic minority backgrounds. 8% of staff would be made up by disabled people, and also lesbian, gay, bisexual or transgender people are to fill 8% of roles – new targets and policies the BBC believe will put them ahead of other broadcasting corporations.
A BBC spokesperson said: "We are making good progress in our work to make the BBC a truly diverse organisation, but there's more to do and we're always keen to improve. Almost half of our workforce is made up of women and the proportion of our workforce who are BAME is at an all-time high. We'll continue doing what works but also develop new and innovative ideas to do even better, and we'll set this out in full when we announce our new diversity strategy on Thursday."
(RELATED: Shocking Survey Results Reveal "Resume Whitening" is Rampant Among Ethnic Candidates)
10 Highest Paid Flexible Working Jobs of 2016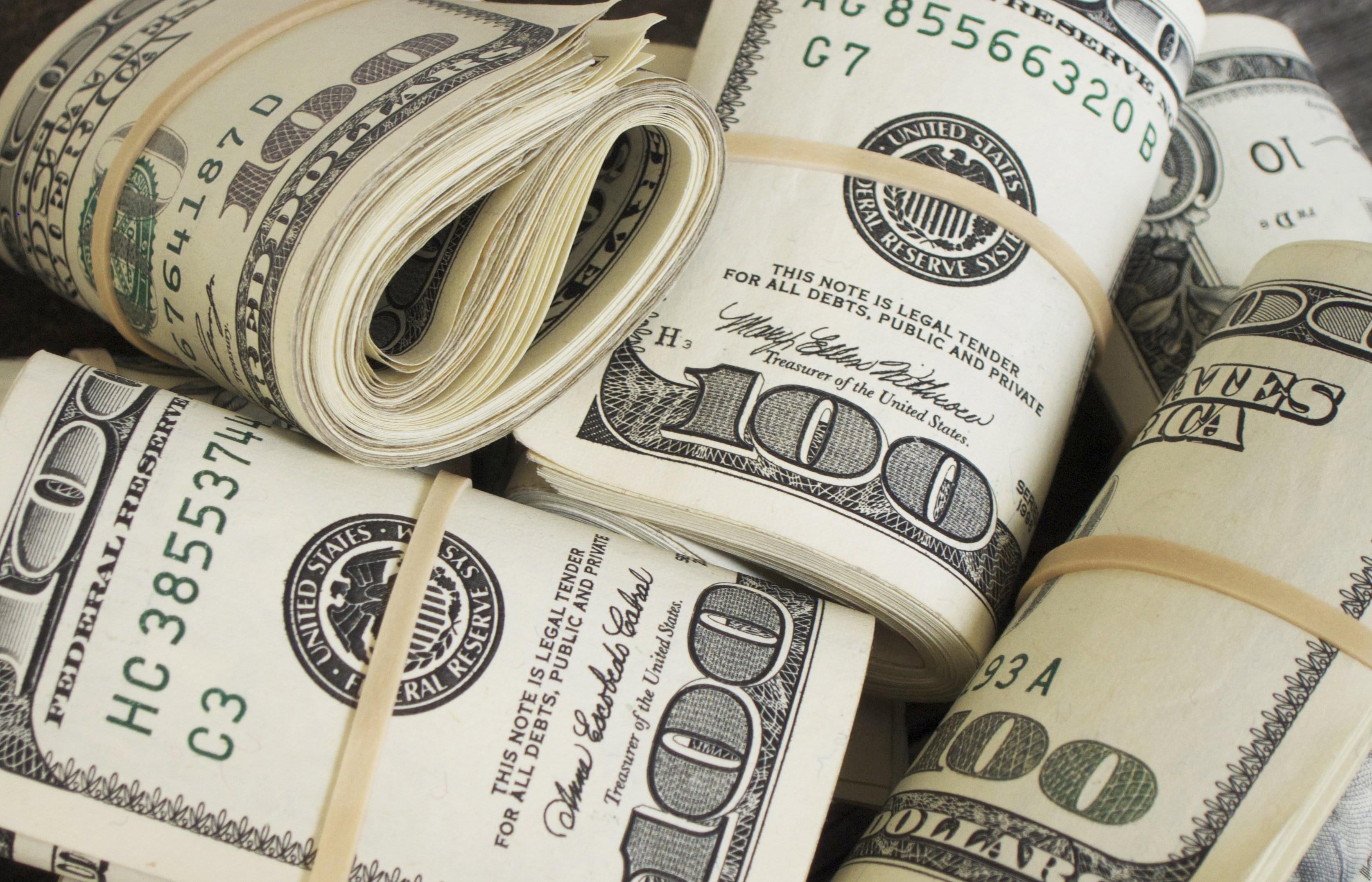 Flexible working is high up on the agenda for businesses, with its benefits having a positive effect on working parents, helping to prevent presenteeism, accommodating personal needs and improving work-life balance. In fact, when FlexJobs surveyed over 2,600 active job seekers, 97% of candidates said a job with flexibility would have a positive impact on their overall quality of life, 80% thought it would make them healthier and 87% believed it would lower their stress.
The site has also collated data on the best paid flexible working jobs of 2016, with regards to the highest paying positions and freedom of schedule. The highest paying job on the list is Physician Psychiatrist, with the position advertising annual salaries ranging between £70,000 and £170,000. Following this was Supervisory Attorney Adviser (£100,000), Executive Sales Director (£90,000 to £100,000) and Ruby on Rails Developer (£80,000 to £90,000).
See the Top 10 below:
Physician Psychiatrist
Supervisory Attorney Adviser
Executive Sales Director
Ruby on Rails Developer
Business Development Manager
Senior Clinical Project Manager
System Integration Specialist
Compliance Manager
Mathematical Survey Statistician
Art Director
Intel CEO says Leadership Team has Received Threats for Company's Stance on Diversity
According to TechCrunch, Intel is widely seen as a leader around corporate diversity in tech but, it turns out, some Intel employees are not happy with the company's stance on it. In fact, Intel CEO Brian Krzanich says there's "been a bit of a backlash within the company" and even threats made toward the company's senior leadership team.
"People worry that as a white man, you're kind of under siege to a certain extent," Krzanich said. "There's been a bit of resistance. We've even had a few threats and things like that on some of our leadership team around our position on diversity and inclusion. We stand up there and just remind everybody it's not an exclusive process. We're not bringing in women or African-Americans or Hispanics in exclusion to other people. We're actually just trying to bring them in and be a part of the whole environment."
Krzanichalso noted that over the last year or so, Intel has had a 30% increase in its underrepresented minority population, bringing the total up to 12% company-wide. He also said that Intel had surpassed its hiring goals with 43.3% of its new hires in the past year or so being female or coming from an underrepresented minority group.
Included in Intel's next diversity report will be employee pay data broken down by gender and race. "We are going with the data and we are going public," Krzanich said. "I almost hope there are gaps, not because I want people to be underpaid, but because it's a problem I can fix. I'm an engineer, I like fixing problems."
This all comes a little more than a year after Krzanich announced Intel's $300 million commitment to diversity, which has included partnerships with historically black colleges and universities, as well as nonprofit organisation CODE2040. Regarding the "pipeline problem" in tech, Krzanich said that it's "bunk." "That's just not true that you can't find good minority, women candidates," Krzanich said. "If you send a diverse team to diverse colleges, you suddenly come back with a great pipeline."
Intel's revelation comes at the same time when the new diversity heads of various other tech organisations (Pinterest, Airbnb, Dropbox and Twitter) are explaining how they plan to fix sexism and racism in the industry. They too believe there is resistance among legacy employees in their organisations who worry they'll be excluded or that they don't have the knowledge base to comfortably join a conversation about diversity. In fact, Head of Diversity for Dropbox, Judith Williams, says she believes 10-15% of Dropbox's employees will never be supportive of her diversity mission. But, she adds, if she can get support from employees who are invested in diversity or neutral on the subject, "You can create a culture where those who will never support you have to be quiet about it."
To get employees to stick around, diversity leaders are focusing on inclusion.
"I like to think of it as, inclusion is diversity sustained," says Candice Morgan, Head of Diversity at Pinterest. "It means nothing for companies to bring in a group of diverse new hires if those people turn around and leave when confronted with an unwelcoming culture". As a result, Morgan's team are using a mix of employee resource groups, unconscious bias training, and ally outreach to keep diverse employees from leaving.
(RELATED: Pipeline or Culture?: What's the Real Reason there Aren't More Women in Tech?)
This is the Most Refreshing Job Ad We've Read This Year
A job advert posted for Gorgeous Gerties Tearoom in Dorking has confronted the conventional idea of trying to sell the job to candidates by telling them why they should apply. Instead, the little tearoom has decided to tell job seekers why they shouldn't apply for a job with them. And the resulting job ad is ingenious!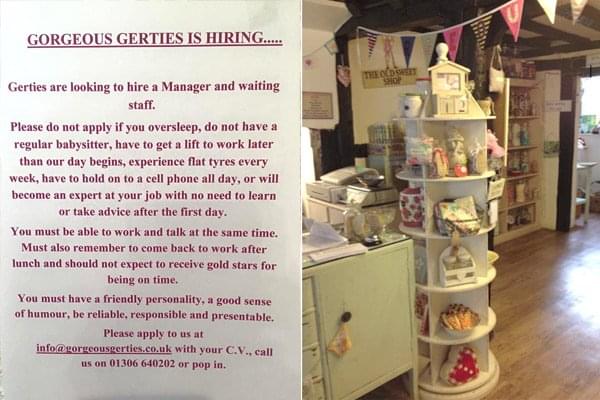 The ad received an overwhelming amount of responses and attention on social media, according to Tracey Allen, co-owner of the shop. Allen commented: "We put a 'normal' advert up a few weeks ago and we didn't get anything like this reaction. All the reaction we have had has been positive people saying that it's funny and that all job adverts should be like it."
Want to keep up to date?
Join our 75,000+ subscribers who do!