7 Twitter Accounts Every Recruiter Should Start Following in 2017
Start your 2017 the right way by following some great people on Twitter and adding their knowledge to your daily feed. Here's our comprehensive list of the 7 Best Twitter Accounts Every Recruiter Should Start Following in 2017:
Michael Goldberg is the Executive Director for DirectEmployers Association and has over 25 years of human resources and recruiting experience. At DirectEmployers, he leads a team of over 50 people who help employers fulfil their OFCCP compliance obligations, and develop customised recruitment marketing solutions. Before that, he was Director of Talent Acquisition at the American Heart Foundation where he led the TA strategy for the association.
Michael and his DirectEmployers team can boast a North America Candidate Experience (CandE) Award, and while he was at the AHA, they were recognised as the third Best Nonprofit to work for large companies by the Nonprofit Times and one of the top Nonprofit organisations who offer flexible jobs.
So, if it's employer branding best practice tips that you're after, Michael is the man to follow! He uses his Twitter account to share his favourite posts on the topic (as well as adding his own commentary), give his opinion on relevant industry news, talk about ideas that have been raised at high-profile industry events, and even conduct the odd Periscope question and answer session.
#southwestair vision statement is not a vision, it is an intention #TalentNet pic.twitter.com/ucFN8DLDw6

— Michael Goldberg (@SuperRecruiter) December 9, 2016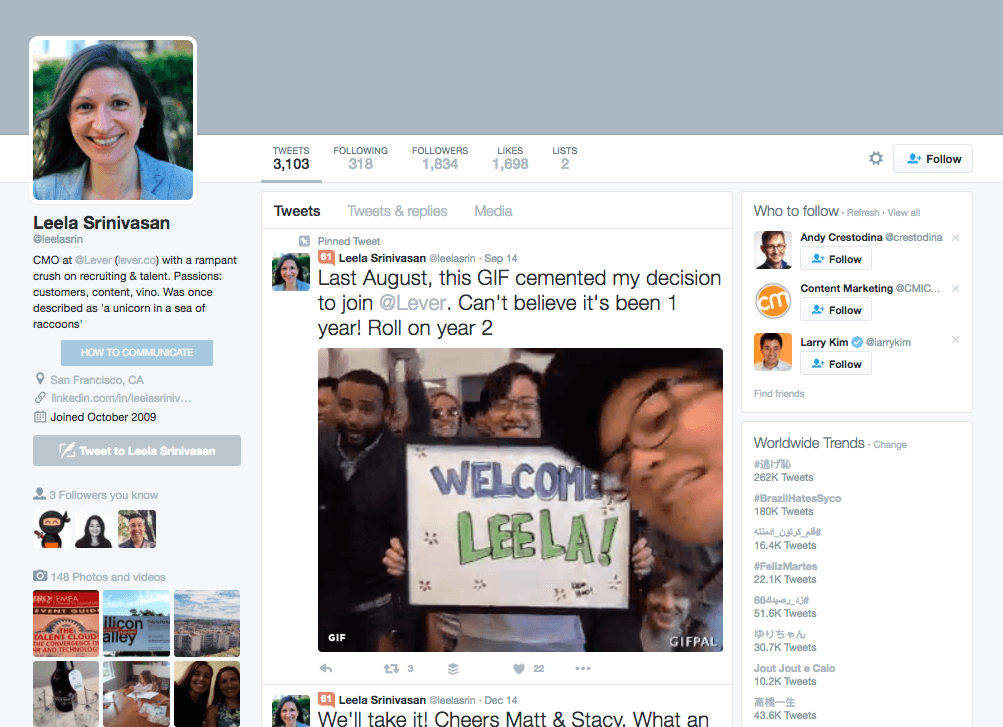 Scottish native, Leela Srinivasan, is the Chief Marketing Officer at Lever, a San Fran-based ATS company. Leela spent 4 and a half years as a marketing leader in LinkedIn's Talent Solutions business where she co-founded the Talent Connect conference and contributed to the business scaling from $200M to $1B in revenues. She later served as VP of Marketing at OpenTable, where she built product marketing from scratch and established the foundations of a B2B marketing team. At Lever, she now brings a wealth of industry, marketing and general business experience to the table.
Though she may be a marketing guru through and through, Leela is OBSESSED with talent acquisition and how TA and digital marketing can work together to create outstanding results, and her tweets really reflect that obsession! Her feed is packed full of opinions on current recruitment industry news, interesting stats, insights into the Lever team, live commentary from the variety of events she attends throughout the year.
Yikes: 51% of midsize & large cos track #recruiting metrics manually, per @KyleLagunas #TATechConf. Time for TA leaders to get data-driven

— Leela Srinivasan (@leelasrin) November 15, 2016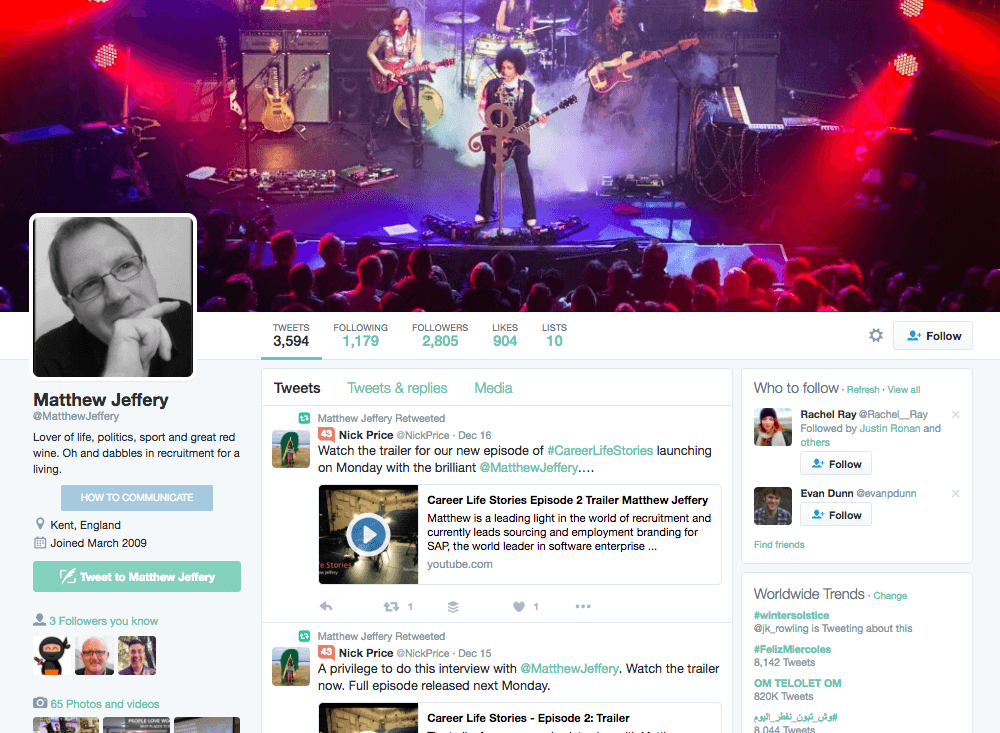 Matthew Jeffery is one of the world's leading recruitment strategists and futurologists. He's the current Global Head of Talent Strategy & Innovation for SAP UK Ltd, but has also worked as EMEA Head of Talent Acquisition and Global Brand for Autodesk, Global Director of Talent Brand for Electronic Arts, and as Head of European Studio Recruitment for EA.
Matthew was voted UK "Recruitment Personality of the Year" in 2010 at the Recruiter Awards, he was the first international chairman & Keynote Speaker at ERE's Spring Forum, he's the author of thought leading articles (including Recruitment 3.0: A Vision for the Future of Recruiting and Recruitment 4.0: Crowdsourcing, Gamification, Recruitment as a profit centre… and the Death of Recruitment Agencies), which to date, have the most comments attributed to them, in ERE's history. Oh, and he's been quoted been quoted in Forbes, Wall St Journal, Daily Mail, Sun, BBC, Edge Magazine, Gamasutra, Hollywood Reporter, Animation Reporter and many more!
Put it this way, Matthew's opinion is one of the industry's most sought after! Particularly, when it comes to employer branding. And guess what? You have direct access to it on Twitter, so get following!
HUGE Honour to be profiled on @NickPrice's #CareerLifeStories. #TeaserTrailer released today. Emotional & revealing https://t.co/A735eKYaDX

— Matthew Jeffery (@MatthewJeffery) December 15, 2016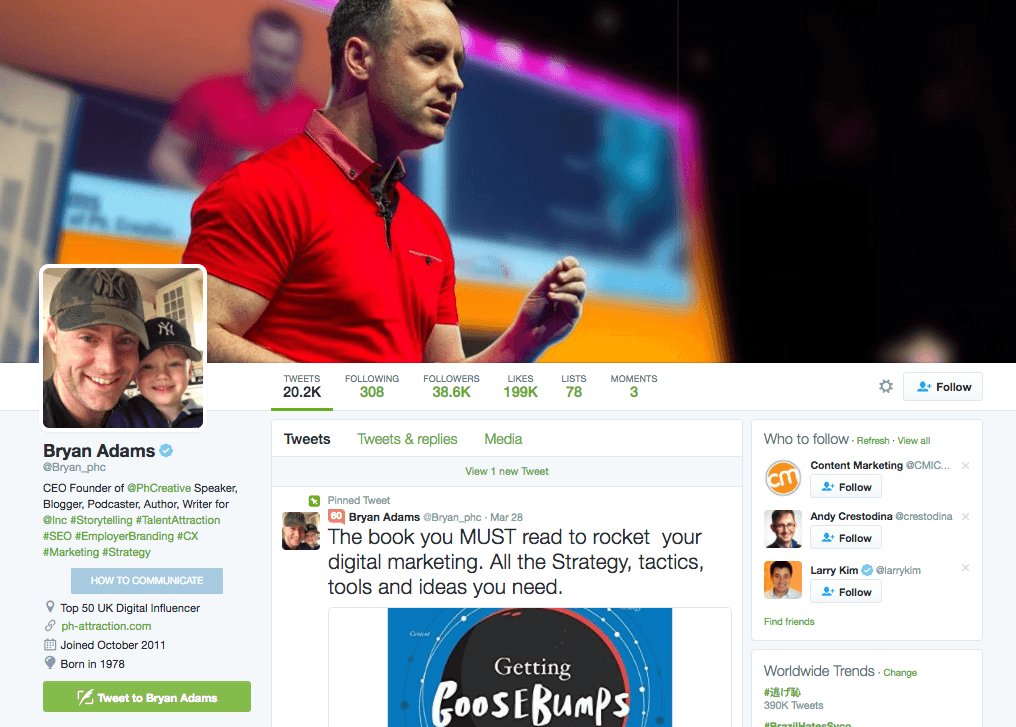 Bryan Adams is the CEO and founder of marketing agency, PH Creative, and the author of "Getting Goosebumps", a step-by-step guide on what it takes to create a winning strategy online. Since 2004, Bryan has watched as the digital landscape has evolved rapidly and social media and mobile have taken over from more traditional marketing methods. In that time, Bryan has consulted and worked for big brands such as MasterCard, Dominos, Bupa and Somerfield.
While Bryan's tweets don't focus specifically on the recruitment industry (although he does post some articles from time to time), they do centre on the world of content marketing and effective ways marketers (and clever recruiters) can improve how they produce and promote their content online. For anyone writing job ads on a regular basis or who is actively trying to build a great personal brand, Bryan's insights will prove invaluable!
How to Write First Blog Post (+ 63 Effective Tips from Experts!) https://t.co/DWQWkC15WL pic.twitter.com/QbRL6WdI83

— Bryan Adams (@Bryan_phc) December 12, 2016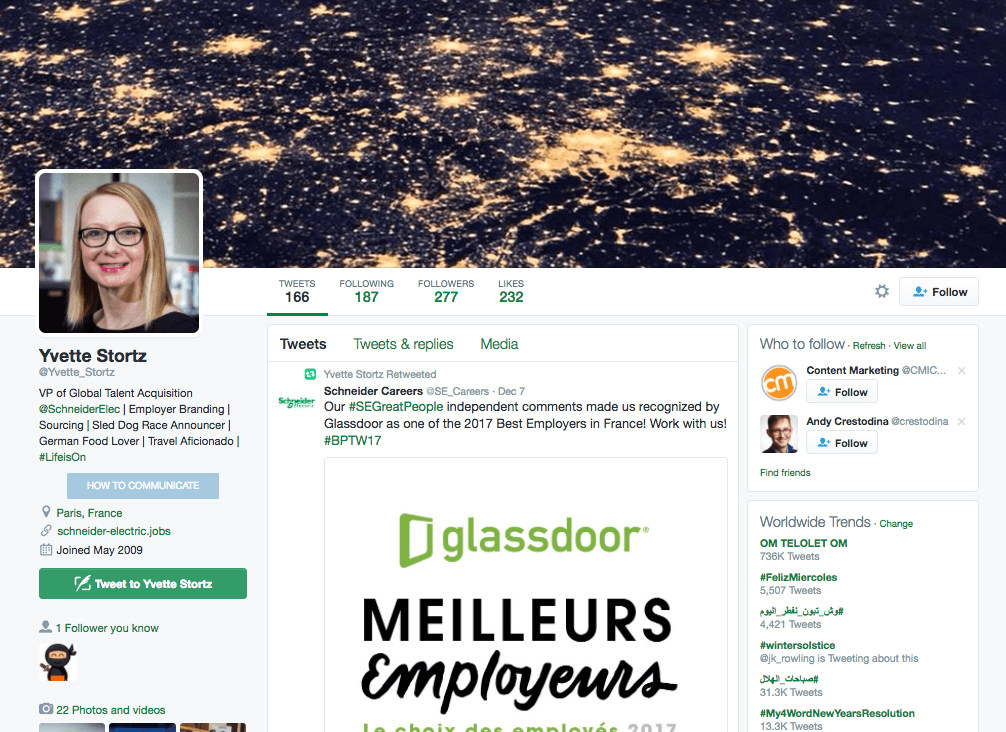 As VP of Global Talent Acquisition at Schneider Electric, Yvette is extremely passionate about a number of global hiring issues – primarily workplace equality, women in STEM, and environmental social responsibility. If you're the same, you need to follow Yvette immediately. Her Twitter feed is chock-full of interesting stats about gender diversity, diversity initiatives, articles about the importance of diversity and inclusion in the workplace, insights from the events she attends, and insights into Schneider's hiring process.
"A great recruiter is part Sherpa, part fortune teller and part Tour guide" #TalentConnect

— Yvette Stortz (@Yvette_Stortz) October 5, 2016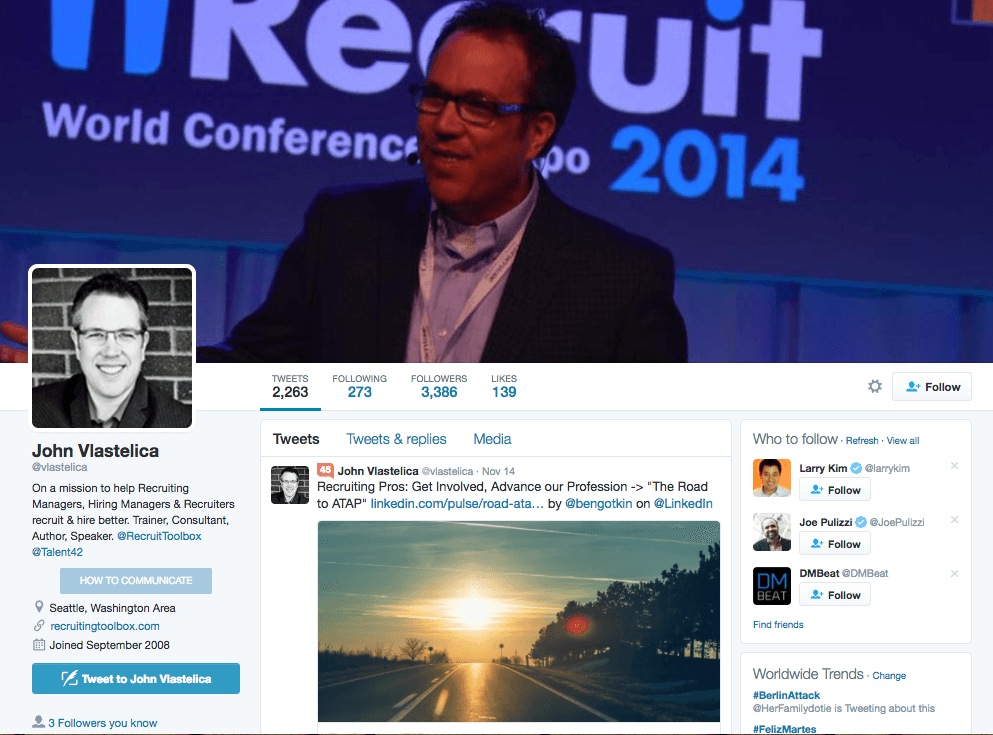 What John Vlastelica doesn't know simply isn't worth knowing! This man draws from over 20 years of recruiting experience, including almost 10 years as a corporate recruiting leader and over 8 years as a recruitment management consultant and trainer. Not only was he the Senior Director of Global Recruiting for Expedia, and a Recruiting Director at Amazon.com, but he was also a founder and four-term President of the SHRM Staffing Management Association of Seattle, and co-founder of Talent42. He set up his company, Recruiting Toolbox, back in 2002 to help other companies improve their in-house recruiting capabilities, and is currently the Managing Director.
John has provided training and recruitment management consulting services to companies of all shapes and sizes, including leading organizations in high-tech, biotech, healthcare, financial services, and retail. He's shared his extensive expertise with recruiters the world over at various regional, national, and international recruiting conferences (including ERE Expo, SourceCon, RecruitingTrends, Talent42, SmartResourcing UK, Australalsian Talent Conference, iRecruit Europe, and SHRM's national HR conferences).
What does a man with such experience use his Twitter account to do? John shares industry reports, promote his invaluable thought pieces, live tweet from the various recruiting events he attends on a weekly basis, share insights, engage with his followers by answering their questions, and talking with other influencers about the future of recruitment.
Pssst! And once you've followed him on Twitter, head on over to our expert learning platform to catch him lead out our Predicting Success programme which is designed to provide you with everything you need to engage hiring teams, create a better candidate experience and improve phone to interview to offer ratios.
Hey #talentconnect people who were in my session today. This is a fun interview you might enjoy… https://t.co/HG8v0fKqf0

— John Vlastelica (@vlastelica) October 6, 2016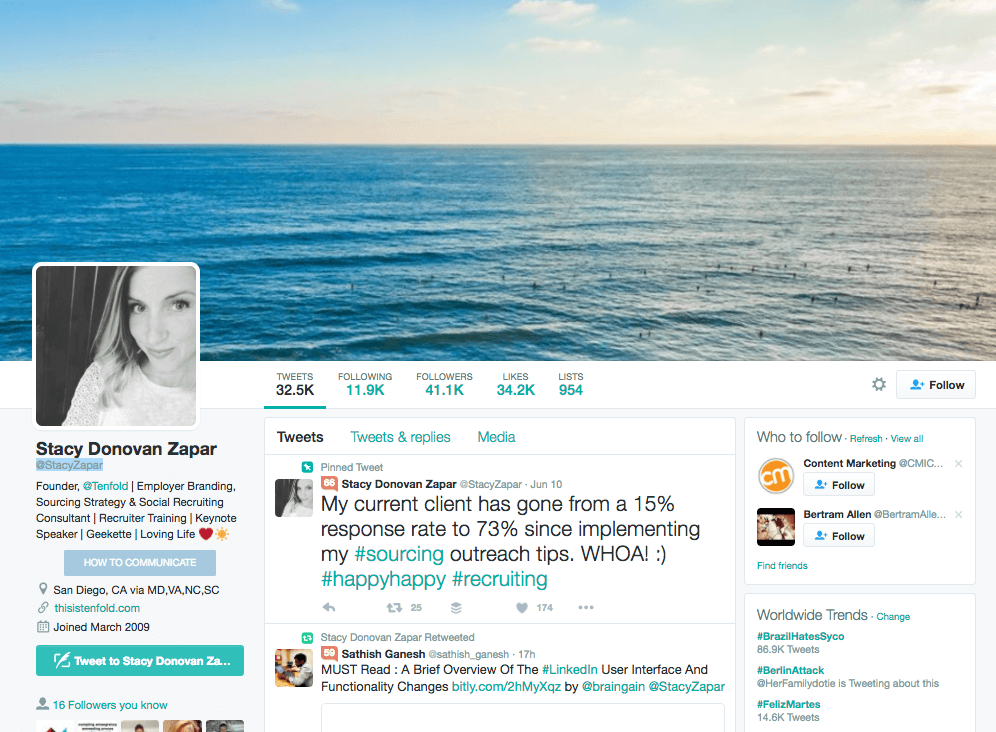 Stacy has been a recruiter since 1997, when she started in a staffing agency, before going in-house in 1999, and to Intuit in 2010 as a hands-on recruiter, recruiting everything from tech to executive, and all disciplines down to admin and temp. You name the role, Stacy has sourced for it!
By her own admission, Stacy LOVES recruiting, and has done since has started almost 20 years ago. Her clients include Zappos, TripAdvisor and Netflix, and she's an advisory board member to Ascendify, Clinch and Universum. She started Tenfold, a consulting and training business in 2012, where she helps companies in their Top-of-Funnel strategies like Employer Branding, Social Recruiting, Sourcing, and Employee Referral programs.
Her biggest passion, however, is to help shape the tools we use all the time as recruiters. As a result, Stacy's Twitter is dedicated to sharing recruitment knowledge and spreading ideas. Every day she posts links to interesting articles like "11 Social Media Groups to Join for Recruiting and HR in 2017", "You Can't Sit With Us: The Truth About Cultural Fit", and "A Brief Overview Of The LinkedIn User Interface And Functionality Changes".
Pssst! You can catch Stacy on our Black Belt in Internet Recruitment programme where she's sharing a number if hacks, tips, tricks aka her secret sauce to recruiting like a boss!
The Top 16 Articles of 2016: #15 – Don't Be That Sourcer – Improve Your Subject Line Skills https://t.co/nf4dcVBH7u via @sourcecon #sourcing pic.twitter.com/XBT8ogSRfA

— Stacy Donovan Zapar (@StacyZapar) December 17, 2016
Who's your favourite recruiter to follow on Twitter? Tweet us @SocialTalent and let us know, or share your favourites in the comments below.
Want to keep up to date?
Join our +75,000 subscribers who do!