Keep up with the latest hiring trends!
/
/

7 (FREE) Twitter Products for Serious Social Recruiters
7 (FREE) Twitter Products for Serious Social Recruiters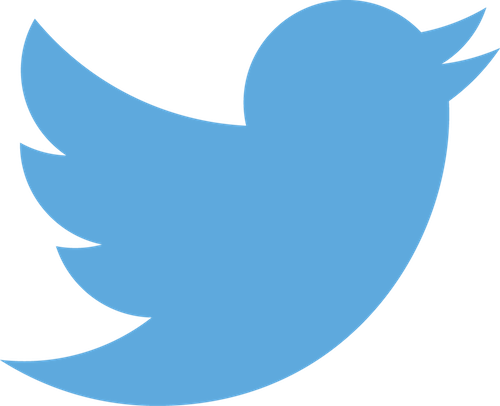 Twitter is now the second most popular social network among recruiters and sourcers the world over. A total of 55% of you are using it to post jobs, source candidates, share content and message candidates. New research also shows that Twitter is becoming increasingly popular with job seekers too. In fact, 58% of job seekers have used Twitter for job-seeking purposes in the last 6 months alone.
However, when asked what they thought of recruiters/employers efforts on the popular micro-blogging site, job seekers were less than impressed! A combined 35% of job seeking respondents, said that companies are "somewhat" or "extremely ineffective" at promoting themselves as employers on the site. 43% said employers were also "somewhat" or "extremely ineffective" at communicating with job seekers on Twitter. And a massive 47% said the same for companies posting job ads.
So, while it's clear from the number of job seekers looking for jobs on Twitter that the site still holds A LOT of recruiting potential, it's also clear that recruiters' current Twitter efforts leave a lot to be desired.
So today, we're going to help you make the most of Twitter by introducing you to 7 products/features that will improve the way you use Twitter as a content sharing platform, a candidate sourcing vehicle, an analytical tool and more!
1. Twitter Analytics
When it comes to communicating successfully with potential candidates, it pays to be in the know about which sort of messages they respond to best. This is where Twitter Analytics can help.
Twitter Analytics is one of the most comprehensive free analytics products associated with a social network on the market. It offers the user a broader view of their Twitter account's progress and effectiveness, and includes really important data like:
the total number of impressions each of your individual tweets has received
the total number of actions each tweet has prompted your followers to take e.g. link clicks
and engagement rates for each tweet
From a recruitment perspective you can easily see the tweets that have garnered the most engagement, the most popular hashtags associated with certain jobs, which phrasing was best received by your audience, and if your tweets were engaged with more evidently at a particular time in the day. You can then use this information to improve the construction of your job tweets and hashtags, and to amend the time you post your tweets.
For example, if you're looking to determine whether or not a particular job tweet has been successful, here's how to do so using Twitter Analytics:
Login to analytics.twitter.com. If you don't already have a Twitters Ads account you will need to sign up for one (for free) before you can login here. You can set up Twitter Ads with your existing account here.
Once logged in, you will be presented with a dashboard full of graphs relating to your tweets' performance and a list of all the individual tweets that have been sent from your account: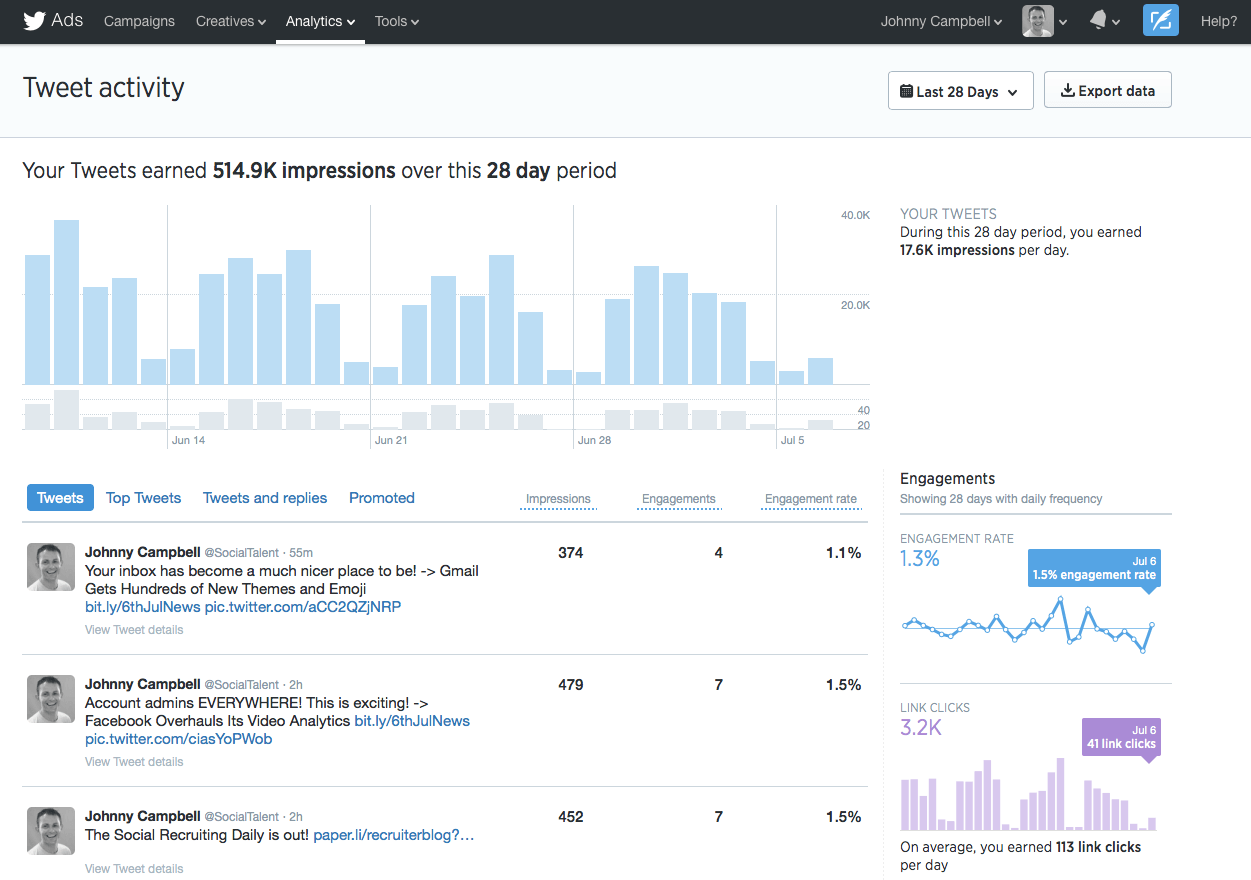 Scroll down through the list of individual tweets, and find the tweet you wish to assess the effectiveness of. As you can see from the image above, to the right of each individual tweet is a breakdown of the impressions that tweet has had (the higher the better), the engagements (or actions) it's caused readers to take, and the overall engagement rate for that tweet. To see more in depth stats for that particular tweet, just click on it to reveal a further breakdown of information about it, including the number of favourites, link clicks, and retweets that tweet has had. In this example, I can easily see the link used in my tweet was clicked 4 times, the tweet itself was favourited 5 times, and 3 people chose to retweet it:

To discover other things about your Twitter account, like how many retweets your account has received in a day or a number of days, turn your attention to the graphs on the right hand side of the dashboard. Find the graph relating to Retweets and simply hover your mouse over the day you wish to discover the number of retweets for. In this example, you can see the Social Talent Twitter account received 56 retweets on the June 23rd, 2015: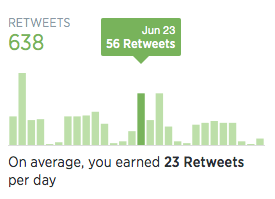 You can also do the same for the overall number of link clicks, favourites, replies and engagement rates. All the information you need relating to any and all of your tweets is right here on your own personal dashboard.
2. Extended Direct Messages
Until recently, Twitter's private messaging system only allowed users to write messages that consisted of 140 characters or less. But, starting this month (July 2015), Twitter is increasing the number of characters available to create direct messages from 140 up to a whopping 10,000 characters!

But what does this new character limit mean for recruiters? Well, even before the new limit was set, DMs were a brilliant candidate contact method because (depending on a candidate's settings) your private messages arrived straight onto the candidate's lock screen of their mobile device and into their email inbox – giving candidates two options to see your message, and you, two fantastic chances to engage said candidates. But due to the very limited amount of characters available, many recruiters just simply didn't bother trying to engage candidates this way. Because, as anyone who's tried it will tell you, trying to get your point across in an engaging fashion in 140 characters can be quite a cumbersome task!
This new change means that you will now be able to elaborate more on your reasons for messaging, and those messages will still continue to be as prominent to candidates. 10,000 characters will give you the room you need to engage candidates effectively.
3. Audience Insights
Earlier this year, Twitter took a leaf out of Facebook's book and began providing their users with comprehensive Audience Insights about their Followers. And we're very glad they did, because the stats are excellent for recruiters!
Twitter's Audience Insights tool grants you a valuable look at your followers specific demographics and how they tend to behave while on Twitter. Yes, as well as providing you with a very useful set of demographics including gender breakdowns and martial status, the Audience Insights tool also gives you an insight into your Followers interests, purchasing behaviour, education, income level, mobile device usage and even the type of programme they like to watch on TV!
When checking out our stats for example, we were able to see the following details about the followers of our Social Talent Twitter account:
79% of our audience are interested in technology
77% are interested in careers news and general info
63% are male
56% are married
66% like to consume premium brands
31% are from the US
57% prefer to watch drama on TV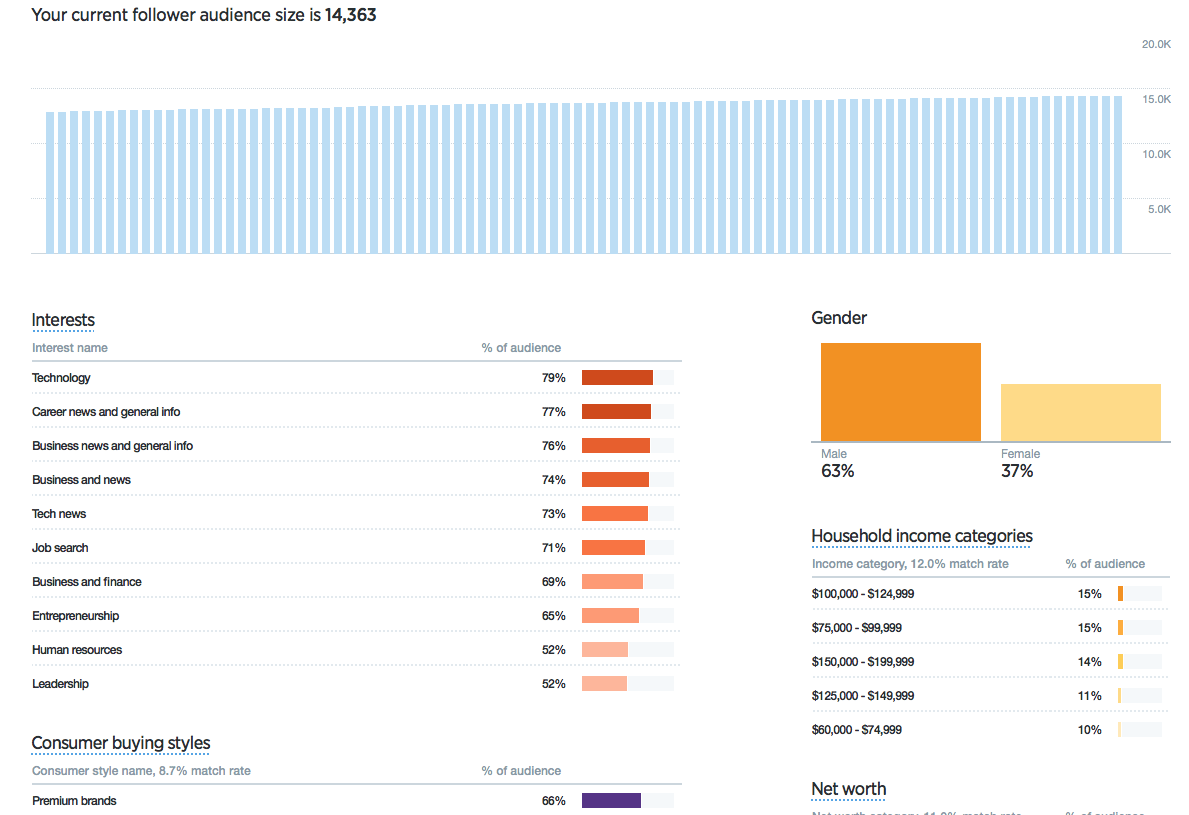 Taking this information into account we now know that we have more male followers than female followers, that the vast majority our audience will enjoy tweets with a more technical lean to them, that a similar amount will appreciate any tweets we post with career news in them, and that when it comes to buying stuff, they're more likely to be attracted by higher end goods.
Go and check yours out now! You'll be amazed at the insights you'll glean! Just go to ads.twitter.com as before, click on the Analytics tab, and select the Audience Insights option.
4. Tweetdeck
We make reference to this incredible product quite a lot, but if you're still unfamiliar with it, TweetDeck is a free social media dashboard application that allows you to easily manage a number of Twitter accounts, topics and hashtags all on one screen. It's currently the most popular Twitter application on the market and has been since 2009 – that's how good it is!
Essentially, TweetDeck is a social listening tool that allows you to monitor the conversation being had about your company online (great for your employer branding efforts), monitor hashtags you use in your job tweets (to see how other recruiters and job seekers are using it), and it can be used to get involved in the conversations of the industry you recruit for (which boosts your brands online presence).
In a nutshell, what that all means is that TweetDeck allows you to follow trends more easily, monitor any retweets your job specs may be receiving, and respond to mentions and followers faster – all of which leads to better social recruiting.
I use Tweetdeck everyday because I can instantly see a real time feed of who's been interacting with me (the first column), my up to the minute Twitter timeline (the second column), who's been interacting with the @SocialTalent account (the third column), the tweets that have been sent from the @SocialTalent account (the fourth column), and who's been using the #socialtalent (the fifth column):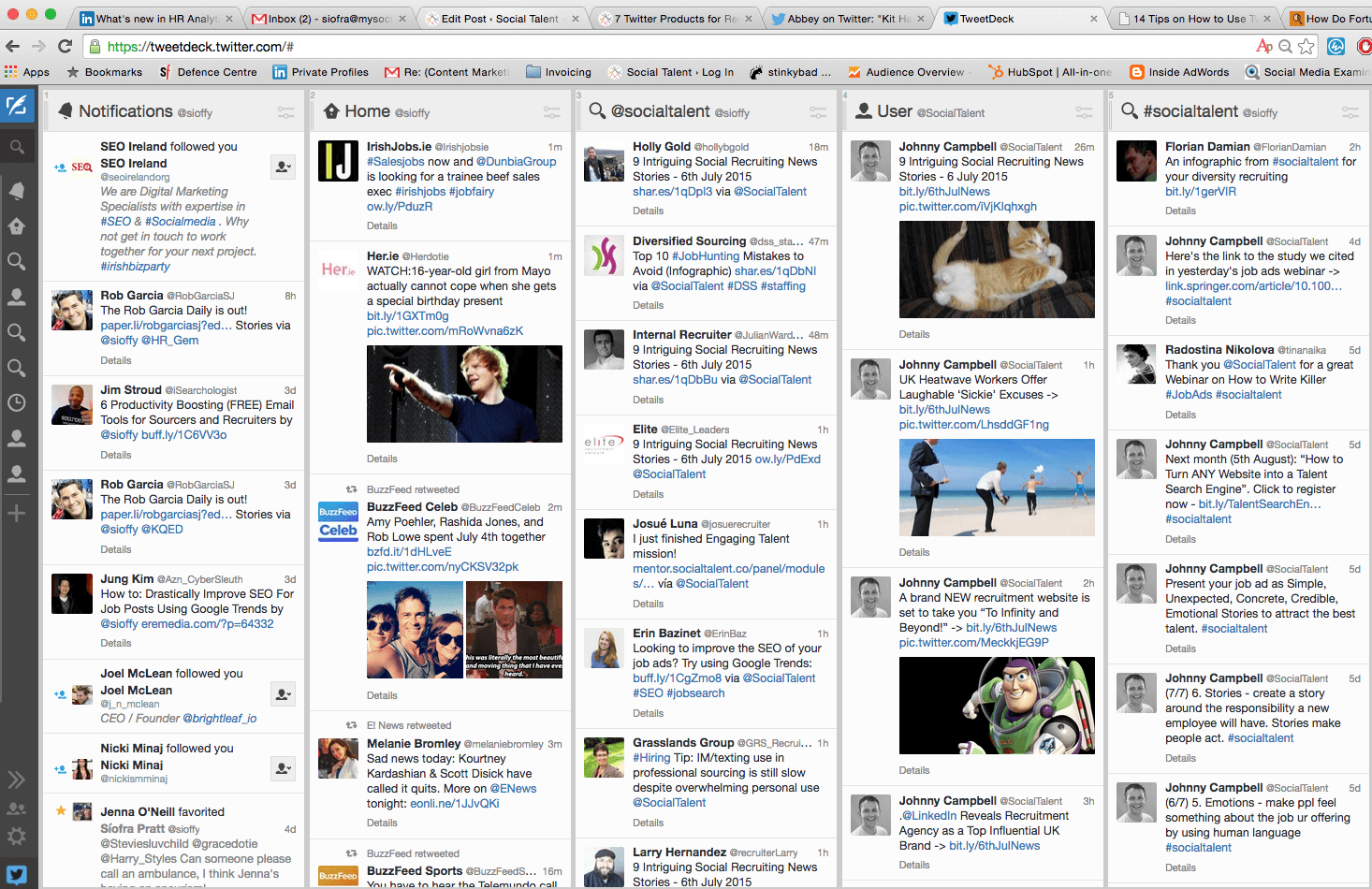 I also use Tweetdeck to schedule our account's daily tweets in advance to ensure our content is shared evenly throughout the day.
Looking to monitor the number of retweets and mentions your job tweet is receiving for example? Just set up a customised column in Tweetdeck. Here's how:
Sign in to Tweetdeck with your Twitter account details.

Left the menu of options on the left hand side of the screen, hover your mouse over the + symbol and select 'Add Column'.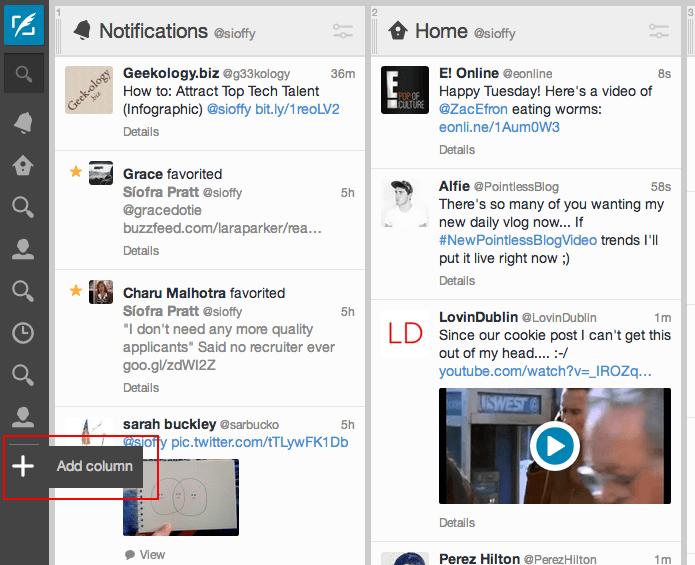 Select the 'Search' option and, when prompted, type in the hashtag you're looking to monitor e.g. #jobfairy, then click 'Add Column'.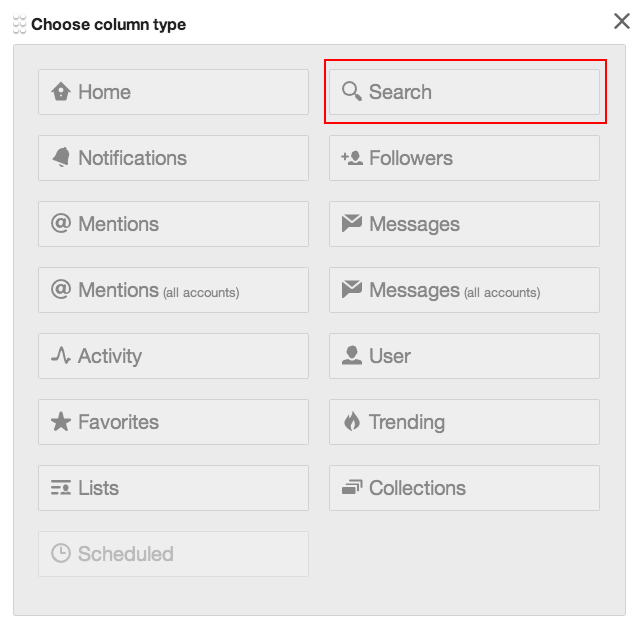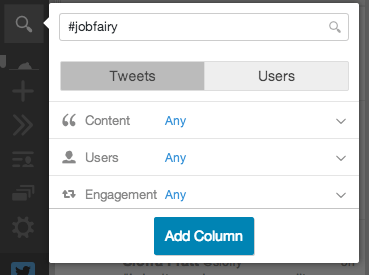 You're newly created column will appear on your dashboard and only tweets containing the hashtag will appear in it.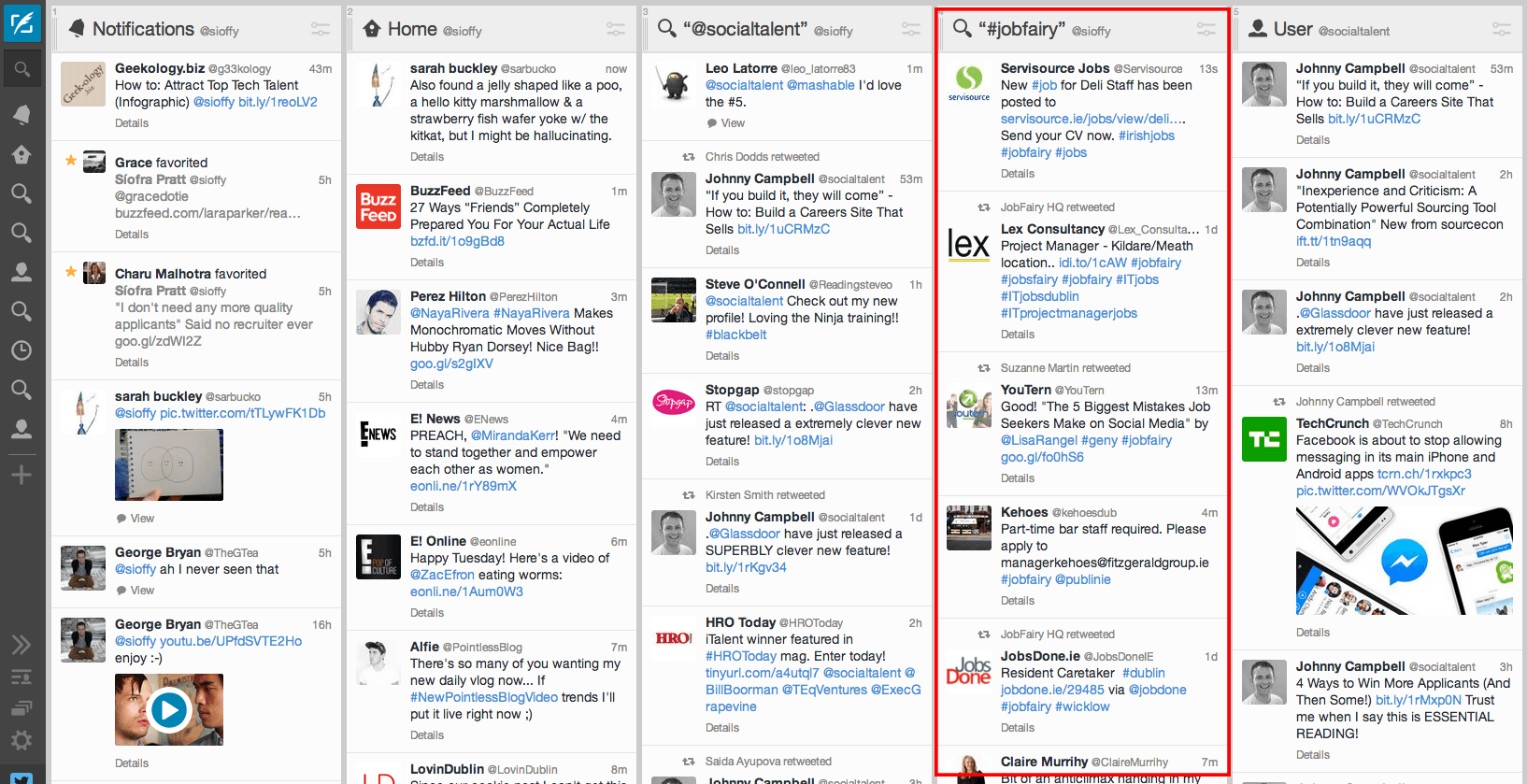 I'm not exaggerating when I say that this tool will completely enhance your Tweeting experience.
5. Tweriod
Timing is everything, especially when sending tweets. There's no point in shooting out a job tweet when none of your followers will be online to see it, so it pays to know exactly when your followers will be online. And the best way for you to determine when your audience of followers are using Twitter (and therefore is the best time for you to tweet) is by using Tweriod.
All you need to do is sign in with your Twitter account and Tweriod will give you a breakdown of when is good to tweet from your account on a daily basis. For example, on weekdays the best time to tweet from our Social Talent account is between the hours of 3pm and 6pm i.e. commuting time both for users in the UK and Ireland returning home and users in the US and Canada heading to work:

Research tells us, that Twitter engagement rates are 17% on the weekend then on weekdays, so in order to take full advantage of that fact we can use Tweriod to determine the best time for us to tweet during the weekend. For example, the best time to tweet from our Social Talent account on the weekend is between the hours of 3pm-5pm and 6pm-7pm: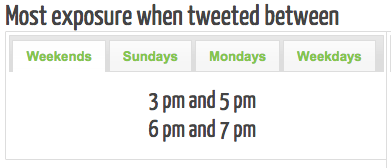 But most recruiters (yourself included) will be writing job tweets throughout the working day, not on their commute or after their dinner! This is were scheduling your job tweets becomes very important. Why not combine the knowledge you gain from Tweriod with the scheduling feature on Tweetdeck to schedule your tweets for the most appropriate times? That way you'll never miss the perfect posting times and your tweet will post when your followers are there to see it.
6. Bit.ly
Salesforce reports that 92% of all Twitter interaction (retweeting, replying etc.) happens when readers click links, and that tweets with links receive 86% more retweets than those without. Therefore having a link for interested candidates to click, is an extremely important element to include in your job tweets! But you shouldn't just include any old link. Long links are not only a waste of precious characters and visual real estate, but they do nothing to help content get re-shared. It's time to start using a URL shortener.
And the URL shortener we like to use most is bit.ly. Not only does bit.ly allow you to save some of your 140 characters for more important messaging by cleaning up the size of your link, but it also gives you great metrics to accompany your links which lets you know things like the number of people who clicked on your links, when they clicked them, and which social networks each link has been shared to.
Using customised short links also makes your links more trustworthy in the eyes of viewers. If the link you've chosen to use is a random garbled mess, people aren't sure where it might lead them, so they'll refrain from clicking it – your click through rates stay low. But if you use a customised short link that goes some way to explaining what the link is and where it goes, more people will click on it, and therefore your click through rates will increase. We do this for all of our blog posts, webinars as well as our job tweets, for example:
NEW Research Proves Job Boards Are Still A Leading Way To Fill Vacancies -> http://t.co/PDGQJxqQuJ pic.twitter.com/JTfGbd7eW3

— Johnny Campbell (@SocialTalent) July 6, 2015
7. Twiangulate
Twiangualte gives you the ability to search the followers of a particular Twitter account – not an option that is currently possible natively on Twitter.
Why would you want to search the Twitter followers of another company? Well, take the Twitter account for jobs in Jamie Oliver's restaurants – @jo_jobs – for example. It currently boasts just over 2,900 followers and I think it's safe to assume that most of the people following that account are aspiring to work at one of Jamie's restaurants. We can presume that the majority of people who want to work in Jamie's restaurants will be chefs. Therefore, if I am another restaurant or culinary establishment looking to hire talented chefs, I would definitely be interested in speaking to the people who follow the Jamie Oliver Jobs account.
Searching your competitor's followers is a really smart approach to using Twitter to find candidates that can potentially open up a goldmine of contacts for you. All you need is to spend a little time researching who has an audience of people who would be perfect for the job you have, then write a search string to find those potential leads on Twiangulate. Here's how:
Go to Twiangulate.com and register. To use the features of the site, you need to have a registered user account. Sign up is free and only takes a few minutes (you can register using your Twitter account).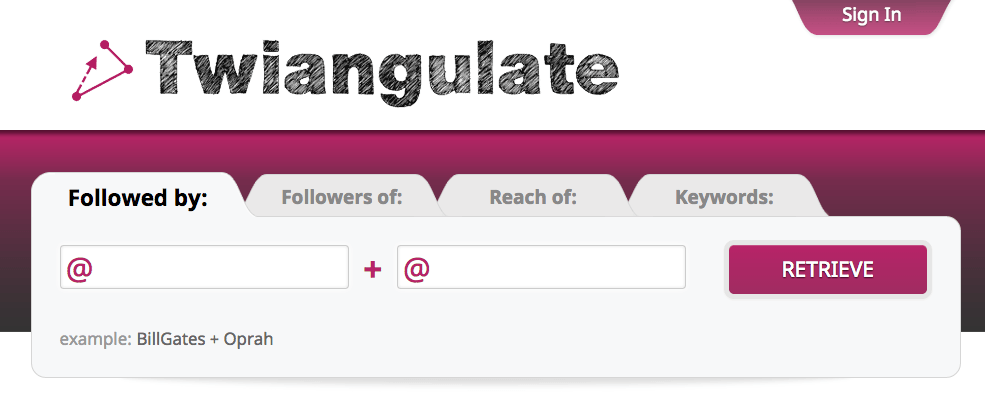 Select the Keywords tab. Once in this tab, you will see two search boxes one with e.g. journalist written in it, and a box with @(optional) in it.

If I am indeed looking to find talented chefs who follow the Jamie Oliver Jobs account, I will write a Boolean string to search for chefs or culinary professionals, who live in the location I'm interested in and put it in the e.g. journalist box, and I will include the @jo_jobs handle in the @(optional) box.
Very important Boolean operator information: 
Twiangulate doesn't use your standard AND, OR and NOT. It uses some alternative characters for these operators:
AND: use & instead. For example, human & resources
OR: use the pipe symbol | instead. This is found by holding Shift + Backslash (found on a standard PC keyboard to the left of your Z key, or to the left of the return key on a Mac).  For example, (recruiter | recruiting)
NOT: use ! instead – this exclamation mark must be directly in front of the word you are excluding, without any spaces. For example, junior !senior
My search string for chefs following the Jamie Oliver Jobs account, might look something like this for example:
(chef | commis | sous | cook | culinary) (london | "united kingdom") !birmingham !glasgow
In this search I am looking for people who have included any of the keywords chef, commis, sous, cook or culinary in their Twitter bio and who have either indicated London or the United Kingdom as their location or bio. In this example, I have specified not to find candidates who have indicated Birmingham or Glasgow as their location.

Click Retrieve. My sample search retrieved 15 results. That's 15 possible candidates that have indicated or mentioned London or the United Kingdom as their location or in their bio, who include any of the keywords I have included in my string in their Twitter bio, and who follow @jo_jobs – just the people I want to contact in relation to my job opening! Like this guy – @

husvedat:

Click his Twitter handle and you'll be brought straight to his Twitter profile chock full of his tweets about food, recipes and cooking shows. From here I can Follow him, engage with him via DM or just tweet him publicly.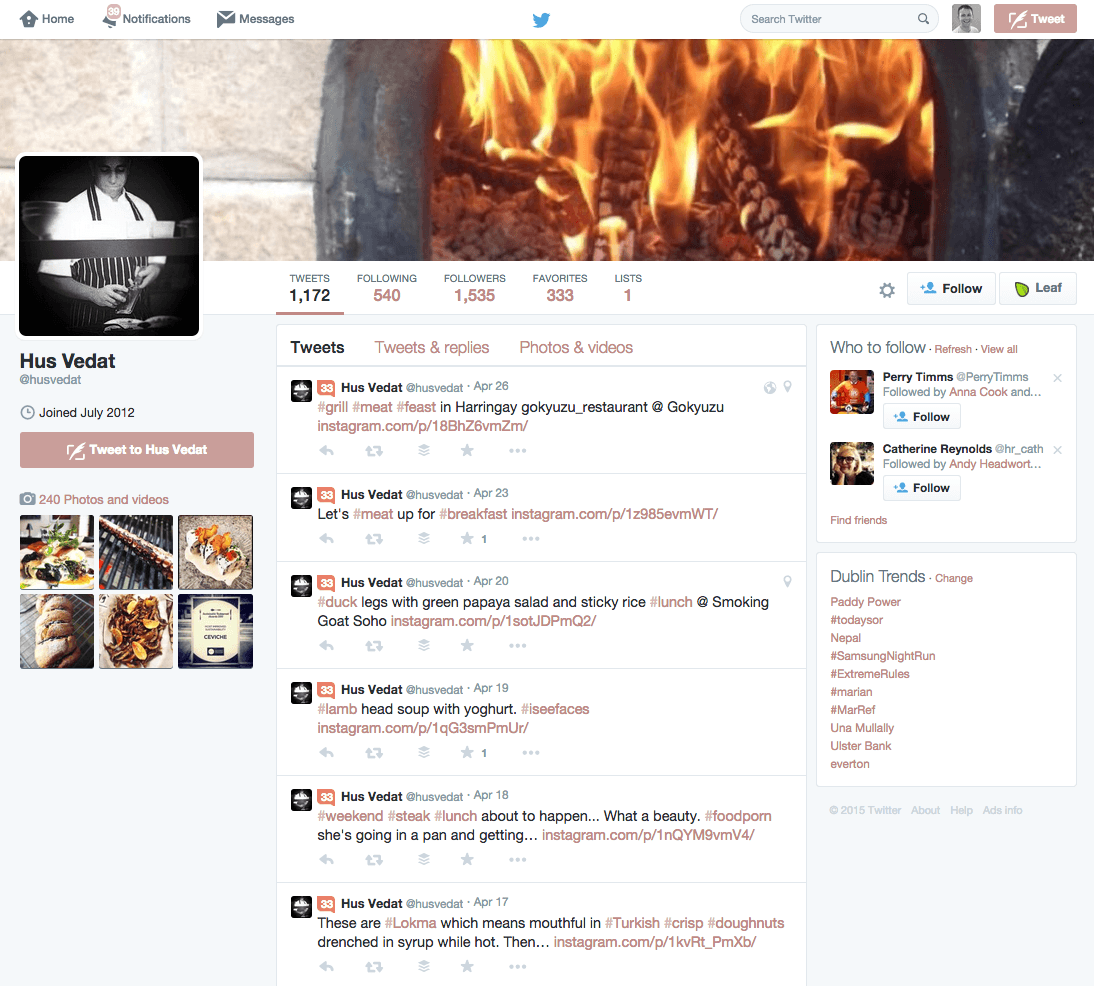 I can also see from his Twitter that he regularly posts on Instagram. Upon further inspection, his Instagram account is really popular (over 2,170 followers) which he uses to post pictures of his culinary creations and ingredients which inspire him. Not only are we salivating like mad, but to us recruiters, it's yet another means of connecting with him: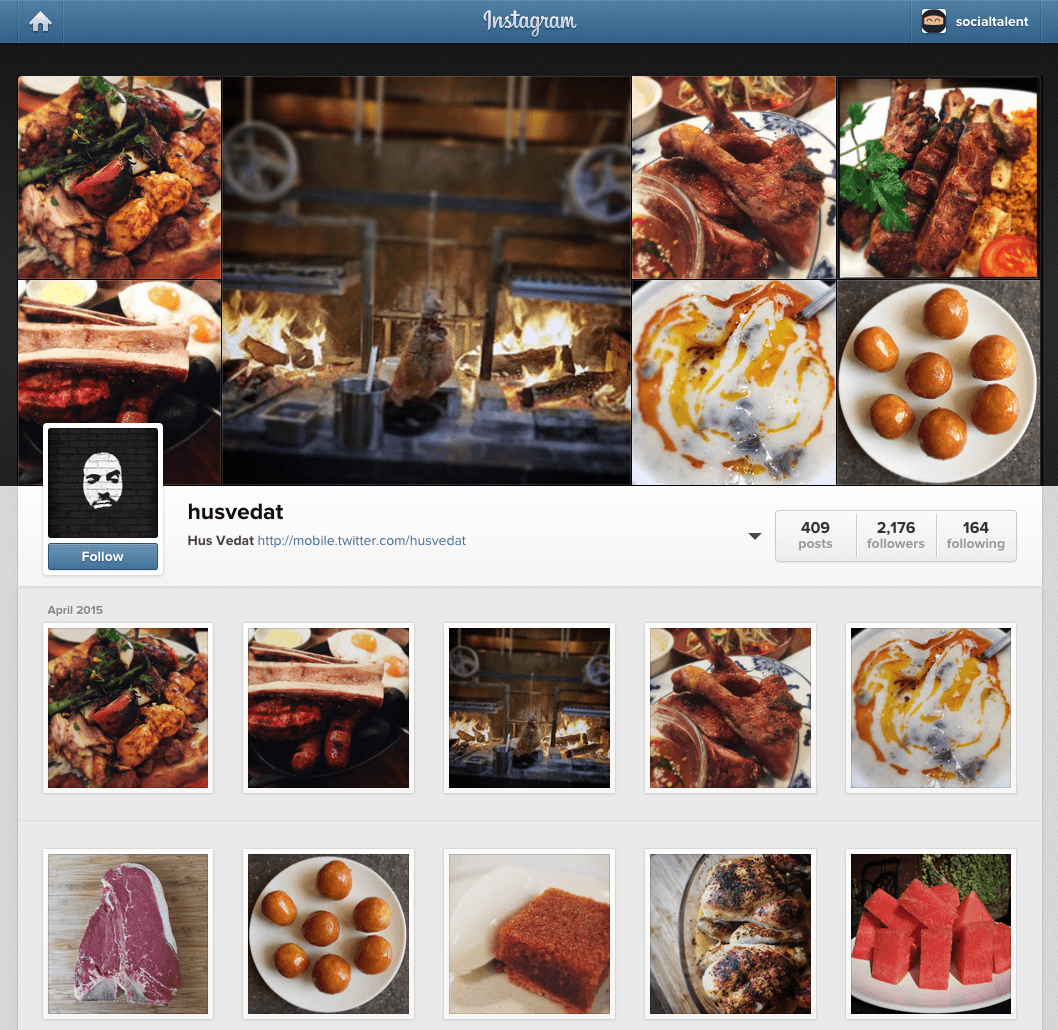 But I can also find out lots of useful information like the hashtags chefs like @husverdat use when tweeting and the other like-minded users he speaks to and mentions.
While not a necessary step, this is a very useful one!
One of the best features about Twiangulate is that it gives you the option to export the list of followers you retrieve as a .CSV file (which you can keep for future reference or add them to your ATS), and you have the option to create a Twitter list with all these followers too. Both are excellent ways to help you create your own database of suitable people to contact:

Twiangulate is a super useful tool for recruiters, which we hope you'll be able to put to good use.
Find out how the likes of IBM, IKEA and Siemens
drive hiring excellence with SocialTalent
---