7 Unique Out-Of-Office Emails Recruiters Can Use to Stand Out
Holiday season is fast approaching, which means that in the next few weeks (like me), you're bound to be away from you desk and your email account in favour of spending time with your kids, your family, your friends and any other loved ones you may have. Which means you'll be activating your out-of-office (OOO) message.
But here's the thing, according to Yesware, out-of-office messages are almost always a wasted opportunity. And we're in full agreement! Why? Well, Yesware say that open rates for transactional emails e.g. a message that's triggered in response to an action someone takes (like emailing you when your OOO is switched on), hover around 50%. Which means, believe it or not, they're actually one of the MOST engaging types of emails you can send! But most of the time we completely waste such an opportunity to have our email read, by having our OOO read something like this:

Without a call to action and without any added value to the reader. Nothing at all, to make it memorable or deserving of that 50% open rate it's statistically going to receive.
It's time you fixed that.
It doesn't take much to turn a crap out-of-office message into a valuable piece of communication that will help build relationships with your contacts and make you more memorable in the eyes of prospective clients/potential candidates. So without further ado, here's 7 examples of out-of-office replies that will keep working for you even while you're away:
1. Anticipate what people might be emailing about
As a recruiter, chances are people will be emailing you about a current role you have advertised. If you're not there to help them with something they need in relation to that role, what useful information can you point them in the way of considering you're not here to answer they're query? Or can you point them in the direction of a colleague that can help?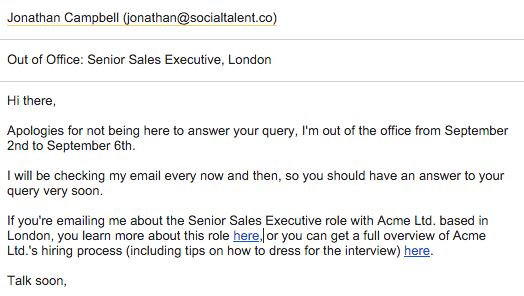 2. Give them something
Seen as you can't offer them your help and expertise right now, why not use your OOO to give them something they CAN use right now, like a link to a video or a recent blog: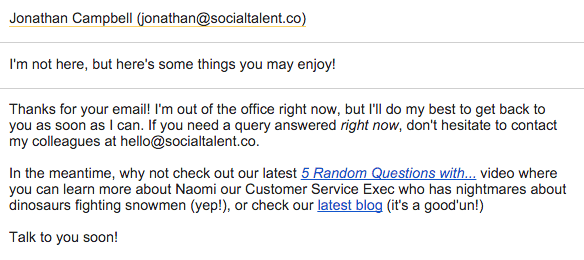 In the case of a recruiter, that might be your company's latest recruitment video, a link to the FAQ page on your careers site, or a blog post about what to wear when coming to an interview with your company.
3. Use an image
The picture superiority effect teaches us that if you include an image (especially those in color and with people) with text, it actually increases a person's information recall 2 days later by 55%! Which is why Yesware's VP of Marketing, Andrew Archer, chose to use the following OOO email during his time away at Burning Man: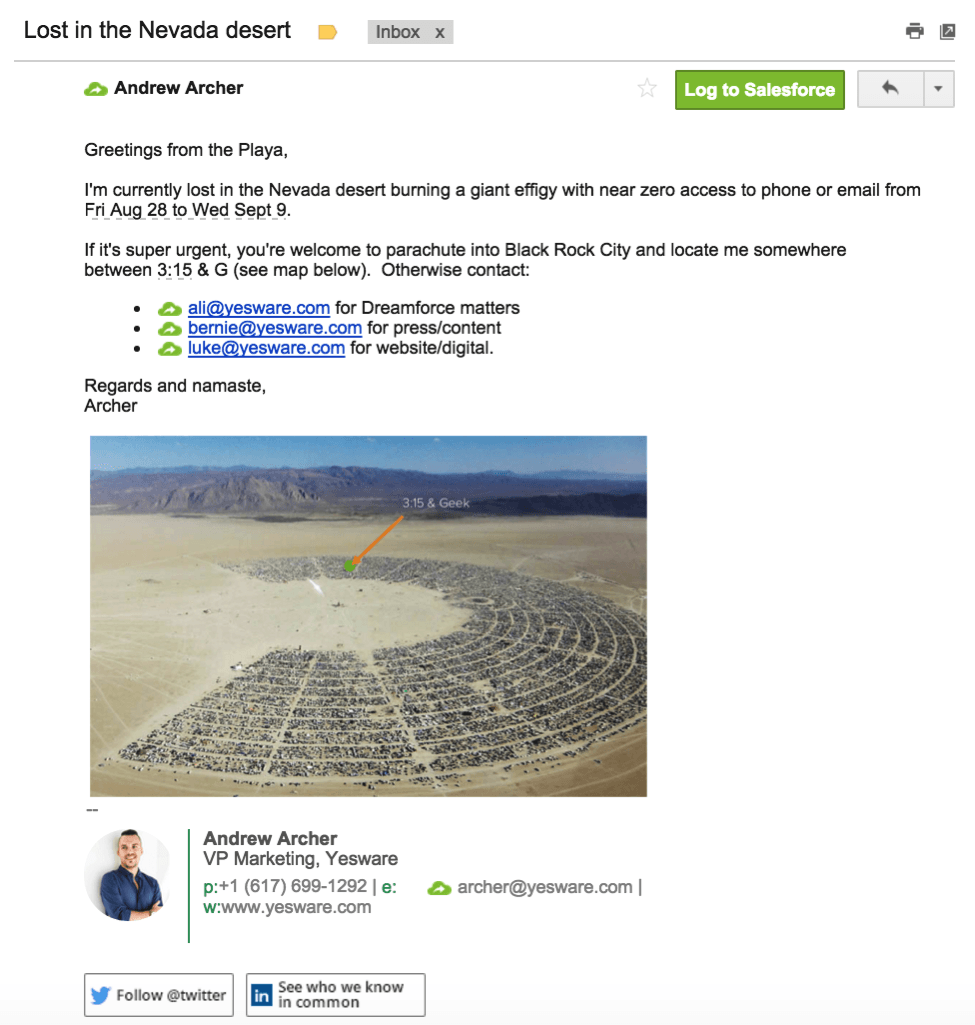 4. Include a cute animal
According to research by Hiroshima University, looking at cute animal pictures can increase  a person's focus and productivity at work. Therefore, including a photo of a cute animal in your OOO could help foster a positive attitude toward you and increase the likelihood that the recipient of your OOO, will remember your email: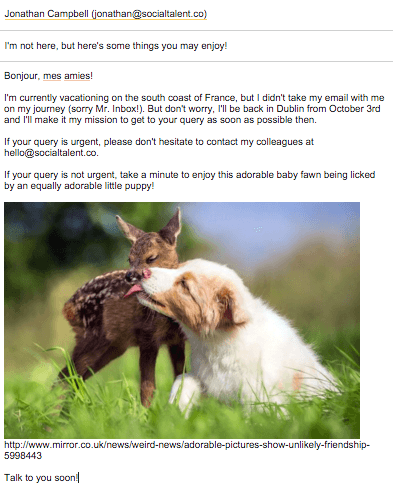 5. Give a shout out to your colleague
If someone happens to be covering for you while you're away, acknowledge them and how awesome they are for helping you out in your OOO. A few kind words can go a long way, especially if you receive an email from an important client or prospect while you're gone. According to Yesware, complimenting your coworker in your OOO has a two-fold effect; 1. it makes that person look trustworthy in the eyes of the reader, and 2. it shows the reader that you're kind-spirited team player. Win-win!

6. Create a networking opportunity
If you're traveling to a conference that you expect many of your contacts may be at too (career fair, industry expo etc.), why not use your out-of-office email as a networking opportunity? If you know you'll be manning a particular stand, tell them the number of the stand they can find you at in the email, if you're speaking at the event be sure to give details of the time and the room/stage you will be presenting at, or if you've pinpointed some keynote speeches you'll be attending, make note of them for others to see and meet you at.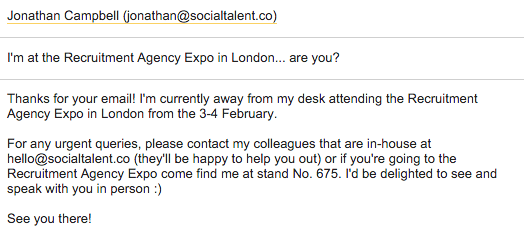 7. Make a funny
A little bit of humour can go a long way when it comes to building rapport with your clients/candidates, and (when done right) it can certainly make your OOO stand out from the crowd. It's certainly the approach we like to take here at Social Talent, but humorous OOO emails might not work for or be appropriate for every audience, so just use your best judgement. After all, you know your audience best.
Check out my OOO from last September for example:

And bow down to this example from Yesware's Harry Hedwig (bonus points for getting a Harry Potter mention in there!):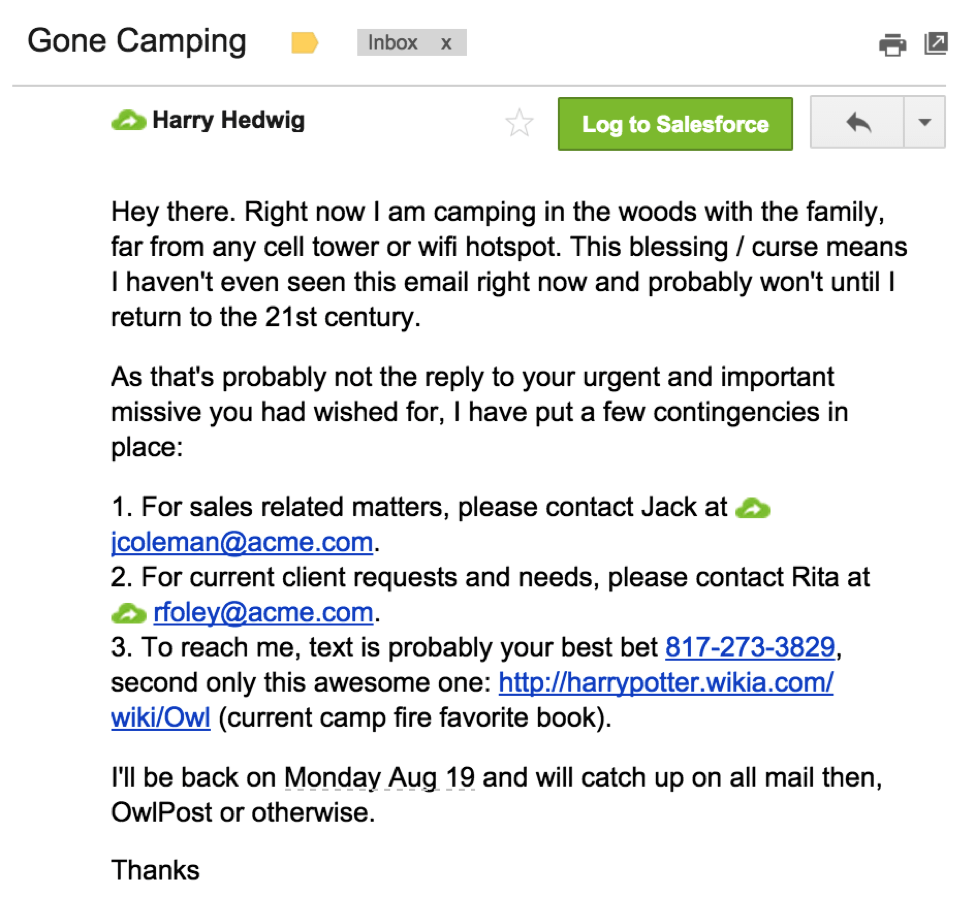 Have a great time crafting them folks and have an even better time during the holidays! Merry Christmas Recruiters!
Want to keep up to date?
Join our 75,000+ subscribers who do!