Keep up with the latest hiring trends!
/
/

8 Mortifying E-mail Mistakes
8 Mortifying E-mail Mistakes
They say you should write what you know. Well, I know all too well the feeling of dread slowly filling your body as you realise you've made a huge mistake.
We can all relate to the terror of realising you sent a private message to "Reply All" or attached the wrong image. In order to make myself feel better about the huge mistakes I've made, I scoured the internet to find fellow Gob Bluths and will take to laughing at their misfortune to distract myself. Take a look at these embarrassing e-mail fails and revel in the relief that it's not you. (If you are one of the quoted examples then I'm sorry for bringing it up again)
Reply All Atrocities
1. Welcome to college everyone! Except you.. and you and you…
In 2oo9 UC SanDiego sent an e-mail welcoming new, bright-eyed freshmen students to the college open day. Unfortunately, the e-mail was sent to EVERYONE, including students who had applied and been rejected. 28,000 students then received a second e-mail stating the mistake and apologising for the mix-up due to an "administrative error".
2. When you answer your own question
Reddit user paulcole710 recalls a time when his boss asked a question and then it answered itself
'Founder asking "how to fire the outsourced Indian developers" cc'ed to the outsourced Indian developers. Problem solved itself quickly.'
3. Working hard or hardly working
Another Reddit user, TheLastHaggis shares the pain of hitting the reply all button for an e-mail meant for a friend which then ended up being sent to everyone in the law firm he had just started working at.
'"Send me that excel billiards game, I'm bored out of my tits".
4. Most employers don't like it when you compare work to WWI
When a co-worker was leaving and sent around a general goodbye e-mail to the entire company a colleague of his wanted to express how delighted she was for his new venture in life. \and she let everyone know:
Truly sad to see one of the best people I have ever met. I mean that not just in the quality of work and adaptability, but also in your personal and professional self. Most especially the latter.

You are a regular reminder to be a better person by mere example.

****** will be awesome. This joint is like WWI trench warfare. Its no real place for a caring father with many small children. That, and I could see you weren't that happy in your new division, ********. 🙂

Keep in Touch on GChat. Any questions, comments, chit chat, you will find me there.
5. Come on now Claire…


6. Heather is fully dedicated to this job… and chilli con carne

7. If it's in a screenshot it must be true…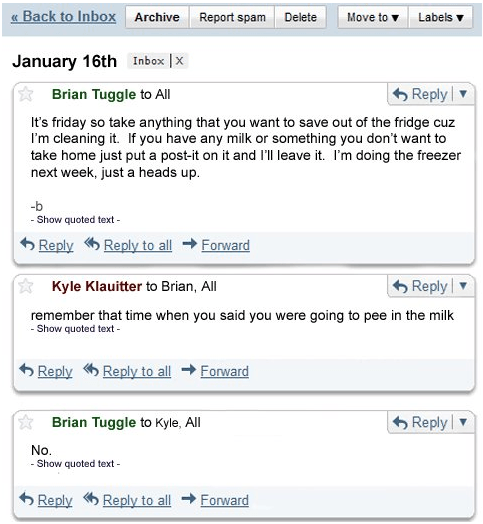 8. Not so much a mistake but still a memorable goodbye
Find out how the likes of IBM, IKEA and Siemens
drive hiring excellence with SocialTalent
---