9 Twitter Accounts Every Recruiter Should Start Following in 2016
Start your 2016 the right way by following some great people on Twitter and adding their knowledge to your daily feed. Here's our comprehensive list of the 9 Best Twitter Accounts Every Recruiter Should Start Following in 2016: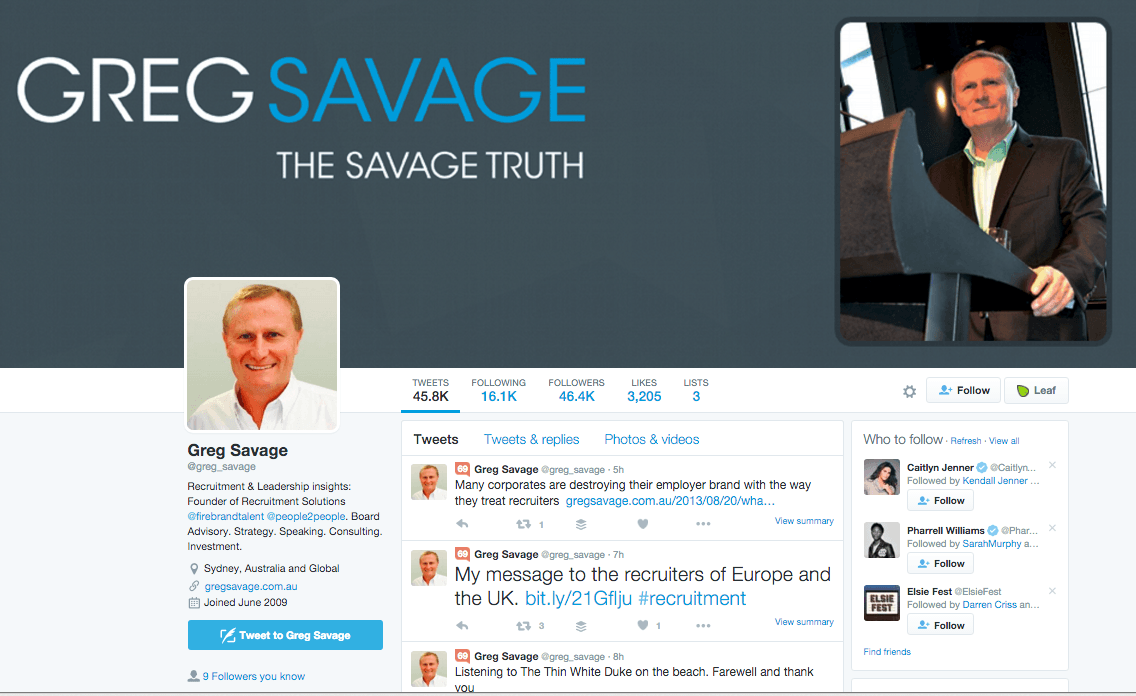 What to expect: Great recruitment tips, practices and techniques based on real life experiences.
With a career spanning 35 years, Greg is a leader of the global recruitment industry and is a regular keynote speaker at staffing conferences around the world. An active investor in recruitment businesses, Greg is a founder and significant shareholder of people2people, one of Australia's fastest growing recruitment companies.
Blending old and new school techniques, tips and practices on everything recruitment from strategy to consulting to board advisory on a global scale, Greg Savage uses his Twitter account to offer everyone his sage advice on the recruitment industry and how to navigate it. In short, it's all gold!
As part of our brand new "Social Talent Presents" series, Greg will be running an exclusive Recruitment Masterclass on Thursday 2nd June 2016 in The Gibson Hotel, Dublin. Greg's masterclass will be packed with cutting-edge insights for recruiters. Expect to go away with clarity on the changing world of recruitment and a host of new tools to help you bill more. More details and booking information can be found here.
What the candidate told me. Now I am telling you https://t.co/cx65HF3BF5 #recruitment

— Greg Savage (@greg_savage) January 13, 2016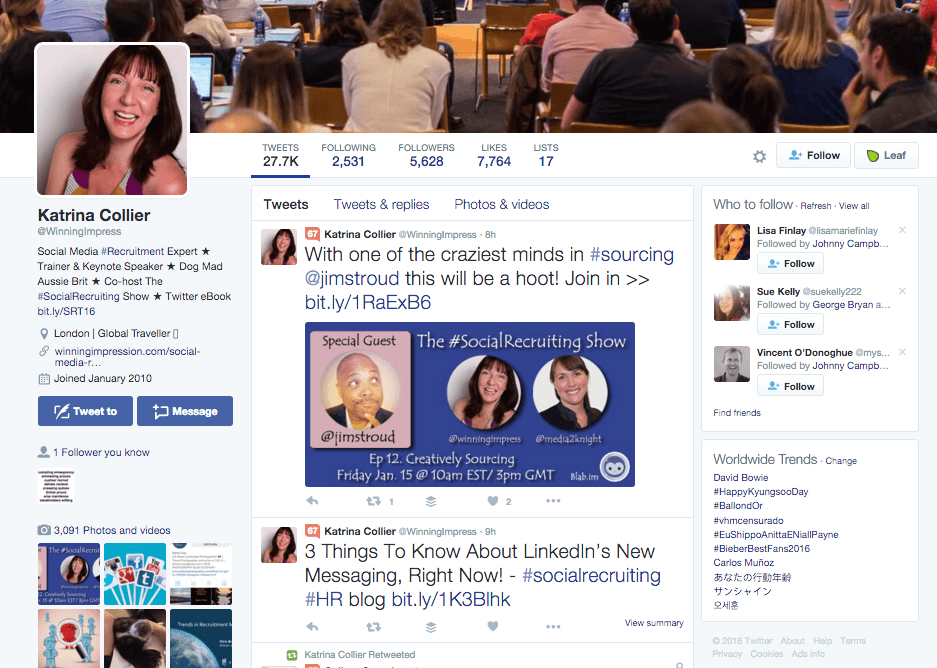 What to expect: Practical tips on how to use social media for recruitment from one of The 100 Most Influential People in HR & Recruiting on Twitter.
Katrina Collier has been consulting on the use of social media for recruitment since 2009. From start-ups to global blue chips, she's delivered social media recruitment training across the globe and is a regular speaker at some of recruitment's biggest events including; SourceCon Fall, SOSU Sourcing Summits in Sydney, Auckland & Amsterdam, DK Recruitment Day in Copenhagen, Signal Connect in Romania, and HR Vision in London.
Her social recruiting opinion is quoted in HRReview, SHRM, The Staffing Stream, and Cambridge University's Strategies for Success, and she also writes for her own blog and for notable publications like Glassdoor and The Muse.
As if all of that wasn't enough, Katrina also happens to be one of The 100 Most Influential People in HR & Recruiting on Twitter, which is why we've included her on our list today.  Because her main expertise lay in recruiting on LinkedIn, Facebook, Twitter, Instagram, and a range of smaller, niche and technical social media sites, Twitter her account is full of social media usage advice in the form of blog articles, stats, quotes and figures.
It's Time To Smarten Up Your Company's Social Reputation! – #socialrecruiting #HR blog https://t.co/QVbOsZHmP7 — Katrina Collier (@WinningImpress) January 12, 2016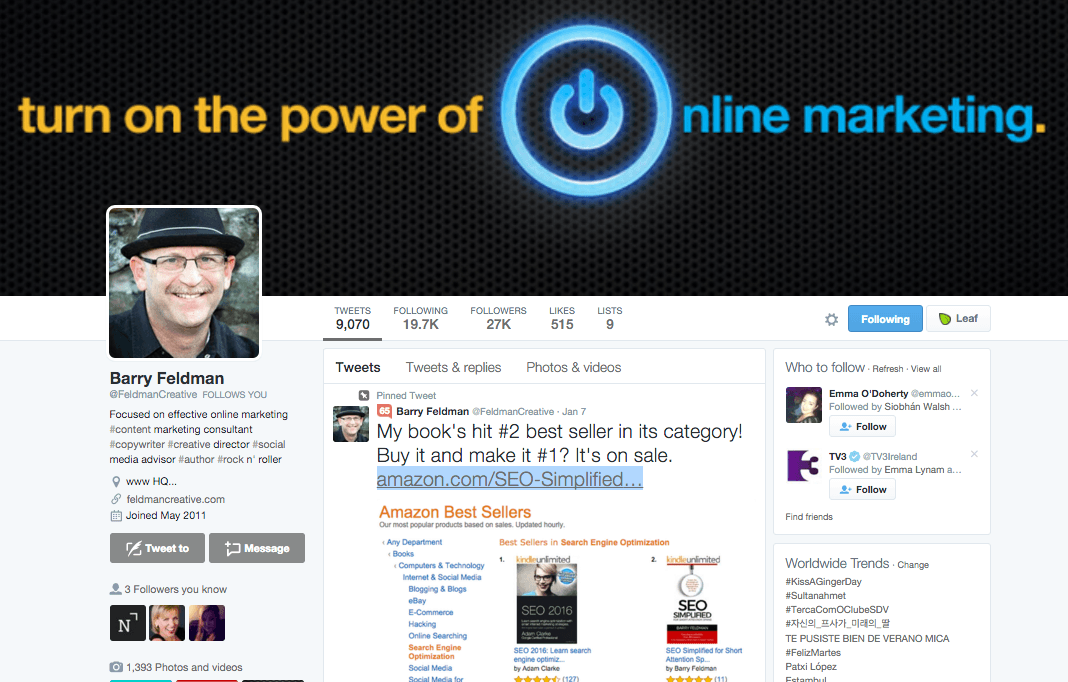 What to expect: Priceless informational gems about how to improve your recruitment marketing practices, from a master of content marketing.
Content Marketing Consultant, Copywriter, Blogger, Podcaster, Speaker… is there anything this man can't do?! While not an expert in the field of recruitment specifically, Barry is at the top of his game when it comes to content marketing and all things SEO related (he's even written a book on the topic), and he can really teach you a thing or two about 2016's biggest recruitment topic: recruitment marketing. If you use job ads to advertise your open roles or you are in charge of your company's careers blog, you really need to start following Barry's Twitter immediately. The links he tweets to REALLY insightful information about improving your social media promotion skills, your blogging techniques, your SEO practices and your video marketing, are absolutely second to none. The stats he tweets are invaluable and his SoundCloud links are a great listen on your morning/evening commute.
Rocking #infographic > 46 Expert Tips For Creating Addictive Content https://t.co/GxCXRRCpDU via @venngage pic.twitter.com/1QEUch2DmR

— Barry Feldman (@FeldmanCreative) January 13, 2016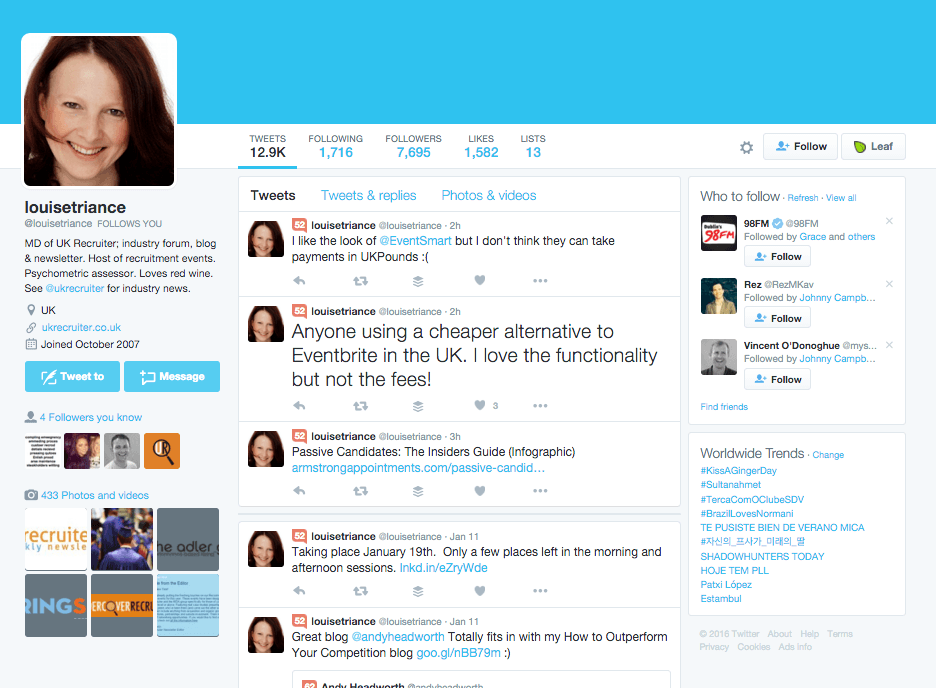 What to expect: The most comprehensive set of information, services and links to all in the UK recruitment industry.
Louise is the owner and editor of UK Recruiter, a website dedicated to providing UK-based recruiters with the most relevant information about the recruitment industry. As a result, Louise uses her Twitter to tweet almost all of the information she gathers for her site, as well as any 3rd party blog articles she finds interesting, events she considers worth attending, books she's enjoying, and products she recommends other recruiters give a go.
She also regularly asks the opinion of her followers on prominent industry topics and browsing through the responses is really informative!EVERY single UK recruiter should click the follow button below right now! EVERY single UK recruiter should click the follow button below right now!
I love this: Recruiters: Slash your email time in half by… https://t.co/x03mPdxqUr (via @kmborowicz) — louisetriance (@louisetriance) January 13, 2016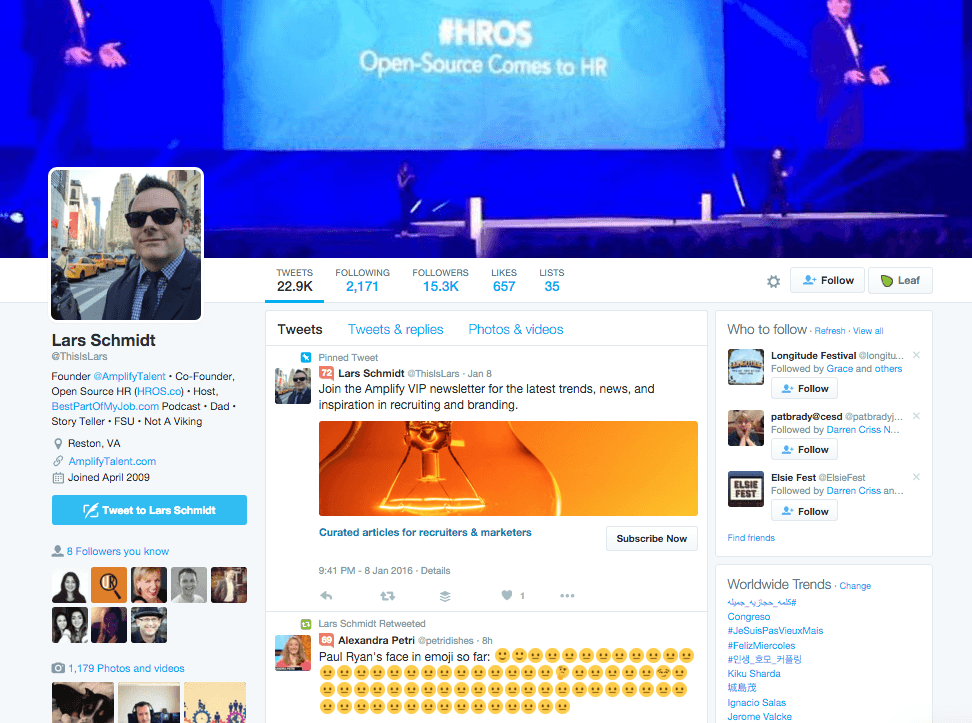 What to expect: A plethora of really great resources for recruiters including case studies, best practice examples, podcasts, and interviews with influential individuals.
Lars is the co-founder of Amplify Talent (a company that helps their clients develop innovative, scalable and sustainable talent strategies), an international speaker, panelist, and trainer who has presented at events held by LinkedIn, Life Is Beautiful Festival, Glassdoor, Recruiting Trends, Human Capital Institute, Social Media Week, Recruiting Innovation Summit and more. His work and his presentations are at the intersection of recruiting and employer branding and have been covered in Mashable, Wall Street Journal, Washington Post, and the U.S. News.
Lars is a big fan of sharing really great resources for recruiters including; case studies from large organisations about their recruiting strategy, studies with industry-altering stats, examples of things like strong employer brands, podcasts you should be listening too, and interviews with influential, industry-leading individuals.
Amplify Talent 2015 Year In Review         https://t.co/cMhPD4vBjQ pic.twitter.com/2KTBmQn67G

— Lars Schmidt (@ThisIsLars) December 24, 2015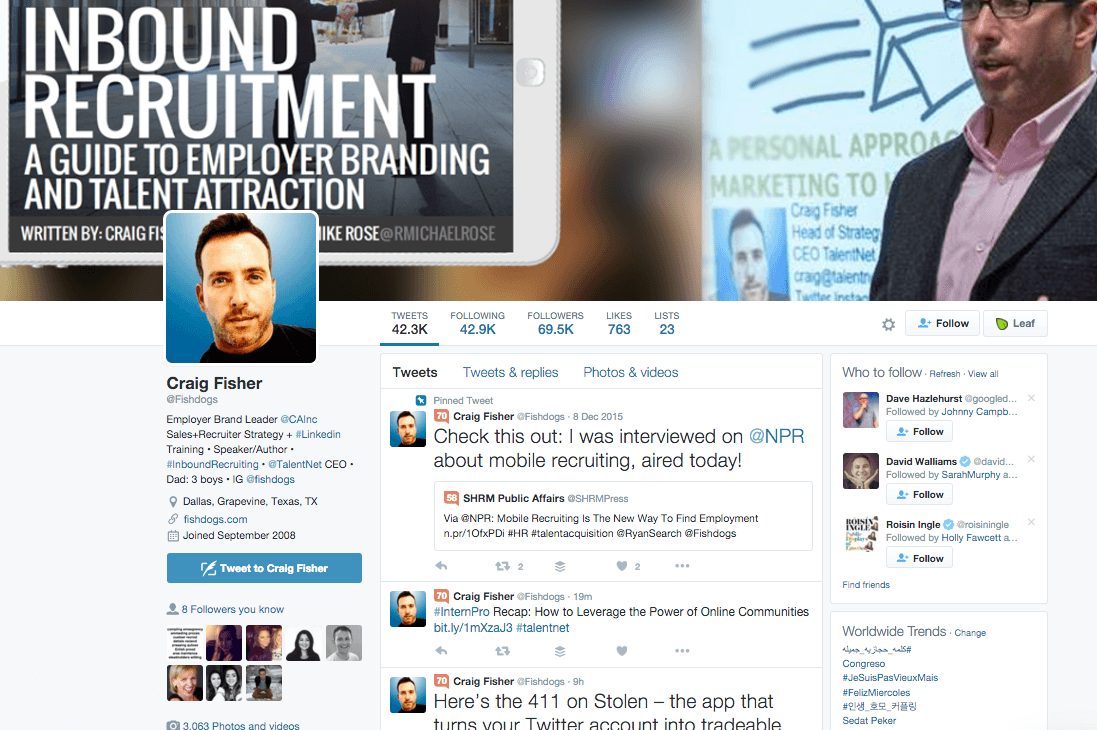 What to expect: A truly dynamic source of information and inspiration for recruiters everywhere.
Craig Fisher is Head of Employer Brand at CA Technologies, and CEO of TalentNet, a social business strategy firm. His digital branding methods have been adopted as best practices by the likes of Linkedin, Zappos, YUM! Brands, and Hootsuite. His expert opinion has been featured in the Wall Street Journal, Mashable, NBC News, and The Huffington Post.
He was recently listed among the most engaging conference speakers by Bizzabo. And, most importantly, for us today, Craig created the first EVER Twitter chat for recruiters. Yes, Craig has always recognised the power of Twitter as a resource for helping recruiters do what they do better, and as a result, his Twitter account is one of the best recruitment-focused accounts out there.
But even though Craig's account is recruitment-focused that doesn't mean he limits himself to posting articles and reports just about recruitment. Oh no! In fact, that's the beauty of Craig's Twitter account. He likes to post all manner of articles from the world of business, tech, gaming, mobile and food that he believes will be beneficial to members of the recruitment community. The result? A truly dynamic source of information and inspiration for recruiters everywhere.
How to Exceed Your Goals in 2016 https://t.co/iqXxfpO6Q6 — Craig Fisher (@Fishdogs) January 11, 2016
7. Lou Adler @LouA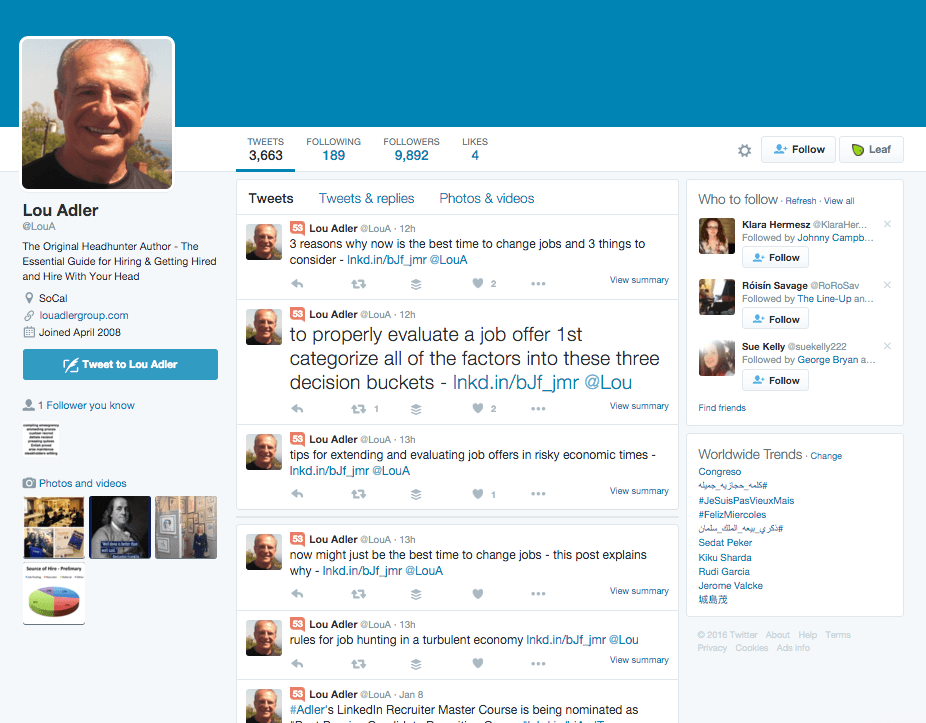 What to expect: Links to game-changing articles written by Lou that will give you practical tips to help you improve your recruiting processes.
Lou is the CEO and founder of The Adler Group – a training and search firm helping companies implement performance-based hiring. He's the author of the Amazon top-10 best-seller, Hire With Your Head, The Essential Guide for Hiring & Getting Hired and the award-winning Nightingale-Conant audio program, Talent Rules! Using Performance-based Hiring to Build Great Teams.
Lou believes that "in order to attract and hire top talent, a company's sourcing, interviewing, and recruiting processes must be modified to meet their unique needs". As a result, he uses his Twitter account to spread his unique teachings on how recruiters and hiring managers can improve their processes and therefore their productivity, by altering different aspects of their everyday activities.
Recent game-changing articles of his include; Answer These Questions to Dramatically Decrease the Time You Spend Sourcing, A Hiring Manager's Do-It-Yourself Guide to Recruiting, and Why the ROI of Hiring is More Important Than the Cost.
if hiring managers need to see more than four candidates before hiring someone you have a hiring manager problem, a…https://t.co/FiQcIjAXWZ — Lou Adler (@LouA) January 6, 2016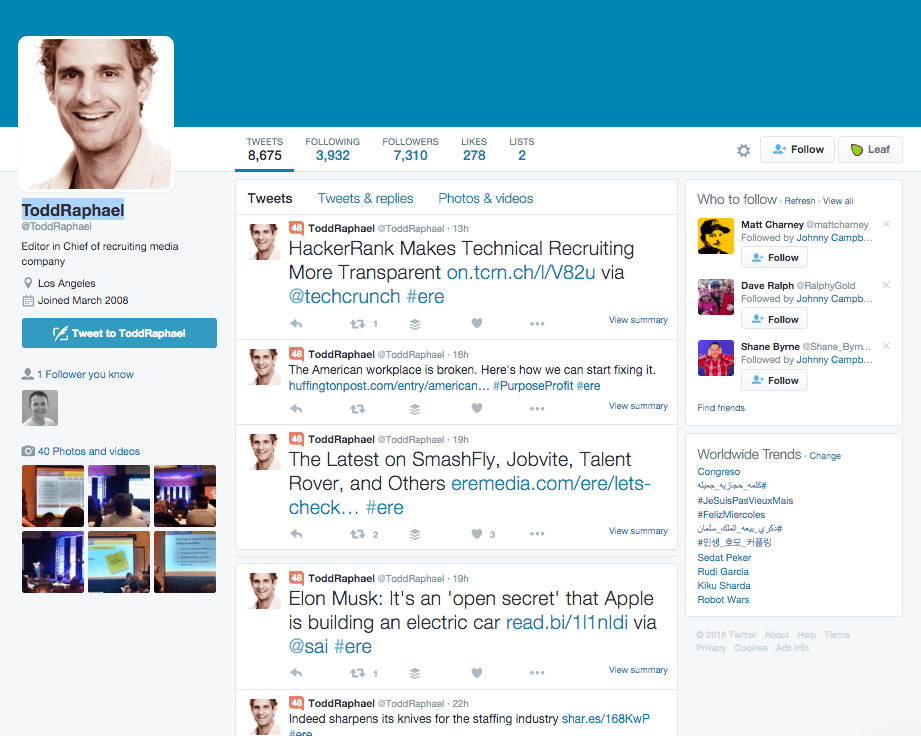 What to expect: Real-time updates on the recruitment industry's biggest news stories.
Todd is Editor-in-Chief of ERE.net, one of the industry's most popular websites. If you're looking for the most up-to-date news happening within the recruitment industry (particularly within the US), then click Todd's follow button immediately!
HackerRank Makes Technical Recruiting More Transparent https://t.co/fNsfaVDcXe via @techcrunch #ere — ToddRaphael (@ToddRaphael) January 12, 2016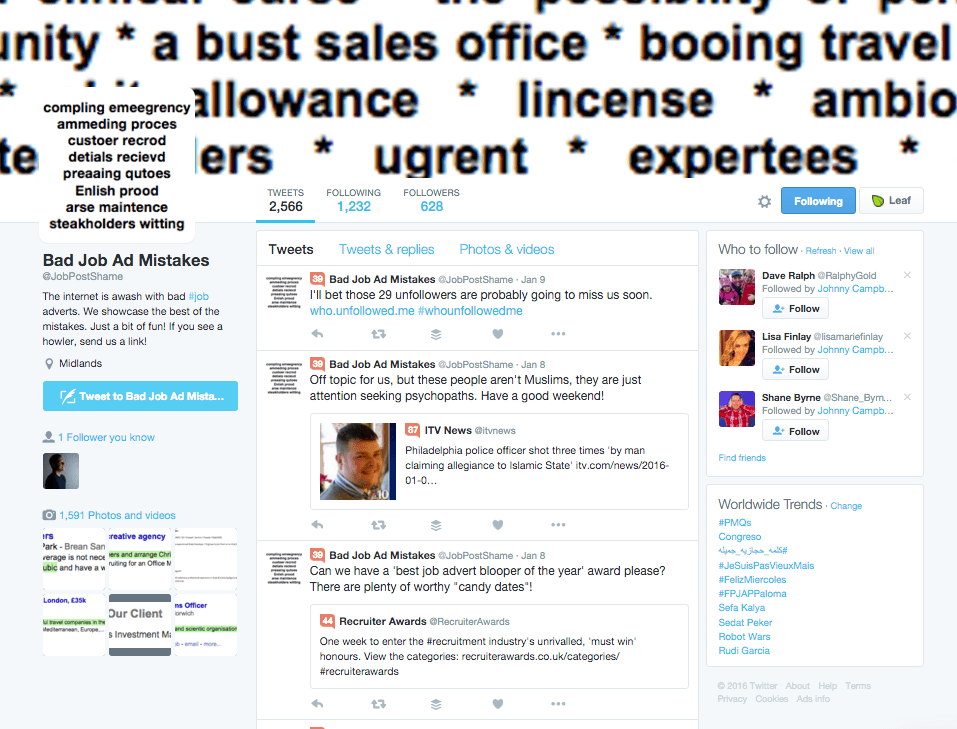 What to expect: The worst job ads on the internet right now.
If you post job ads on a regular basis (or even of you don't!), do yourself a favour and follow @JobPostShame on Twitter immediately! The folks who run the account do their best to "showcase the best of the mistakes" found in job adverts all over the world in an effort to get recruiters the world over to take more care and pay more attention to the job ads they post.
Nothing like a good bit of man anger pic.twitter.com/UDVqr6kexm — Bad Job Ad Mistakes (@JobPostShame) January 7, 2016
And after you've followed all those peeps on Twitter, add us to the list! We can be found a @SocialTalent.
Want to keep up to date?
Join our 75,000+ subscribers who do!