Keep up with the latest hiring trends!
/
/

Australia's 30 Most Socially Engaged Recruitment Agencies
Australia's 30 Most Socially Engaged Recruitment Agencies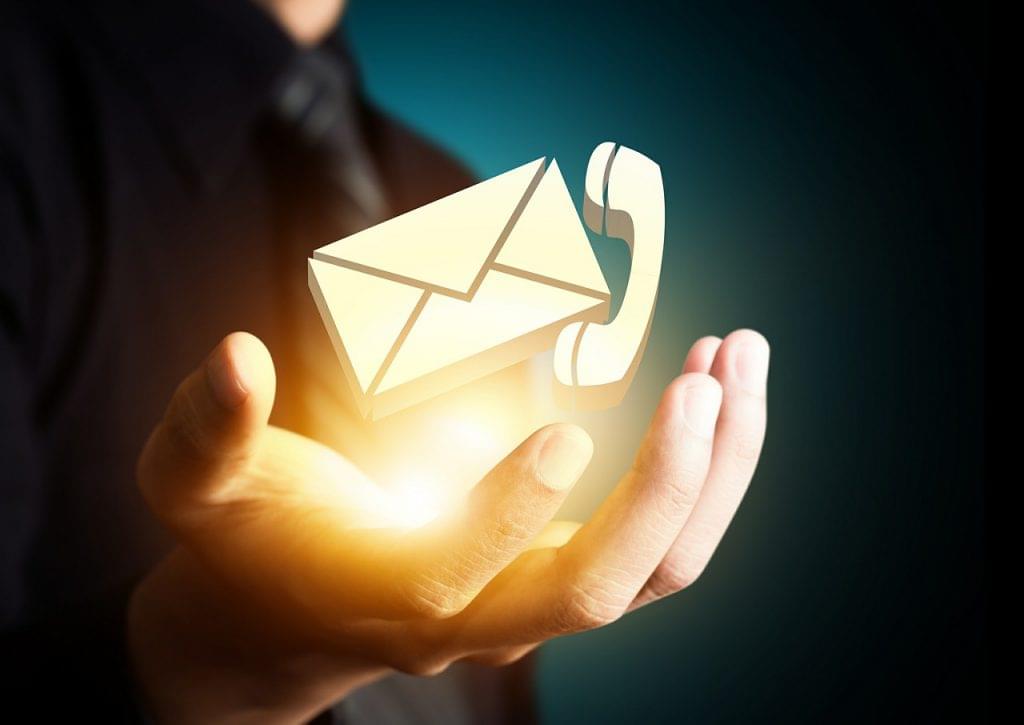 The good people over at LinkedIn recently went on a mission to find Australia's most socially engaged recruitment agencies, and the results are in! The list was broken down into three categories: Boutique Staffing Agencies, Enterprise Staffing Agencies, and Global Agencies. The whole point of the exercise was to find out which agencies have embraced LinkedIn networking, and which ones understand the immense power of engagement through employee advocacy, social reach and sharing valuable content.
To differentiate between each of the three categories –
Boutique Agencies have less than 15 employee members on LinkedIn in Australia
Enterprise Agencies have greater than 15 employee members on LinkedIn in Australia
Global Agencies are international with a presence in multiple countries
Here are the results…(click each company name to visit their LinkedIn Company Page)

Top 10 Boutique Staffing Agencies

Top 10 Enterprise Staffing Agencies

Top 10 Global Agencies
So what exactly are these agencies doing that gives them the edge when it comes to social engagement on LinkedIn? Let's have a closer look at the agencies that claimed the top spot in each category to find out more.
Most Socially Engaged Boutique Agency: Blackbook Executive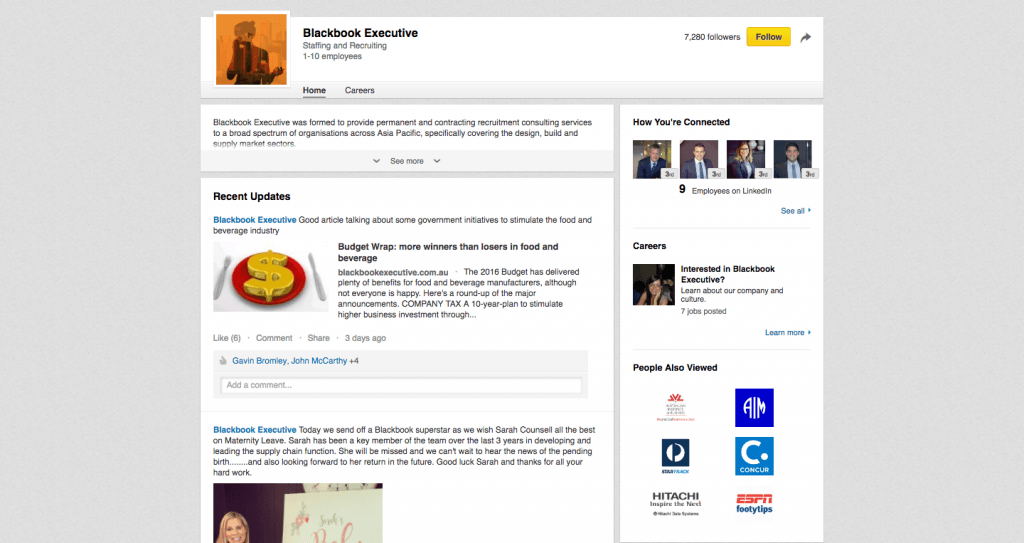 Number of Employees: 9
LinkedIn Company Page Followers: 7,280
What sets them apart: Blackbook Executive exercise a strategy whereby they include LinkedIn training as part of their inductions. All new employees are coached on how to get their LinkedIn profiles right, as well as keeping their profiles consistent and in line with the rest of the company's so that a common theme is apparent. They also encourage their employees to share content in a competitive way and have brought engagement scores into play, so that when a staff member posts something on LinkedIn, they are inclined to look for likes and shares to increase their scores. They have also produced a video series introducing their audience to each consultant within the agency as a way for potential clients and candidates to get to know them.
Another major focus for Blackbook Executive is that they revisit their content marketing strategy every 3-6 months to make sure that it stays fresh, and to ensure that the followers they are gaining are of the highest quality. Clinton Holmes, Director of Blackbook Executive says that the key to success is to assess and modify content all the time. "If you're constantly visible, you'll be top of mind".
See Blackbook Executives full LinkedIn case study here.
Most Socially Engaged Enterprise Agency: Halcyon Knights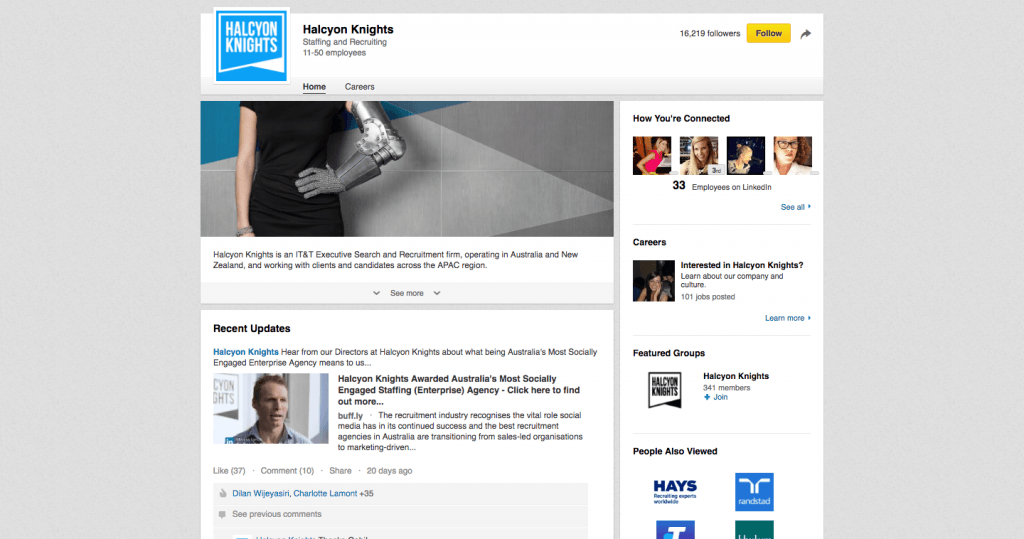 Number of Employees: 28
LinkedIn Company Page Followers: 16,219
What sets them apart: Halcyon Knights commits to keeping their social media accounts 'social'. So much so, that they have actually built social media into their workflow making it critical to the way they work. Staff are given full autonomy and are encouraged to have a voice, which keeps them engaged as well as helps them strive to be great. Consistency around when content is posted is part of their overall marketing strategy, and they work very hard to not get caught in the trap of posting anything just for the sake of it. Valuable content is key here.
At the same time, they also vary their content with occasional personal posts – for instance, highlighting employees birthdays and giving an inside view into life at Halcyon Knights. "The reality is that people don't want to see noise, they want to see something of value, so we try to target the sorts of things that we put on the company page and try to make it innovative…or a hot topic in technology or technology recruitment", says Lincoln Benbow, Co-Founder/Director of the company.
See Halcyon Knights full LinkedIn case study here.
Most Socially Engaged Global Agency: Hays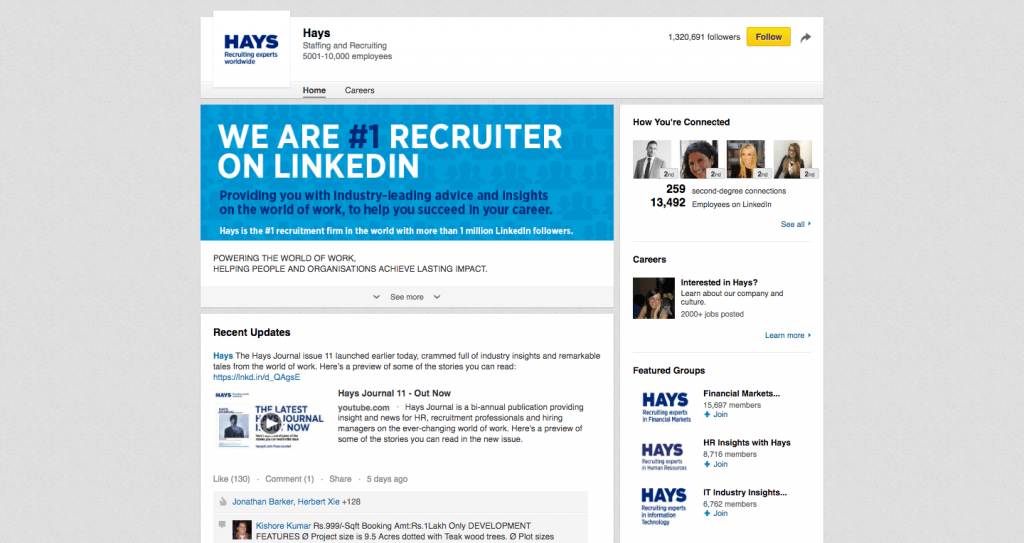 Number of Employees: 9420
LinkedIn Company Page Followers: 1.3 million
What sets them apart: Hays pride themselves on putting their customers at the core of everything they do. They use a wide mix of content to build relationships and trust; most notably, employees write their own blogs, which are then posted on LinkedIn Pulse.
Hays also places a lot of value in ensuring that there is truth in what they're saying and not simply what they want to be known for. The main focus is about understanding what their audience wants to hear from them, not just the messages that they want to get out to market. Lucy Sharp, Regional Head of Marketing for Hays says "To build an employer brand on LinkedIn, you need to know what you stand for and how to make it unique."
See Hays' full LinkedIn case study here.
So there you have it! Clearly, these Australian recruitment agencies have their finger on the pulse when it comes to achieving a level of influence on LinkedIn. But what's important to remember is that any agency can adopt these types of strategies to increase their visibility and engagement. How? Through our Black Belt programme, of course! Who knows, your agency may even make it onto next year's list…
Get your LinkedIn profile to All-Star status, build your employer brand, learn how to create and share relevant content across social media platforms and much more. Find out everything you need to know about our 'Learn, Recruit, Perform' platform by clicking here, and feel free to drop our resident Aussie, Amber, an email for more information at amber@socialtalent.co (FYI: she's a dab hand a Sudoku, and jumps out of planes in her spare time..as you do.)
Find out how the likes of IBM, IKEA and Siemens
drive hiring excellence with SocialTalent
---