Keep up with the latest hiring trends!
/
/

Day 2 Dublin Web Summit – Live Blog
Day 2 Dublin Web Summit - Live Blog
Day 2 of the Dublin Web Summit kicked off a little later than expected, with many an attendee with a sore head in sight. Paddy Cosgrove and his incredible team of event organisers linked up with the Dublin Lord Mayor and City Council to throw the Web Summit delegates a big street party in the city centre. There was an effectively open bar. You can imagine our heads this morning. So I say again, as this is a live blog, apres party, please forgive spellings and trains of thought…
And of course, the WebSummit is being broadcast all around the world! Watch it live here.
First great presentation of the day: Ryan Holmes, CEO of Hootsuite – Social Disruption
Computers and being connected to the web has really taken over our lives, for the good, believes Ryan. The social disruption: from the uprisings in the middle east to the Occupy movement, social networks have spread the news far and wide and managed to push momentum onwards to overthrow governments and challenge policy worldwide. When Twitter and Facebook were banned in Egypt in a bid to dampen the uprisings, the Egyptian people were able to use Hootsuite to access their Twitter and Facebook accounts as a proxy.
How does social affect your professional life?
Social is public, so your actions that you do online can have an impact on your job, your career prospects and your personal life – in both bad ways and more often, in good ways. When employers and recruiters began advising job seekers to clean up your Facebook and Twitter to get a job, Ryan believes that this is going to be a short-lived episode. The photos and updates in your personal social spaces are displays of your personality. When Ryan wants to hire new employees, he's looking for people. People have personalities!
However, people also make mistakes, and these mistakes when made online can have potentially viral consequences. In a clear plug for his product (which we in Social Talent have loved and use for the last 2 years), Ryan demonstrated the mishap tweet sent by Chrysler Autos by an agency worker who was meant to send it from his own personal account.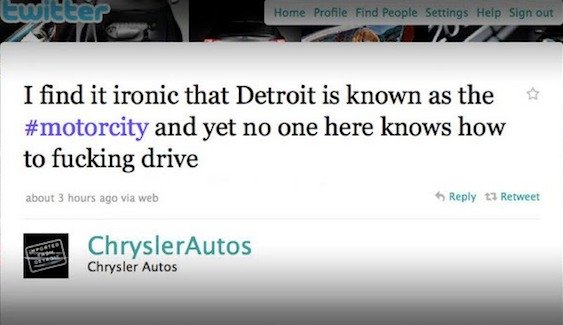 Hootsuite prevents these twitter blunders by having secure accounts. That little bit of pause that lets you really think long and hard about that tweet you're sending. Genius.
Peter Cosgrove, CPL – Why CEO's don't get IT
This really interesting presentation from Peter Cosgrove on why CEO's don't get IT was sold to a packed Developer Stage. Why don't CEO's get a handle on IT, why don't they drive it through their business? Is it lack of understanding? No – Peter presents three problems: lack of relationship between CTO's and the CEO, an attitude of "we can't", and talent.
Where only 23% of CTO's report into the CEO in businesses in 2012, it's no wonder there's a gap between the business head and the technology that can boost the business. The CEO's have a fear of problems, and when they don't fully understand the power of the technology behind their company, they won't drive it. Then there's the talent gap – we've been hearing for the last two days at the WebSummit that the talent shortage amongst companies is reaching crisis point. The best talent is as rare as hen's teeth, but the RIGHT talent is really what companies need to focus on.
CTO's don't want to step in to the hiring process to increase the size of their team. They're bored by it, it's not what they want to do, and yet the CTO probably the most essential person in the room during interviews of technologists. It is the talent that will differentiate between the success and failure of a business. Peter presented Apple versus Nokia – how, in 2007, Apple brought out the iPhone. Within a year, Google had brought out the Android, but up until 2011 Nokia had still not brought out an equivalent. The CEO of Nokia admitted that they felt they needed to out-innovate rather than copy. A poor business decision that nearly crippled their business.
Technologists need to become more visible in their working environments, and stop the illusion of shunned geeks in their lair. With increased visibility, they'll increase their brand of IT and the influence of IT.
Find out how the likes of IBM, IKEA and Siemens
drive hiring excellence with SocialTalent
---