Keep up with the latest hiring trends!
/
/

Does your company benefit from a "difficult job-interview" reputation?
Does your company benefit from a "difficult job-interview" reputation?
On Friday evening, Glassdoor released a report entitled "Top 25 Most Difficult Companies to Interview", which made for remarkably interesting reading. As recruiters, particularly agency recruiters, we hear through the grapevine who's notorious for hard interviews and try to warn our candidates to prepare themselves for the most arduous and painstaking grilling of their professional lives. Does this do any good for the company's employer brand, or will it turn candidates off even applying if they hear of this reputation?
Well, it seems that not only does difficult interviews leave a positive experience for candidates, but it also seems to influence the employee satisfaction rating for those who actually landed the job. Go figure! Scaled from 1.0 to 5.0 (1 being easy, 5 being most difficult), these are the top 25 most difficult companies to interview with: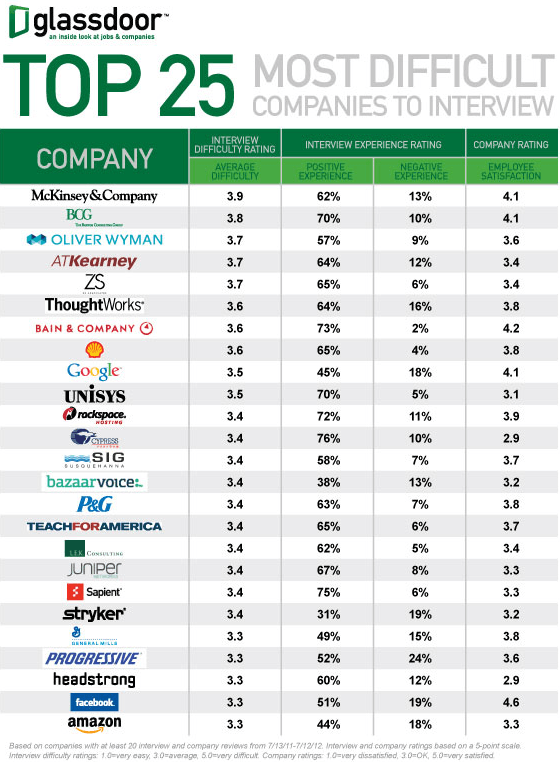 So who had the hardest interviews, and just what did they ask in their interviews to make them so difficult?
25. Amazon
"If you were to rank quality, customer satisfaction, and safety in order of importance, how would you rank them? Discuss" – Amazon Area Manager Candidate
24. Facebook
"It's 6pm and your work day is over, what happened during the day that made it awesome?" – Facebook Account Manager Candidate
23. Headstrong
"If your parents are doctors why didn't you become one?" – Headstrong Associate Engineer Candidate
22. Progressive
"Tell me about a time when you changed the culture in the workplace." – Progressive Corporation Claims Generalist Candidate
21. General Mills
"If you had $5,000, who would you invest in and why?" – General Mills Intern Candidate
20. Stryker
"Would you rather be the best? Or do your best?" – Stryker Design Engineer Candidate
19. Sapient
"How to arrange 9 balls in minimum attempts?" – Sapient Global Markets QA Candidate
18. Juniper
"What were your least favourite subjects during school and why?" – Juniper Industries Marketing Coordinator Candidate
17. L.E.K Consulting
"Estimate the annual revenue of a multiscreen cinema? Try 2 different methods" – L.E.K Consulting Life Science Associate Candidate
16. Teach For America
"What would cause you to want to drop out of Teach For America if you were chosen?" – Teach For America Corps Member Candiate
15. Procter & Gamble
"Describe a situation in your life in which you feel you had the most important effect on your life today and the values you follow" – Procter & Gamble Intern Candidate
14. Bazaarvoice
"Tell me about your sense of humour." – Bazaarvoice Customer Service Manager Candidate
13. Susquehanna International Group
"The chance it'll rain in the next hour is 84%. What is the chance it'll rain in the next half hour?" – Susquehanna International Group Assistant Trader Candidate
12. Cypress Semiconductor
"How many gas stations are there in San Francisco?" – Cypress Semiconductor Product Engineer Candidate
11. Rackspace Hosting
"Name as many uses for a brick as you can in one minute." – Rackspace Linux Systems Administrator Candidate
10. Unisys
"What is more necessary, skill or will?" – Unisys Systems Analyst Candidate
9. Google
"How many hotels are there in the US?" – Google Product Manager Candidate
8. Shell
"Give 2-3 negative points of diversity in a company" – Shell Oil Supply Chain Graduate Candidate
7. Bain & Company
"Estimate how many windows are in New York" – Bain & Company Associate Consultant Candidate
6. ThoughtWorks
"Interview me and then tell me, if you would hire me" – ThoughtWorks Talent Scout Candidate
5. ZS Associates
"A pharma company you are consulting is coming up with 2 new products. What factors would help them decide how to distribute their sales force?" – ZS Associates Associate Candidate
4. A.T Kearney
"After streamlining and reducing purchasing cost for raw materials, can you think of another way to reduce the cost of making a piece of chocolate?" – A.T Kearney Business Analyst Candidate
3. Oliver Wyman
"What is the profit potential of offering wireless internet service on planes?" – Oliver Wyman Consultant Candidate
2. Boston Consulting Group
"How many people would use a drug that prevents baldness?" – Boston Consulting Group Associate Candidate
1. McKinsey & Company
"There are 3 products: tomatoes, luxury cars, t-shirts. What value added tax is applied to each product type?" – McKinsey & Company Junior Consultant Candidate
What was the most difficult interview question you've ever been asked, or had asked of a candidate? Did it make for a more successful recruitment process? Tell us your experiences in the comments!
Find out how the likes of IBM, IKEA and Siemens
drive hiring excellence with SocialTalent
---