Keep up with the latest hiring trends!
/
/

5 Game-Changing Recruitment News Stories – 1st September 2014
5 Game-Changing Recruitment News Stories - 1st September 2014
In the news this week:
Monster Launch New Social Recruiting Platform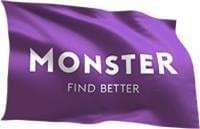 Another piece of Monster's brand new strategy got slotted into place last week, with the announcement that Monster Worldwide is launching TalentBin by Monster – their new "social candidate search engine".
According to Monster's press release "social web candidate search enables employers to search for people who might be candidates for job openings utilising publicly available information posted to public websites". Employers will then be able to use this public information to identify candidates, match them to the best jobs, and establish communications with them. In other words, social web candidate search will connect people to employers like never before – by enabling the matching of candidates to jobs based on a better understanding of a person's professional skills and interests.
Monster went on to say, they "believe this new platform represents a game changing method for connecting employers and job seekers and unlocking significant economic opportunities for career advancement". And boy do we hope it does!
For more information about TalentBin by Monster, click here.
Twitter Analytics Finally Available for ALL Users
It's been coming for a long, long time but it's now finally here! Twitter Analytics is now 100% available to all users.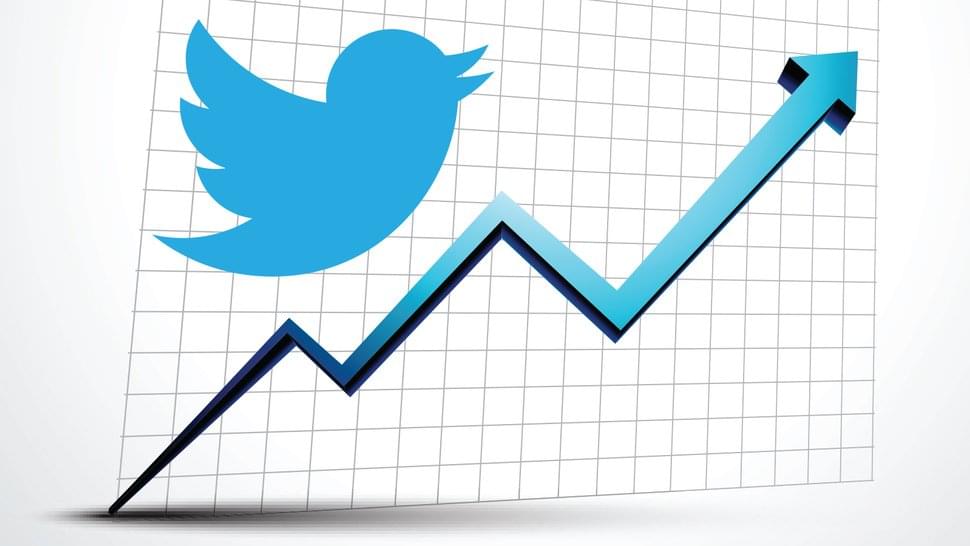 In June, the company began experimenting with opening the analytics functionality to non-advertisers, then last month they rolled out an updated analytic dashboard to marketers, verified users and Twitter Card publishers, and now analytics have been released for everyone to enjoy and benefit from.
Now you'll be able to:
See how many impressions each tweet has received (how many times users saw the tweet on Twitter).
Check the number of favourites your tweet has received.
Discover how many times others have clicked on your profiles.
Find out the number of retweets and replies on a certain tweet.
See how many times users engaged with a tweet and what that engagement was.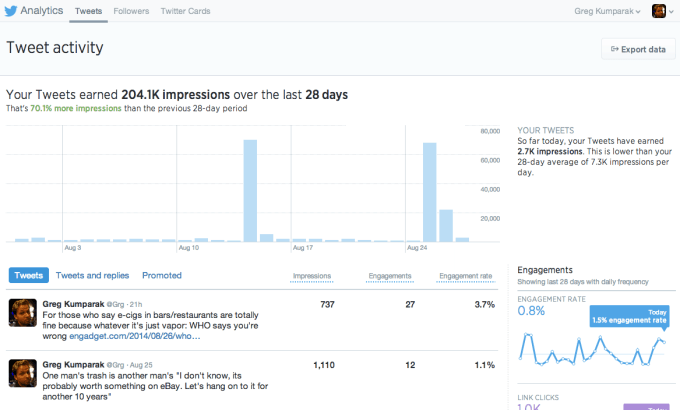 But while the average Twitter user mightn't give two hoots about the ability to access statistics surrounding the engagement their tweets have received, as recruiters, you should be very interested in what those figures have to offer! (Just think about the possibilities when it comes to posting job ads etc.)
To view your analytics visit analytics.twitter.com, but remember your account must be at least 14 days old, it cannot be deleted, restricted, protected or suspended, and you must primarily tweet in English, French, Japanese or Spanish.
Introducing Picdeck – Tweetdeck for Your Instagram Feed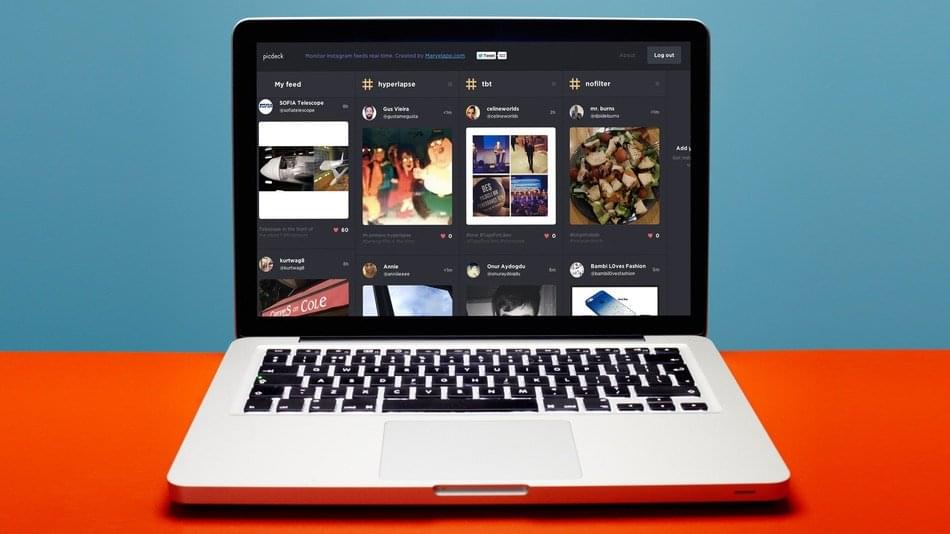 We do love a good online social tool here at Social Talent, and we've never been backwards about coming forwards and sharing our favourites with you. And one of our absolute favourites is Tweetdeck – the tool which enables you to organise and sort your Twitter timeline into multiple feeds for easy viewing and trend/mention/engagement tracking (it's really awesome, check it out). So you can imagine our excitement when word of a very similar tool for organising and sorting your Instagram feed, hit the airwaves.
Picdeck is an app that creates a column of your main Instagram feed along with any others you choose to create as well, based on specific hashtags or users. Each column is updated in real-time, making it much more efficient to follow multiple users and topics, than Instagram's native app.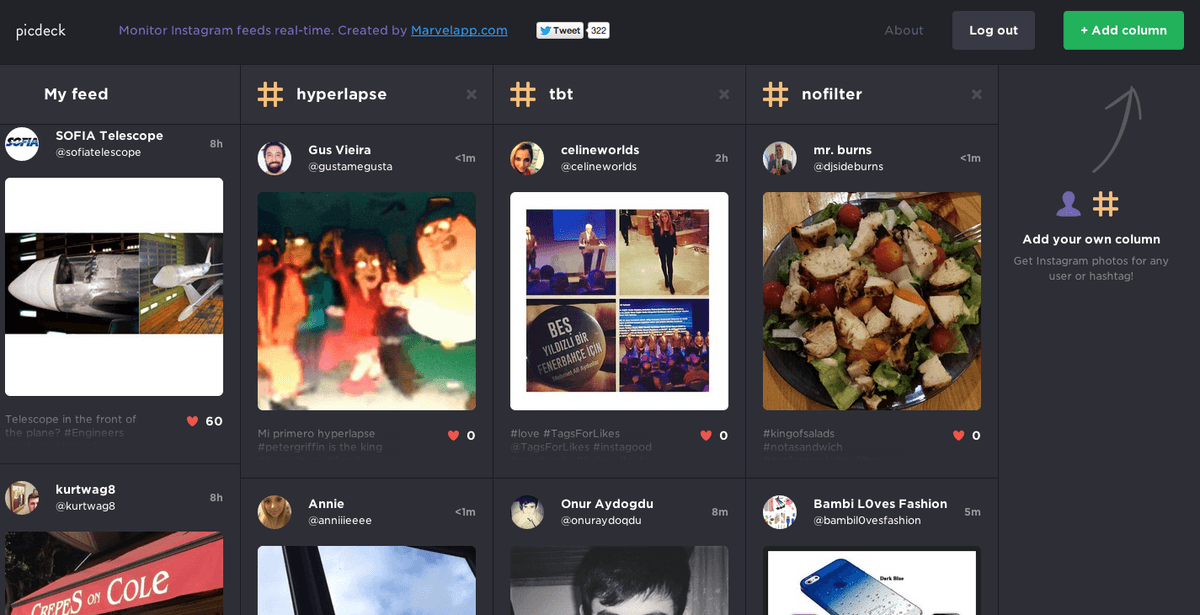 Although Picdeck's layout (and name) is similar to that of Tweetdeck, it doesn't quite have the same functionality as the Twitter client '¬€ at least not yet. You can't create new posts or log in with multiple accounts, for example, and clicking on a photo or video opens the post in Instagram's website. In other words, Picdeck is really more of a viewer than a full-fledged Instagram client. But we have no doubt that Picdeck's functionality will grow, as usage numbers grow.
Log into Picdeck with your Instagram account, here.
Job Platform ZipRecruiter Takes Its First Outside Funding – $63m of it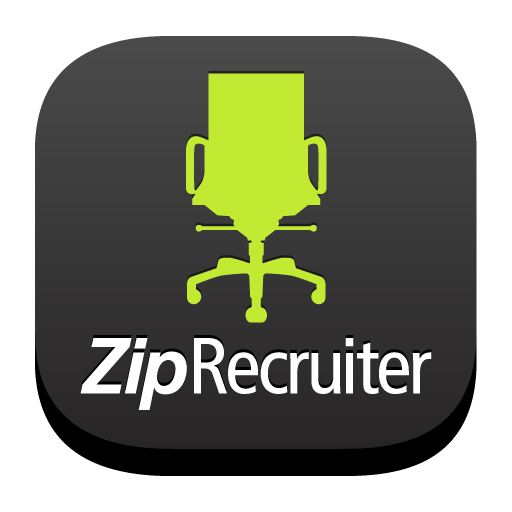 ZipRecruiter, which provides an aggregating platform for small and medium businesses to post and distribute job openings and connect with relevant people looking for work, is today announcing a Series A of $63 million '¬€ notable not just for its size, but also because it is the first external money that the startup has taken in the four years since it was founded.
ZipRecruiter is adding some 30,000 new registered users each month; is already profitable; generating high tens of millions in yearly revenue; and is on course to double sales year-on-year according to CEO and co-founder Ian Siegel. The reason for raising money, therefore, is to meet the company's rising ambitions.
So what do ZipRecruiter actually do? Well, businesses are able to use ZipRecruiter to post jobs that then get distributed to lots of job boards '¬€ more than 50 in all including many of the usual suspects like Indeed.com, Monster.com, Glassdoor, Craigslist, and social sites like Twitter and Facebook. After posting, it then offers a single place for the employer to monitor and review candidates from the disparate networks. It also operates as a search engine for the businesses, where they can proactively look for candidates from a database of 4 million+ jobseekers.
In a nutshell, ZipRecruiters will use their new investment to "expand from the company's core business, both by building new products and also via acquisition", potentially expanding outside the US, and to "build out more services to help in the natural lifecycle post-hiring" e.g. to manage on-boarding.
For more information about the what ZipRecruiter hope to achieve with their new funding, click here.
LinkedIn Projects have been Redesigned to Make Sourcing Easier
LinkedIn have just unveiled their new Projects experience and it's full of new features that are touted to "improve your productivity".
Those features include:
Smart Project Filters
Smart Project Filters are an automated war to categorise and funnel your prospects through the pipeline. For example, if I add Johnny to a project he'll be classified as a "New" prospect. If I reach out to him, he'll be classified as "Contacted". And if he gets back to me, he'll be identified as "Replied". If at any point you think Kevin might not be a good fit, you can move him to Archived. These four smart filters do the work for you so you can focus on filling your open roles.

Track Your Best Candidates AKA your "Stars"
To help yopu prioritise top talent, LinkedIn have added "Stars" as a new product feature. When you star someone they will be pinned to the top of the project so you can easily keep track of them. Plus, Stars will automatically let you know when they've made public changes to their profile, either through the Recruiter homepage or notifications, so you don't miss an opportunity to reach out to them.
Key projects can also be starred for easy reference.

Select Sharing
Up until now, you could either work on a private project or share it with your whole team. The new Projects experience let's you choose to collaborate with who you want. And you're also now not limited to sharing Projects with those who have Recruiter access (yay!).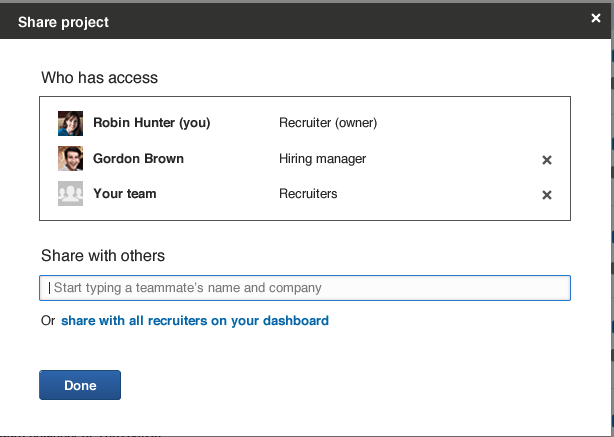 New Notifications
Along with the notifications and emails you already receive from Recruiter, inline notifications have been added to the new Projects experience, as well as a new weekly email digest. Inline notifications give you an at-a-glance view of what's changed in your project since you last visited. While the weekly email digest gives you an overview of what happened with your projects in the past week.

Suggested Professionals
A new section entitled "Suggested professionals" has been added at the bottom section of the Project page and gives you tailored recommendations based on everything LinkedIn's algorithms know about the project.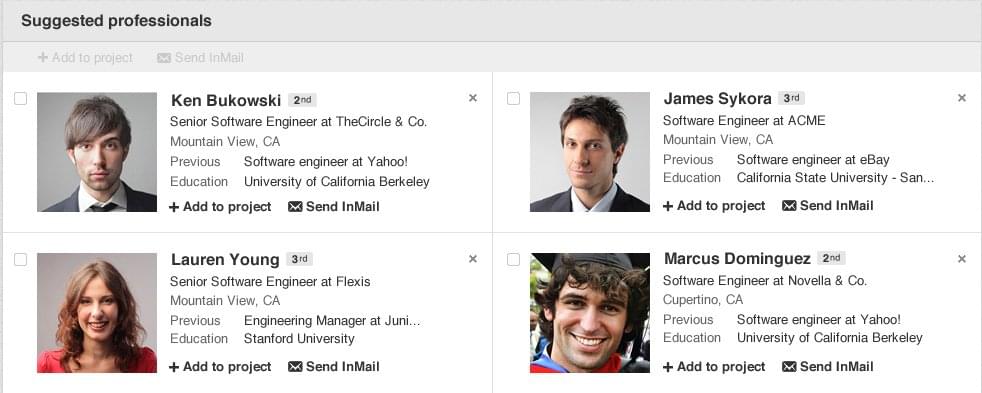 Find out how the likes of IBM, IKEA and Siemens
drive hiring excellence with SocialTalent
---