Keep up with the latest hiring trends!
/
/

How can we attract people into Recruitment?
How can we attract people into Recruitment?
In a poll we conducted over LinkedIn (1057 people voted over June and the beginning of July), it became overwhelmingly clear that people don't select Recruitment as their chosen career . Why not? And how can we attract people into recruitment?
So, the results of the poll:
How did you get into Recruitment?
I fell into it (didn't we all?) – 62%
I had a friend who suggested it to me (17%)
An agency suggested it to me (12%)
I always wanted to be a recruiter (7%)
I tried HR but it wasn't for me (2%)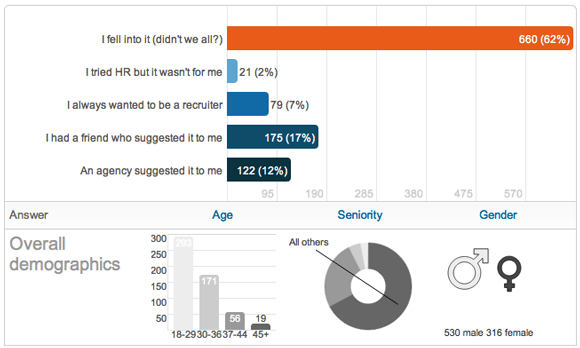 Ok maybe the most popular answer given was also a bit leading, but the sentiment is clear. Recruitment is not a career that people think of when they go through university or school, nor is it ever suggested at careers fairs really.
So it begs the question: how can we attract people into recruitment as a viable career?
As recruiters we do a really valuable job – we find jobs for people, we can change their lives with an excellent job offer, we find great people to help businesses grow and develop, it can be very hard work but you're rewarded well too. What's not to love?!
Some of the recruiters who answered the poll gave some insight into why they're still in recruitment today:
Chris Monaghan said:

Tamara Litrich said:

Simon Mason said:

And Lloyd Gordon:

While Tammy Colson had a slightly different route into the job:

But for Ajay Bhella:

If you're an agency recruiter, how do you go about turning people's minds on to consider recruitment as a career? Does your company do graduate recruitment, or brand your company as an employer of choice? We'd love to know your experience in recruiting new recruiters, and who knows? Maybe in the next few years we'll have people saying "I want to be a recruiter when I grow up!"
Let us know your thoughts in the comments!
Find out how the likes of IBM, IKEA and Siemens
drive hiring excellence with SocialTalent
---