How to boost your company's profile on LinkedIn using Video
LinkedIn have enabled members to insert videos and presentations in to their profiles since late last year, but barely anyone uses this application, or even knows that this function is available.
We've seen in the last few weeks how innovative use of video, social media and technology can greatly enhance your CV and prospects of finding an amazing new job by impressing the company you wish to work for. See this link for some great examples of Social Media in action in a candidate's CV.
So what about LinkedIn's video application? Where is it? How do you use it? What good will it do?
Where is it?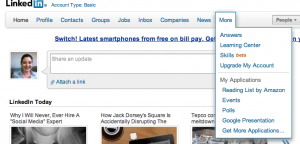 You'll only be able to load a YouTube video to the application, so first thing's first, load your video to your YouTube account.
Log in to LinkedIn, and then click on "More" in the top tool bar. Click on "Get More Applications" at the bottom of the drop-down menu (in this screen shot, I have already installed the Google Presentation app on my profile, so it appears in my tab).
Then scroll through the list of Apps, choosing "Google Presentation", which is nearly at the bottom. Click on "Install this Application", and then "Go to Application".
How do you use it?
From here, you can upload a powerpoint presentation, or you can embed a video by clicking "Create a presentation". This will bring you to a new blank document on Google Docs, (which is a free tool and everyone should use this for file sharing and storage). Create a GoogleDocs presentation, click "Insert" along the top and then "video" in the drop-down menu.
Choose your video file from YouTube and then upload your video in to your presentation slide. Using your mouse, stretch the frame of the video so it fills the slide, and then "Save" your presentation. Add a title by clicking on "Untitled Presentation" seen in this screen shot (right). Now within LinkedIn, your newly created presentation should be ready to upload to your profile, just click the presentation file you wish to load and then "Post to Profile". It will now appear after your experience and groups on your profile. Simple as!
For those of you who have been diligently practicing Boolean searching, search for my LinkedIn profile and watch my quick 52-second video (I'll make it easy: find the full spelling of my name at the top of this post) – forgive the stage-fright! This little video was recorded using the built-in camera on my Macbook, but similar videos can be recorded using phones or camcorders.
What good will it do?
It's an excellent way of adding personality to your company's LinkedIn profile, and give valuable insight in to who works in your organization and the kind of candidates you're looking for.
Alternatively, it can be put to excellent use by job-seekers who wish to stand out from the crowd, using a quick video to demonstrate their CV and allow companies to virtually meet you and get a feel for who you are and why you're perfect for the job.
Tips on Video Content:
Try keep it short and sweet – people get bored easily.
For job-seekers: promote your skills, talk through your CV and experience, where you've come from and why you're best for a particular role.
For company pages: it should reflect the company's ethos and expectations, whether you're a casual-friday kind of company or strictly formal. Allow your employees to shine and represent you for what you actually are, it'll give potential hires a great feel for the business and encourage those that will fit in to apply. Talk about when they arrived at the firm, what they love about their job, and maybe their favourite part about their office etc.
We'll be running a track at #TruDublin this week, Wednesday and Thursday in the Harcourt Hotel in Dublin, hope to see you there!
Want to keep up to date?
Join our 75,000+ subscribers who do!