Keep up with the latest hiring trends!
/
/

How to: Measure Your True Social Reach
How to: Measure Your True Social Reach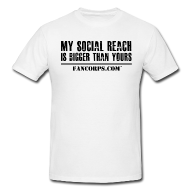 When creating a social media strategy for your organization, it's important that you measure your performance, the same way you would measure the productivity of any other marketing campaign. There are many tools out there that will help to analyse your social reach (or social presence), but analytics available on sites such as Google Analytics, Facebook Insights and Klout can only truly measure about 70% of your social media presence and performance. The other 30% can be a little more difficult to compile all in one meaningful statistic, but that 30% is important to determine your True Reach.
Many argue that social reach is not about how many people click through to your website, its about how many people click through to your discussion and join in – how much engagement you get from your posts. Social networks are all about sociability, not direct leads and sales. Of course, all most of us are interested in at the end of the day is the bottom line: does our social presence make us sales. The answer is yes, just in a bit more of a round-about way. Using this template, calculate an actual social reach score which you can chart your progress over time and confidently know that your social reach is growing (or, heaven forbid, declining – but at least then you can do something about it).  Your initial figure doesnt really count; its just a base-line from which to monitor your progress from this day forward.  Your aim should be to get this figure to trend upwards over time.
So, each week calculate your score based on the tools detailed below, and chart it in a spread sheet so that you can clearly see how your business profiles are performing.
Tools to use:
Your Klout score will measure your Social Influence: how many people follow you, how many times have those people shared your discussions to their connections and mentioned you in their tweets. It can be used to measure your influence and gives you a score out of 100 (100 being the best – @JustinBieber has the highest, despite rival @LadyGaga having more followers). However, Klout isn't the be-all and end-all. It's still a Beta product, and so far only measures Twitter, Facebook and LinkedIn (the latter not very week we think!). If your blog is tweeted out by separate Twitter users who don't mention you, then Klout won't count it, even though it still contributes to your social reach. So: determine your Klout score by clicking here and give yourself points for whatever Klout number you scored. Eg, if you have a score of 57, give yourself 57 points.
Twitter



When searching in Twitter for mentions of you or your company, search for your website's name or blog domain, rather than specific retweets or mentions. If another URL shortener is used to retweet your link, Twitter will recognize the underlying domain in the URL shorteners and bring up any tweet containing your links. This will give you a much better immediate view on exactly who is sharing your blog or article, and a great indicator of social reach. So, for example if I plug in to Twitter search: Socialtalent.co it will bring up any links or URL shortened links that are for the socialtalent.co site. Per week, monitor how many Mentions you get, how many retweets and URL links etc, and give yourself a point per mention/retweet. Even better, if anyone mentions you by #hashtag rather than your official Twitter handle, give yourself a point per tag.
Google Analytics for your Site, or Stats for your Blog
This is a brilliant (free) tool that is essential to businesses to view where your website traffic comes from, and also how the word is being spread about your blogs. If you have a blog on popular platforms like Blogger or WordPress, you'll be able to view a sort-of Google Analytics report to see where your blog traffic came from.
Within Blogger, you have the Stats section which will detail the referring sites, URLs and search keywords that brought readers to your blog. You can break your stats down by country, by browser-type, by operating system, and which posts on your blog were most popular.
It's absolutely imperative that you embed the Social Bookmark button on your blog too (there's a brilliant step-by-step guide on how to do just that here), which will enable readers of your blog to share it out amongst their friends, followers and connections across a whole host of social networking platforms. We have a share button on the bottom of all of our blogs: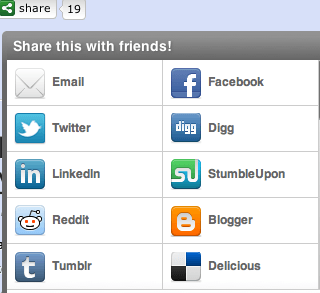 Similarly in WordPress, your stats are in the Dashboard section, and give detailed breakdowns similar to Blogger, including total views, referrers, top posts and pages, search engine terms, clicks, incoming links (this is a good feature – see what other sites are linking to yours), subscriptions and shares. Your social reach is determined by how many people have shared your information and joined in the discussion, so your key performance indicators for your Social Reach are not just how many people read your blog, but how many people RESPONDED.
In calculating your Social Reach, give yourself a point for every share you've had, and 2 points for every comment you received on your blog. Be wary though: SEO advertisers spam blog comment sections all the time, so only add a point if you've had an actual comment by a real person that you would allow to be published alongside your blog. No cheating.
How many connections do you have on LinkedIn? Who are they connected to? While these may not be wholly measurable to see how far your social reach goes, you can utilize your connections to draw traffic to your site or blog, and bring them into your discussion. If you join groups and publish your latest blog as a discussion on the group's board, the more people who join that discussion will help you become the Top Influencer that week in the group. It will not, however, give you an indication of how many people actually clicked on your link to your blog and read it (your statistics on your site or blog will do that).
Your aim when discussing within groups is to stir conversation and get to be the Top Influencer. If you are listed in the Top Influencers this week table, give yourself points from 1-5, 1 if you're 5th in the table, 5 if you're at the Top and whatever in between.

Facebook Insights will measure your page's Social Reach fairly accurately. While it does not provide an Insights scale for personal profiles, business pages will be given access to the free Insights tool once you have over 25 fans. This will measure a whole host of things: demographics of your users and the interactions of your users with your Facebook page: which posts got feedback (likes and comments, but bear in mind that Questions will not get a feedback score even if people vote for an option), how many users looked at your photos, how many users viewed your videos (only videos that were loaded directly in to Facebook, not links to YouTube or Vimeo unfortunately), how many shares you got etc. Again, the aim of the game is not to get people to come to your site and buy something or make you money somehow: it's to join the conversation and get engagement.
To calculate your reach from Facebook, give yourself a point for every Like and Comment on your posts, one point per view of photographs, one point per view of videos, and
three points for every post on your wall by a fan.
So hopefully, your graph will look like this over 6 months: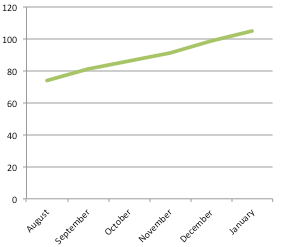 Now, if only some clever web developer will design a programme that will calibrate these scores automatically for us and build it into a website for us all to use we'd be sorted!
Try it out yourself and see what your business Social Reach is and leave your number in the comments. It'll be great to see a broad comparison and see what's top, bottom and average.
The main thing is that you track your progress against a baseline; your initial score doesn't really matter but how it grows (or falls) over time is what really counts!
Find out how the likes of IBM, IKEA and Siemens
drive hiring excellence with SocialTalent
---