Keep up with the latest hiring trends!
/
/

How To: Search LinkedIn for Contract or Temp Staff
How To: Search LinkedIn for Contract or Temp Staff

With nearly 140 million profiles (we predict 150 million will be announced at the end of January 2012), LinkedIn is packed full of potential candidates for most recruiters' needs but if you recruit temps or contract staff then LinkedIn may frustrate you as there is currently no way to find people who might be looking for a short-term or temporary position.  Whilst it may be true that if you ask enough people you will find someone interested or someone who knows someone, surely there has to be a faster way. There is.
Method 1:
If someone has been a contractor or temp in the past, there is a much higher probability that they will contract or temp again. In fact, it may be a career decision to contract, as many IT professionals know only too well. Try searching the Keywords section in LinkedIn for these terms, in addition to the ones you want to find in your perfect candidates:
("fixed term" OR "short term" OR contract OR contractor OR contracting OR contracted OR temporary OR temp OR maternity OR interim OR freelance OR freelancer OR unemployed OR redundant OR "job seeking" OR jobseeker OR "looking for" OR "new job" OR "self employed")
Method 2:
If someone is immediately available they are both more likely to consider and more likely to be suitable for a temporary or contract role. If someone has recently completed a position, they may have updated their LinkedIn profile with their finishing date. Unfortunately the date fields are not searchable in LinkedIn, even on the top end Recruiter package (most headers aren't searchable). You will need to "x-ray" search LinkedIn via Google for this to work. Try adding the current month or previous month as a search variable to your LinkedIn x-ray search or go to socialtalent.co/peoplesearch and plug the following in to your search in addition to job titles and/or keywords etc:
("November 2011" OR "December 2011")
The challenge here, however, is that most people only update their profile when they have found a new position so more times than not, they will have also listed a new position. We tried to remove "present" or "- present" from our search but this seems to be special meta data that is generated when you load the page, hence the actual text cannot be removed from your search. Flick through the profiles though, you will find people who are out of work and available. Click here for a search we did on Google for profiles of IT contractors in the UK.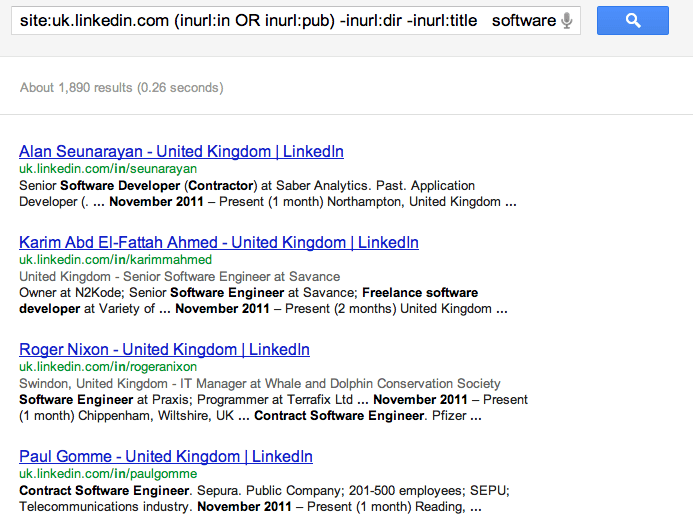 Note: if you perform an Advanced Search within LinkedIn for a date such as "December 2011" you will get results, but the phrase "December 2011" will be listed somewhere else in the profile information, which is why LinkedIn is returning results – not because it found it in the employment dates field.
Have you got any other ideas on how to search LinkedIn for temps? How about removing "Present" from the x-ray search? We'd love to hear your ideas in the comments below or email [email protected]
Find out how the likes of IBM, IKEA and Siemens
drive hiring excellence with SocialTalent
---