Keep up with the latest hiring trends!
/
/

How to: Solicit Recommendations & Endorsements on LinkedIn
How to: Solicit Recommendations & Endorsements on LinkedIn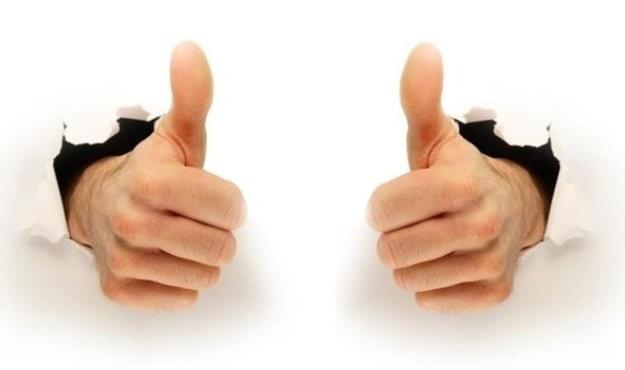 So a job seeker is looking to spruce up their LinkedIn profile and make sure they have the right personal recommendations in place and a nice number of skill endorsements on show. Well unfortunately, that's now easier said than done.
You may (or may not) have noticed that the button to recommend a connection and to endorse any of their skills has disappeared into thin air. So where did they go? More importantly, what is our poor unfortunate job seeker to do if they can't solicit either recommendations or indeed endorsements? Well, unbeknownst to most, the buttons for performing each of these tasks, have now turned into direct links (presumably because LinkedIn plan to phase out recommendations) and algorithms. These links and algorithms will still allow you to perform tasks relating to your recommendations and endorsements but hurry and do it before the option disappears.
Recommendations
Great recommendations can be the difference between getting a the offer of a position over someone else, so having them on your profile is a major bonus. linkedin.com/recommendations lets you manage the recommendations you've sent and the one's you have yet to send. Below the list of glowing reports you've already given about others, is the option to 'Make a Recommendation' and all you need to do is choose the person you wish to recommend and how you want to be seen to endorse them.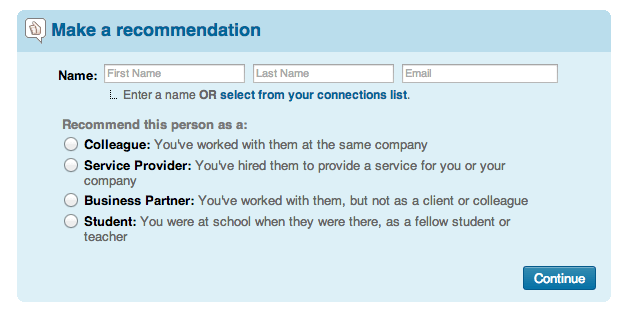 Confusingly, linkedin.com/endorsements also relates back to written recommendations, except this time we're talking about recommendations you've received from others. This is the only place (apart from a longwinded journey through the 'Edit Profile' feature) where you can explicitly solicit recommendations for positions you have worked in from your connections. The 'Ask to be recommended' button and the 'Ask for recommendations' tab will get you what you want; a way to solicit recommendations for certain jobs from specific connections. All you need to do is choose the position you wish to be recommended for and who you wish to recommend you, and compose a nice message to encourage that person to do so.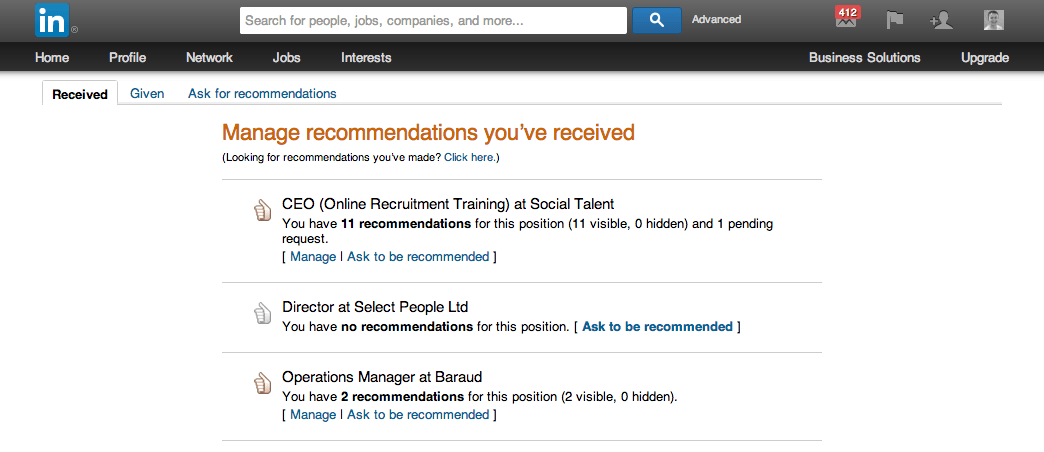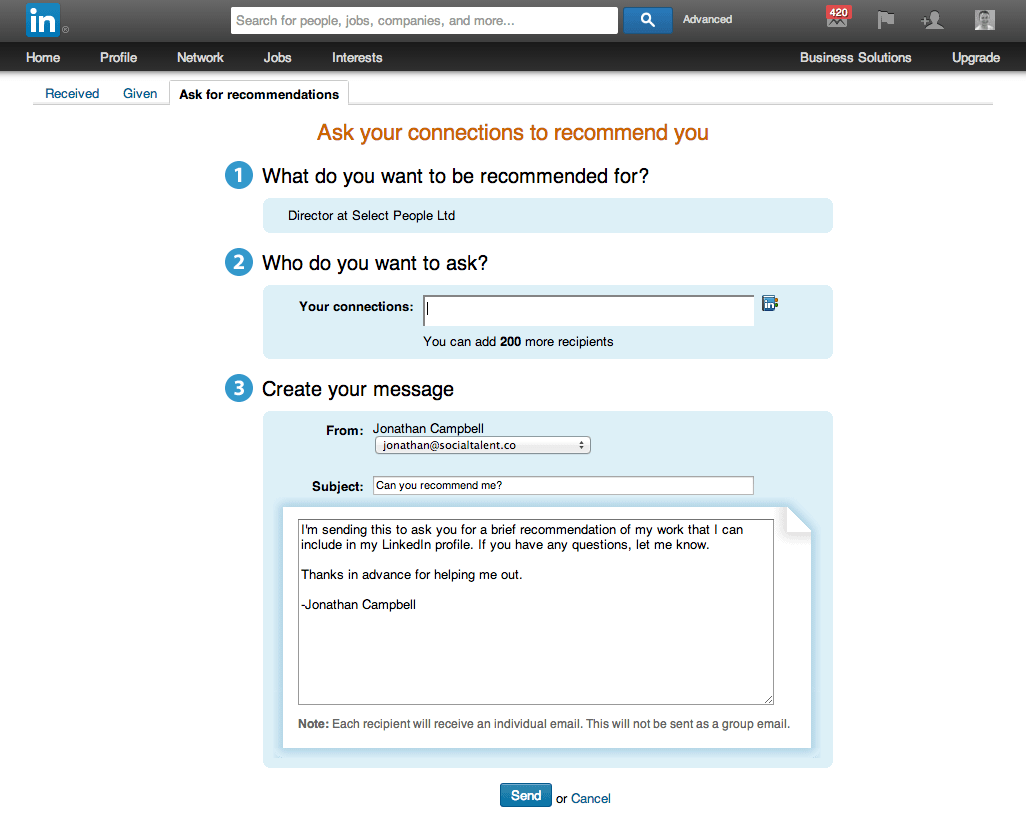 Endorsements
According to LinkedIn's Help Centre, "Skill endorsements are a great way to recognise your 1st-degree connections' skills and expertise with one click. They also let your connections validate the strengths found on your own profile. Skill endorsements are a simple and effective way of building your professional brand and engaging your network." What they forgot to mention was how great endorsements are for pushing your profile higher in the search results for certain skills. This is the primary benefit of LinkedIn endorsements, making their presence and significance actually quite important.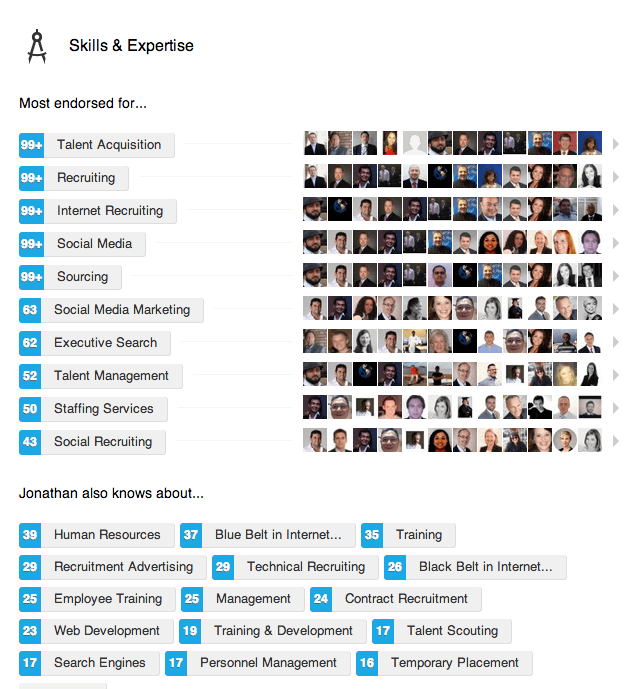 To endorse someone's skills you need visit their profile page and wait for the inbuilt algorithm to pop up and invite you to endorse your connection for a number of skills. In terms of soliciting endorsements, flattery tends to get you everywhere! Endorse the skills of the person you wish to receive an endorsement from and more often than not your kind clicks will be returned. Endorsements are a nice soft way to try and coax others to reciprocate.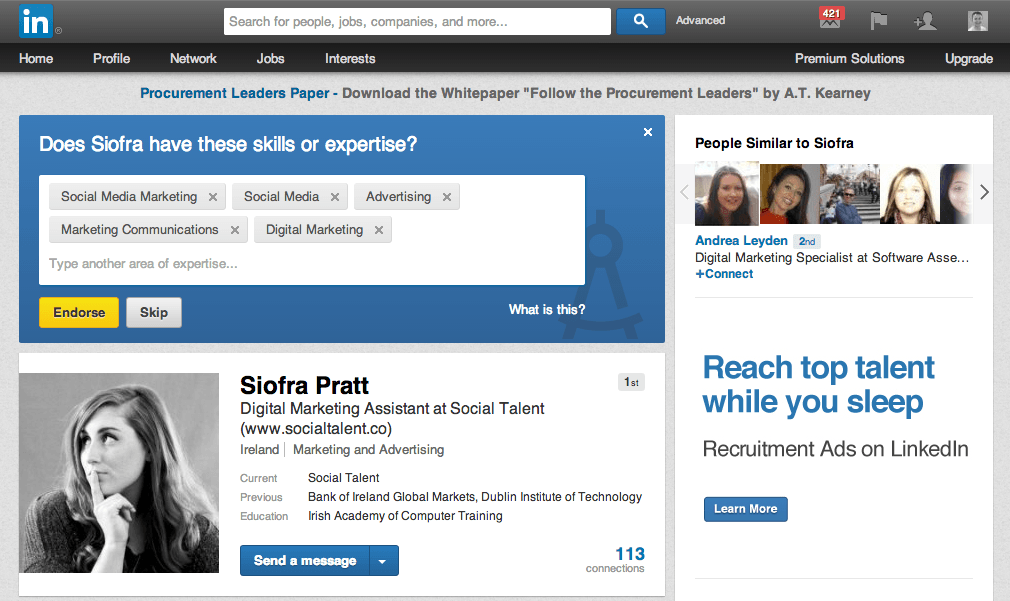 Will you be racing off to recommend a colleague? Will you be asking a colleague for their words of praise? What's your experience of recommendations and endorsements? Are you fond of them or do you condemn their usage? As a recruiter, do you place value in recommendations and endorsements? Let us know in the comments below.
Find out how the likes of IBM, IKEA and Siemens
drive hiring excellence with SocialTalent
---