Keep up with the latest hiring trends!
/
/

Top 10 In-Demand IT Job Titles
Top 10 In-Demand IT Job Titles
Over the next few weeks, we'll be using Indeed.com's industry employment trends analytics tools to bring you the Top 10 Most In-demand Job Titles in each industry, and we'll be making a list of the Top 5 employers of people with those skills in the USA, the UK and Ireland, as well as some information regarding the average salary those candidates can expect to receive. Why? Because we're just that God damn nice!
Part One – Information Technology
The 10 Most In-Demand IT Job Titles of August 2014, as identified by Indeed.com, were as follows:
Software Engineer
Systems Engineer
Software Developer
Java Developer
Business Analyst
.NET Developer
Web Developer
Systems Administrator
Project Manager
Network Engineer
**According to the US Department of Labour, the level of employment for computer science roles is expected to increase by 19% from 2010 to 2020.
1. Software Engineer
Engineers are often confused with Programmers, but the two disciplines are vastly different! While a Programmer creates the code that makes a program run, a Software Engineer creates the designs the Programmer implements.
Average salary: $93,000
Top 5 Employers of Software Engineers:
USA: IBM, Microsoft, Google, Cisco, Lockheed Martin
UK: IBM, Sky Accenture, Capgemini, Cisco
Ireland: IBM, Ericsson, Hewlett-Packard, Fidelity Investments, AIB
2. Systems Engineer
Systems engineering deals with work-processes and tools to manage risks on projects and overlaps with both technical and human-centered disciplines such as control engineering, industrial engineering, organisational studies and project management.
Average salary: $91,000
Top 5 Employers of Systems Engineers:
USA: General Motors, Ford Motor Company, Boeing, Chrysler Group LLC, Cummins Inc.
UK: BP, Rolls-Royce, AMEC, Aker Solutions, Jaguar land Rover
Ireland: Intel Corporation, Rockwell Automation, Jacobs, Bausch + Lomb, Merck
3. Software Developer
Software Developers design, develop and maintain the operation of database driven ASP .NET/C# Web applications with a specific emphasis on usability, performance and scalability.
Average salary: $89,000
Top 5 Employers of Software Developers:
USA: Microsoft, Hewlett-Packard. Amazon, Lockheed martin, Intel Corporation
UK: Microsoft, Accenture, Credit Suisse, Barclays Investment Bank, Sky
Ireland: IBM, Ericsson, Hewlett-Packard, Microsoft, Fidelity Investments
4. Java Developer
Java Developers create and support web-based Java applications, web services and web interfaces. Other responsibilities includes server-side component design, reviewing and understanding business requirements, developing and enhancing product offerings, and ensuring that development tasks are completed within the timeline provided.
Average salary: $98,000
Top 5 Employers of Java Developers:
USA: Google, IBM, Lockheed Martin, Hewlett-Packard, Microsoft
UK: EMBL-European Bioinformatics Institute, Accenture, Cisco, Sky, Ocado
Ireland: Accenture, Ericsson, SAP, Fidelity Investments, AXA
5. Business Analyst
Business Analysts are responsible and accountable for all business aspects (i.e. technical, operational and economical) of the requirements and analysis phase of a project. They act as the primary resource in the requirements phase of a project and the primary business representative in the design and development phases of the project.
Average salary: $84,000
Top 5 Employers of Business Analysts:
USA: Wells Fargo, Mary Kay Inc., AT&T, IBM, Bank of America
UK: Lloyds Banking Group, NHS, Royal Bank of Scotland, IBM, Accenture
Ireland: Accenture, AIB, Dell, IBM, Bank of Ireland

6. .NET Developer
.NET Developers design and build applications using the Microsoft .NET Web services development framework.
Average salary: $91,000
Top 5 Employers of .NET Developers:
USA: Hewlett-Packard, Deloitte, TEKsystems, Microsoft, Bank of America
UK: FDM Group, Barclays Investment Bank, Credit Suisse, BNP Paribas, Aviva
Ireland: DeCare Systems Ireland, Hewlett-Packard, Pioneer Investments, Spencer Stuart, Version 1
7. Web Developer
The Web Developer's job is to build the operations end of an organisation's websites and keep them running smoothly. This includes designing, building and implementing new web pages and sites; integrating sites with back-end applications; migrating legacy applications to the web; and performing day-to-day administration of the organisation's web portfolio. Use of a variety of web languages is required.
Average salary: $82,000
Top 5 Employers of Web Developers:
USA: IBM, Viacom, GE Capital, Accenture, Microsoft
UK: Expedia INc., Capita, Wellcome Trust Sanger Institute, MegaNexus Ltd., Shiny Ideas
Ireland: AIBM, Ericsson, Hewlett-Packard, Paddy Power, Google
8. Systems Administrator
Computer Systems Administrator's install, maintain and support an organisation's information technology systems. They test system components to ensure that computers, software and network equipment function seamlessly together. They may also be in charge of the company's LAN, WAN, intranet or internet systems.
Average salary: $77,000
Top 5 Employers of Systems Adminstrators:
USA: Lockheed Martin, United States Air Force, Wells Fargo, US Army, Northrop Grumman Corporation
UK: BAE Systems, BT, Hewlett-Packard, Thales, Accenture
Ireland: Amazon, IBM, Hewlett-Packard, Pramerica, Dell
9. Project Manager
The role of Project Manager is to plan, execute and finalise projects according to strict deadlines and within budget. This includes acquiring resources and coordinating the efforts of the team members and third-party contractors or consultants, in order to deliver a project according to plan. They will also define the project's objectives and oversee quality control throughout its life cycle.
Average salary: $93,000
Top 5 Employers of Project Managers:
USA: AT&T, IBM, Hewlett-Packard, Boeing, United States Air Force
UK: Lloyds Banking Group, Network Rail, Royal Bank of Scotland, BAE Systems, HSBC
Ireland: IBM, AIB, Bank of Ireland, Dell, Microsoft
10. Network Engineer
A Network Engineer (also known as a Network Architect) designs and implements computer networks. Unlike Network Administrators, who perform day-to-day support, the network engineer focuses on high level design and planning. They select the appropriate data communications components and configure them to meet user and corporate needs.
Average salary: $ 91,000
Top 5 Employers of Network Engineers:
USA: AT&T, Verizon, Verizon Enterprise Society, Hewlett-Packard, Spirnt
UK: BT, Virgin Media, Vodafone, Hewlett-Packard, CACI – Network Services
Ireland: Amazon, Google, Eircom, IBM, BT
SourceHub, is a one-stop shop for online sourcing, as it not only allows you to create an all-encompassing Boolean string in a matter of clicks, it also allows you to save that string and run it in a variety of different online places including LinkedIn, Twitter, Facebook, Google+, Google, Monster, Indeed, Github etc. That's right! With SourceHub you don't have to do any Boolean, you don't have to research any synonyms and you don't even have to open a new tab.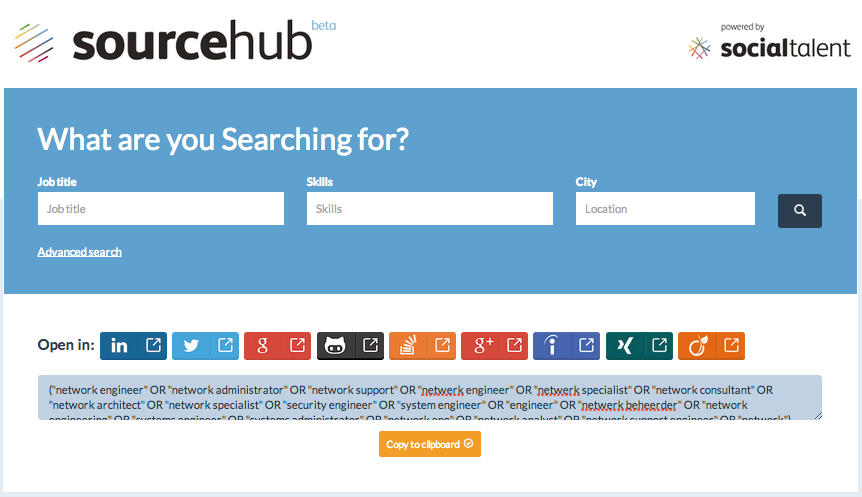 SourceHub does everything for you and in one place. Sign up for FREE now by clicking the button below and start sourcing like a Sourcing Ninja!

Find out how the likes of IBM, IKEA and Siemens
drive hiring excellence with SocialTalent
---