Keep up with the latest hiring trends!
/
/

LinkedIn Endoresements: Why Recruiters Should Love This Feature
LinkedIn Endoresements: Why Recruiters Should Love This Feature

LinkedIn Endorsements have been around for the last 6 weeks now, and amongst quite mixed reaction from both the blogger-sphere and from ordinary LinkedIn users, we've come to absolutely love this feature, and see it as the greatest thing to happen to LinkedIn since its inception.
We don't love this feature for the reasons you might think. It's nothing to do with the ease of which fellow LinkedIn connections can "endorse" you for a skill you may or may not have, the validity of those endorsements (remember, it's not like the Recommendations feature, which is a personal note of recommendation for a colleague, customer or supplier), or the "re-engagement" of LinkedIn users to the platform and profile they may have little time for. It's simply to do with search and data. And just for this, all recruiters who use LinkedIn should love this feature as much as us.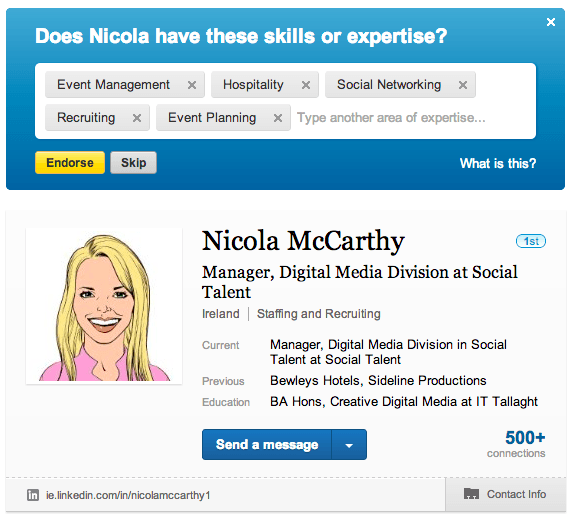 Why is LinkedIn doing this?
The biggest challenge to LinkedIn is shallow profiles (by which we mean profiles with just one job title and one employer and nothing else – about 60% of the whole LinkedIn network) – when you've so little data or words on the page, recruiters who search LinkedIn for skilled candidates can't find these profiles because the words you need that indicate that skill simply aren't there – ie, you can't search for keywords that are not written.
Recruiters who have a damning indictment of this feature seem to be missing the fact that you no longer have to rely on an individual member to add words to their shallow profile. Instead, LinkedIn are harnessing the power of social, and now we're crowdsourcing keywords for individual members.
However, you've probably noticed that, if you get endorsed by your connections, perhaps there are one or two of those skills you've never actually listed (or maybe you don't do them at all!). Why is this happening? Some have come to the opinion that these phantom skills for which you're being endorsed make the feature cheap and meaningless. But what these skill suggestions are doing is putting more words on ones profile. They're not pulled from just any old place, moreso from the synonyms of similar and related skills of fellow professionals that list your skills (see linkedin.com/skills) so it's taking a qualified guess that, potentially, you do these things too. Essentially, LinkedIn are building a database of skills and similiar or related skills, and then trying to insert those keywords onto a person's profile.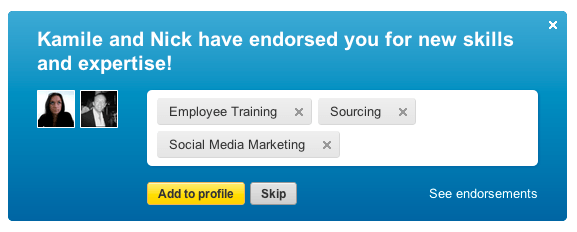 For example, Jonathan was endorsed recently for the term "Employee Training". No where on his profile do the words "employee training" appear side by side. However, since he was endorsed by a fellow LinkedIn connection for that phrase, those words now appear in his profile, and he's identified in a LinkedIn search for the words "employee training".

Imagine you came across a profile last week of a process engineer who only lists their current employer and current title and nothing else, but lists their title as a "Clean Room Eng". Now, the word "engineer" is not on their profile, nor is the term "process engineer". But if you had endorsed this person for having the skill of a Process Engineer, then those words would be inserted to their profile and when recruiters go searching for a process engineer (we hear these guys are rather in-demand), this "Clean Room Eng" will show up. LinkedIn have part-way solved the problem of shallow profiles with job titles and skills that recruiters would generally not search for, or which didn't exist on their profile at all.
This is the beauty of LinkedIn Endorsements. It's not for engagement on the network or anything like it – it's simply to rebuild profiles that have little to no data, and start to create greater depth in these shallow profiles. Soon, LinkedIn will be able to show vastly better search results, and strengthen their proposition towards being the de-facto recruitment source for finding professionals.
What do you think of LinkedIn Endorsements? Are you for them or against them? Let us know your thoughts in the comments!
Find out how the likes of IBM, IKEA and Siemens
drive hiring excellence with SocialTalent
---