Keep up with the latest hiring trends!
/
/

LinkedIn Skills is Back!
LinkedIn Skills is Back!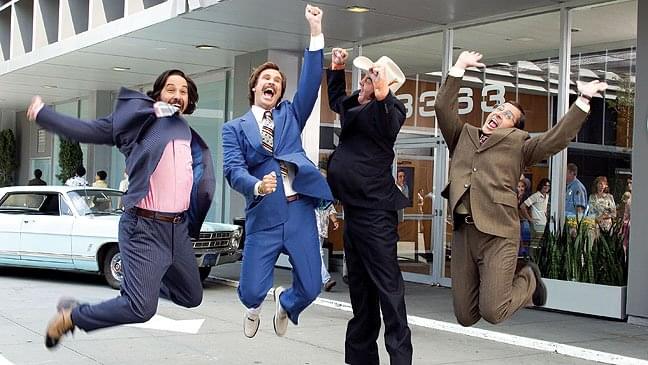 Back in October 2015, the eagle-eyed Irina Shamaeva noticed that (after killing the popular and extremely useful LinkedIn Skills product back in 2013), LinkedIn had introduced a new skills section to it's lesser known Topics pages. While LinkedIn's Topics pages had only previously been designed to provide curious users with information on universities, companies, and certain industries, in late 2015 the professional network started to use the platform to build out a new and improved version of the former LinkedIn Skills & Expertise pages.
For those of you who don't remember LinkedIn Skills, it was probably the largest skills synonym database for business intelligence, synonym research and skill explanations on the web – a one-page gem that gave you the definition of any skill you were researching, 20 similar or related skills to that skill (handy for developing Boolean search strings), a snapshot of 5 key LinkedIn groups which had members with that skill, top global locations for that skill, and top employers of that skill. It was pretty awesome! But in October 2013 LinkedIn scraped it without warning, much to the horror and disgust of recruiters everywhere.
Fast forward 3 years to 2016 and it would appear that LinkedIn Skills is back and (in some regards) better than ever! Not that LinkedIn seem to want you to know that just yet! Why? Well, because the only way you can currently find this platform is by URL manipulation and not via a dedicated link on LinkedIn, we're assuming LinkedIn aren't quite done perfecting this functionality just yet. When Irina first discovered it, the layout and the content of these pages was still under development and changed regularly depending on the skill you searched for, whether you were logged in or not, and your location. But, 8 months later, the layout and content of the Topics pages have stabilised and we think it's high time you acquainted yourself with them!
How to Find LinkedIn Topics
Type www.linkedin.com/topic/java into your preferred browser. If you're looking to research a different skill, all you need to do is substitute java for another skill e.g. www.linkedin.com/topic/content-marketing or select a skill from this A-Z directory.
You should be greeted with the following webpage: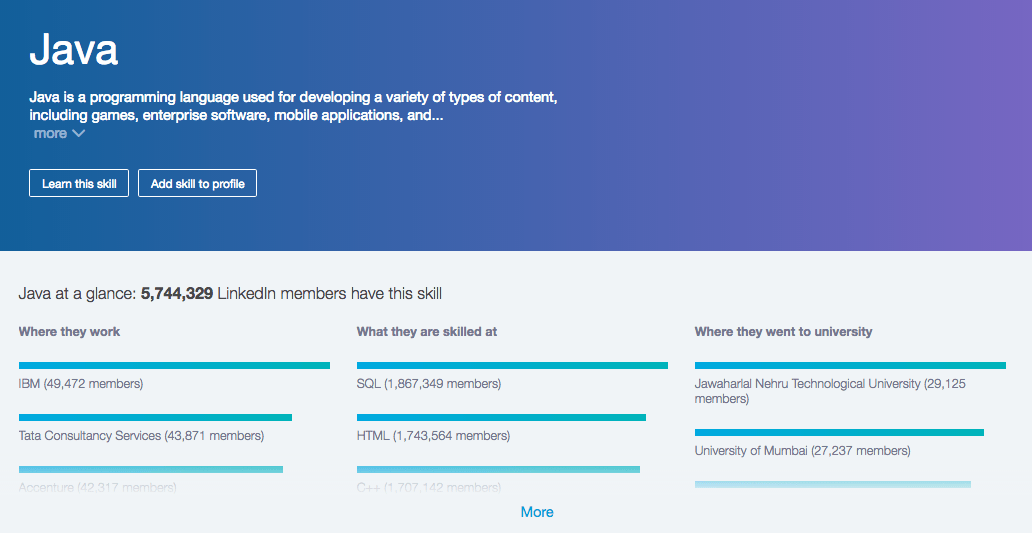 LinkedIn Topics Explained
Firstly, LinkedIn defines the skill you've chosen to search with a precise description of the skill. Under this description LinkedIn then gives you the option to 'Learn this Skill' or 'Add skill to profile'. Clicking the latter will just add that skill to the skill section of your profile, while the former brings you to a number of courses about that skill on Lynda.com.

'Java at a glance' is where the real magic of LinkedIn's incredible pool of big data comes into play. In this section, LinkedIn is able to tell you where people with Java skills work (in this example, we can see most people with Java skills are employed by IBM), what other skills people with Java skills are good at (in this example, people with Java skills also tend to excel with SQL and HTML), and where people with Java skills went to university.
This is synonym heaven! The skills listed in the 'What they are skilled at' sections gives you an up to the minute picture of the trending skills in line with Java i.e. those skills most commonly associated with Java. Try incorporating these into your Boolean search string when looking for Java developers.
The companies listed in the 'Where they work' section, currently employ the biggest pool of talent with that skill. This information can be useful when it comes to finding candidates. For example, searching for candidates who used to work for IBM.
The only problem is that you cannot break any of this information down by location, hence why most of the universities in the 'Where they went to university' section are located in India and not in my native Dublin. But this information is helpful to look at generally and get a real feel for the market.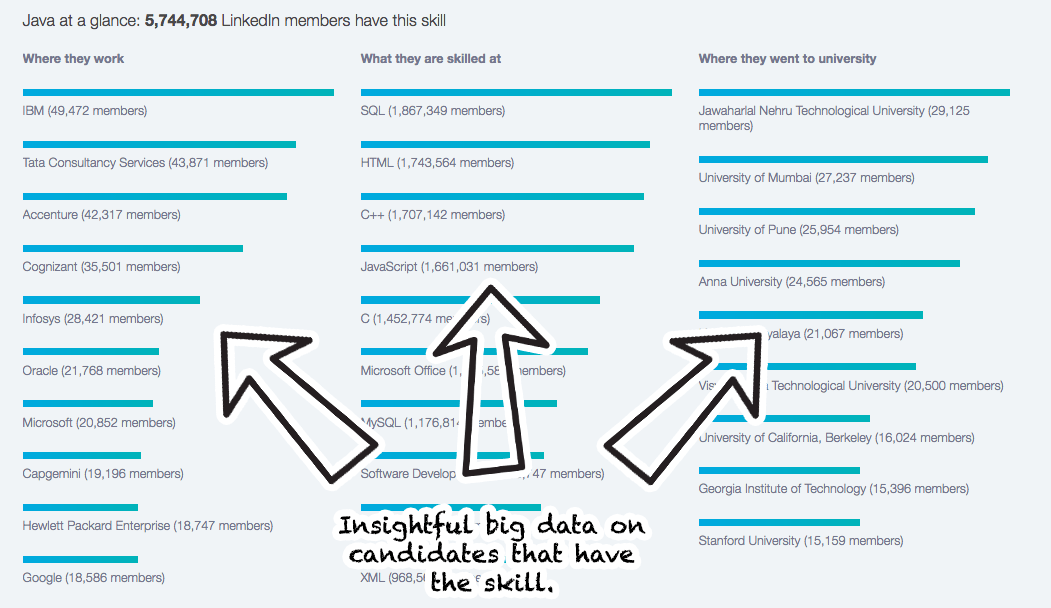 In the next section, LinkedIn have been kind enough to jump start your search for the right candidate by showing you the profiles (20 in total) of LinkedIn members with that skill. The members listed are determined based on your location and your network connections, so if you're looking for candidates outside your location, I'm afraid you won't have much luck here. From here we are able to view their profile, which in turn leads us to other useful information like the 'People also viewed' tab.
**Please note however, that LinkedIn does throw in recruitment consultants into this section, so don't be surprised if you find them included here.

The 'Learn about Java' section makes use of LinkedIn's acquisition of Lynda.com by listing a number of relevant Lynda.com courses you can click into to begin learning more about your chosen skill. In this example, LinkedIn allows us to view the learning path of a Java developer, take an 'essential' Java skills course and avail of advanced Java training. If you're new to recruiting for a particular industry and you have a Lynda.com account, this section will come in handy!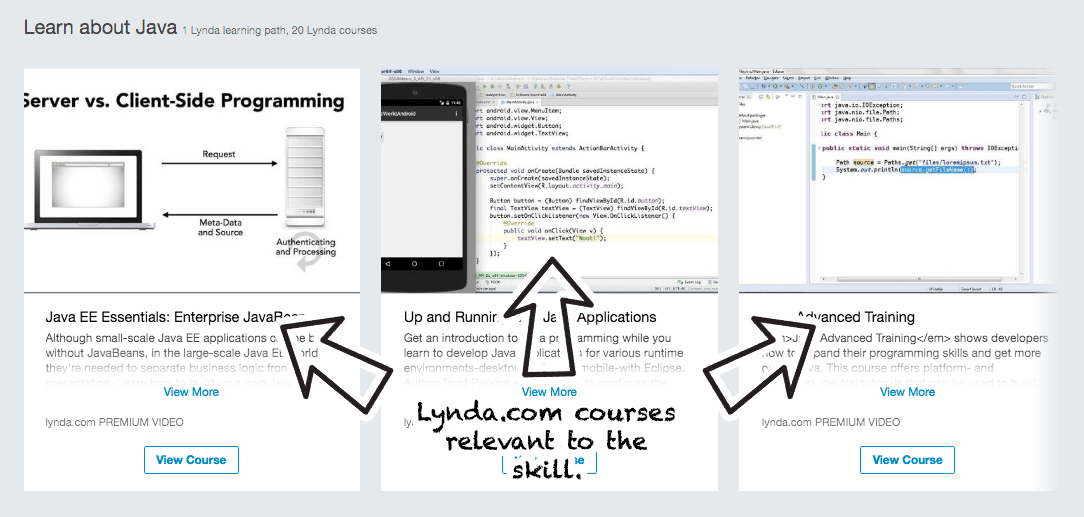 The next section, 'Popular Posts by LinkedIn Members' highlights Pulse articles LinkedIn members have written about your chosen skill. Now, this might not seem initially relevant to recruiters, but bear with me.
So, it goes without saying that if a LinkedIn member has taken the time and effort to write an article about Python, they're more than likely going to possess strong skills in that department. But while you might be thinking the authors are perfect candidate material (and yes, some of them might be), the articles LinkedIn will include here are more than likely going to be articles written be LinkedIn influencers. But while Influencers might not be willing to take a job, they may be willing to connect and point you in the direction of suitable candidates.
But wait, we've forgotten about something very important! If it can assumed that the authors know a lot about the topic in question, it can also be assumed that anyone who chooses to comment on the article about Python will also be a Python enthusiast and presumably skilled in it too – therefore, it might be useful to scan through the comments section when you're on the look out for potential candidates.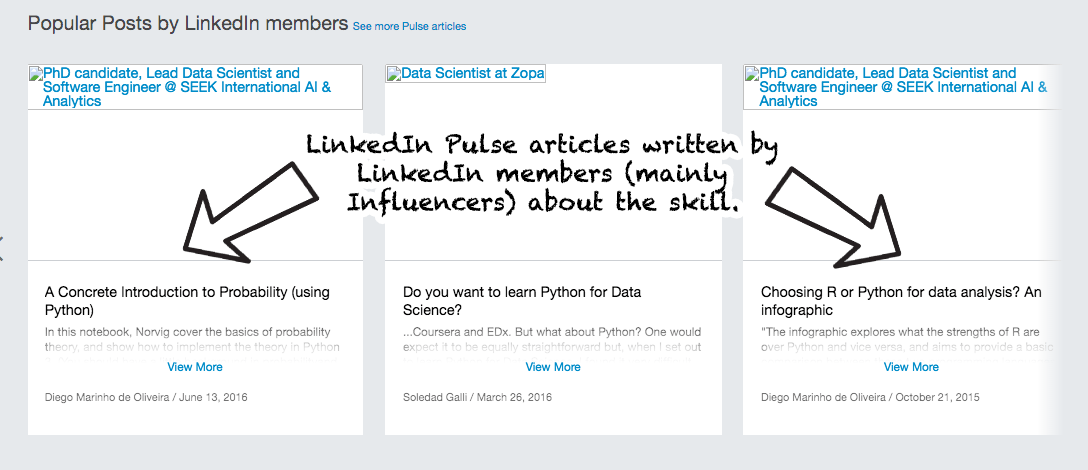 'Top Presentations about Java' is much the same as popular posts, but instead of blog articles it highlights Slideshare decks LinkedIn members have created about the skill. Once again, you are able to see the member who created the deck and any comments that have been left on it, and can use both to find suitable candidates.

For any job seekers who look up a skill using the Topics platform, LinkedIn have also included a jobs section. If you advertise your jobs on LinkedIn you'll be happy to note that this section is actively targeting jobs to users through this platform based on their location and keywords included on their profile, like in this example for the skill: content marketing.

The LinkedIn Groups section directs you towards the largest and most active groups centred in this skill on LinkedIn. And what are large and active LinkedIn Groups full of? That's right folks, potential candidates! LinkedIn Groups are massive job­seeker pools filled with like-minded prospects you can interact with in a group setting. So, if you're not already a member of the Groups suggested here, jump in and join them. By joining groups, you can efficiently broaden your scope of applicants, and ultimately find a great fit for the job in question. #win

And lastly, but by no means least, LinkedIn have included a 'People who know Java also know' section. Much like the above 'What they are skilled at' section, this section displays a range of skills related to Java and is therefore EXTREMELY useful when it comes to fleshing out search strings with relevant keywords. Not only that, but because LinkedIn lets you click on these skills to learn more about them, you can easily explore the terminology associated with the skill and find a whole host of alternative keywords you may not have even realised you needed to be include in your search in order to find the best candidate.

So, there you have it folks, a comprehensive guide to the functionality of LinkedIn Topics – a platform LinkedIn seem keen to keep under the radar for the time being, but an exceptionally useful resource for recruiters to get their hands on now. Are you excited to see some LinkedIn Skills functionality return to the site? What will its comeback mean to your sourcing efforts? We're keen to find out your thoughts, so let us know in the comments below or on one of our social platforms.
Not connected with us on social? Stay in touch and keep up-to-date with all the latest recruitment news, research highlights and our wide range of useful resources.
Find out how the likes of IBM, IKEA and Siemens
drive hiring excellence with SocialTalent
---