Keep up with the latest hiring trends!
/
/

LinkedIn Statistics – How has its traffic grown?
LinkedIn Statistics - How has its traffic grown?

They say a week is a long time in politics. A lot can happen. Even more can happen in a year. LinkedIn, the business-orientated social networking site has been in operation for nearly nine years now and in that time its popularity and influence has mushroomed and it is now one of the most recognisable brands worldwide.
In September of last year, Quantcast, a media measurement/web analytics service produced data with regard to LinkedIn Demographics and Visitors Statistics. Those results were interesting but Quantcast's follow-on statistics for this year really catch the eye.
The most noteworthy thing to take from the set of figures is that LinkedIn's monthly traffic has more than doubled from just under 50 million in September to shy of 95 million (about 80% of the LinkedIn 120 million strong profile-population).
Click here for the full statistics on LinkedIn as quantified by Quantcast.
In terms of growth, Turkey had the most significant percentage increase, with a bump of 347% versus 2010. A year ago, the number of monthly visitors to LinkedIn in its home country, the US of A, was 53,297,512, an increase of 122% from the year before. Trailing the USA in second place was the United Kingdom on 8,287,455 visitors per month – up an impressive 144%.
Countries such as India (3), Canada (6) and Australia (9) were all in the top 10 as they were in 2010 but our own Ireland was overtaken by South Africa and the United Arab Emirates, and was dropped down the list from 21 to 25 with 575,505 monthly visitors in 2011, an increase of 322,686 (127% increase).
South Africa's dramatic move up the list came on the back of an increase of 550,245 monthly visitors to LinkedIn (218% increase). The site for business professionals passed the 120 million mark for members worldwide, and reported that one million new users globally were signing up each week. Quite interestingly, Germany's growth has been rapid, as more users move from German-based Xing to LinkedIn.
So, here is a quick table of 2011 versus 2010 membership figures for LinkedIn and growth percentage (and for more detailed statistical breakdown, see this great blog article by Glen Cathey of Boolean Blackbelt):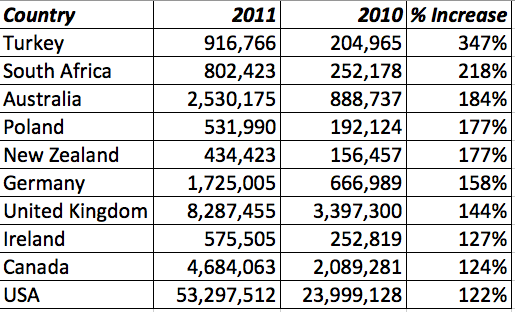 Have you found LinkedIn as a valuable resource of profiles of professionals? Have you made any hires directly from LinkedIn, or do you believe your in-house database is best? Let us know in the comments.
Find out how the likes of IBM, IKEA and Siemens
drive hiring excellence with SocialTalent
---