Keep up with the latest hiring trends!
/
/

LinkedIn Updates EVERY Recruiter Needs to Know (Part Three)
LinkedIn Updates EVERY Recruiter Needs to Know (Part Three)

Our final instalment of our LinkedIn updates series focuses primarily on those updates made to the site's products and features in the wake of Talent Connect 2016 – where LinkedIn announce some of their most innovative ideas and plans. Yes, today we're taking an in-depth look at the Apply Starters feature, the next generation of Company Pages, the rebirth of Endorsements and the game-changing feature, LinkedIn Salary.
If you missed Part One or Part Two, find them at these links.
11. Apply Starters
In the same vein as Open Candidates, LinkedIn wanted recruiters to be able to find candidates who have shown interest in their organisation by starting a job application, but who for whatever reason didn't complete it. As many as 74% candidates don't finish the application process on company career sites. And there's a myriad of reasons why applicants fail to complete applications, ranging from a cumbersome mobile application process to lengthy questionnaires. Apply Starters was been launched to combat this issue by giving LinkedIn members the ability to share their profile with recruiters when they start applying.
12. Next Generation Career Pages
LinkedIn Careers Pages have been "significantly revamped" to make it easier for you "to tell an authentic story about your culture and careers, improve discoverability of your jobs, and give you robust analytics to measure performance and optimise results". And boy has LinkedIn done a stellar job! The new look pages are beautiful and have thrown the spotlight well and truly on company culture and job opportunities by organising the page into 3 distinct sections:
1. Company overview
From the Overview tab, candidates will see visual tabs with personalised previews of content on the "Jobs" tab and "Life" tab, encouraging them to discover more about your culture and careers: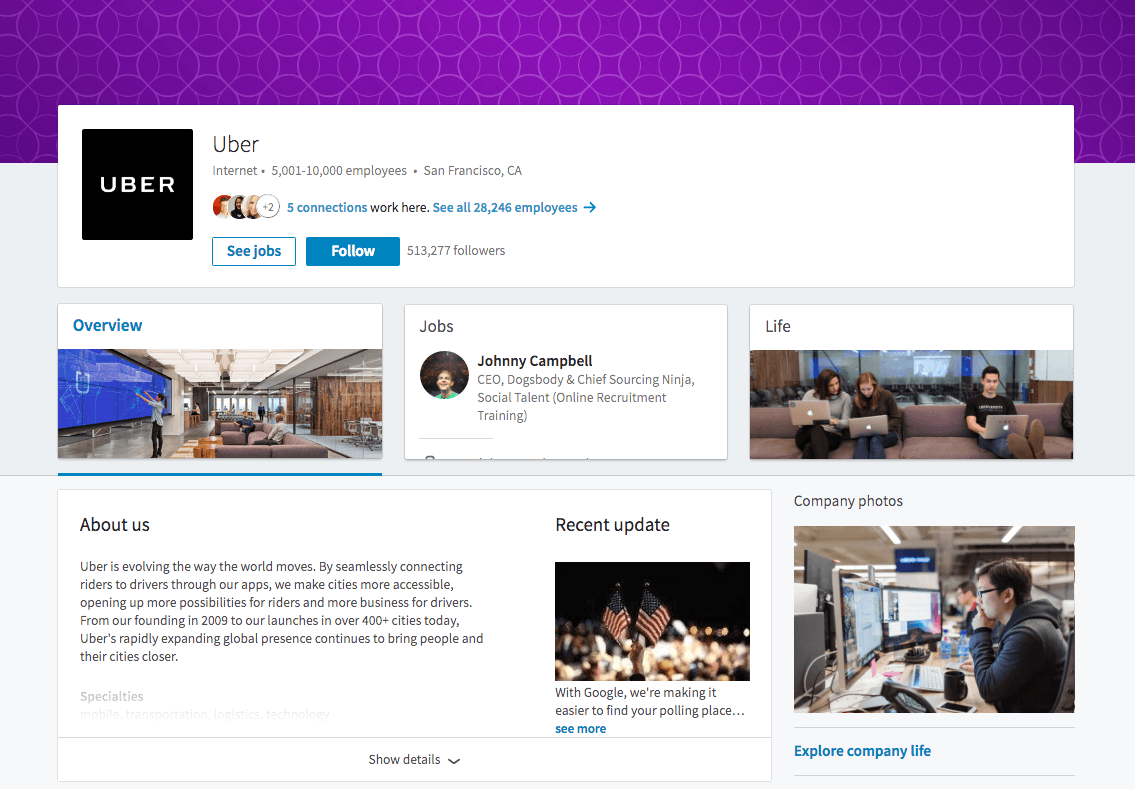 2. Relevant jobs
A new dedicated 'Jobs' tab gives candidates personalised job recommendations based on the keywords found in their profiles, and insights into the company's current employees. The tab is powered by an improved jobs algorithm, leading to higher conversion rates and more qualified applicants. In the "Employee Insights" section, candidates can view employees at the company who are similar to them to give them a sense of who their potential colleagues could be. They can also gain insight into your employees — their education, previous companies, skills, and what they have in common, empowering them to understand the path to hire, and better assess fit with your organisation before they apply to your jobs: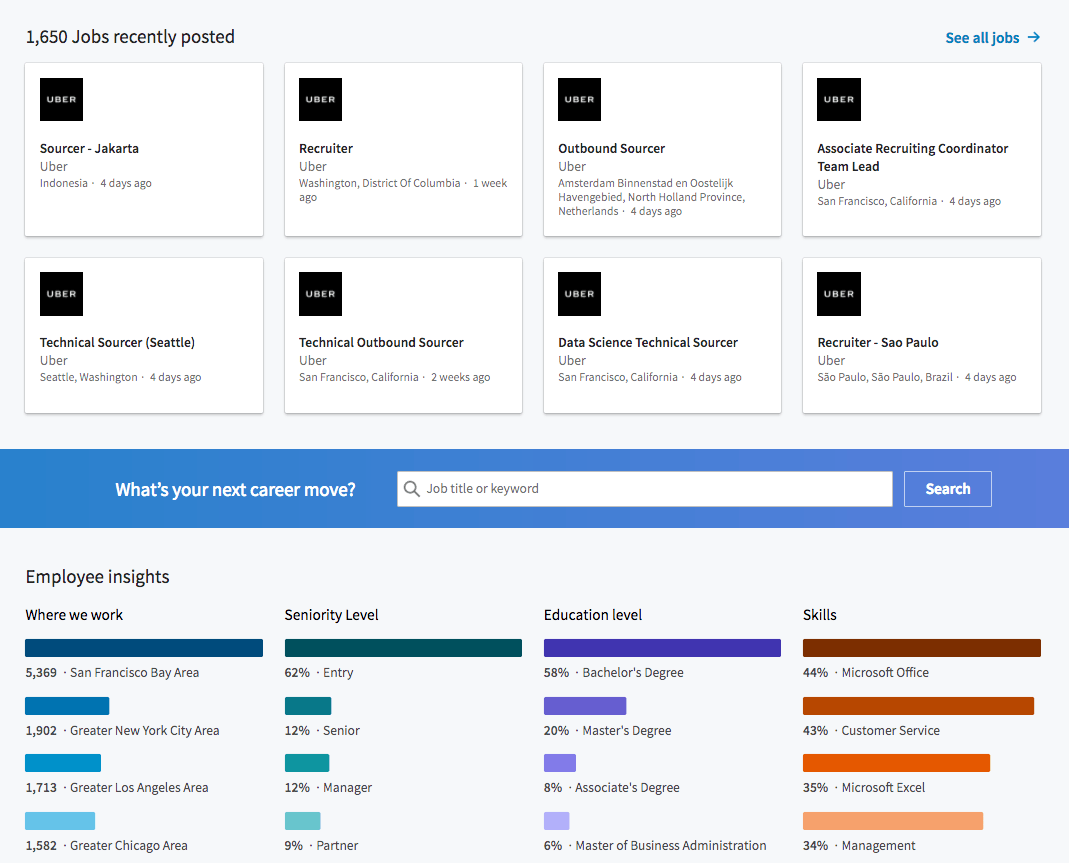 3. Life
The new Life tab lets you share what life's really like at your company. Through this tab, you can showcase articles and photos created by your employees, along with engaging videos, photos and posts from your company. The content modules include:
Employee Perspectives: long-form written posts
Photo Gallery: photos generated by company and employees
Company Leaders: featured profiles introducing key leaders
Automated Company Insights: aggregate data on company and culture
Hero banner: add video to your top banner and make your culture come to life
Many of these modules suggest pre-populated content or allow you to select employee-created content, making it easy for your Career Pages admin to manage your page: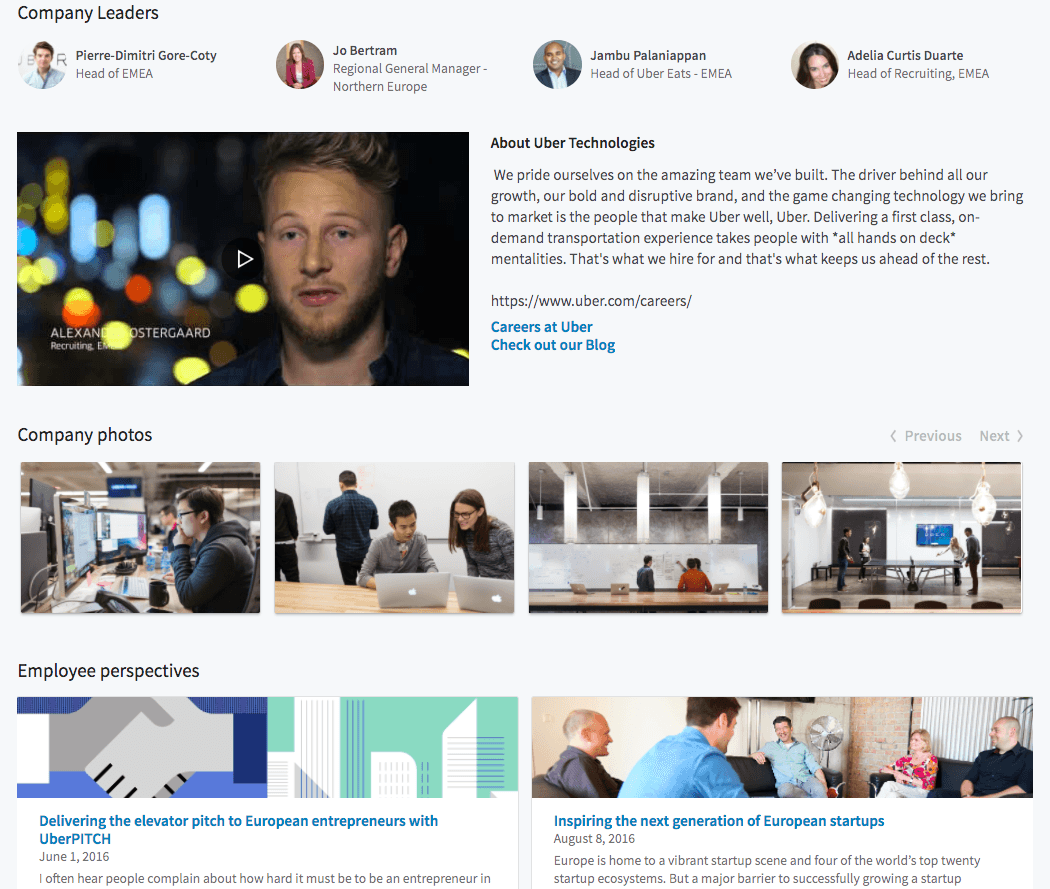 For those of you that opt to create multiple versions of the page in order to target different audiences (i.e. tell a different story to an engineering candidate than a marketing candidate), you'll now have the option to make any or all of these views browseable. This lets visitors explore content tailored by job function and geography, and interest areas like diversity or veterans so they can more deeply discover your organisation. Expanded in-product analytics will also give you access to more real-time data and insights, that should help you hit hiring goals and better understand your competition.
Learn more about the new look Company Pages in the video below:
13. LinkedIn Endorsements Re-Boot
LinkedIn Endorsements also got the upgrade treatment this year. According to LinkedIn, the new version of Endorsements is "smarter" and works by highlighting the endorsements that matter most to the person viewing your profile so "you always look your best". For example, viewers will see endorsements made by mutual connections, colleagues, and people who are knowledgeable about the skill. All powered by a plethora of newly applied machine learning algorithms.
LinkedIn has also rethought how you will request endorsements from now on. In the past, the process was a rather cringe-worthy way of cold contacting people. Now, improved targeting means endorsements will only be suggested to connections that know the skills and your work best. This means the right connections are much more likely to validate you for the skills that you want to be recognised for.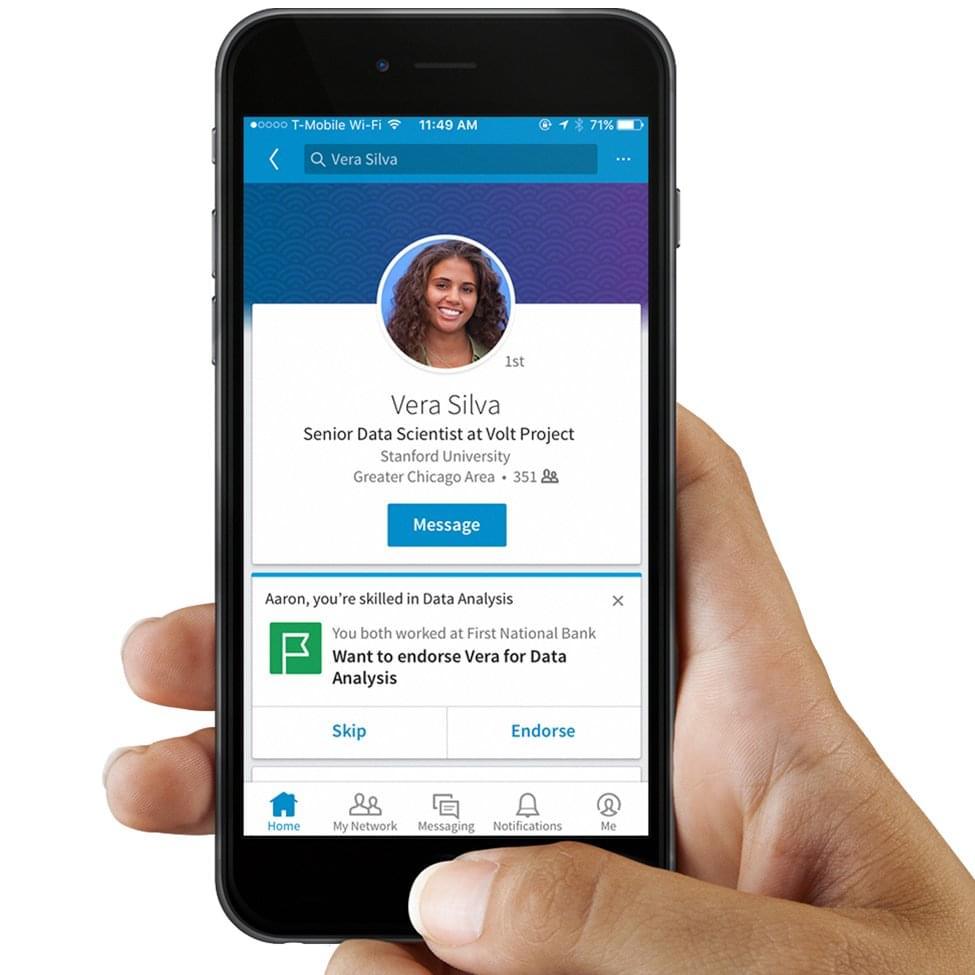 This is the first time that LinkedIn has updated the Endorsement feature since their inception in 2012 as a lightweight way for people to give each other credit for their professional skills without having to write a lengthy recommendation.
14. LinkedIn Salary

Following the lead of ZipRecruiter, Indeed and Glassdoor LinkedIn launched LinkedIn Salary at the start of this month – a brand new feature "to help professionals around the world make better career decisions and optimise their earning potential now, and in the future." The new feature uses data from more than 460 million LinkedIn members to provide "deep insights" into the compensation landscape including; salary, bonus, equity data for specific job titles, and how different factors such as years of experience, industry, company size, location and education level affect salary.
Members will now be able to get a clear picture of what their base salary should be based on experience and company size, the top paying locations for specific jobs, which educational path they should take to improve their salary prospects, what industries pay the most, and which companies pay the most. LinkedIn Premium members will also now be able to filter jobs by LinkedIn Salary data.
How will LinkedIn Salary affect recruiters? Well, LinkedIn's Ryan Sandler believes the new feature will provide 2 new ways to improve your recruiting experience:
1. It will help you lead a transparent and well-informed discussion with the candidates and hiring managers
According to LinkedIn, LinkedIn Salary data will prepare you for what compensation the candidate will expect and give you a proof point that your pay is competitive. The information the features provides will also provide you with a background for a nuanced discussion about how the candidate's skills, experience, and education may influence their pay. And in the cases when candidates are unwilling to discuss their current salary, this is a good opportunity to break through by using third-party data as a reference point. You can also use it to position yourself as a "consultative partner" to the hiring manager. In fact, LinkedIn encourage recruiters to look up salary ranges before your next intake meeting and using it to guide the job description and candidate profile being sourced.
2. It shifts your focus to developing clear messaging about the value your job/company will bring to the candidate
LinkedIn's research tells us that while compensation and benefits are still the number one factor in candidates' decision to take a job, other factors like opportunities for career advancement and challenging work are right on its heels. They therefore suggest that recruiters work on building a strong employer brand to serve as a great differentiator from competitors.
You can access the LinkedIn Salary website now and explore how the tool works, here. Please note, however, that the LinkedIn Salary feature will be available to members in the U.S., Canada and U.K on desktop and mobile. Members elsewhere should expect the new feature to roll out globally in 2017.
For more information on the new feature check out the video below:
Why not discover new ways you can use LinkedIn to improve your sourcing and recruiting efforts? We're offering our readers a FREE 48 hour trial of our world leading HR & Recruitment platform. That's 50 hours of expert learning in sourcing, candidate attraction, recruiting, tech recruiting, diversity & inclusion, digital marketing and social selling. So what are you waiting for?! Get your free trial here today.
Find out how the likes of IBM, IKEA and Siemens
drive hiring excellence with SocialTalent
---