Keep up with the latest hiring trends!
/
/

LinkedIn Updates EVERY Recruiter Needs to Know (Part Two)
LinkedIn Updates EVERY Recruiter Needs to Know (Part Two)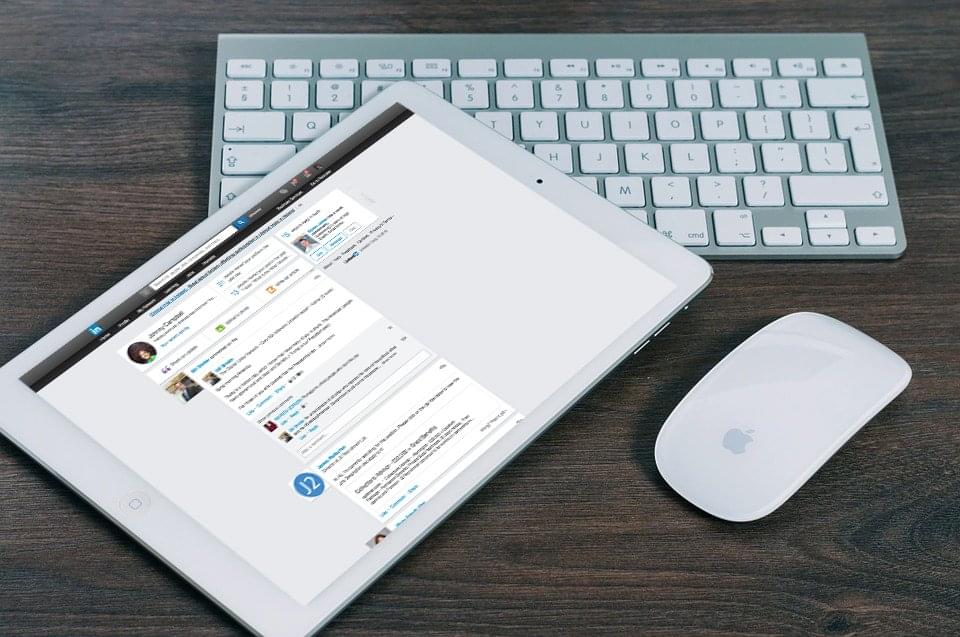 What a year LinkedIn have had! Not only were they acquired by Microsoft for a staggering $26 BILLION, but throughout 2016 they released some incredible insight reports and industry statistics, as well as a myriad of new and different product updates all with one goal in mind – to make our recruiting experience on LinkedIn better. And it's those updates we're going to discuss today.
Yes, today we're taking a look back at mid-2016 and giving you all the information you really need to know about some of LinkedIn's most important product and feature updates of 2016.
Missed Part One? Find it here.
6. LinkedIn ProFinder

In May, LinkedIn ProFinder a brand new marketplace that connected consumers and small businesses looking for professional services (think Design, Writing and Editing, Accounting, Real Estate, Career Coaching), with top freelance professionals best suited for the job, entered our midst. According to LinkedIn, the new platform was developed "to make it easier for [LinkedIn] members to find the right freelance professionals by leveraging the power of the trusted LinkedIn network."
Modeled after popular websites TaskRabbit, HourlyNerd, Gigwalk, Fiverr, Freelancer and Upwork, ProFinder is LinkedIn's first dabble in the contingent workspace. "We are exploring how we can connect consumers with freelance professionals – like designers, copywriters, or tax accountants – on LinkedIn. This new service features only the top experts, hand-picked from LinkedIn's network of more than 400 million professionals," said Product Lead for LinkedIn ProFinder, Vaibhav Goel, at the launch.
How does it work? Well, there are 4 stages associated with ProFinder:
Submit your project request to LinkedIn ProFinder.
Once your request has been submitted, LinkedIn will send it to the most aptly qualified professionals, starting with those in your network or extended network first.
You'll then receive up to 5 detailed proposals in response. As you review them, you'll be able to see your common connections and review the profiles of potential hires to see their experience, skills, samples of their work and recommendations from their past clients.
You choose the right person for the project.
ProFinder is currently only available the U.S.
7. Video Added to Your LinkedIn Feed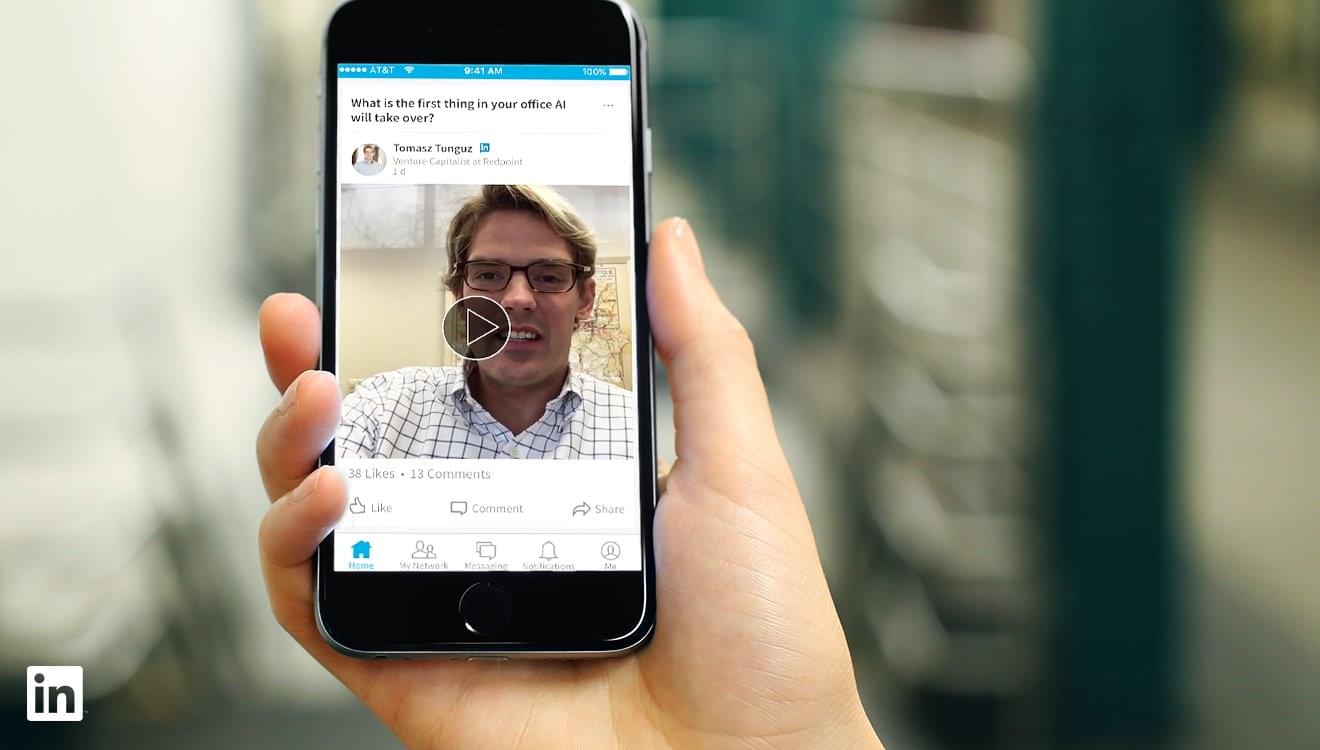 On August 2nd LinkedIn took it's first foray into video content and released a brand new feature allowing LinkedIn 'Influencers' – an invitation-only group of 500 LinkedIn users who have significant numbers of followers and who regularly post content to the site – to create short, 30-second-or-less responses to questions put to them specifically or to the community at large. An example of which can be seen here.
The videos run in-stream on users' feeds on desktop, and break out into "immersive" experiences on blackened screens when you click on the videos themselves. LinkedIn's iOS and Android apps will see the videos pop out into blackened screens when you click on them, too – not unlike Facebook's video experience. In both cases, you are led, as the viewer, into a carousel of more videos either from that Influencer, or more likely more Influencer responses to the same question.
Although the ability to create video content is currently only available to Influencers, we have no doubts that any and all LinkedIn users should soon have the power to create their own videos.
8. 3 New Search Filters
Any sourcer will tell you that when it comes to finding the right candidate, one of the most painstaking processes is whittling down LinkedIn search results. But as of last September that process became a little bit easier with the introduction of 3 brand spanking new advanced search filters for Recruiter and Recruiter Professional Services customers. Their main function? To "help you zero in on the talent you're looking for" Here's a brief synopsis of what each new filter does:
1. Find fresh faces by hiding profiles you've already viewed
When you're sourcing for a new role or building up a promising pipeline, scanning through hundreds of profiles can take a mental toll, as faces and names start to blend together. So the first of LinkedIn's new filters entitled 'Hide previously viewed', was designed to save you the time and effort by filtering out profiles you've previously visited within the last 3-6 months: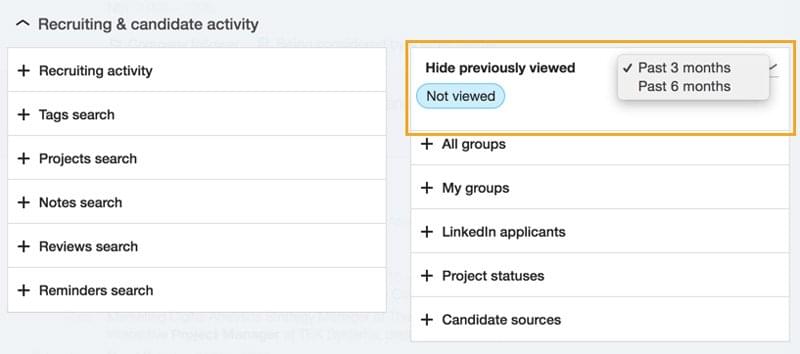 2. Connect with candidates who speak the right language
While it had been possible on LinkedIn to filter candidates based on their primary language, it had never been easy to find candidates who are multilingual. Which is exactly what the new 'Spoken languages' filter now lets you do. Now you can quickly identify candidates who speak the languages your role requires, and even specify what level of proficiency is required – from elementary ability to native or bilingual: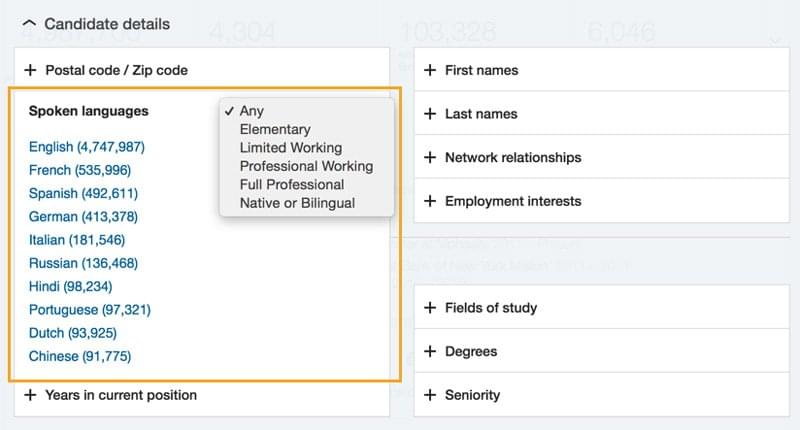 3. Identify and recruit U.S. military veterans
The third and final filter is one that has delighted US recruiters! The new 'U.S. Military Veterans' search filter now helps you identify more than 2.2 million LinkedIn members who have served in the US military:

9. A New Publishing Experience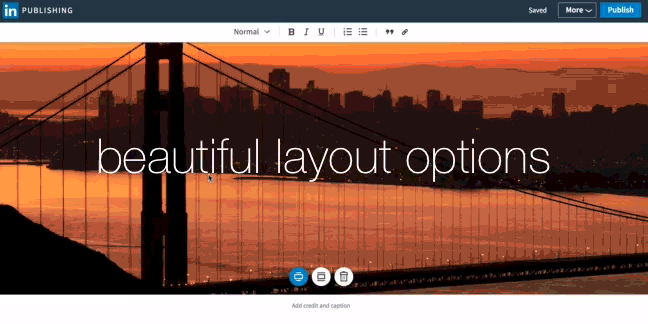 Content is king. And LinkedIn knows it! Which is why they updated their publishing platform or what they're now calling their "publishing experience". The new desktop publishing experience includes a sleek intuitive interface, more text and font options, and a new reading view that removes distractions and noise from the page. New enhancements include:
1. A sleek interface:
The new full-width experience and clean design lets you fully immerse yourself in your writing, much like external publishing sites such as Medium: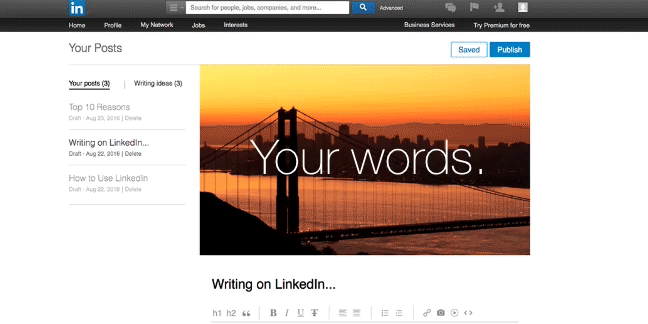 2. Rich multimedia:
Posting images on LinkedIn was always a bit tedious. Images were difficult to resize and you didn't have complete control over where they aligned to your text. The new experience makes it easier to add, move and resize multimedia. And you can now add all types of multimedia including images, videos, slide decks, and podcasts: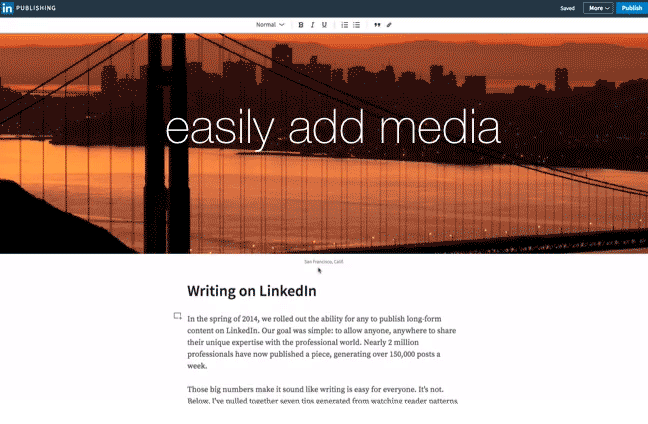 3. Tagging:
You can now add hashtags to an article before you publish, making it easier for professionals to discover and search for your content in the feed. Hashtags are now searchable on mobile.
10. Open Candidates
Following on from Talent Connect 2016, LinkedIn introduced three shiny new additions to their Talent Solutions portfolio, the first of which was Open Candidates. Open Candidates is a new feature that makes it easier for candidates to connect with their dream job by allowing them to privately signal to recruiters that they're open to new job opportunities. Candidates can specify the types of companies and roles they are most interested in. All of which will make it easier for recruiters to zero in on leads (who are 2x more likely to respond to outreach), learn candidate interests up front which wouldn't normally be evident until a phone screen, and disqualify candidates who aren't a fit.
Candidates can access the Open Candidates feature from the "Preferences" tab on the LinkedIn Jobs home page. All they need to do is turn sharing "On" and fill in some brief information about the type of roles they're interested in. US, UK, Canadian and Australian are able to use the feature immediately. However, we're still waiting for it to be rolled out globally.
A demonstration of the new feature is laid out in the video below:
Join us next Tuesday when we'll be taking you through the final instalment of our LinkedIn update series.
Why not discover new ways you can use LinkedIn to improve your sourcing and recruiting efforts? We're offering our readers a FREE 48 hour trial of our world leading HR & Recruitment platform. That's 50 hours of expert learning in sourcing, candidate attraction, recruiting, tech recruiting, diversity & inclusion, digital marketing and social selling. So what are you waiting for?! Get your free trial here today.
Find out how the likes of IBM, IKEA and Siemens
drive hiring excellence with SocialTalent
---