Keep up with the latest hiring trends!
/
/

This Cool Tip Will Guarantee a Response From Candidates
This Cool Tip Will Guarantee a Response From Candidates

Welcome to SocialTalent's Live & Learn Series!
Each week we gift you with a little bit of info that will help smoothen your recruitment process and expand your knowledge of your industry.
With this Live & Learn series we promise to keep it:
Short
Simple
Ready to use!
Sound good to you? Let's begin!
The Ultimate Hack for Reaching out to Candidates
Stacy Zapar has a whole host of tricks that will help you in your quest to become a crafty recruiter. The Cyrano trick will help you connect with candidates on a genuine level and start getting responses.
Key Takeaways
Now you can start having real conversations about with candidates about their career hopes. No more refreshing your inbox and frantically checking Inmails. When getting started to be sure to remember:
Make it easy for the hiring manager– write the message yourself and send it on so they can simply copy and paste
Your message should reflect a genuine peer-to-peer conversation. Don't blow this covert operation by throwing your recruitment jargon.
Have you follow up process nailed down so you can capitalise on the high response rates
We have more videos like this to help you fine-tune your hiring process. Check it out!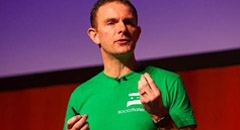 SocialTalent Recruiter Academy
A full library of videos that can help your team transform their hiring process
Find out how the likes of IBM, IKEA and Siemens
drive hiring excellence with SocialTalent
---