How to: Make the New LinkedIn Header Work for YOU

Things will be looking a whole lot more colourful on your LinkedIn profiles from now on, as LinkedIn have added the ability for Premium users (and some Basic users) to display a crafty piece of artwork above their profile picture. It now looks bit like Twitter…. okay, A LOT like Twitter! But still, it's a vast improvement on the boring grey background of days past, and a welcome improvement when it comes to the overall look of the common LinkedIn profile.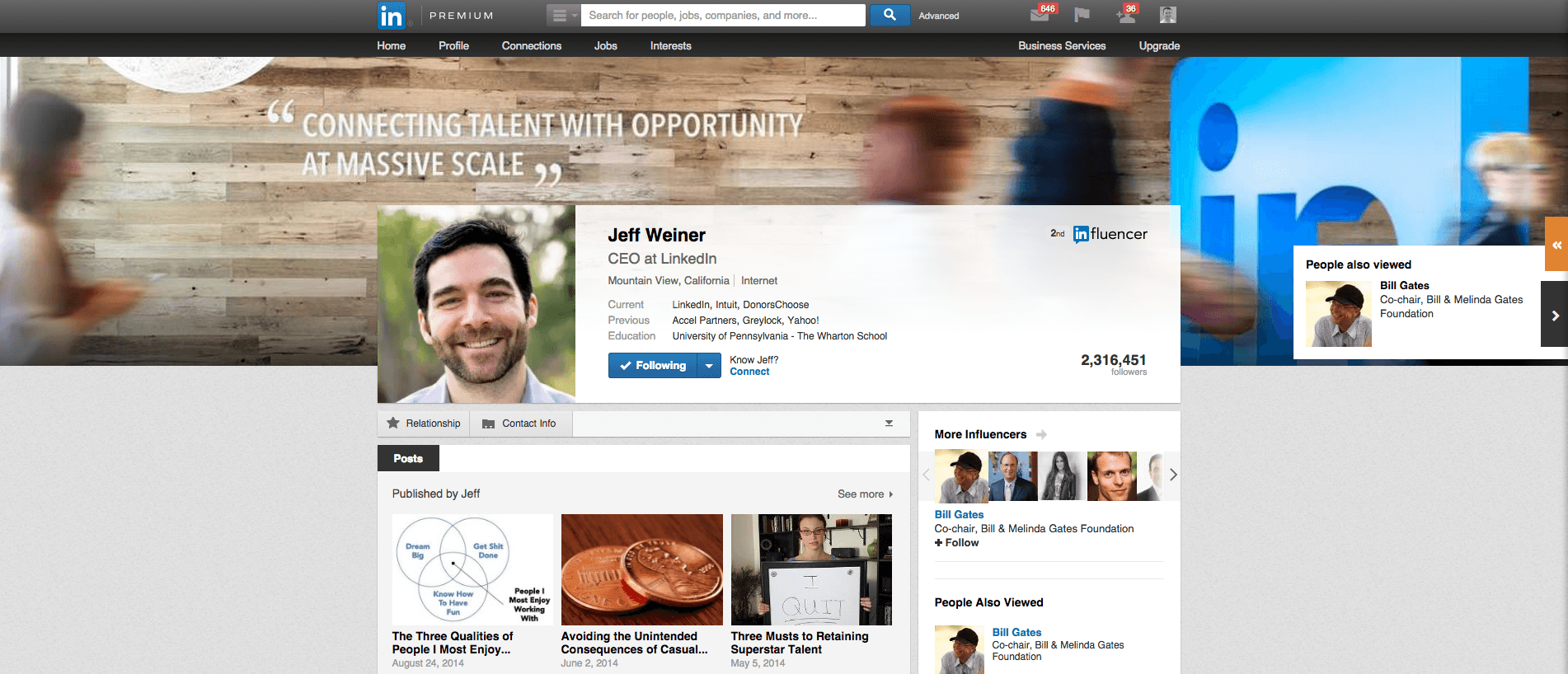 But now that we have the ability to add a little more personality to our profiles, it's important that we use it correctly. And while LinkedIn have been kind enough to provide us with a selection of pre-made headers, we're afraid,  just like your InMails, a generic solution isn't going to cut it.
How to: Make the New LinkedIn Header Work for YOU
Step 1.
To see if your are eligible to add a header to your LinkedIn profile, just click 'Profile' –> 'Edit Profile' from the LinkedIn menu and if you see the following option, you have the power!:

Step 2.
Your new header image needs to be 1400 x 425 pixels. The series of the images already provided by LinkedIn in their Premium gallery, confirm to these dimensions but we need you to bypass them and click the 'Upload' option instead:

Step 3. 
It's time to get creative. You need to ask yourself how you can use the 1400 x 425 pixels of space provided, to best serve your professional mission i.e. the whole reason why you have a LinkedIn profile in the first place.
As you can see, we used the space to promote our Black Belt in Internet Recruitment online training course by asking visitors to Johnny's profile whether or not they are a Sourcing Ninja yet and incorporating our Sourcing Ninja hashtag along with our very own Sourcing Ninja character; Hiroto. It's a simple design but it gets straight to the point, and it's effective: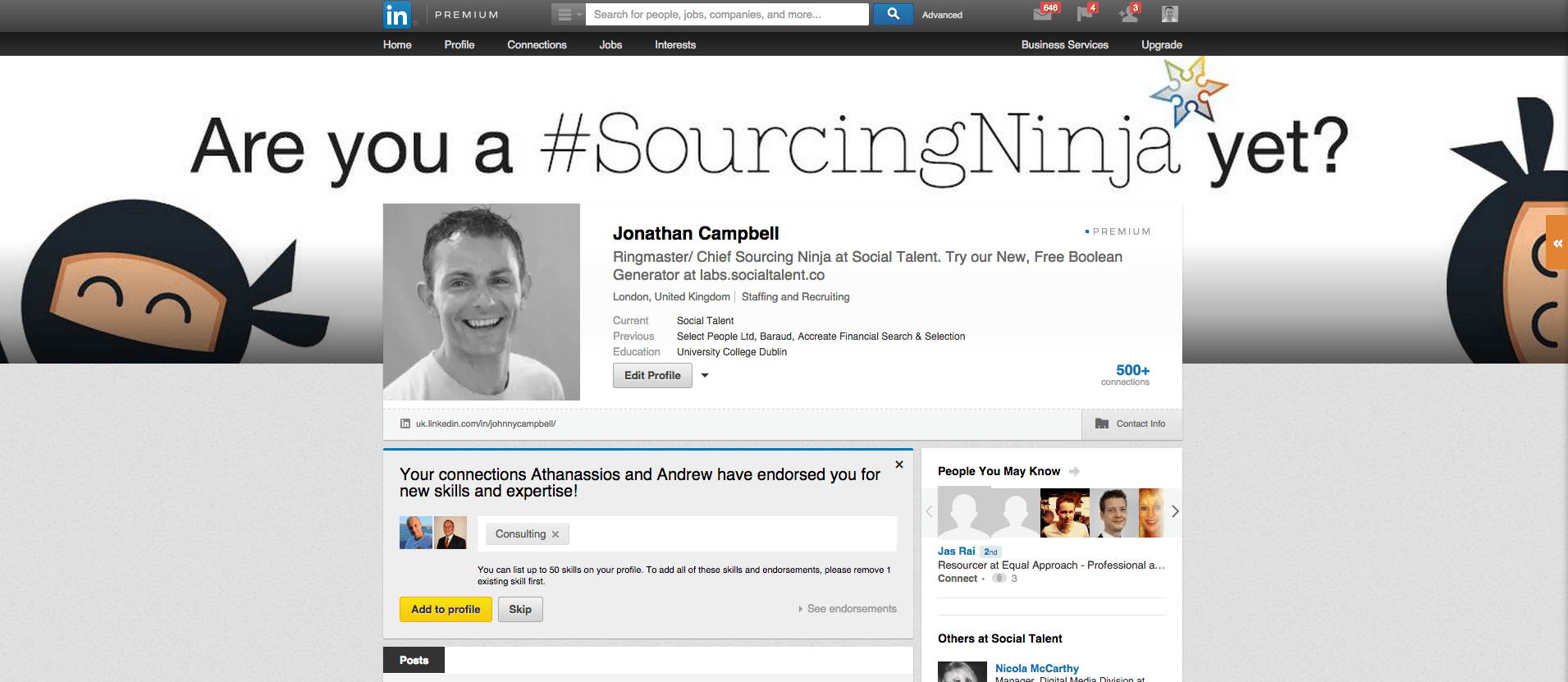 If you are a recruiter you could use the space to promote your latest job opening by changing "Are you a #SourcingNinja yet?" to something like, "I'm looking for a Marketing Manager" and using the space at the sides of your profile to give a few details about the job including imagery or your contact details.
Just remember you need to keep in mind the workable dimensions of the space, because not all of 1400 x 425 pixels are useable, as your profile encroaches some of the space: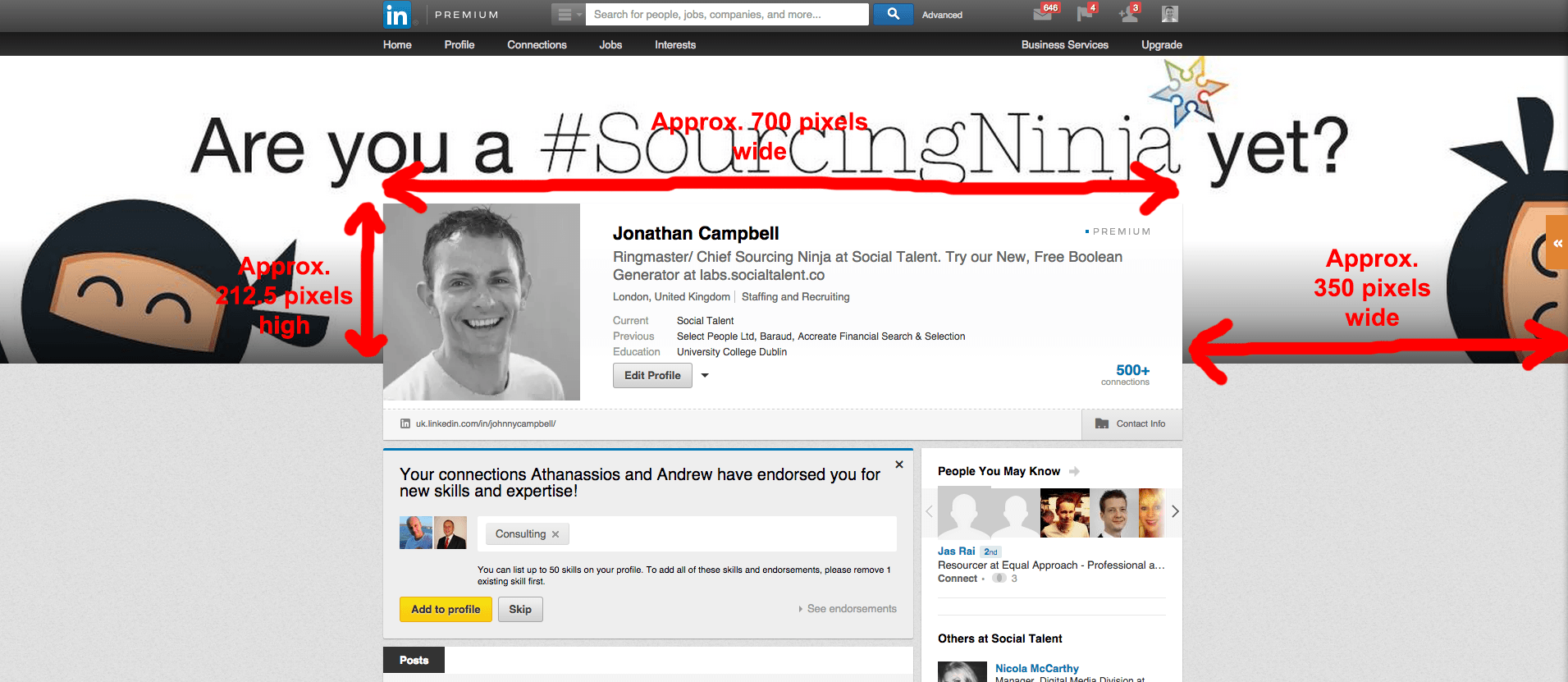 Getting the spacing right can be a little tricky but the best way to gauge where your design fits is to upload it and see exactly how it takes shape and amend your design as you see appropriate.
Step 4. 
Click 'Save' and you're done!
Now that's relatively easy peasy lemon squeezy, isn't it? So there's no excuse for not having a beautifully bespoke LinkedIn header that should helps you achieve your professional goals or secure that perfect candidate.
Having a bad or incomplete LinkedIn profile can mean you are missing out on a large percentage of opportunities to land a new job or attract new candidates.  Your LinkedIn profile will be used as a reference against your CV or resume if you're a job seeker and will be judged highly by potential candidates if you are a recruiter, so it needs to be faultless.
Our guide on How to: Create an All-Star LinkedIn Profile will help you vastly improve how you appear to recruiters and candidates alike online. So what are you waiting for? Click here to download the guide for FREE and start impressing your profile viewers today!
Want to keep up to date?
Join our 75,000+ subscribers who do!