Making The Most of "People You May Know" on LinkedIn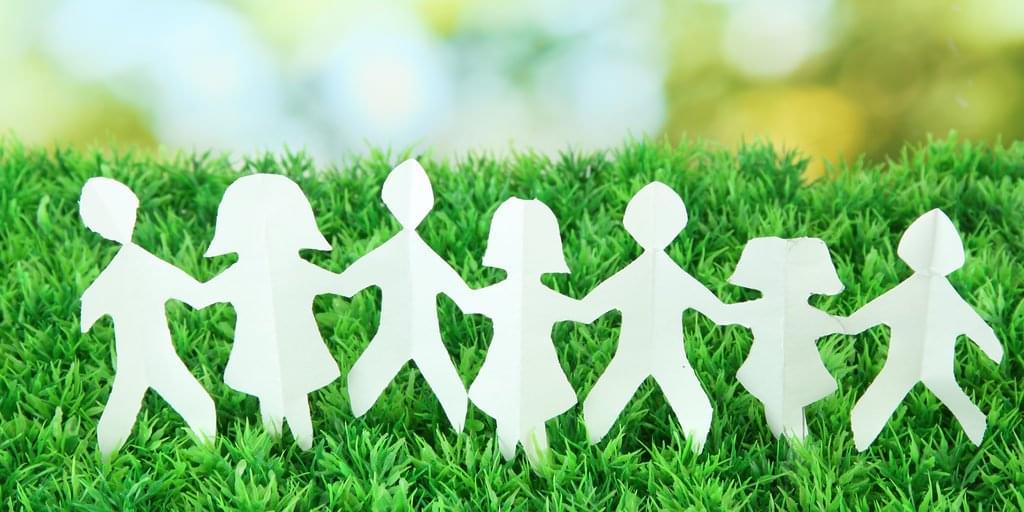 It's a concept we're already very familiar with. It's impossible to spend time on Facebook, Twitter or Instagram without seeing suggestions of people you should follow. Every day the algorithms churn out a 'friend-of-a-friend' that you might or should know.
It's exactly the same with LinkedIn.
LinkedIn will automatically suggest people you should connect with, based on mutual connections you may have, employment history and education.
LinkedIn also uses data it collects from your phone to help it generate more accurate suggestions. If you have downloaded the LinkedIn App on your phone (like all good recruiters and salespeople should) you will no doubt have blindly agreed to the terms and conditions. This long spiel of tiny print permits LinkedIn to mine data from your contact list, your call log, your messaging systems etc. Think about it, have you ever been browsing LinkedIn and then seen a suggested connection for someone who you've been messaging or calling recently?
The majority of LinkedIn users are visiting the site via mobile.
As of the second quarter of 2016, LinkedIn had an average of 63 million unique visiting members via mobile. These accounted for 59 percent of all unique visiting members.

As of the third quarter of 2016, 60% of unique visiting members accessed the online recruiting network via mobile device.
Meenakshi Chaudhary
This gives LinkedIn access to a huge amount of data they can start to mould on your behalf to show you more people who will be of value to you and your recruiting or selling efforts.
Learn to Leverage The Data
Instead of grabbing our torches and pitchforks and protesting the rise of the machines we should start using this to our advantage. LinkedIn is doing all the hard work for you so you can start getting strategic.
You can find these suggested connection on LinkedIn by clicking on "My Network" and scrolling down to the "People You May Know" section.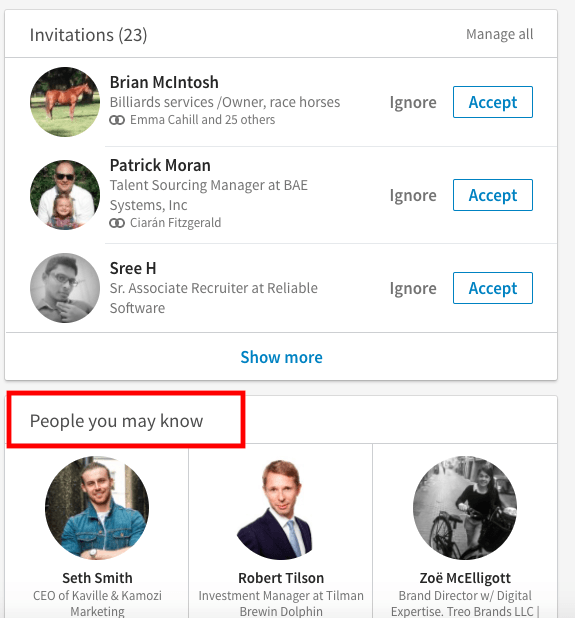 Now you can scroll through all the suggested connection from LinkedIn and start broadening your professional network.
As you continue to scroll LinkedIn keeps suggesting people. As you click "Connect" or "Dismiss" you are teaching LinkedIn more about you and your network so it can continue to make smarter predictions for you.
Top Tip: Get into the habit of checking the People You May Know tab once a month so you can keep expanding your network
Send people a short message when you're connecting to increase your chances of getting a response. Write the perfect LinkedIn Inmail message for optimum results.
Why You Should Connect
LinkedIn has suggested these people because it's pretty sure you already know them but aren't connected. Or LinkedIn has analysed the data on both sides and figured out you two probably have a pretty good chance of having a common goal or outlook and therefore it would be mutually beneficial for both of you to connect.
By regular connecting with these suggested friends, you can expand your network by up to 50-100 people per week. A decent network is a recruiter's greatest weapon and it can help you build your personal brand and aid your sourcing needs. A possible 200 new contacts a month!?
YES PLEASE!
Enjoy more great content by signing up for our Content Advent Calendar! Blog posts, videos, competitions, 2018 predictions and so much more all straight to your inbox! Sign up today!

Get involved!
Receive a tailored curation of the latest industry insights. Sign up for our Christmas Advent Calendar!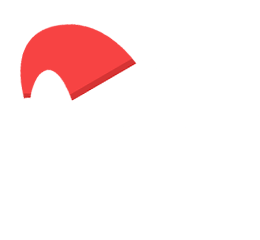 Want to keep up to date?
Join our 75,000+ subscribers who do!