Keep up with the latest hiring trends!
/
/

More Boolean Sourcing Tips for Recruiters
More Boolean Sourcing Tips for Recruiters
Last week we ran a free Webinar entitled "There's more to X-Ray search than LinkedIn" where we showed recruiters how to x-ray search sites like YouTube, Vimeo, Twitter, Quora, WordPress, Blogger, Xing, Viadeo, Naymz, Plaxo and Google Profiles (click on the previous links to see search string examples which you can use as templates for your own searches) to find millions of candidate profiles.  If you missed it, here's a chance to watch it again for free: just click on this link and use the password: g3n81vff8h
There are endless websites where you can find biographical data on potential candidates or hires, the limits are only that of your imagination (or inquisitive nature, depending on your point of view!).  Whilst checking out Irina Shamaeva's Boolean Strings network this evening I came across a great post by Gary Cozin on how to x-ray search Amazon for potential profiles.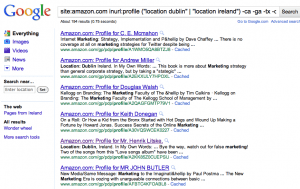 I have modified this for the Irish market, making sure to remove most of the "Dublin" location references that are actually in the US.  The location field is free-text so you have to play around with it for good results.
Here's the string:
What is powerful about this is that searching for a term like "Marketing" will show you who is reading, reviewing or discussing books on marketing which shows you where someone's skill or interest lies.  A simple cross-ref on LinkedIn should show you the person's complete bio and gives you, the recruiter, a great excuse to open a discussion.  Picture your email: "I just finished XXXX marketing book and see that you also read it recently.  My client is looking to hire someone with just your appetite for knowledge; let's meet to chat."  I know that you can add apps to LinkedIn and Facebook that share what you are reading but what better place than Amazon itself to gather intelligence on who is reading what, in the sector that you recruit in.
What sites do you find useful in your sourcing?  Feel free to suggest sites and we'll try to come up with some search strings for you.
Find out how the likes of IBM, IKEA and Siemens
drive hiring excellence with SocialTalent
---