New: Has LinkedIn asked you to Start a Profile Makeover?

I logged into LinkedIn this evening to gather some notes for a Recruiter Sourcing course that I am delivering tomorrow morning and was surprised to see a large tab above my (rather ugly since the font change this week) Headline Profile entitled "Where Are You Located?". The tab seemed to want to know what my postcode was. For those of our readers who dont live in Ireland, you may think, so what? Well, unfortunately as we do not have a postcode system here, we cannot narrow down LinkedIn profiles by geography other than the 26 counties that make up the Republic, hence I thought LinkedIn were seeking to rectify that by gathering more detailed geographical information on its Irish members. Not so, there's more to it than that!

Once I had filled in my county I was asked if I wanted to start my "LinkedIn Profile Makeover".  What a good idea.  As my friend Irina Shamaeva reports, 65-70% of all LinkedIn profiles are "shallow", i.e. they contain nothing more than a name and current employer/ job title.  LinkedIn is made more powerful if member profiles contain more data, more keywords, more clues for us sourcers and recruiters to seek out!  LinkedIn have recently brought in a raft of new profile sections including Skills, Languages and Academic Achievements yet they havent really pushed these on members too hard.  This seems to be a more "in your face" approach.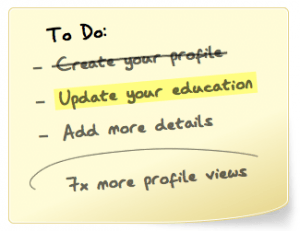 Once I started my "Makeover" I noticed another tab to the right of my profile which kept me updated on my progress, designed like a sticky-note on the screen (more Facebook than LinkedIn in its style; arent they getting funky these days?).  I was subsequently prompted to fill out more information about my education and fill in the blanks I had left about three of my previous employment positions. Once I had filled in two of these and skipped the one I didn't care to complete I was told that I was "Looking Good Now" and asked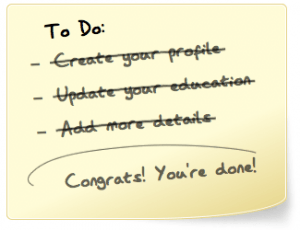 if I was "Finished" or if I wanted to "Continue Makeover".  Once completed, my little Sticky Note updated to say "Congrats, You're Done".  Whilst very simple, quick and easy, this seemingly small step by LinkedIn is a huge step forward for the many recruiters who "mine" the 100 million plus members on LinkedIn's professional network every day.  The more information contained on every profile, the more successful our searches will be.  For LinkedIn, it will help make their Corporate Recruiter product and Premium Agency Recruiter products that bit better as their Advanced Filters such as "Years of Experience" and "Seniority Level" will be more accurate (I don't currently put a huge amount of faith in them as the data isn't there to make them accurate enough).  Their best Premium filters, such as "Interested In" and Search by "Groups" can be used on a Free Account, if you know how!  Want to know how to do that?  Sorry, but you're going to need to go on one of our Training courses for that one!
So tell us, have you been asked to Start your Profile Makeover?  Did you do it?  Tell us what you think below.
Want to keep up to date?
Join our 75,000+ subscribers who do!