Keep up with the latest hiring trends!
/
/

Presidential candidates insist they can work it out
Presidential candidates insist they can work it out
With October 27th, the date the people of Ireland go to the polls to elect a successor to Mary McAleese fast approaching, six of the seven Presidential candidates were in attendance at the Royal College of Physicians on Dublin's Kildare Street on Wednesday morning for the Presidential Employment Forum hosted by National Employment Week, in association with Sigmar Recruitment and the Irish Times.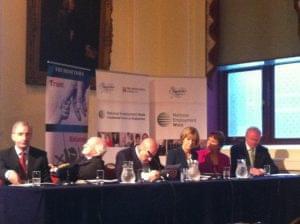 Senator David Norris was unable to attend but fellow Independents Sean Gallagher, Mary Davis and Dana Rosemary Scallon, Sinn Fein's Martin McGuinness, as well as Fine Gael's representative Gay Mitchell, and current front-runner in the polls, Labour's Michael D Higgins, all took their place at the top table.
Indeed, it was Higgins who spoke first with the questions to be answered by all candidates – What actions, if any, will you take as President of Ireland to support Ireland through Foreign Direct Investment? and What actions will you take as President of Ireland to support job creation through indigenous companies and job seekers locally?
Not surprisingly, given his background; the campaigner, poet and politician was this country's first Minister for Arts, Culture and the Gaeltacht, Higgins spoke of the "creative industry" in Ireland but warned that "better economics" and "very positive seed capital" was needed to support this industry. An animated Higgins went on to say that Ireland needed "good, decent, careful scholarship" and that he was the man for the job.
Gay Mitchell, Dublin's former Lord Mayor, was next to address the room and he asked those in attendance, and Ireland's population in general to "stop buying into failure". Mitchell highlighted where the principles of rights and responsibilities, and enterprise and "social justice", in particular, are intertwined. Being the current MEP for Dublin, Mitchell is no stranger to the workings of the European Union, and he drew attention to the fact that our European neighbours were "our friends" and that we have, wrongly, in his opinion, "stopped networking with these people".
The CEO of the phenomenally successful Special Olympics World Summer Games hosted in Dublin eight years ago, Mary Davis, was next up and she insisted that there was "incredible energy in our communities" and that that energy must be "encouraged, nurtured and shared".
The second female candidate, Dana Rosemary Scallan, seemed to sum up the feelings of all her rivals by saying that "this forum will be the most important we will attend". The Derry native spoke of "employment creation being key to individual dignity" and went on to coin a new phrase, "workless class" areas, many of which she said she had visited since her campaign began. She said it was crucial that Ireland's much-talked about low corporate tax-rate must be kept as it is otherwise companies who previously set up shop in this country will look elsewhere.
"Innovative thinking and real leadership" were the keywords used by Martin McGuinness and he made it known that he would like to re-invent the office and be the "jobs president". McGuinness confidently stated that he "could replicate the success of the north across the 32 counties" but that he would only achieve this feat if those who implement change tap into the "enormous good will towards Ireland."
Sean Gallagher, an entrepreneur for the last 15 years, was the last to address the audience and he said there was "no greater public service than creating employment. "Entrepreneurs are heroes," according to Gallagher and he said that if he won the Presidential race he would "send a flare around the world" and by doing so show that "Ireland is open for business."
When it comes down to it though, the President is little more than a guardian of the constitution in Ireland, and has no power to truly implement reform and stimulate employment or change.
However, the debate was important, showing the Irish people and businesses from all over the world that from the very top down Ireland is focussed on creating employment, seeking foreign direct investment, intent on bringing new life to the Irish economy and willing to brainstorm with the general public and industry experts to ensure that the ideas generated are implemented.
Find out how the likes of IBM, IKEA and Siemens
drive hiring excellence with SocialTalent
---