Keep up with the latest hiring trends!
/
/

Recruiters: Do You Judge a Book By Its Cover?
Recruiters: Do You Judge a Book By Its Cover?
Recruiters, it's nothing new to us that we're judgmental by profession. We're paid to judge who's going to be the best of this panel in front of us to work in our companies. But are we being a bit pre-judgmental?
In a poll we carried out on LinkedIn last month, we asked members if they would include a photo of themselves on their CV. 45% of people said "No", and 34% of people said they would "only if asked to". Perhaps candidates are still relatively skeptical that if they show their face on their CV, they'd be somehow discriminated against when it comes to interview selection.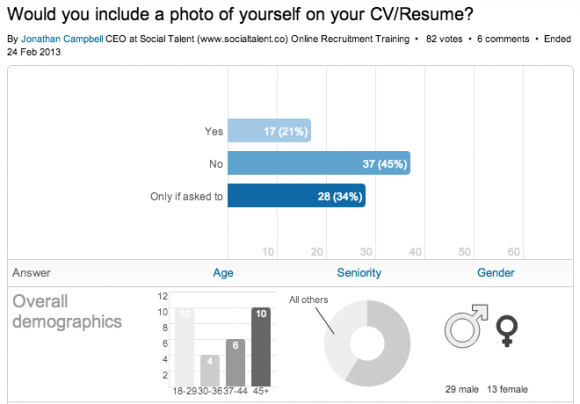 LinkedIn state (very clearly) that including a photo in your profile makes it 8 times more likely to be viewed by fellow members, prospective recruiters or employers. Dating websites are the same, with fellow users 10 times more likely to get in touch if you include a photo. (I only state this comparison to show that it's not just professional, it's primal.)
In a slightly more controversial poll on LinkedIn, we asked Recruiters would they hire someone with piercings or facial tattoos for a professional role. The results so far may be rather surprising to the 79% of people who won't put a picture on their CV: 50% of recruiters surveyed said they would hire someone with piercings or facial tattoos if they're the right one for the job, 13% said "Maybe, if their CV was excellent", and 5% said "only if they came highly recommended". 21% of recruiters responded negatively, so that's 79% of recruiters choosing to go with the best candidate, irregardless of their look.
That's surely a good sign, isn't it?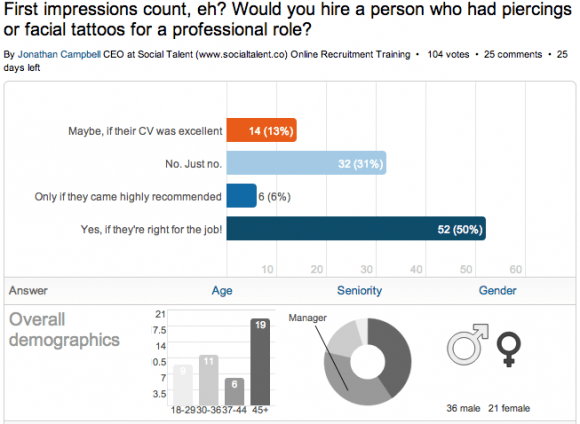 All this gets me thinking though: in this day and age where we have a digital footprint everywhere we go (from the mobile phones we use, email and social networks we're a part of), if we can't see some form of physical evidence that a person has a face at all, are we a little suspicious of this? After all, there's lots of evidence to support a human's innate sense of preference for facial symmetry (and symmetry in your face is considered a pre-requisite to attractiveness), but overall human interaction is carried out through the face and facial expressions (despite what Botox practitioners might say!).
A quick chat in the office has brought to light many similar feelings – a popular person on Twitter in Ireland, Colm Tobin, has a cartoon image of himself as his avatar. Heck, even we in Social Talent have cartoons as avatars as part of our branding, and they're used everywhere. Colm though can be a little controversial at times, but more often than not he's absolutely hillarious.
Danny Devito wins Best Animated Short. #oscars

'¬€ Colm Tobin (@colmtobin) February 25, 2013
Perhaps adding a photo to one's CV is a little redundant nowadays with the prolific growth of LinkedIn, Facebook, Google+ and Twitter, but what if you don't have a photo of yourself there either? Would recruiters be right in being suspicious (are they actually real?), or should recruiters care at all?
Attractive people are "happy, interesting and successful"?
Apparently, all it takes to assess one's competence and trustworthiness is a quarter of a second. Studies have shown that attractive people are more likely to be viewed as "happy, interesting and successful" (but the researchers were quick to note that "it's less about being stereotypically pretty and more about consciously highlighting your best attributes and features and taking the time to appear well groomed").
And then there's other factors to consider: own-race bias ("the phenomenon in memory for human faces, in finding that own-race faces are better remembered when compared with memory for faces of another, less familiar race") or even First Impression Bias based on one's name (watch this excellent clip from the now (in)famous Freakonomics movie about white names versus black names, below, and this report from the British Government in 2009 revealing huge racial bias in the recruitment and selection process across thousands of companies against Asian- or African-sounding names).
Sure enough, policies have been put in place to stop this from happening. In the US, there is the OFCCP which aims to ensure companies who do business with the Federal Government comply with laws and regulations requiring non-discrimination (this does not apply to general companies though, just those working for federal or State contracts). The European Union goes much further, with Anti-discrimination laws in place throughout every workplace protecting employees (and potential employees) from discrimination based on their race or ethnicity, gender, sexuality, disability, age or religious beliefs. If you're a LinkedIn Recruiter licence-holder, you've probably seen that LinkedIn will not show the photos of profiles in an effort to stop judgement bias.
How can we as recruiters ensure that we're not judging potential employees unfairly before we even get to the interview stage? Discuss.
Find out how the likes of IBM, IKEA and Siemens
drive hiring excellence with SocialTalent
---