8 Juicy Recruiting News Stories to Sink Your Teeth Into - 9th March 2015
In the news this week:
LinkedIn Has Had a Makeover!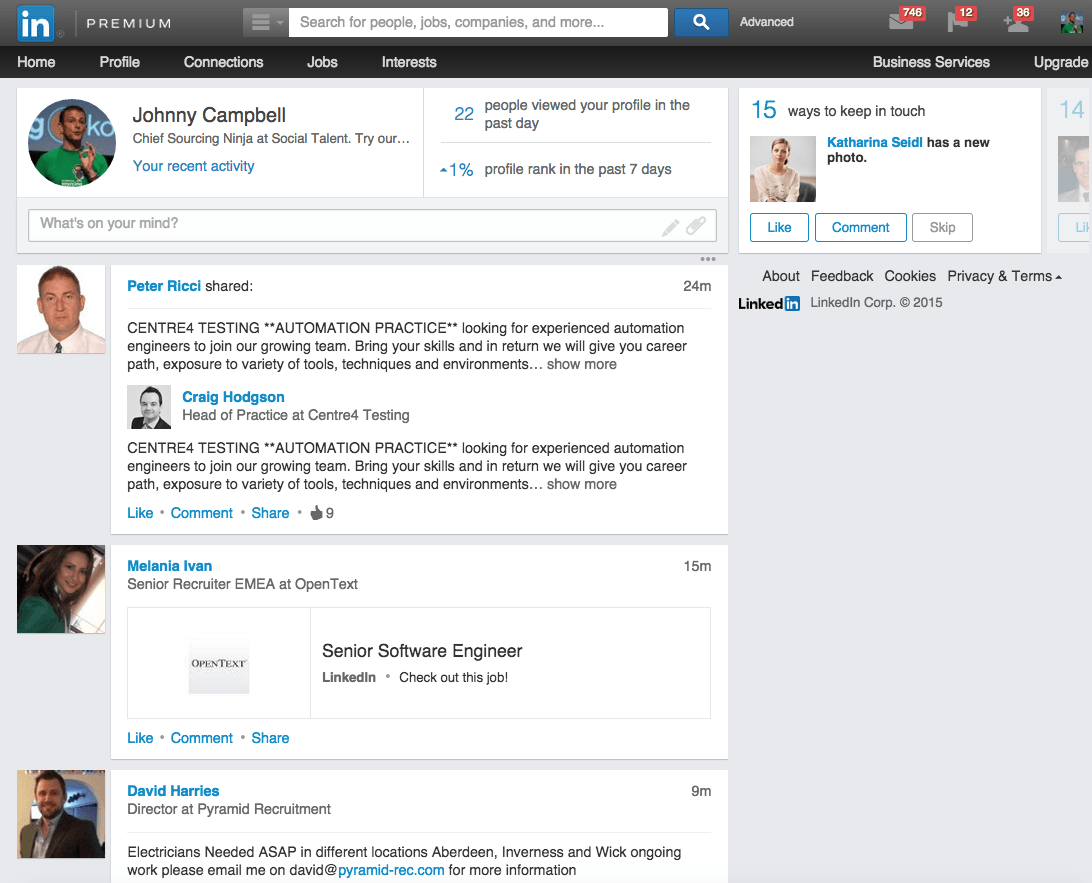 The new look site appears cleaner, less cluttered, profiles pictures appear bigger and the amount of white (or in this case grey) space has been increased significantly. This is primarily due to the the removal of the once prevalent right hand side bar. Now, information like the number of people who have viewed your page and your profile rank are displayed along the top of your homepage with your name, title, a quick link to your recent activity and your status update box.
There's been no official word on the new look from LinkedIn just yet, but we wait with baited breath to hear what their vision for the new look is and how it will develop as 2015 progresses. What are your opinions on the makeover? Let us know in the comments below.
Instagram Ads have Become Clickable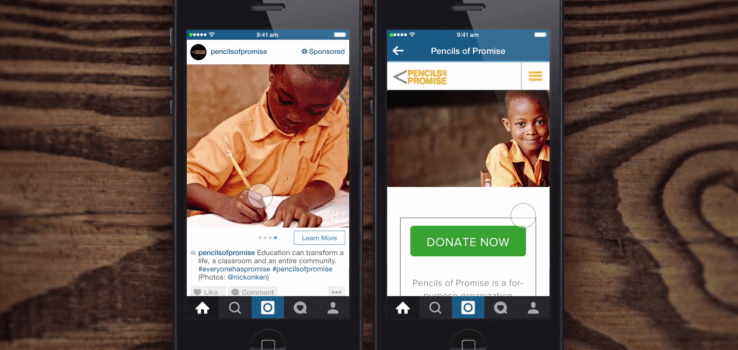 Instagram has never allowed URLs to open, until now. It wanted people to browse photos, not the web. But after coming under pressure from marketers who demanded more vivid ways to influence people who lead to meaningful results for their businesses, the app has developed a brand new way for companies to advertise their product/service.
Instagram will now start showing clickable links, but only in its new multi-photo carousel ads that can tell a story by letting you swipe through 4 branded images in sequence, before displaying a clickable Learn More button. When clicked, the button opens the URL in an internal browser within Instagram that allows users to quickly jump back to their feed with a tap of the top bar.
It's simple, it's easy, it looks really cool and it has great recruitment potential! For example, a fashion brand could show a model wearing a complete look, or outfit, on their first slide. Swiping though, you could see close-ups of the dress, handbag, and sunglasses, with a link out to buy these items at the end. Or a car company could show the exterior in its first image, the interior features in the second, and then an action shot of the car driving with a link to find out more about pricing and local dealerships. Similarly, your company could have a picture of the team a new candidate will be working with, close-ups of their future desk, the rec room, the cakes in the canteen, their future parking space etc, with a link to apply at the end.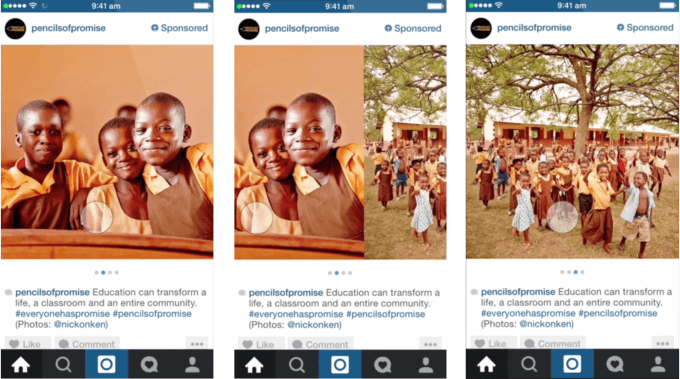 For now, these ads will just include photos, but Instagram is considering whether to allow videos in carousels too. It will also watch user reactions to the multi-shot format to determine whether users should get the option to share carousels as well.
Click here for our complete Recruiter's Handbook Guide to Instagram – everything you need to know about the recruitment-related merits of the app and why using it could be the best thing you ever do for your recruitment and employer branding efforts.
LinkedIn No Longer Supporting Microsoft Outlook Social Connector

As of today (9th March 2015) LinkedIn "will no longer support LinkedIn for Microsoft Outlook Social Connector in Outlook 2003, 2007, and 2010". This means that LinkedIn information about your email contacts will NOT be visible in those Outlook versions.
However, the LinkedIn team say they are currently working with Microsoft to build "even more powerful tools to help you stay connected with your professional world". But until then you can get similar capabilities with the LinkedIn for Outlook app for Outlook 2013 from the Office Store.
If you have any questions regarding this update, visit the Help Center for more information.
Rejoice! Google Contacts is Getting a New Look
Finally, the back bone of several core Google services such as Gmail, Hangouts and Google+, is getting a new look and a couple of new features that will make it easier to use. Yes, taking its new look cue from some of Google's other services, Google Contacts will now adopt Material Design' language – something Inbox users, especially, will feel right at home with, though Gmail users may find the switch a tad jarring. Here's what the newly designed Contacts will look like: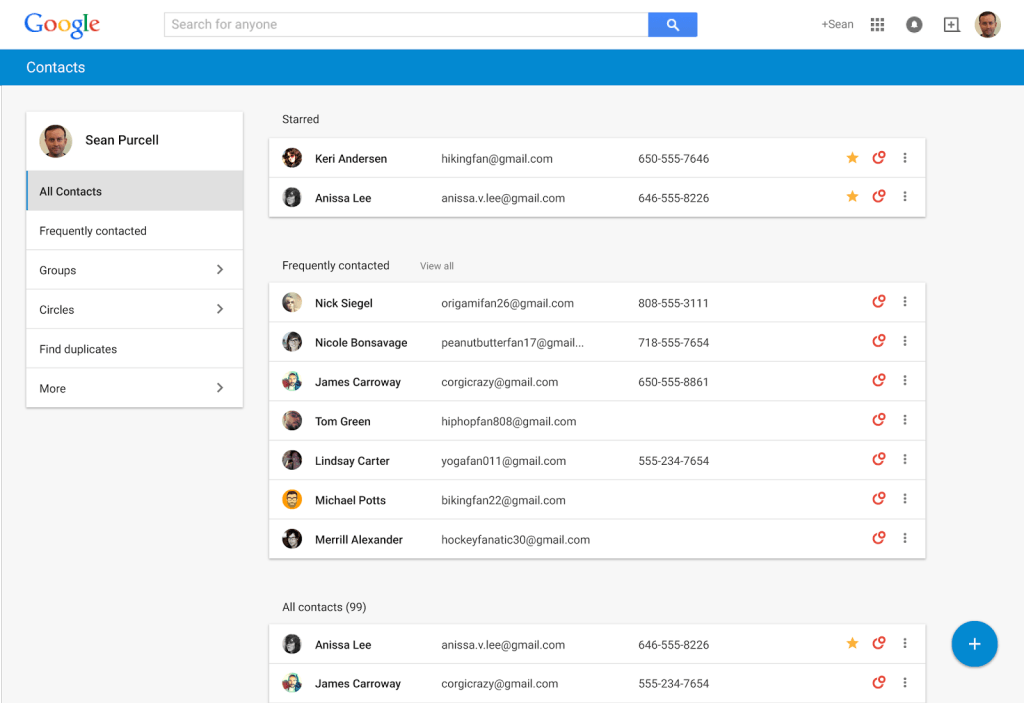 In terms of new features, the most notable is the updated find duplicates tool, which makes it sooooo much easier to merge the contact details of the same person across multiple profiles without having to delete 4 of the 5 contact profiles Contacts would have previously given it.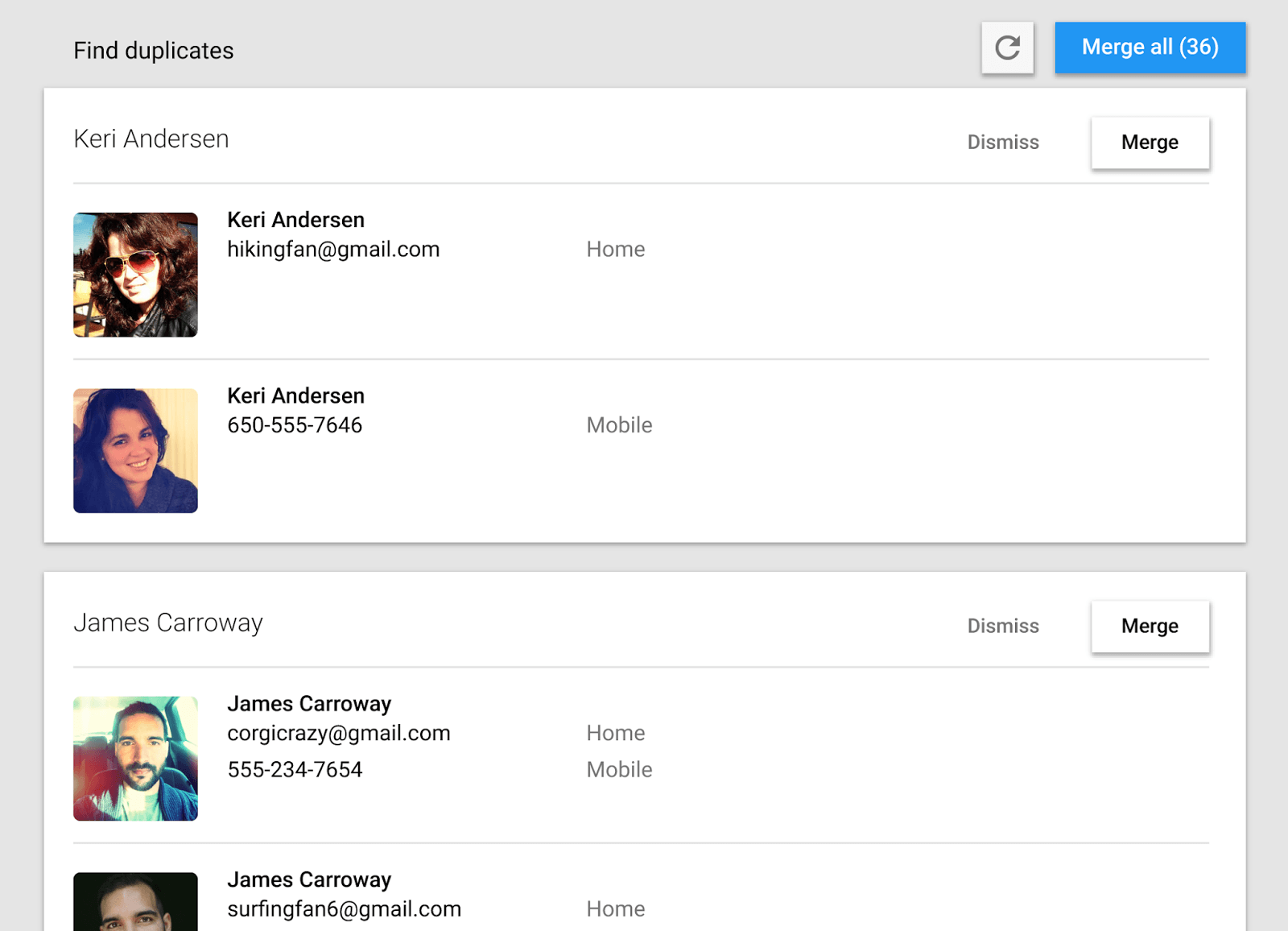 Also new in this update is the ability to see all your recent emails and meetings with a person right in their '¬€ also redesigned '¬€ contact card, and Google will try to keep your Contacts automatically updated based on their Google profile information.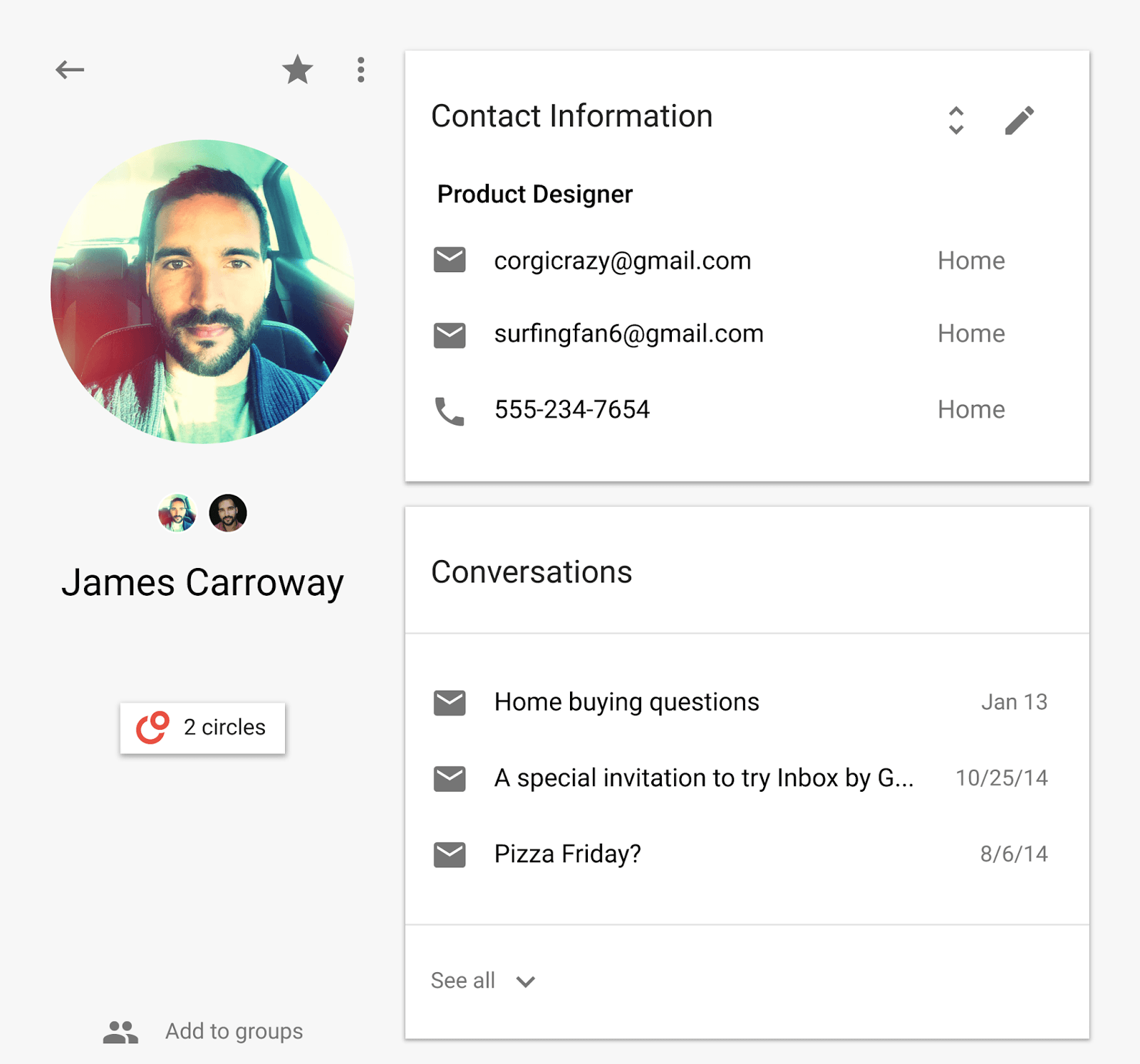 The preview is rolling out now, but you can bypass that process by heading to contacts.google.com/preview directly (unless you are a Google Apps customer, then you'll still have to wait a bit before this updates becomes available to you).
DON'T Stick to the Status Quo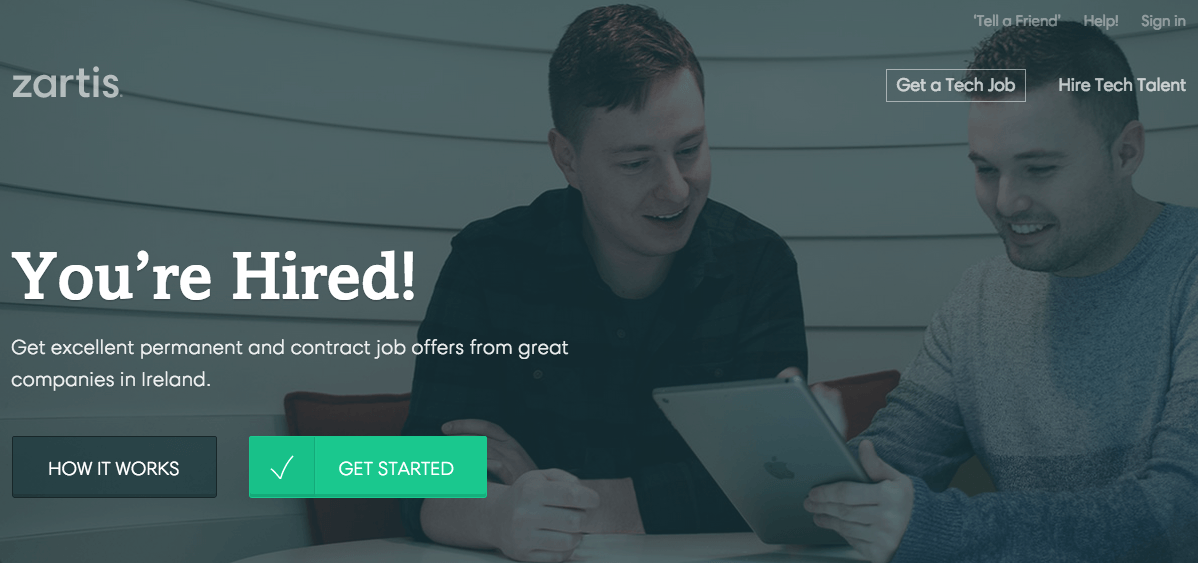 Zartis is an online marketplace for great companies and software professionals. Every week about 200 candidates send the company their details. Zartis's  staff review those profiles, screen them, and showcase the best 10 to 20 candidates on their platform. Internal recruiters the company work with can then log on to the platform and see all of the candidates including CVs, salary expectations, location, skills, and motivations. Recruiters can contact the candidates they're interested in talking to, interview them, and eventually, hire them.
Zartis used to showcase these candidates for 60 days. A time period that gave recruiters greater choice because there were more candidates to review. However, the company soon realised that good candidates don't stay on the shelf for long and they found that the longer they left them on display, the less likely they were to be interested in hearing from recruiters. So in order to combat the problem, they reduced the length of time candidates are showcased on the site from 60 days to just 7 days.
Why? For two reasons:
The new time limit serves as a call to action for internal recruiters. They know the candidates will be gone in a week so they're more likely to contact them when they login.
The candidates are much happier to be shown for a short period of time and, when they're contacted by recruiters, they're far more responsive and positive.
And even though it's only been 2 weeks since Zartis made the change they've already seen a significant increase in the number of companies (including Version 1, PayPal, Terminal 4 and Xanadu) logging in and the response rates from candidates has risen significantly.
Zartis are providing a traditional recruitment model (we find and screen the best candidates) but in a completely new and modern way. Clients can search within the Zartis database but they only see the best and only for 7 days. By applying the principle of scarcity, the company's clients have become addicted to checking the site regularly for the latest talent, a win-win for hiring companies and job seekers alike! Basically, there's a lot other companies can learn from this approach and by reporting Zartis's success we're hoping to inspire the wider recruitment community.
You Can Now Embed Twitter Video on Your Website
After launching it's native video platform last month to the joy of marketers (and hopefully recruiters) everywhere, Twitter have just added the ability to embed Twitter-hosted videos on other sites.
Clicking the Embed Video option in the expanded options menu from a tweet featuring a native Twitter video will expose a snippet of HTML code, setting it up for a copy and paste into your own site's HTML or CMS companies window. As you'll see from the example below, the embed includes a native Twitter video wrapper, a timeline, video playback controls, a full screen button and a Twitter logo, which when clicked shows you the original tweet that appeared with the video:
We agree with our partner @Dove: the power is in our hands to #SpeakBeautiful. https://t.co/hQXoiqR8cR '¬€ S.W.A.T. (@TwitterWomen) February 23, 2015
Pretty nifty, huh?
Man Applies for Snapchat Job with Hilarious Use of the App
To everyone who ever said SnapChat was impractical as a recruitment tool, I present to you, Mr. Elski Felson.
Elski has applied for a job at Snapchat by using the photo messaging app as a video CV – and he's done so hilariously! The video is a compilation of evidence that Elski has the right skills for the job. He tackles each requirement individually with clips of him showcasing his aptitude, but in a non-conventional way. For example, in response to Snapchat asking for a multi-tasking rockstar', Felson records himself spinning a basketball on his finger while riding a bike with no hands. While he showcases his strong writing' ability by attaching a weight to his hand as he uses a pen and paper.
Other skills include his great judgement' – proved by guessing the weight of an onion correctly in a supermarket '¬€œ and his phenomenal presentation skills' exhibited by laying out a selection of treats on a plate creatively.
He ends his video by saying: What your app has done for me means a lot to me and to be part of the team behind Snapchat would literally be a dream come true. Snapchat, I'm telling ya, I'm the man for the job.
Check out his very alternative job application here:
Then go and check out our "Recruiters Handbook Guide to SnapChat" which explains, what SnapChat is,  how it can be used for recruiting and whether or not it's for you.
Movie Stars in Stock Photos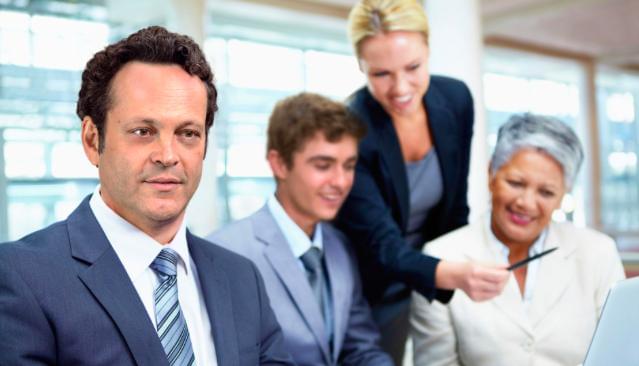 In a stroke of absolute genius from the marketing team for Vince Vaughn's latest film, Unfinished Business, a series of 12 hilarious stock images featuring the film's 3 main stars has been released.
"Twentieth Century Fox has teamed up with iStock by Getty Images to create a set of stock photos featuring Vaughn alongside co-stars Tom Wilkinson, Dave Franco and others," AdWeek reports. And the results are fantastic! (I'm even considering writing a special blog post, just to include them!)
The 12 images are being made available for free download – for editorial use only – over the next 3 weeks (the first 4 are available here now), but if you want to see all 12 immediately, check out the Slideshare below:
Want to keep up to date?
Join our 75,000+ subscribers who do!