Keep up with the latest hiring trends!
/
/

Roundup: Top Jobs, Cyber Attacks & Hershey Retention
Roundup: Top Jobs, Cyber Attacks & Hershey Retention
Welcome back to another recruitment roundup, where we strive to deliver the latest and most important news to help keep you updated with the latest news and trends. This week we discuss top jobs, DDoS cyber attacks and how The Hershey Company uses data to retain amazing talent.
Top Jobs That Earns You the Most $$$
When first interviewing for a role, it's important that you know what the average income for that role is. This will always work in your favour, especially when you're negotiating a salary. When looking at a company, there are different valuations for those that are both in private and public sector. For the most part, you're probably more likely to make more money in a public company.
New data released by Comparably, a culture workplace and salary comparison platform, shows what roles are bringing in the most money with architects sitting top of the pile. However, what's interesting is the pay gap that still remains between male and females. Obviously, there is still a bias surrounding both gender equality, but the question I ask is are we moving fast enough to eradicate this bias?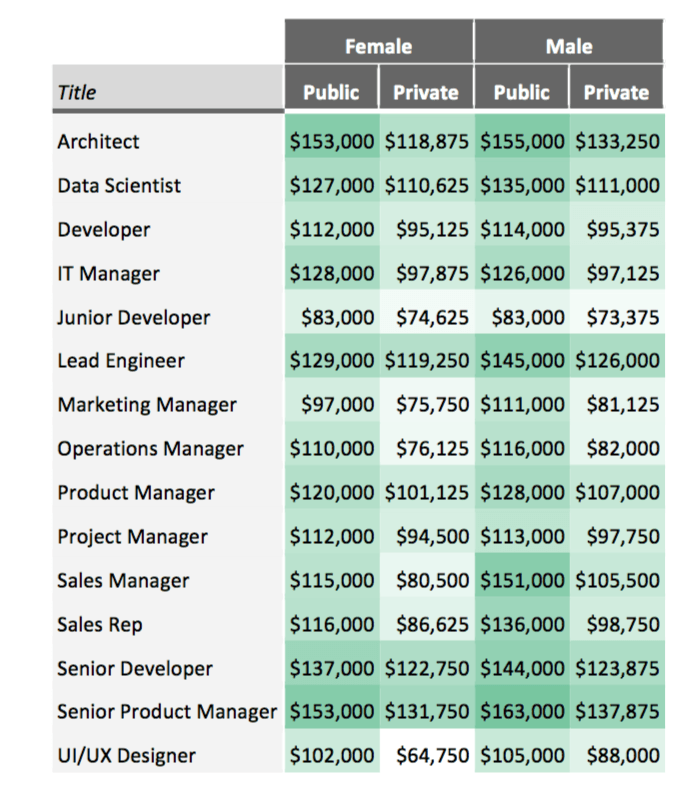 Github Hit By Biggest DDOS Attack Ever Recorded
Last week, Github suffered the largest DDOS (Distributed Denial of Service Attack) ever recorded. At roughly 12:15 pm EST, 1.35 terabits per second of traffic hit the developer platform. DDOS attacks have become more frequent in recent times, with hackers using it as a way of stopping people from accessing important information. The attack itself is where hackers bombard websites with so much traffic, leaving it impossible to counteract or defend.
Github went offline for a total of 5 minutes as they called for assistance from  Akamai, a cloud delivery platform who quickly went about rerouting the traffic. This isn't the first time Github has fallen victim to an attack. In 2015, they suffered an attack that lasted 5 days. It was thought that the Chinese government were responsible for the attack in 2015, although Github is still analyzing the attack on them. For more on this story, read their official DDoS indecent report. 
Hershey Staff Retention
Many people know The Hersey Company for their delicious chocolate treats. Who doesn't like Hershey Kisses!? I've scoffed my face on many an occasion! It's no secret that The Hershey Company are world-renowned, with the key ingredient in the company being their hard-working staff. Hershey is kept on its feet yearly. However, there are times where business will pick up tenfold, especially around summertime. Therefore, they planned accordingly by gathering data around what 'busy' looked like and what staffing levels should be for that busy period.
Now with the help of  Sean Kirlin, Senior Manager of HR Operations & Systems, and Emilie Thomas, Director of Advanced Analytics, Hershey have looked at using workforce data in an effort to retain employees. With the help of predictive analytics, Hershey will now be able to spot any flight risks before they happen.
Their retention model will take into account several different key points when attempting to predict attrition. These include;
Year-over-year performance
Number of managers
How regularly employees meet with managers
Engagement
Long commutes and remote workers
To get greater insights into how The Hershey Company use powerful data, click the video below.
Are you looking for new ways to retain amazing talent? Find out how SocialTalent can help you work smarter with our world-renowned learning platform! Talk to us today! 
Find out how the likes of IBM, IKEA and Siemens
drive hiring excellence with SocialTalent
---