Keep up with the latest hiring trends!
/
/

Social Recruiting Round-Up – April 2015
Social Recruiting Round-Up - April 2015
Today marks the beginning of the fifth month of 2015 (we're almost halfway through it!), and the end of April. Which means it's the time of the month you've all been waiting for! No, not THAT "time of the month" sillies – it's time for our monthly social recruiting round-up; a collection of the most popular blog posts, the most talked about infographics and the biggest recruitment and sourcing news stories of the last month.
And boy, did April have some gems! So we've collated them all into one sparkly list for you to peruse at your leisure. Enjoy and Happy Friday Recruiters!:
Top Blogs in April:
Grid your loins recruiters! These really are the best, worst resumés you will ever have the pleasure/misfortune of laying your eyes upon! (No really, this is a serious warning.)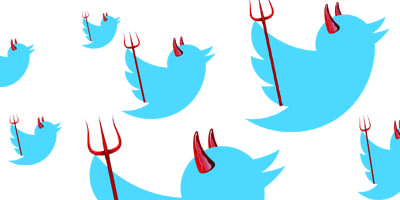 Are you guilty of committing any or all of the five biggest Twitter sins? Many recruiters are, let's just hope you're not one of them! We're pointing out what they are and how you can avoid them.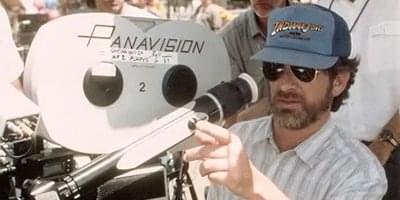 Employer branding is one of the most important aspects of candidate attraction in 2015. In this blog, we teach you why and how to create an incredible recruitment video with minimal resources and a tiny budget.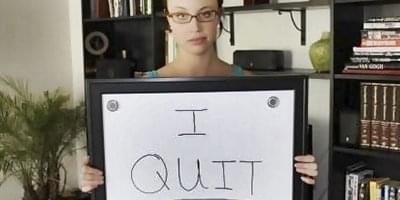 This girl decided to quit her job in the most bizarre and novel way possible – via 33 whiteboard messages. But she wasn't expecting how her boss would respond to the news of her departure!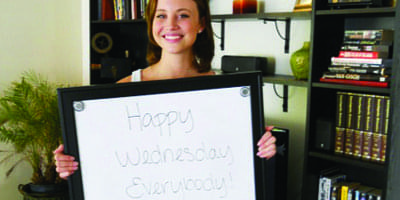 She's at it again! The true story behind the girl with the whiteboard and why recruiters and employers alike, need to stand up and pay close attention is revealed! (And it's not what you think!)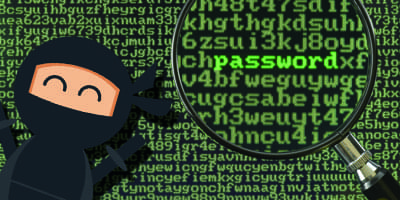 Fancy learning some nifty new ways to become a more productive and effective recruiter? Of course you do! Then stay tuned for some absolutely legendary recruiting hacks guaranteed not to disappoint.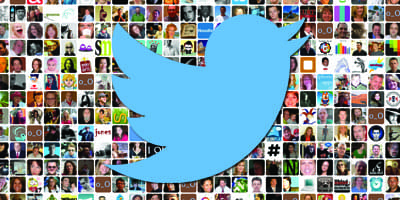 Searching your competitor's followers is a really smart approach to using Twitter to find candidates, that can potentially open up a goldmine of contacts for you. And this amazing tool can help you do just that!
Top Infographics in April: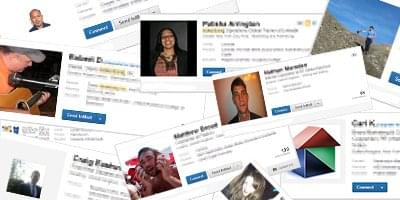 Have you looked at your profile picture lately? What do you think it says about you and your hire-ability? Turns out, it actually says a lot more than you think it does! Here's why.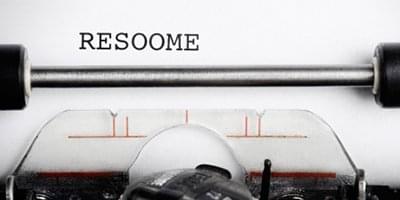 Terrible spelling, too much writing, a lack of bullet points, vague explanations, industry clich̩s Рthese are the ten biggest CV mistakes job seekers need to avoid like the plague!
Top Recruitment News Stories in April:
 LinkedIn Buys Lynda.com for $1.5 Billion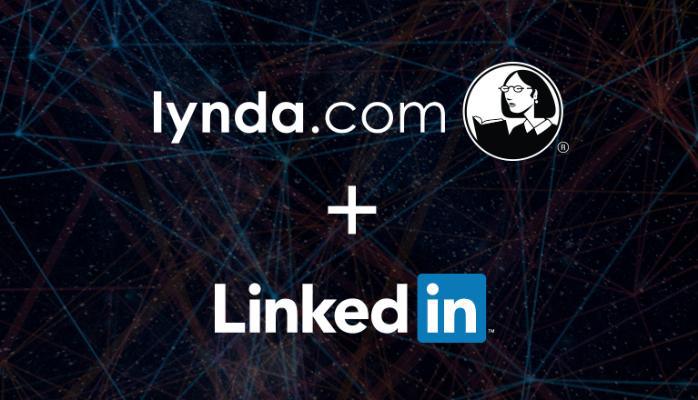 LinkedIn is getting into the professional skills education market in a big way! They've just purchased Lynda.com, the online learning company founded in 1995 by technical skill instructional book author Lynda Weinman and co-founder Bruce Heavin – their largest acquisition to date.
If you're unfamiliar with it, Lynda.com has long been the go-to resource for online learning on subjects like Photoshop, basic HTML, CSS, management practices and many more, offering instructional videos and tutorials from industry experts and vets long before e-learning was at anywhere near the level of interest it enjoys today.
In a blog post addressing the deal, LinkedIn CEO Jeff Weiner talks about how the acquisition helps his company move closer towards a goal of connecting job seekers with jobs, by providing more equitable access to education and skill acquisition. Lynda.com CEO Lynda Weinman described the combination as a perfect cultural fit and discussed how it should help them continue to rarify the skills gap in the marketplace. LinkedIn head of content products Ryan Rolanksy describes a future in which job seekers are not only made aware of skills required for positions they're applying for, but can also take courses to get those skill immediately through the social network:
As the head of content products at LinkedIn, I spend a lot of time thinking about how the access to information and knowledge can be used to make professionals more productive and successful. The fact that I had to take a crash course to acquire a new professional skill is not unique to me '¬€ millions of professionals around the world are in a constant state of learning to achieve their professional goals every day.

So, I couldn't be more thrilled to welcome the talented lynda.com team to the LinkedIn family today. Together, I believe we can make it even easier for professionals around the world to accelerate their careers and realize their potential through the learning and development of new skills. Today's announcement that LinkedIn intends to acquire lynda.com allows us to take a meaningful step forward in building the Economic Graph, which you can read more about from our CEO Jeff Weiner's post here.
But while LinkedIn isn't saying exactly what its plans are for the education resource just yet, Rolansky does say that Lynda.com remains open for business and accessible to users as they work together on what comes next.
Check out the video below for more details on the acquisition:
 We'll certainly be excited to see where this particular acquisition goes!
Average Time to Fill a Job Now at 27 Working Days
The national time-to-fill average rose in February to the highest level in 15 years. According to ERE.net, it took an average of 26.8 working days to fill jobs in February. In January, that average was 25.7 working days.
We are continuing to see signs of a tightening labor market, said Michael Durney, president and CEO of Dice Holdings. Unemployment rates are declining across several core industries, such as tech and healthcare, and the time-to-fill-open positions has hit an all-time high in the 15 years the data has been tracked.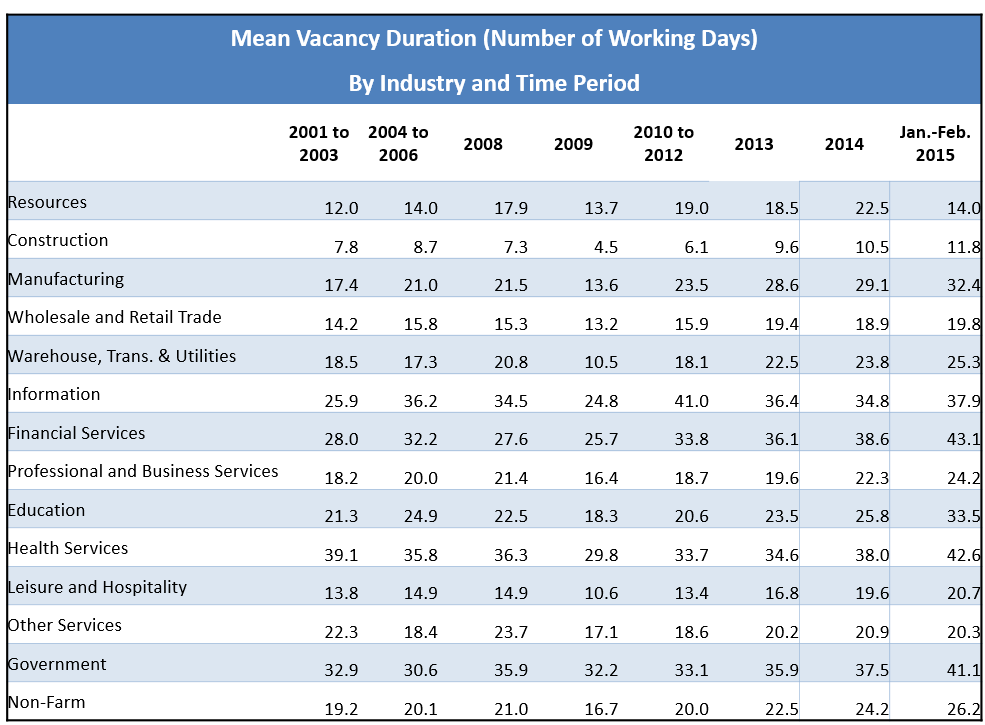 Interestingly, jobs in the financial services sector took the longest to fill, averaging 43.1 days. Healthcare jobs averaged 42.6 days to fill. And both are historic highs for their respective industry sectors.
Have you noticed a significant increase in the time it takes you to fill jobs recently? Let us know in the comments below.
Introducing LinkedIn Elevate: Helping Companies Empower Their Employees To Share Content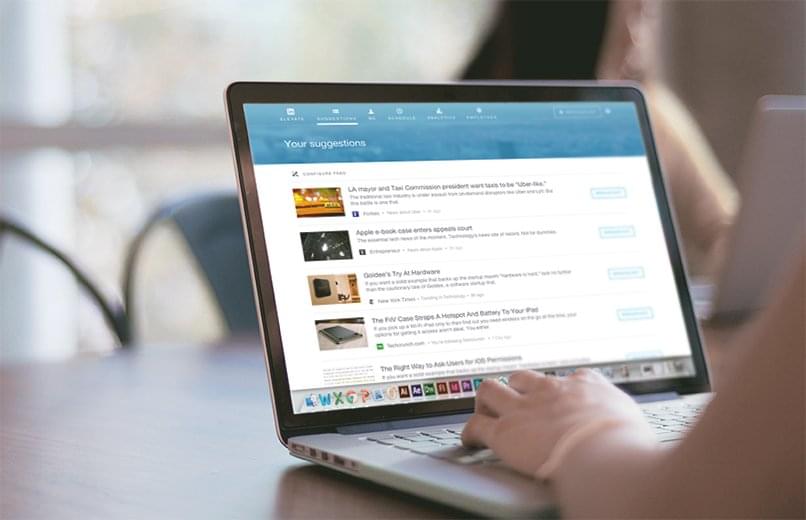 Lots of professionals (we hope you're included) share content (articles, blog posts, and presentations), on a regular basis on social and professional networks to strengthen their employer brands, attract talent, and market and sell their products and services. And doing so can be extremely beneficial on all counts. But according to LinkedIn, only about 2% of a company's employees share their company's news on LinkedIn. Why is this an issue? Well, consider the fact that collectively a company's employees will have 10 times as many connections on LinkedIn as their company-employer does. If your employees aren't sharing your company updates, your company is missing out on reaching a huge number of potential candidates and business opportunities. And there lies the problem.
Many companies simply don't realise just how significant an audience they're missing out on by not encouraging their employees to share their content, and relatively few companies recognise that when they empower their employees to be social professionals, they not only change the trajectory of their employees' careers, they change the trajectory of their businesses as well. In fact, according to their research, LinkedIn says that for each 6 pieces of content that are shared by an individual, on average, that individual receives 6 profile views and makes 2 new connections. Not only that but their employer results in 6 job views, three Company Page views, and one Company Page follower, which helps them better hire, market, and sell writes Will Sun, a LinkedIn Product Manager.
Enter Elevate, LinkedIn's newest project and their answer to this social sharing problem.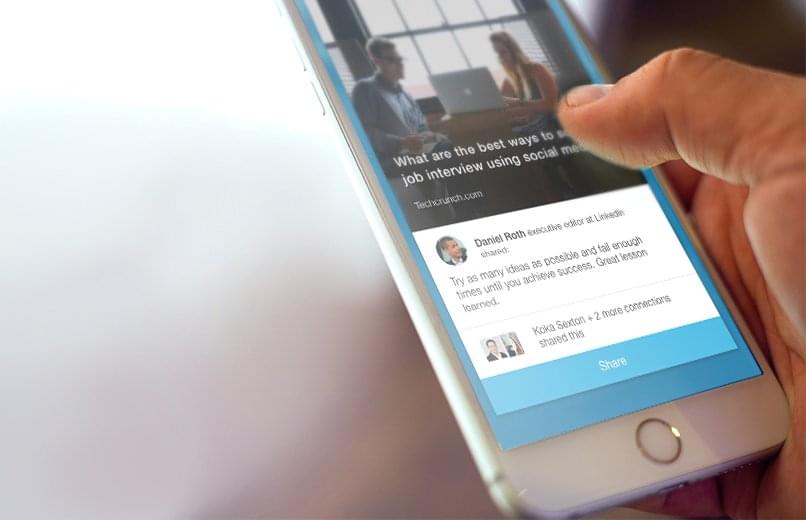 Think of Elevate as a very pared-down, LinkedIn-focused Hootsuite, which lets users schedule and share social media content across multiple networks. Or, perhaps more directly, LinkedIn's version of the Daily app from Buffer, which uses the Buffer's content suggestion technology and then lets you schedule and share those links. But in a nutshell, Elevate helps general employees to be social professionals and as a result, helps to improve that 2% stat I mentioned earlier.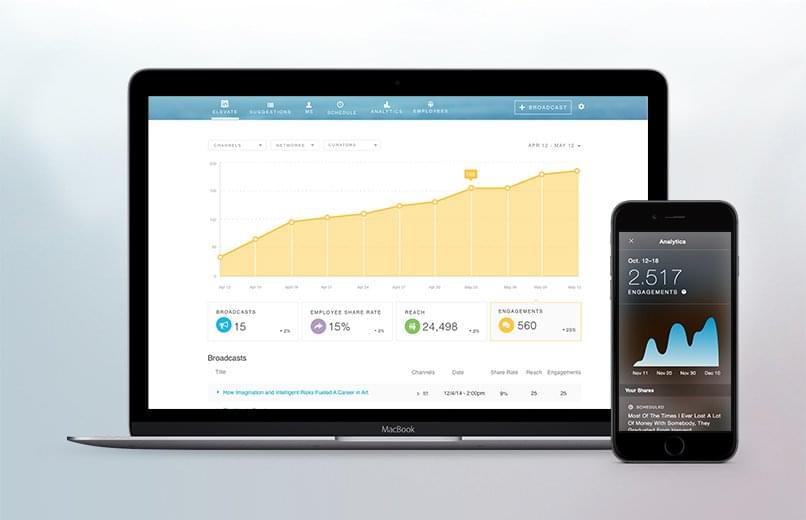 But why are LinkedIn so concerned with helping you boost your content traffic? Well, their decision to rollout Elevate as a paid business solution product is also a content play of another kind: it provides more data points and potential traffic for LinkedIn content, which in turn will help boost traffic and engagement on the network. And on the other hand, building a paid B2B social media management service also gives LinkedIn another potential revenue stream to grow its business solutions, providing a stronger complement to revenues that LinkedIn makes from recruitment services (Talent Solutions) and its growing advertising business (Market Solutions) –  which collectively generated $643 million in revenues last quarter.
Indeed, as LinkedIn matures, what may be most important about Elevate is not that LinkedIn may make a killing from this one product, but that it's raising its B2B apps game.
Learn more about LinkedIn Elevate here.
Twitter's Search Results to Receive a Welcome Makeover
A new Twitter search experience is on it's way, if the company's latest experiment is anything to go by. Yes, it would appear that we will no longer need to turn to third party sites and services like Followerwonk to effectively search Twitter for candidates, if Twitter are to open up their new search to more than the select number it has done at the moment.
The new search, which is currently only available to some lucky users on Twitter.com, includes new tabs that allow you sort tweets based on account (people), popularity, photos, videos and some other useful categories.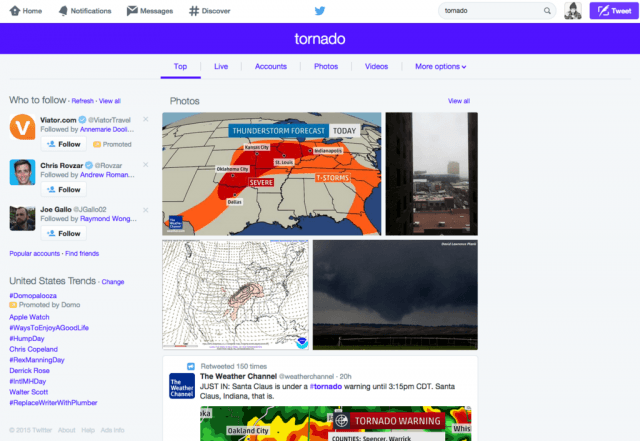 The new search has tabs for top', live', accounts', photos' and videos'. Top' filters tweets by popularity while live' sorts tweets chronologically. Photos' and video' filter out posts that don't include media, and accounts' is the new version of "people," which allows you to search for specific users – we like this option VERY much! And we also like the "more options" menu which allows you to filter searches based on people nearby, meaning you can search for candidates using Twitter close by.
Previously, basic searches only allowed users to filter results based on photos and videos or search for specific accounts, but the new layout offers much more search control and simplifies the experience.
A Twitter spokesperson has confirmed that the company is testing a new search experience, but has declined to provide details on timing for a wider release of the feature. The company often tests new features with small groups of users before an official rollout. We just hope and pray it happens soon!
Is Your Careers Site Ready for Mobilegeddon?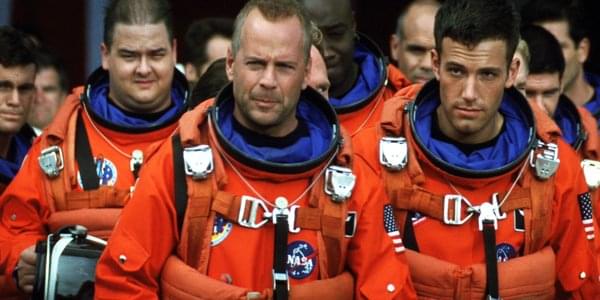 We touched on this story last week when we shared an infographic we entitled, A Detailed Guide on Mobile Career Site SEO, which showed readers how to improve the search ranking of their career sites on mobile. Because as of tomorrow (April 21st), Google is amending it's search algorithm to rank mobile-friendly websites higher than sites that are not optimised to be viewed on a mobile device e.g. phone, tablet etc. – an amendment journalists are referring to as "mobilegeddon", "the mobilepocalyse", mobocalypse and mopocalypse".
From tomorrow, anyone still using a non-mobile friendly careers site or company website for that matter will see their search ranking drastically decline and their organic traffic plummet. Not good news for anyone hoping to attract talent via these channels, I think you'll agree.
But while this has been dubbed Google's most far-reaching change to date, the news doesn't or shouldn't come as any great surprise. Google has been recommending a good mobile experience for users for years, and by implementing this change to their algorithm tomorrow, are now simply nudging the market in a direction we should definitely be heading.
But don't panic if your career site isn't optimised. Even if your content lacks mobile friendliness and you fail to show up in search results, all is not lost. You can still very quickly make changes and see improvements; and Google will not put you in a penalty box if you fail to optimise your site by April 21st. Just follow the guidelines provided in this incredibly handy and easy to follow infographic, and you shouldn't have anything to fear.
Snapchat Sends Cheeky Hidden Ads to Uber HQ Staff in Attempt to Poach Talent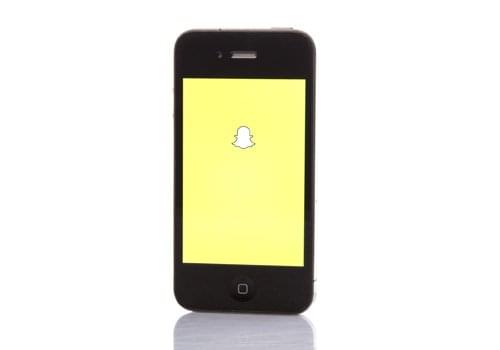 What an inventive use of your own product for recruitment purposes! Snapchat, the photo messaging application, has been sneakily approaching its competitor's talent by adding a layer to its pictures which sends them to their jobs board.
In a novel use of it's own technology, Snapchat is able to send a customised filter to go over the users image based on the user's location. In Uber HQ's case, Snapchat have specially designed a geographical filter with the sole purpose of poaching talent from tech firm!
Users of the popular app who are within the vicinity of Uber's HQ, get the chance to see a message filtered over their images asking them if they'd rather work for Snapchat instead. One message, which was overlaid on the Uber logo read, is this placing driving you mad? and featured a link to Snapchat's recruitment portal.  The messages featured Snapchat's ghost mascot looking sad while driving a cab, indicating a clear message that the picture app is the better place to work: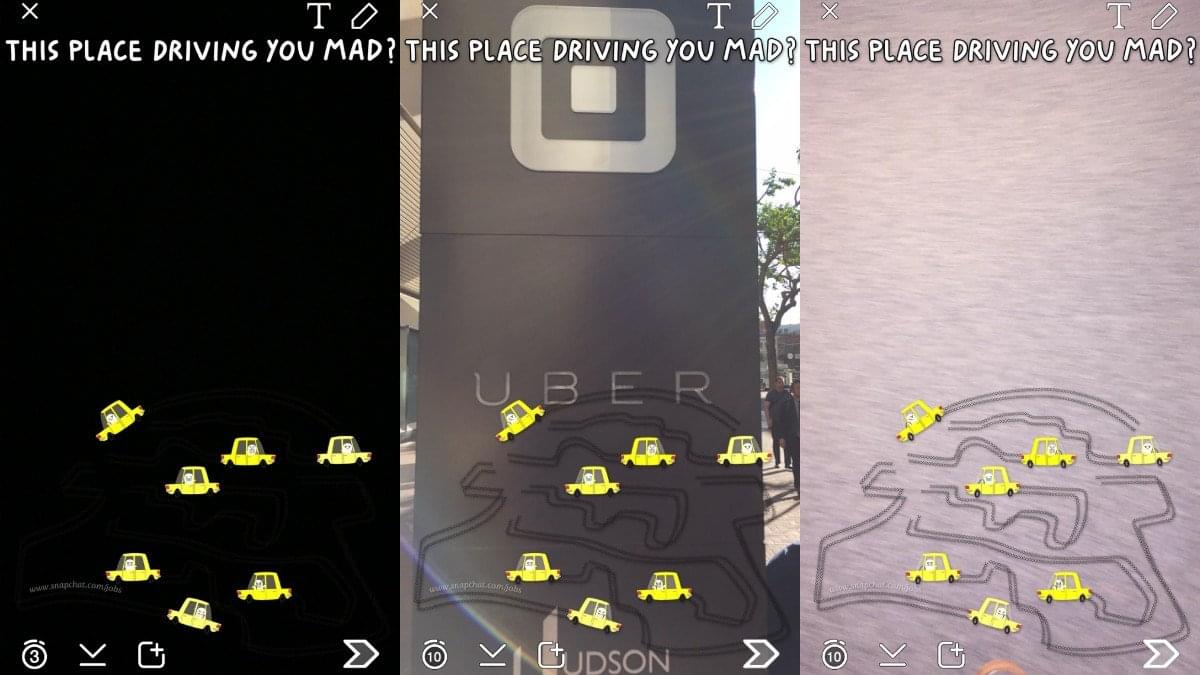 The firm have admitted that it had implemented the measures at a handful of locations and Snapchat spokesperson, Jill Hazelbaker, told Forbes: They're a unique and playful form of recruiting. And that, they are! Cheeky but brilliant!
If you'd like to discover how you can use Snapchat for recruitment purposes, be sure to check out our dedicated blog post, "A Recruiter's Handbook Guide to Snapchat".
It's Now Easier Than Ever to Reach Out and have Private Conversations on Twitter
Last Monday Twitter changed how direct messaging works so that it became even easier for you to communicated one-to-one or with a chosen group of people, anywhere in the world. Everyone now has the option to receive DMs from anyone.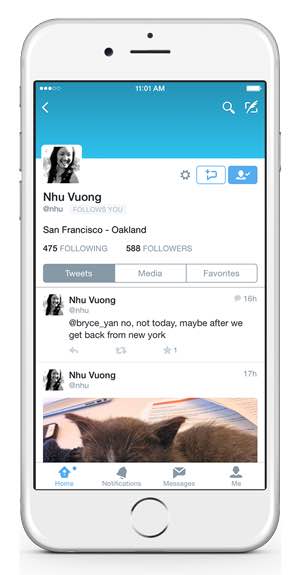 Previously, if you wanted to send a candidate a DM you would have to ask them to follow you first, which could be awkward, but as of last Monday all of that changed. Twitter have now included a setting that allows you to receive DMs from anyone, even if you don't follow them. You are now also allowed to reply to anyone who sends you a DM, regardless of whether or not that person follows you. And to make it all that little bit easier, Twitter are now including a Direct Message button on profile pages on Adroid and iPhone, so when you see it you know that that person/candidate has selected the option to receive DMs from anyone – which makes reaching out via ten times easier and more private than before!
To change your settings to allow anyone to DM you (and we strongly suggest you do), follow these instructions:
To change your settings using Twitter for iOS:
From the Me tab, tap the gear icon
Select Settings from the menu that pops up, and tap the account @username you'd like to adjust.
Under Privacy, tap Receive Direct Messages from anyone to allow anyone to send you Messages.
To change your settings using Twitter for Android:
In the top menu, tap on the overflow icon
Select Settings and tap the account @username you'd like to adjust.
Under Other, tap Receive Direct Messages from anyone to allow anyone to send you Messages.
Facebook Now Has 1.44 BILLION Monthly Users
During the social network's Q1 2015 earnings report last Wednesday, the company reported its user base is larger than ever on desktop and mobile. In fact, there are now 1.44 billion people who use Facebook every month, up from the 1.39 billion last quarter. Of those users, nearly 1.25 billion folks also use their phone or tablets to crawl their News Feeds. Meanwhile, the number of users who peruse Facebook exclusively on mobile climbed from 526 million quarter-over-quarter to 581 million.
For another look at Facebook's constantly-growing user base, check out the following charts straight from the social network itself: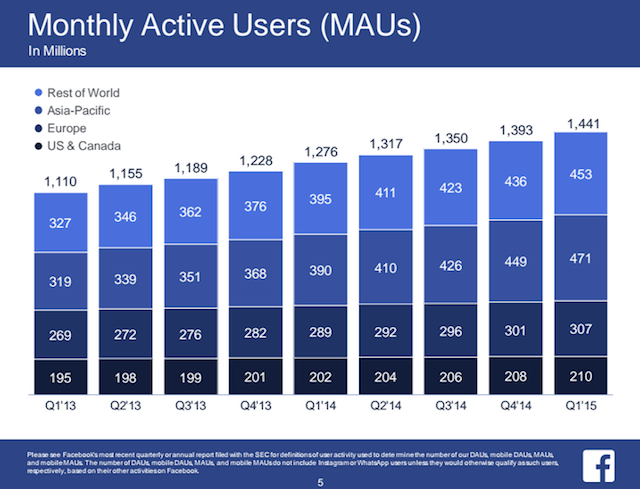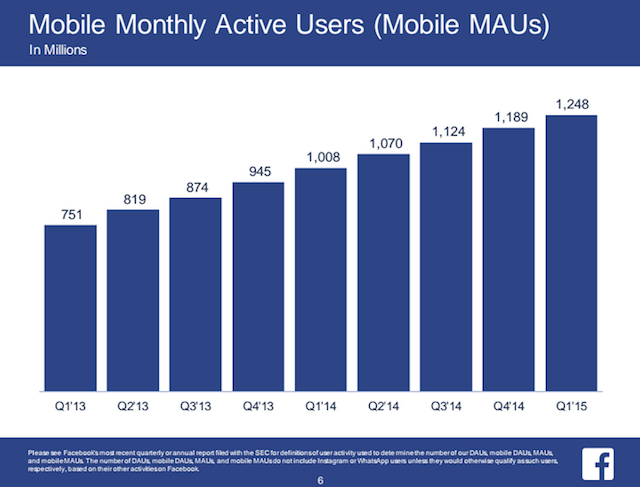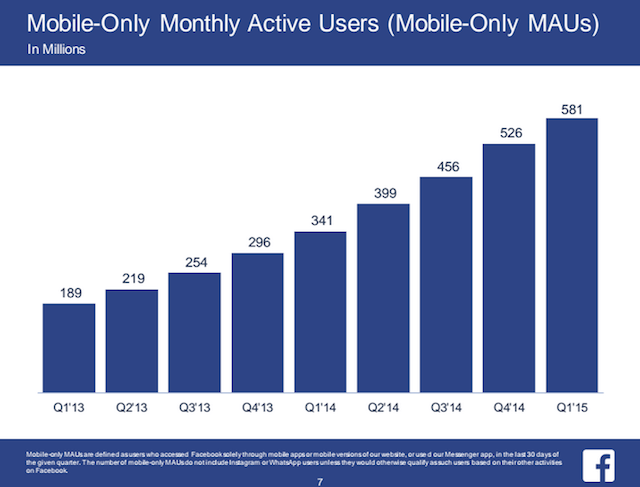 Basically, if you're not using Facebook as part of your social recruiting strategy, you are missing out on a gigantic database of potential talent. Find out more about sourcing on Facebook here.
Yahoo Mail's Contact Cards Get More Rapportive-Like With LinkedIn And Twitter Integrations
Yahoo Mail's smart contact cards have been updated today to include support for Twitter and LinkedIn information. Through Yahoo's partnerships with these two social services, the contact cards, which appear when you hover over a person's name in a message, can now display a person's most recent tweets in addition to company, title, phone number and more.
Contact cards were first rolled out as an enhancement to Yahoo Mail in March, following competitor Google's revamp of its own Google Contacts service. The idea behind these cards '¬€œ a system which is being powered by an earlier Yahoo acquisition called Xobni '¬€œ is to offer additional data about the person you're emailing with by pulling in relevant information from outside sources as well as from your own inbox.
For example, the cards automatically update to include a contact's current phone number, which is extracted from past emails: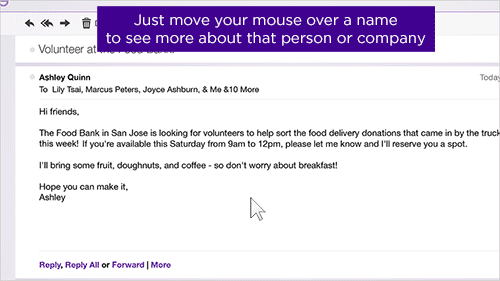 With the new Twitter and LinkedIn integrations, Yahoo says that it's now able to pull in names for email addresses as well as profile photos. It will display links to these social profiles, in addition to Facebook and Yahoo's photo-sharing service Flickr, which were previously supported.
With the Twitter integration in particular, a search in your inbox for a contact's name will display that person's tweets on the search results page. This same information will appear on their contact details page, too.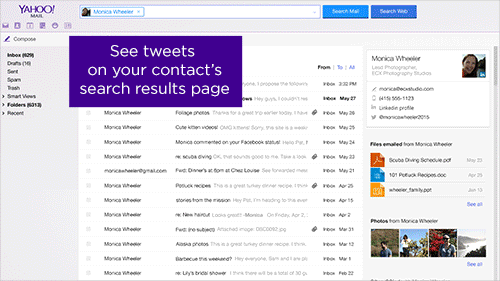 The update makes the contact cards feature more competitive with LinkedIn's own email plug-in Rapportive, which similarly displays a contact's information in your inbox, including their name, title, company and various social profiles. However, LinkedIn's product is only compatible with Gmail, which is likely why the company agreed to open up access to Yahoo.
However, the additions actually make Yahoo's overall system a bit more robust than that of Gmail inbox using LinkedIn's Rapportive. Now, not only does Yahoo Mail have the additional social profile data and recent tweets to display, a search for a contact also includes features that Rapportive lacks, like the ability to see who's often cc:ed on an email with that contact, or files that person has recently emailed you.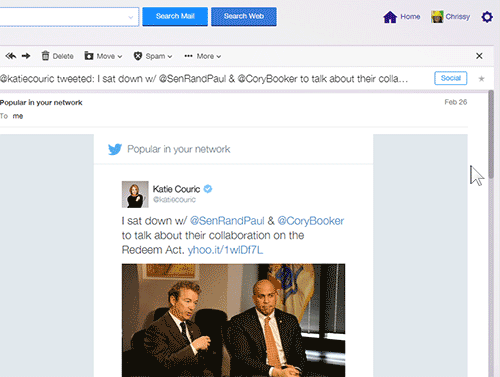 Of course, for Yahoo's system to work properly, the email address of the person you're checking out needs to be the one they've associated with their social profile. Users will also need to authenticate with Twitter and LinkedIn through Yahoo Mail's Settings section where the various social services can be connected. But overall, we think this looks like a fantastic update, that recruiters can definitely use to their advantage.
These are the 10 Fastest-Growing Tech Skills
In the past few years, several tech skills have skyrocketed in terms of demand. Although some of these sought-after skills don't enjoy the widespread popularity of JavaScript, C# and other ubiquitous languages and skill sets, they've become increasingly vital for industries ranging from marketing to analytics.
So Dice decided to compare data from 2013 and 2014 '¬€the most recent full-year periods for which they have data '¬€ relating to which skills employers asked for with increasing frequency within Dice's job postings. They discovered that if you rank these skills by number of job postings in which they appear, a few jumped by more than 2,000 ranks between 2013 and 2014, suggesting an intensifying level of demand. Given that employers will likely still need these skill sets in 2015, they've included the average salary for each (as of 2014-15):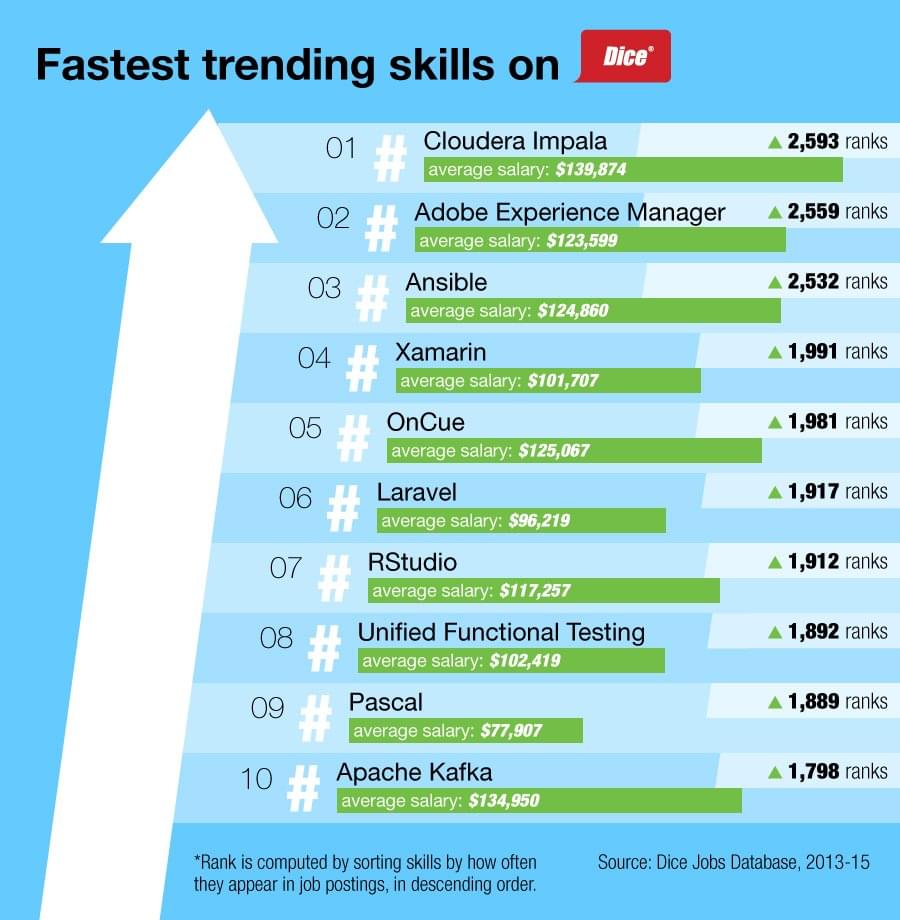 Find out how the likes of IBM, IKEA and Siemens
drive hiring excellence with SocialTalent
---