Keep up with the latest hiring trends!
/
/

The Definition of Recruitment Insanity
The Definition of Recruitment Insanity
By Dave Ralph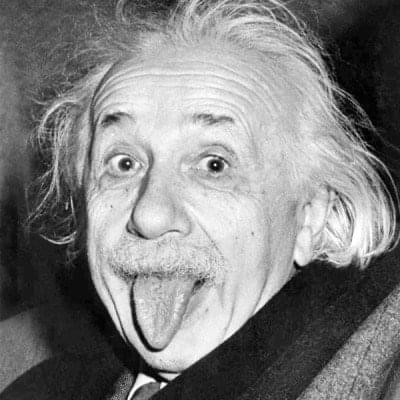 Einstein's famous definition of insanity, as you may know, is "Doing the same thing over and over again and expecting different results."
I have spent the past 15 years in Sales Leadership roles, and across that time I have regularly used this famous quote to convey the message to sales executives, that if they aren't being successful in any particular facet of their role, it's critical for them to to assess their activities and pivot: change the game, try something different, something new.
Why? Because they should want to understand where the gap is, the chink in their chain…. Assuming of course they want to be successful in their career!
I don't doubt that I will continue to have similar conversations in the years to come with sales executives, and that's ok. Let's face it: nobody is perfect. For the past six months working at Social Talent, I have thoroughly enjoyed speaking with people from all levels involved in today's modern recruiting, learning how they are finding, attracting and engaging talent today with so many avenues and options at their disposal. In my short time back involved within the Recruitment world I am largely seeing an industry that is experiencing INSANITY.
Waiting For Godot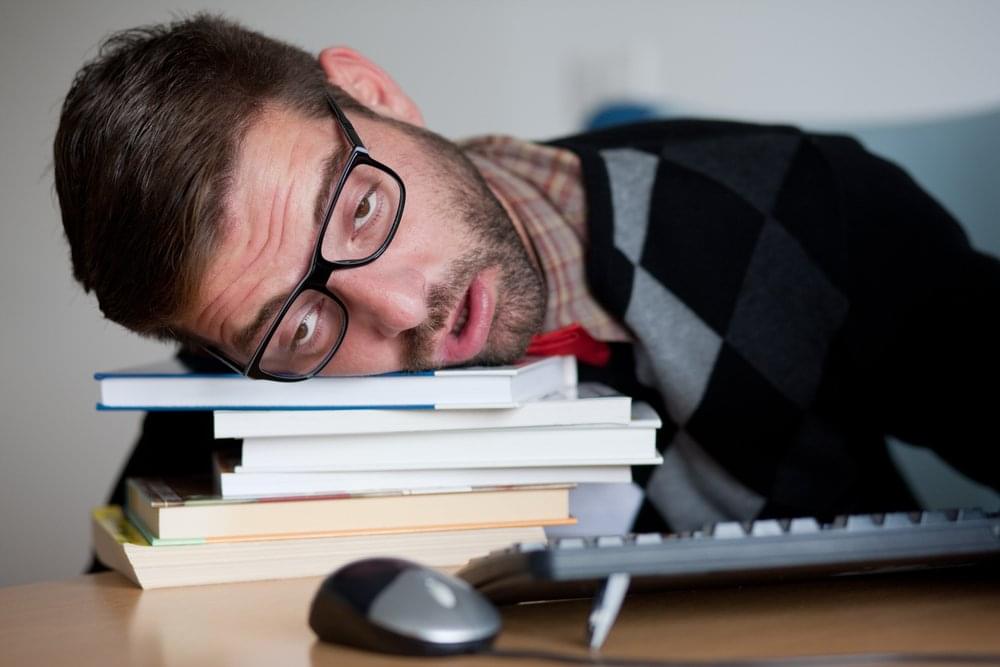 I started my sales career as a Recruiter, 17 years ago with HRM in Dublin. Our most important day was Wednesday, we had to have our job ads ready for the newspapers the next morning. That was how we largely drove candidates into us for our open req's. Back then, that's how it worked.
In Sales, just like in recruitment, if you don't have enough leads (candidates for your roles) to work on, it's not acceptable to sit around waiting for the leads to come to you. It is incumbent on any sales person worth their salt to solve the problem and get outbound prospecting (effective search, attraction and engagement) in an effective way to generate leads to ensure they have enough credible pipeline.
99 Problems
I am hearing from Recruitment Leaders both in Recruitment Agencies and In-House Corporate teams alike telling me their tales of woe:
Their recruiters can't find candidates for their roles, and/or
Their recruiters are simply seeing the same candidates over and over again when they do go out searching, and/or
They are sending out lots of InMails and getting limited or generally poor response rates.
Well, as that genius Albert suggested, if you keep searching the way you always have, you will get the same results. The challenge of finding new candidates will not be won by doing the same old search. If your passive candidate messaging largely revolves around sending bulk LinkedIn InMails and you don't get much of a response, don't be surprised. You're likely in the bucket of all the other ignored InMails that your competition sent to that same candidate pool.
On December 1st last year I received the below InMail (word for word) from a recruiter at a large, very well known multinational company based in Dublin. I'm omitting the company and recruiter's name to spare anyone's blushes…
Good morning,
I just came across your profile on LinkedIn.
I would like to know, if you are currently looking for an opportunity, XXXX could propose a B2B sales position in Dublin.
-Salary: 30K of basic+20K of comission (50K OTE).
-Relocation package: 1500 Euros with the first salaray.
Could you please tell me if this offer could interest you?
Best regards.
XXXXX
What's wrong with this message? Well, apart from the spelling mistakes (my highlighting), would this role interest me? Why yes! But not now, 15 years ago, maybe. Was this message for me? At least address me by name. Maybe check whether a relocation package (I'm based in the Dublin area) is going to be of importance to me.
Recruiters who send mass emails where one-size-fits-all soon learn that one size fits no one.
What Recruiters Really Do
At Social Talent, we have had the permission over the past few months to monitor the web behaviour of over 3,500 recruiters globally and we have been seeing some concerning trends:
Recruiters spend 7 times more time on LinkedIn than anywhere else on the web, including job boards. Of course, this isn't an issue if they are filling a comparable number of roles from LinkedIn. While LinkedIn is of course certainly of value, the level of ineffective time spent there is not resulting in the success you'd expect devoting so much to one method.
Only 10% of the 3,500 are using the advanced search functionality in LinkedIn, therefore performing inaccurate and untargeted searches, and wasting their time.
Less than 5% are using Boolean search of any description (not even a simple A OR B). Recruiters who know and use Boolean search are more successful, they find better talent faster than those that don't. FACT!
Not fishing where the fish hang out – recruiters are largely ignoring other networks where other, more specific talent are hiding, like GitHub and Stack Overflow (for IT talent), Twitter and blogs. We've learned that recruiters who fish where the fish hang out and engage candidates in their own environment receive a significantly higher engagement rate (65% reply rate) than those who rely exclusively on sending LinkedIn InMails (20% reply rate).
Other things we know to be very common in todays "modern" recruitment, aside from their Internet usage:
Recruiters are overly reliant on sending InMails when the data supports that picking up the phone and speaking with a candidate has an infinitely better response rate and a much better chance of positive engagement.
Too many recruiters are asking for a CV immediately. Recruiters understand that changing jobs is a big decision, so must accept a longer lead time. To give yourself the best chance of success, just start the conversation. Research has shown that the average number of interactions before you will seal the deal is 4 (2 for men and 8 for women).
A Recruiter's Hierarchy of Needs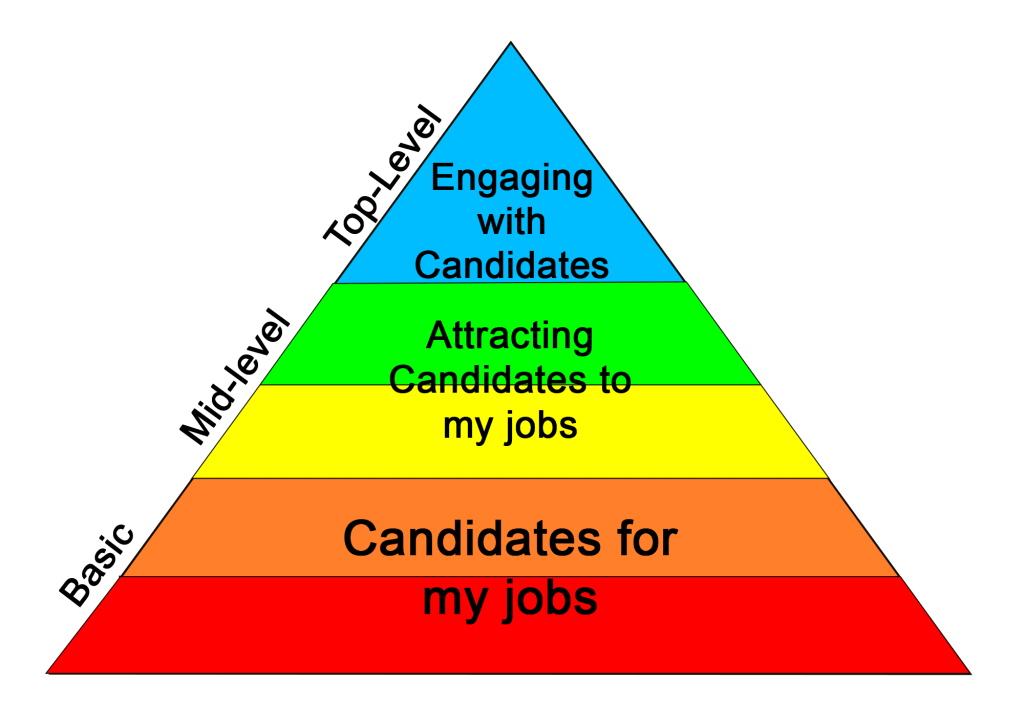 Adapting Maslow's Hierarchy of Needs, a recruiter's Hierarchy of Needs has, sitting at the bottom, the most basic need to find the right pool of talent to fish in. Without this, no other need will be satisfied. Ineffective search is causing you to expel energy in the wrong places for too long, and the impact of this is to miss the great talent that exists where you are looking; you're likely only finding 10 of the right people when you should be finding 50.
Once you learn how to find the 50, then your next need is to attract them to the open roles you have. Once you've met that need, then you can become concerned about how to engage with talent most effectively.
I've never written a blog post before (perhaps I will never again!) and in writing this I have been conscious that it may sound like one big veiled sales pitch, because this is what we do. Social Talent teaches tons of companies globally to solve these challenges. But whether you look for our help or not, please either figure it out yourself or get help from somewhere – anywhere! But do get help to stop the INSANITY that I am hearing about day in day out in our industry.
Also I think I wrote this to challenge myself to do something different, to change my game as I have been asking my own team to use social media more to ultimately help them be more successful in their sales role.
So I've taken a step, trying to lead from the front and hopefully helping to solve the problem. 🙂
Dave Ralph is the Director of Global Sales for Social Talent, formerly the EMEA Sales Director for Citrix. 
Find out how the likes of IBM, IKEA and Siemens
drive hiring excellence with SocialTalent
---