Keep up with the latest hiring trends!
/
/

The New Xing – or is it?
The New Xing - or is it?
While the creators of Xing are raving about its new speedy functionality and simple menu options, users of LinkedIn will find major similarities.
The layout of Xing is most certainly nippier, streamlined and functional (according to Alexa.com, Xing has a 0.916 second load time, which is in the top 25% of websites), but there is now extremely little difference between it and its bigger competitor, LinkedIn. Its new dropdown menu bar has been increased to 5 options and a new sidebar menu with your mail, contact-requests, Jobs and Careers, Group Newsletters, Event Notifications and Companies. These bars straddle the news feed from your network.

What's not new though is the limited search function within the Xing site: if you're a basic member, you're unable to Advance Search anything. This is Xing's attempt at limiting complex searches to find contacts or candidates, but it can still be searched through Google using a simple Boolean string. So, in the below example, I'm looking for Software engineers in the telecommunications industry in Berlin (this shows about 112 results):
site:xing.com ("software engineer" | "software Ingenieur" | "software * ingenieur" | "software Entwickler" | "software * Entwickler") (telecommunications | telco | Telekommunikation) Berlin inurl:profile
Within a premium account, you can Advance Search people and refine them by selecting options similar to LinkedIn, like company, title, industry, language skills, universities and organizations, but are limited to just 100 results.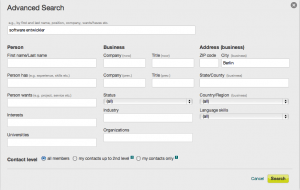 Whether Premium or Basic, you can still create and attend events, join groups, and search jobs. When creating a job post, you must pay individually for these, with options of a basic text ad at pay-per-click rates of 69c, logo ad with a fixed price of '¬395, or a custom design ad starting at '¬595.
So what are the real benefits of using Xing? Well, fish where the fish are – if your potential candidates are based in Germany, Austria or Switzerland, then you'll find them on Xing rather than LinkedIn. There are only about 8 million users on Xing though, compared to LinkedIn's 100 million. While not completely discounting its viability, our recommendation would be to keep your paid account on LinkedIn, but create a basic profile on Xing and x-ray search Xing for potential candidates using Google.
Find out how the likes of IBM, IKEA and Siemens
drive hiring excellence with SocialTalent
---