Keep up with the latest hiring trends!
/
/

The Social Recruiting Round-Up: May 2015
The Social Recruiting Round-Up: May 2015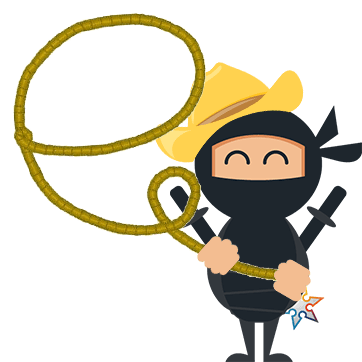 We decided at the beginning of May to dedicate the month to helping you guys drive great results across all aspects of your online sourcing. Each week, we strove to bring you practical and useful tips, tricks and frameworks for composing better job tweets, writing killer job ads, nailing the perfect LinkedIn invite, perfecting social content posting, using essential online tools, and engaging with in-demand talent. And I'd like to think we succeeded, because the response from you guys has been amazing!
Today, we're bringing together all of that knowledge into one blog post package – the Social Recruiting Round-Up for May 2015.  In it you'll find everything we mentioned above, some added funny bits, this month's webinar entitled "24 Hours to Fill: How to Fill a Job Really Quickly", and the biggest news stories to shake the recruitment industry this month.
It's not to be missed so enjoy it, share it and have a very happy Friday recruiters! We'll see you next week for the start of a brand new month 🙂
Top Recruitment Blogs in May: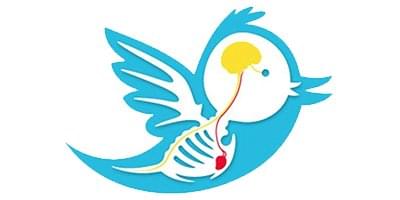 Are you job tweets failing to gain the retweets and favourites you'd hoped? Don't worry, in this blog post we're giving you the building blocks to create truly engaging and response-prompting job tweets. Real-life examples included.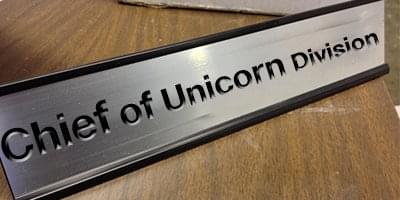 Prepare to be shocked, amazed, appalled and jealous all at the same time! From the Chief of the Unicorn Division to Ranch Dressing Expert, these truly are the strangest job titles you might ever encounter.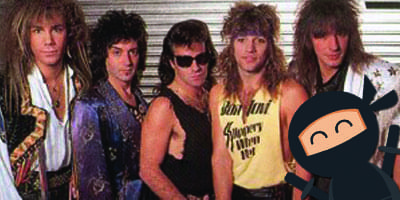 What makes some job ads resonate with candidates and others get passed by? What are the magical ingredients that set them apart? Well, it just so happens that Bon Jovi have the answer! Click, and all will be explained!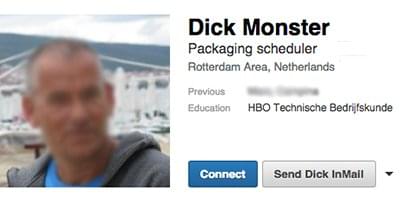 If you feel the overwhelming urge to call your parents just to say thank you after reading this, just go with it! Some LinkedIn users' parents weren't as kind as yours…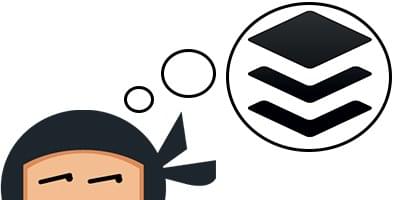 It's one of our favourite free online tools and we've mentioned it in numerous blogs and presentations, but in this post we're teaching you how to use Buffer to schedule your social content posts, job tweets and much more!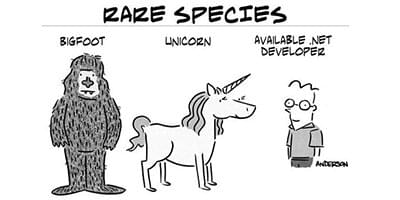 Tech recruiters have one of the toughest gigs in the recruitment industry. Fact. But you already knew that right?! That's why we created a 4-point checklist you can use to grab their attention and make replying to your messages irresistible!
Top Recruitment Infographics in May: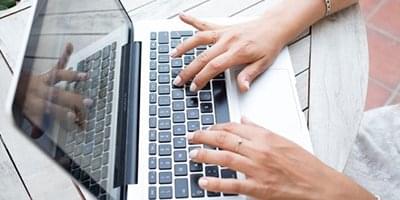 As recruiters networking is a HUGE part of what we do, but admittedly we're all guilty of cutting a few corners when it comes to sending LinkedIn invitations to connect with candidates.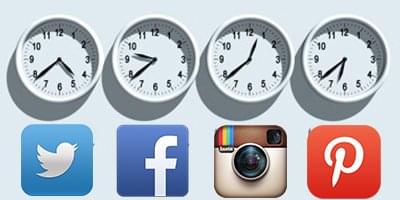 There's no point in being in the right place, at the wrong time. Knowing when and where to share your content is half the battle. These are the best times to post your content on several social media sites including LinkedIn, Facebook, Twitter, Instagram and Pinterest.
Our May Webinar:
If you're under pressure to fill a job in the next 24 hours, chances are, you're going to select a candidate who's available to take the job now, over a candidate who needs to give their current company a month's notice. But how do you search for candidates specifically looking to be hired immediately? In this 30 minute webinar, Johnny Campbell will teach you the smart way to identify immediately available candidates and contractors and how to contact them, both on LinkedIn and beyond – all within your hiring deadline!
Top Recruitment News Stories in May:
LinkedIn's Q1 2015 Earnings are In!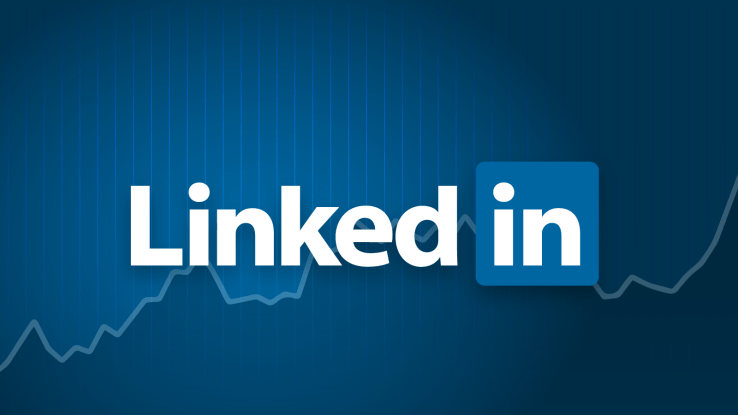 On Thursday, LinkedIn released the details of their Q1 earnings. According to the site's official blog post, revenue for the first quarter was $638 million, an increase of 35% compared to $473 million in the first quarter of 2014. And the site's non-GAAP earnings per share where $0.57. But while both figures beat analyst expectations, the stock took a big hit in after-hours trading (it went down more than 27%, effectively shaving off about $8 billion in market value), because of it's "weak outlook for the quarter ahead". The social network for professionals estimated that it would post earnings of $0.28 per share on revenue of $670 million to $675 million for the June quarter, well below the consensus estimate among analysts for earnings of $0.74 per share on revenue of $718 million.
For the current quarter, analysts had been expecting adjusted earnings per share of $0.56 per share, on revenues of $636.5 million, numbers that the company beat. LinkedIn also beat its own guidance of $618-622 million in revenues and non-GAAP EPS of $0.53. In fact, LinkedIn has actually beaten earnings expectations in every quarter since it went public in May, 2011. So it's easy to see why stocks would plummet, when an usually weak outlook was forecast by the companies own analysts.
Revenue from Talent Solutions products (the ones you and I tend to buy), totalled $396 million, an increase of 36% compared to Q1 2014. And Talent Solutions represented 62% of total revenue in Q1 2015 and 2014. While revenue from premium subscriptions products totalled $119 million, an increase of 38% compared to Q1 2014. Premium subscriptions represented 19% of total revenue in 2015, compared to 20% of total revenue in the fourth quarter of 2014. According to LinkedIn's Q1 statement, membership is at 364 million – relatively unchanged from last quarter's report.
In a statement, LinkedIn CFO Steve Sordello said "LinkedIn demonstrated continued solid growth during the first quarter. This performance comes amidst the backdrop of several important strategic investments to better position the business to execute on our long-term roadmap."
Our thoughts? Underlying the data is the fact that revenue growth is flat as is user growth. And while LinkedIn is still super profitable, it is beginning to stumble a little. That said, we doubt this is anything to worry about, just a sign that exponential growth is hard to maintain when you reach this kind of size.
What are your thoughts on LinkedIn's Q1 figures and the drop in their share price? Let us know in the comments below?
Significant Change in LinkedIn's Messaging Policy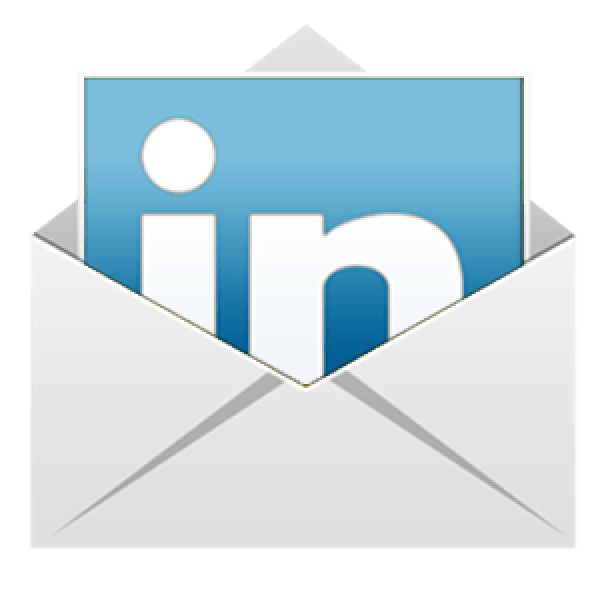 On Friday, we received word from one of our fellow industry members that while sending messages to fellow group members, they had started receiving the following error message:
"You are no longer authorized to message this member."
Upon inquiring with LinkedIn Customer Support as to why they were receiving this message, the LinkedIn team responded:
"Recently, we have implemented a limit [on the number of messages you can send fellow group members] to prevent potential abuse, and the threshold of this limit will vary. If you do go over the limit, you will see this error message for a certain time period of which the duration will vary."
Needless to say, this policy change could be very impactful to recruiters who have been utilising LinkedIn groups to send messages to prospective candidates. And judging by the comments on this LinkedIn Community thread, users are not at all happy about this policy change, with many surmising a paid feature waiting in the wings.
Have you come across this message? Have you found a way of getting around it? Please let us know your stories in the comments below. We'll keep you updated on any hacks we find to get around this policy change, much like we did when LinkedIn implemented a commercial use limit on search.
LinkedIn Adds Much Needed Analytics To Its Publishing Platform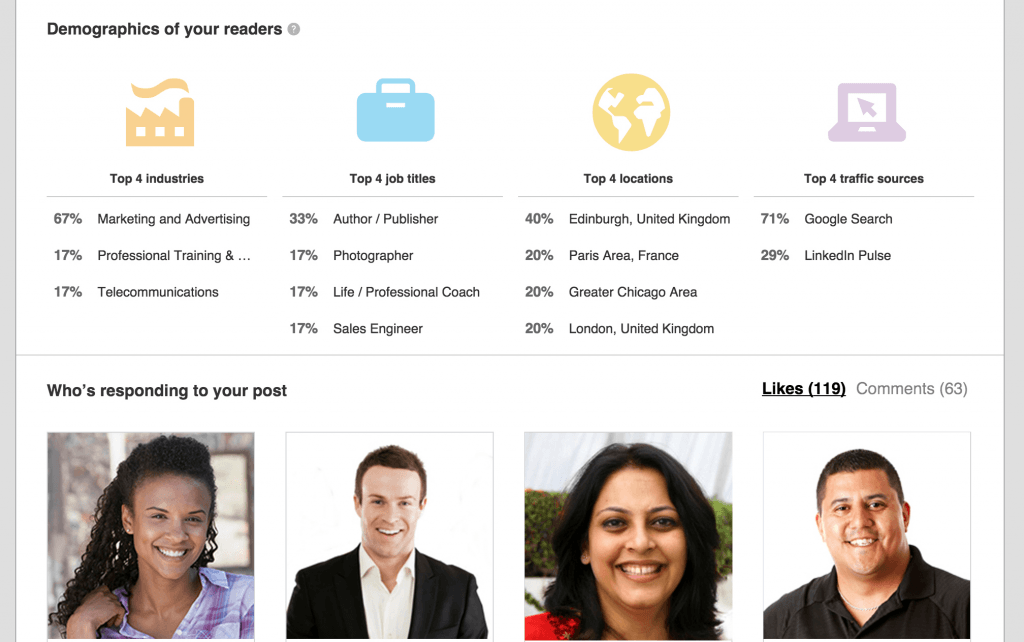 When it's not changing it's policies and trying to stop us from using it the way we have been for years, LinkedIn is trying to expand the ways we use it's platform beyond looking for and messaging candidates. One of the most notable ways in recent months has been the introduction of a publishing platform for you and I to write and share blog posts about various professional topics close to the heart of our industry. And last Thursday, that platform was given a much needed boost – a new analytics tool that authors can better track the traffic that their posts receive.
The news comes on the heels of decent growth for LinkedIn's original content efforts: the self-publishing tool, which earlier this year was opened up to all 230 million users who live in English-speaking countries, is currently seeing 100,000 published posts per week, according to a LinkedIn spokesperson, with more than 1.5 million posts on the platform overall.
For those who publish on LinkedIn, the new tool will let you look at posts going back six months — a period that may well get extended, potentially as a premium product, considering that LinkedIn does keep the data for older posts, too. Once in the post stats, you can see:
how many people viewed, liked and shared the post
which LinkedIn users took any of those actions
demographic break-downs based on those who are reading as logged-in users covering areas like industry, location and even job title
traffic and other stats by days of the week
H&M Use Employees in a Stunning New Campaign to Recruit New Candidates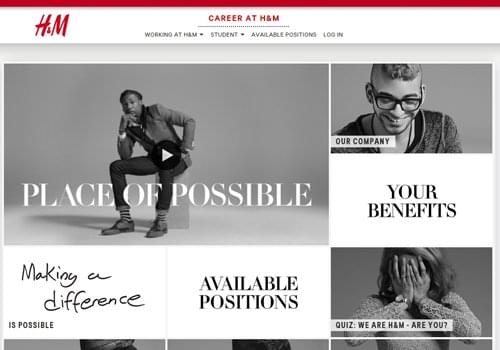 The big Swedish retailer H&M has planned to open 400 new stores worldwide during 2015, with most of those stores opening in China and the US. So, in order to attract new employees to run them the company is running a recruiting campaign called "Place of Possible" that'll encourage fashion-interested candidates to its American stores. The campaign will include  in-store advertising, online videos, outdoor billboards, a college tour and will feature about 50 H&M employees all telling their personal success-stories, and discussing the company's commitment to diversity as well as to sustainability.
Refreshingly, their words are unscripted and the topics of individualism, being accepted for who they are, and how they stumbled upon a career while just in search of a job are discussed at length.
"The fact that I'm in a senior-level position after less than a year with the company," says one employee in a video featured at the top of the company's career site, "I don't know anywhere else I could do that." Currently, 35% of employees in H&M's corporate office began their careers as store sales associates.
Daniel Kulle, President of H&M North America, says: "We are proud to launch of the Place of Possible campaign because we believe the best investment we can make is in our employees. H&M loves bringing fashion to the world and we need to find employees that want to join us in our journey."
Be sure to check it out, it's a beautiful campaign we should all aspire to!
New LinkedIn Data Reveals How Candidates Want to be Recruited in 2015
LinkedIn have just released their second Talent Trends report and it's full of juicy stats and insights into the minds of candidates globally as well as in several different individual markets, and how recruiters can successfully engage them during the recruiting process.
The key takeaways from the latest Talent Trends report where highlighted in an infographic:
Where candidates start their job searches
According to the report when candidates are just beginning to explore new opportunities, relationships light the way. 56% of candidates turn to their connections on social networks to discover companies that are hiring, and 50% do so through personal conversations on-line or in-person. This means it's essential for companies to put relationships first. Encouraging employees to act as brand ambassadors, giving alumni reasons to stay connected, and making all candidates feel like a part of your company's inner circle will go far in improving your relationships and ultimately yielding more applicants and better hires.
How to catch talent's attention from the start
When you reach out to a prospective hire, be sure to include the information they want, and don't waste their short attention span on information that won't move the needle. Overall, talent wants to first understand what the role's responsibilities are, then why you as a recruiter are reaching out to them (make 'em feel special!) and finally, what a reasonable salary range for this position might be. By providing the right information up front, you're respecting everyone's time and increasing the odds of getting a response back. Simple as.
Nail the crucial interview
Help your hiring managers close more candidates by coaching them on what matters most to talent on interview day. This is especially true of tech candidates. An office tour is nice, but make sure at least one interviewer has an in-depth discussion with your candidate about what your company actually does, and how you make money. It's the number one thing talent wants to learn during the interview, and often times (sometimes out of fear of asking), it remains a mystery until after the offer letter is signed.
Download the Global Talent Trends 2015 report here, the UK report here, and the US & Canada report here. All other country reports can be downloaded here.
The Google-Twitter Deal Goes Live, Giving Tweets Prominent Placement In Google's Results
Starting last Tuesday, tweets finally became searchable in Google. Right now, the new implementation will only be offered for those searching in the US, in English, using either their browser in iOS or Android or the Google Search App (Twitter promises support for desktop and other languages in the coming months).
This means you no longer need to go directly to Twitter to look up specific Twitter accounts, hashtags or tweets concerning given topics. Now when you're searching on the Google app or any browser on your phone or tablet, you can find real-time content from Twitter right in the search results. For example, you can simply search "NASA Twitter" to view the handle and account's most recent tweets. Searching for specific hashtags or other topics that may be trending will also turn up Twitter results.
Look & Feel
In terms of look and feel, tweets will be displayed in a "carousel" format at the top of the Google search results page, where many of them show large images: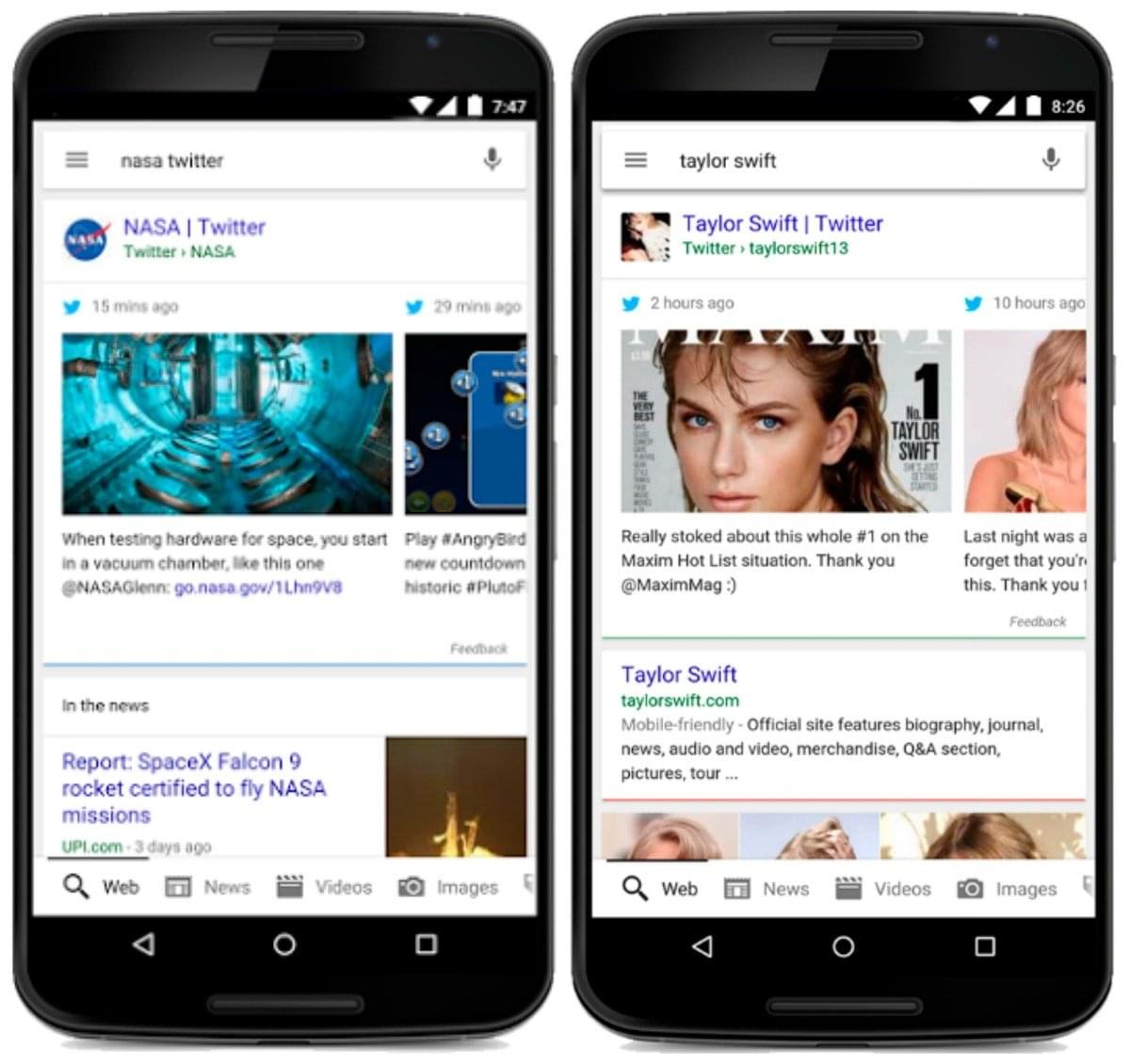 You can slide through the carousel to see other tweets, as shown below: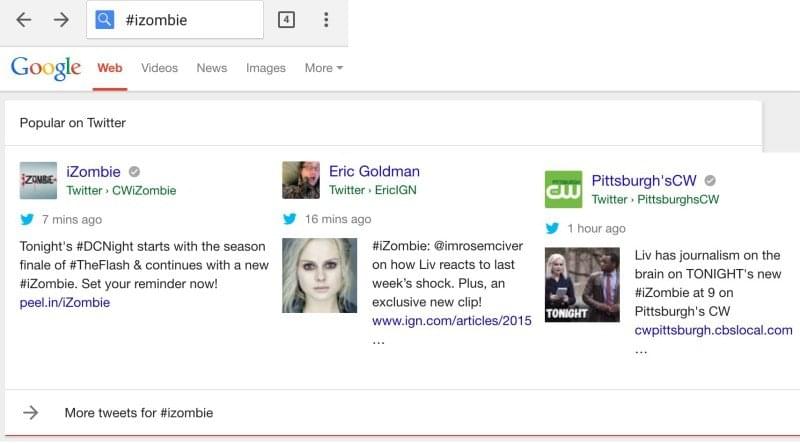 But tweets don't always appear at the top of the page. Sometimes they might be elsewhere, such as the middle of the page, as this example for "MacBook Pro" shows:

And sometimes, tweets don't seem to appear at all. When SearchEngineLand asked Google to confirm why tweets might not show, what controls exactly where they show, and if they're showing all tweets for a query in chronological order or filtering in some way, the company refused to answer. So as of right now, it's a mystery, but I'm sure all will become clear in time.
What happens when I click it?
As shown below, clicking on the "More Tweets" link associated with the new Twitter carousel will launch Twitter in your browser, where you can get to see more tweets, ads from Twitter and be encouraged to download the app or sign-up: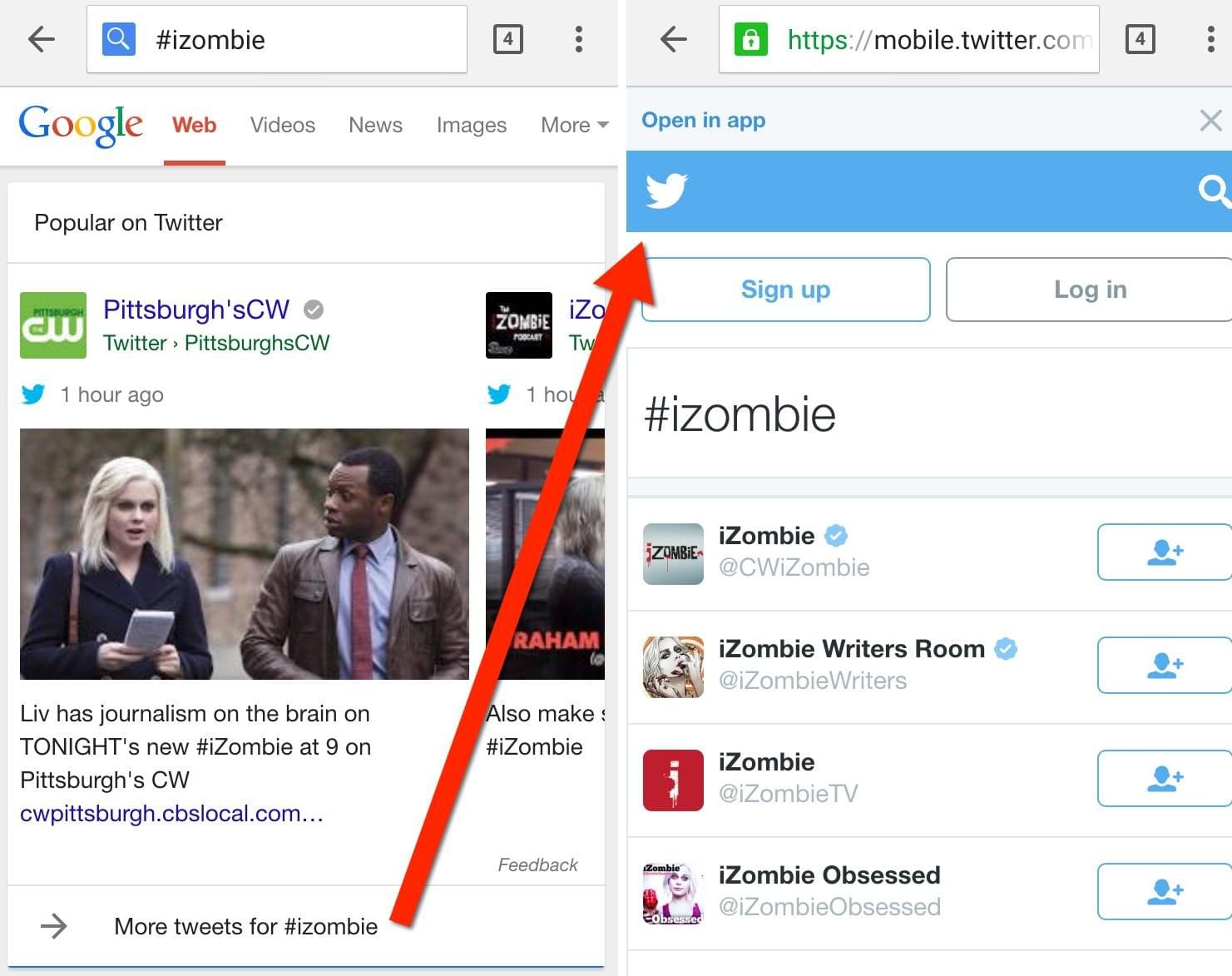 If you have the app installed, and you've set it to handle links from Twitter, then that launches right into the Twitter app experience: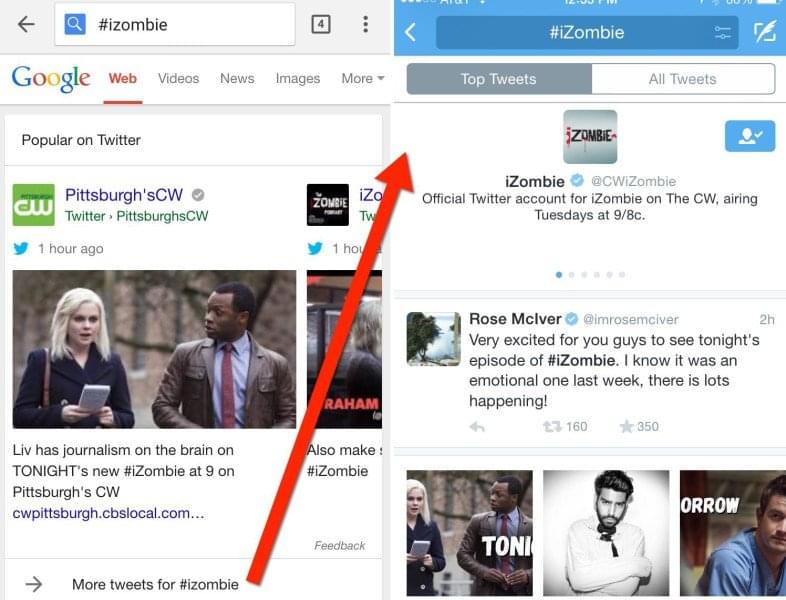 When Twitter accounts are listed, those are also links that lead back to Twitter, as with this example for Taylor Swift: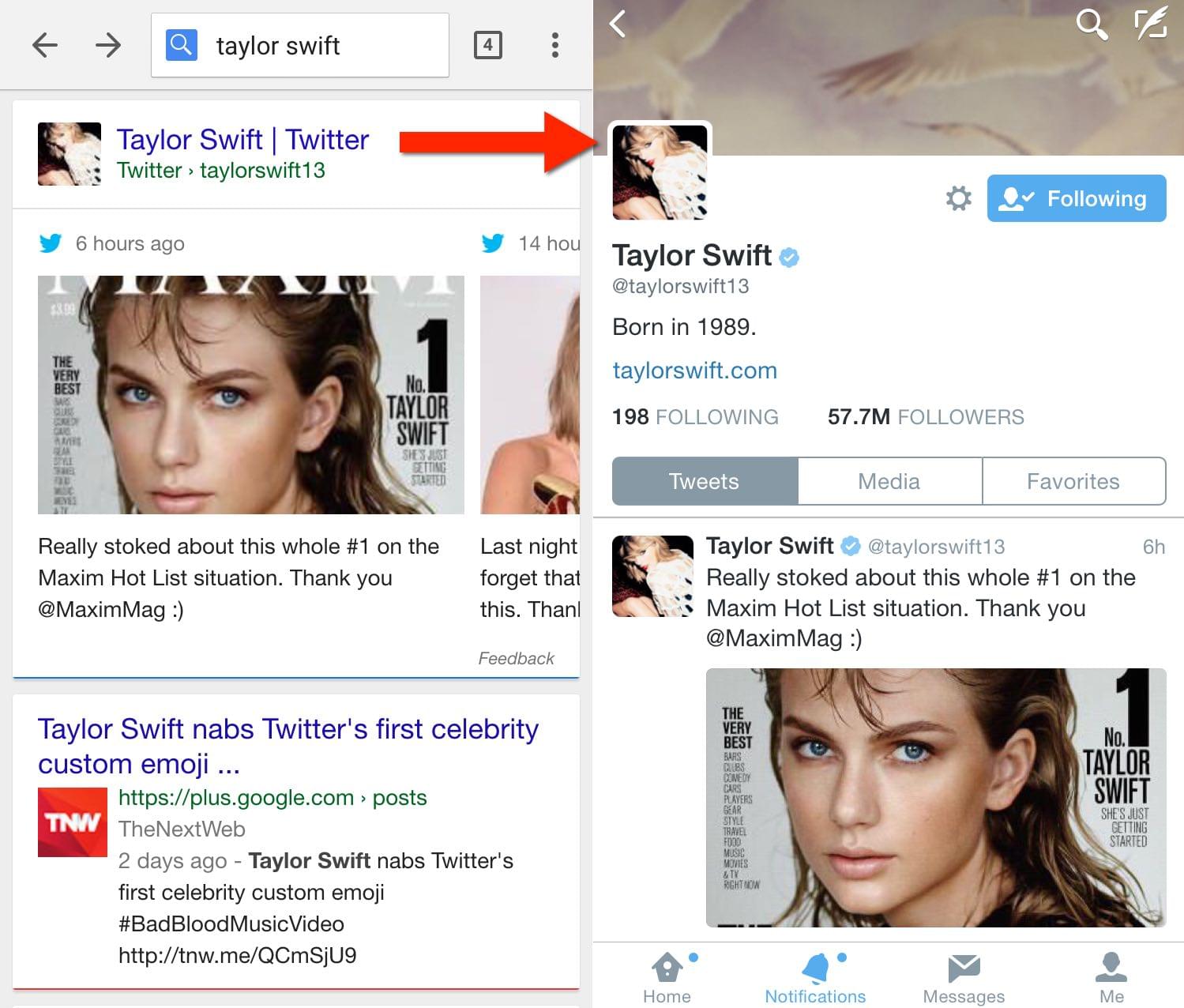 Clicking on individual tweets also will launch Twitter from Google's results.
Not only is this a great way to get real-time info when something is happening. It's also an incredible new way for you to reach a global audience with your job tweets and company updates. SO GET TWEETING!
Find out how the likes of IBM, IKEA and Siemens
drive hiring excellence with SocialTalent
---