Keep up with the latest hiring trends!
/
/

Why Directioners are the Future of Recruitment
Why Directioners are the Future of Recruitment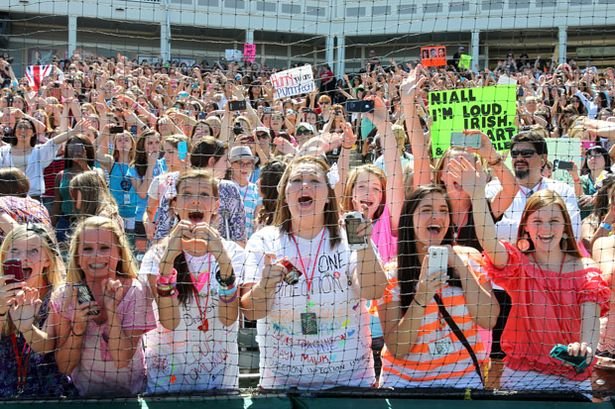 Recruiters, are you sitting comfortably? Because I'm about to break some news about the future of recruitment that some readers may find rather disturbing. Are you ready? Here goes: 'Directioners' are the future of recruitment.
Last Thursday night, Channel 4 let us into the homes of the Directioners: One Direction's biggest super fans. In a one hour exposé about their thoughts, feelings, dreams and fantasies about the biggest boy band in the world, we were left in no doubt that the Directioners are a serious force to be reckoned with. There is absolutely nothing these girls wouldn't do or say to get close to and get the attention of their idols.
However, the thing that impressed me most (after the fantastic poster and merchandise collections that is) was the girls' incredible ability to source information online and use it to their advantage. In other words, to do exactly what a seasoned social sourcer should be able to do after years of training and experience (or a Social Talent course!).
Mark my words.  These girls have a serious vocation in life and that vocation is recruitment.
Savvy Social Sourcers
At every minute of everyday, Directioners know exactly where the boys are, what they're doing and who they're with. How do they do this? Social media of course. The girls know that the people they follow on Twitter, Facebook and the like, in order to obtain the most official and up-to-date source of news about the boys and their whereabouts, are crucial. Hence the follower count of many back up dancers, tour bus drivers and venue workers creeping into the thousands. They also know the importance of sharing information. If one fan has discovered a piece of info about the group or someone they're close too, they will immediately share it across a vast array of online channels for other fans to appreciate and use.
As recruiters, we should be aware of the thought leaders within the industries we're looking to hire for and we should be paying attention to the conversations they're having and who they're having them with. That way, when a position arises, we will know exactly who to go to in order to fill the job quickly and effectively. Similarly, most Directioners aren't greedy with the information they unearth and will share it almost immediately with their peers. If recruiters did the same thing with their work colleagues we would all be a lot better off. Sharing Boolean search strings is a great example of how we can do this. If one person creates a string for accountants then ensure that person shares the string with the rest of the team to save time in the future when someone else needs to hire an accountant.
Social Media Masters
Tumblr, Facebook, Pinterest and LiveJournal are just a tiny portion of the social media sites that Directioners frequent to show and share their love of One Direction with other like-minded folk. But Twitter is their playground. Not a day goes by without at least one One Direction related topic trending worldwide. Such is the power of the tweeting Directioner. There are even comprehensive lists of most essential Twitter accounts to follow for the doting One Direction super fan and with the use of these accounts, they are able to find all manner of personal information related to the boys at the drop of hat. They know family home addresses, personal phones numbers, private email addresses and even in one quite scary case, penis sizes! That sort of attention to detail (however accurate) is impressive and its all done with the use of a laptop and some social media smarts.
In order to get their information, Directioners stay on top of the social conversation. As a recruiter you need to do the same. By listening to and contributing to thought leaders opinions and findings you will be well versed in your particular sector. Be aware of things like the trends in fashion buying, the most popular sites web developers are sharing content on and how physicists are communicating with each other online. Be part of the conversation.
Content and Job Ad Experts
Thanks to the phenomenon known as 'Larry Stylinson' (search that term at your own risk!), these girls are already honing their content writing skills by creating and publishing their own literary fan fiction masterpieces. They're then effectively marketing these stories to one another with the use of compelling content descriptions not dissimilar to our own job ads. They know how to get the attention of the audience they're targeting and how to stand out amongst the noise of all the other descriptions. They know what to say, how to say it and where to post it in order to get a many people as possible to read and comment on their stories. These girls are constantly improving their writing skills by creating numerous fanfics and listening to the feedback they gain from their readers (who are harsh critics when it comes to story lines, grammar and spelling).
It goes without saying, that if we recruiters devoted time to practising writing and re-writing (even personal) content and job ads as much as the Directioners do and seeking inspiration from other content and job ads, the standard of our work and therefore its effectiveness in alluring job seekers would be significantly improved.
So there you have it. The future of great recruitment would appear to be safe in the hands of several thousand teenage girls. But until they're old enough to take the reins we can learn from they're behaviour (well maybe not all of it!) and use it to our advantage when it comes to sourcing online. All together now "That's what makes you beautiful!"
Find out how the likes of IBM, IKEA and Siemens
drive hiring excellence with SocialTalent
---