Keep up with the latest hiring trends!
/
/

Why Recruiters are going to HATE LinkedIn's latest changes!
Why Recruiters are going to HATE LinkedIn's latest changes!
Did you know that when you currently search LinkedIn for any keywords, you always see the exact same number of results, regardless of whether you have a free, premium, Talent Finder or Recruiter account? Over half of the recruiters that we train don't seem to be aware of this. You always search all the available keywords on all 200m profiles (as of February 2013) even if you're using a free account. Up until now the main differences only became apparent once you started to view the results. On a free account you can see full profiles for your 1st & 2nd degree contacts but only the first name and first initial of the surname of 3rd degree contacts. To see their surname and view their full profile, you'll need a paid account. No big deal for many recruiters, as there are ways to bypass that. The most important thing was that we have all, always been able to search everyone. This is true no more!
The Revelation: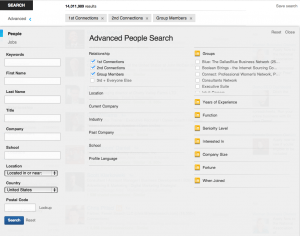 I spent last weekend at SXSWi in Austin, Texas where I spoke at the #TalentNet conference before hanging out with 20 or 30 of my closest US recruiting friends for the weekend (it was a blast!). On Friday I finally got to meet the most connected woman on LinkedIn, Stacy Zapar, who in addition to being a fellow sourcing geek, was able to show me her LinkedIn account… and it's different to any I have ever seen before! Her main gripe was the new search interface. What new search interface, I asked her?
So she showed me the Advanced Search options that she has had on her account (a free account, by the way) for the last number of months.  As you will see, it's quite different to the normal screen and is missing several search options. A quick look at the url of her search gave us a hint as to what is happening, it contains extra meta-data that suggests that it is an "alternative" search tool, one that I can only guess is being rolled out slowly or in beta to some users. I'll write again on what the new advanced search layout means to recruiters but the really interesting thing was that the results page was different and the number of results that the most connected woman on LinkedIn could see was less than mine! Upon closer inspection, by default it was only showing her first degree, second degree and group connections in the search results. We checked out the faceted search filters on the side and sure enough, we were able to add-back her 3rd degree connections and everyone else. A bit of a pain but not the end of the world I thought.
So, I got back to the office this week and we started to plan for the many changes we are going to have to make to our online learning platform to incorporate the new layouts within our LinkedIn modules. Our Holly started googling and found this excellent video from Viveka van Rosen on the new interface. She spends nearly 12 minutes going through the cosmetic changes (unfortunately leaving out the all-important search interface) but at 8 minutes 5 seconds she briefly jumps through some new, upgrade option pages that show the benefits of upgrading to different levels. Sure enough, it suggests that she will see 3x more search results if she upgrades to a Business account and up to 7x more results if she upgrades to Talent Finder. What the heck?
My Conclusion:

In Viveka's screen-shot it suggests that she can access 19m profiles on an upgraded account, which if you were paying attention earlier in her webinar, is the number of 1st, 2nd and 3rd degree contacts that she has. It would appear that when LinkedIn roll out this new interface they are going to restrict your search results to your 1st, 2nd & Group contacts on a free account and expand only to include 3rd degree on a paid account (excluding Recruiter Corporate, which allows you to see absolutely everyone). This is a massive shift in direction for a product that is used by almost every recruiter in the world yet only a fraction of them pay for it. Now you are absolutely going to have to pay for it if you want to ensure that you reach all the available candidates….or are you?
Alternatives:

Glen Cathey, one of my all-time recruiting heros, has written extensively on why he thinks that x-ray searches of LinkedIn via Google are unnecessary and inferior to just using the LinkedIn Advanced Search interfaces. In our Blue Belt training we point out 6 reasons where X-Ray can beat Internal search but in general, I have always agreed with Glen. However, if you only have a free account when LinkedIn roll out this change, it's likely that you will lose 90% of the available profiles that you can otherwise reach today. In Viveka's video we can see that she has nearly 3,000 connections. Not bad but it still only allows her to reach 19m people on anything but a Recruiter account. However, if you x-ray search LinkedIn via Google you can access 88% of all profiles, i.e. 176m of the 200m profiles available today. Sounds like a perfectly reasonable solution I hear you say? Maybe, maybe not. Don't forget that of the 88% of profiles that are indexed by Google, not all of them show all of the data on the profile. Users can restrict Google from indexing or seeing whole chunks of their profile which means that you wont be able to keyword search on all the fields that you would like to. Also, you would lose the filter search functionality of Advanced LinkedIn search such as "Current Title" etc as these cannot consistently be searched for via Google.
Recommendations: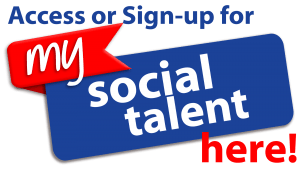 So what do we do? Well, until we have 100% confirmation from LinkedIn, let's assume that this roll-out is imminent. My advice, if you haven't already done this, is to make sure that you are building your relevant contact network to get connected within 2-3 degrees of the professionals you will most likely need to reach-out to or leverage. You need to learn how to x-ray search effectively and make sure that you are a  member of 50 groups that are most relevant to the sector and/ or location that you recruit for. It goes without saying that our online recruitment learning library, MySocialTalent, can teach you all this, as that's why we built it but even if you don't pay for our training, get it from somewhere! And when LinkedIn does roll this change out on your account you need to seriously consider upgrading to Talent Finder or perhaps even Recruiter Corporate. The business case for Recruiter Corporate is strengthening month by month with better ATS integration like the initiatives already announced with Taleo, Brassring and iCams and some of the recent upgrades that LinkedIn announced around InMail insights for Recruiter users, which are brilliant! I guess we now know why LinkedIn went ahead and announced a significant price hike that takes effect next month! From April onwards, everyone is going to want to upgrade!!!
UPDATE 21st March 2013:
LinkedIn responded to this article yesterday as follows:
"With old and new search page, users with basic account will get results from entire network. 3rd+Everyone else profiles aren't included in initial result, but this can be changed by selecting this option using appropriate filter."
When I was searching via Stacy's account at SXSW, this is what I saw, i.e. it only showed results from her 3rd degree network but it did allow her to manually add-back the out of network results to her search. The reason for this post was the advertising material in the new UI video suggested that the available search results would depend on your account type. This is still true, but LinkedIn are confirming that there is a way to add back everyone else.
Panic over in the short term but this is almost definitely a prelude to an outright block for basic/ free users of access to out of network profiles. In my opinion it suggests that LinkedIn will technically leave things the same but for the average user, it will appear as if your search results are restricted. Once people get used to this, I expect that the filter will magically disappear one day.
Is this a bad thing? Probably not, as long as LinkedIn continue to improve the offering of Recruiter and Talent Finder accounts (which they are at the moment). Bottom line, there is no such thing as a free lunch!
Find out how the likes of IBM, IKEA and Siemens
drive hiring excellence with SocialTalent
---