Yep - They're Back! Weekly Wednesday Webinars start again on July 18th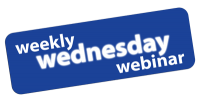 WARNING: BLATANT SELF PLUG BLOG: 
After a three month break (we swear we were busy and not just dossing at conferences, ahem), we're announcing our new season of Weekly Wednesday Webinars, which in 30 jam-packed minutes aim to bring you through all manner of things social recruiting. 
We'll kick off our first webinar on Wedneday July 18th with a detailed look at properly searching and sourcing from paid CV Databases, like Monster, CareerBuilder and Jobsite. Millions of active job-seekers register their CV's to these sites so that recruiters can find them, but very often recruiters don't know how to search the database to its best potential. To remedy this, we're going to show you what Boolean search language these databases use and how you can broaden your search to capture all the best candidates for your job vacancies. To register for this (completely free, as per usual) webinar, just click here. 
Our full list of webinars for the season is available here, as well as links to register for the webinars you most want to see, visit our Webinars page here. Over the next three months, we'll bring you through LinkedIn, Facebook, Twitter, Google Plus, search engine optimisation for your jobs, and loads more.
All of our webinars begin at 4pm London/Dublin time each Wednesday (11am Eastern US, 8am Pacific), but are limited in places so make sure that you register now!
And of course, if there's something you'd love to see brought up in a webinar that you think other recruiters would like to know how to do or use, then put it in the comments or email us at hello@socialtalent.co – see you all on the webinar on the 18th!
Want to keep up to date?
Join our 75,000+ subscribers who do!