You Won't Read Recruitment News this Good for Another 4 Years - 29 February 2016
In recruitment news this week:
LinkedIn Debut Their First-Ever TV Ad
LinkedIn has debuted its very
first TV ad
! But the ad, which aired on TV during yesterday's Academy Awards, has less to do with signing up for LinkedIn and more to do with the dream of many young people the world over: becoming an astronaut.
In a blog post, Vice President of Marketing, Nick Bartle, said LinkedIn is "working with NASA to find their next astronaut", and in the process, it discovered that 3 million of the site's US users are actually qualified. Hence the inspiration for the ad:
"Our data shows that many of your aspirations, even the ones that seem like unattainable dreams, are actually achievable. LinkedIn exists to help you pursue those careers that fill you with a sense of purpose. We're endeavoring to redefine what it means to be well connected, so that you can achieve your vision."
The ad comes after NASA announced that they have received a record number of astronaut applications. Over 18,300 people applied to join NASA's latest astronaut class, breaking the previous record of 8,000 submissions set in 1978. This year's turnout was also nearly 3 times higher than NASA's last call for applications in 2012.
Is LinkedIn Becoming Less and Less Useful for Recruiting?
Techcrunch.com writer Damien Kimmelman certainly thinks so! He's been doing some digging into the state of play on the site since their shares lost over half their value earlier this month. And he's found that LinkedIn's problems run deeper than valuation.
Kimmelman believes LinkedIn's problem stems from each of the company's revenue streams, which ultimately "diminish the business value of using the service". He said:
"Whether it's being paid to promote content, focusing on sales and recruitment over other professions, or interruptive advertising, these streams incentivise poor behaviour by individual users on the site. In other words, LinkedIn's business model inhibits the growth of the network; and the network growth is ultimately what its business model is reliant upon. The site's focus on one-directional promotion limits its effectiveness for recruitment, and its reliance on user-generated content prevents it from being a useful sales tool for businesses."
Kimmelman says that because LinkedIn's content is mostly user-generated, the incentive is for the users to produce material that ultimately promotes themselves. Something which creates a conflict on the site. Most people aren't looking to change jobs all the time. Instead, they want to communicate and build relationships. However, because LinkedIn's revenue streams and design restrict typical business forms of communication and facilitate paid ones, most interactions on the platform are low-frequency and one-directional in nature, such as "recruitment offers and sales pitches" (Ouch!).
Kimmelman cites this "low level engagement" as the primary reason for why only one-quarter of LinkedIn's members use the site every month, why top industry performers try to avoid LinkedIn as much as possible, and why, as a result, LinkedIn is becoming less and less useful for recruiting.
According to Kimmelman, spotting the best talent is actually "far easier" with tools like Talentbin, Stack Overflow, and Github, that aggregate or facilitate positive interactions between users and allow skilled individuals to actually display their work — showing why they're good at what they do. Therefore, he believes, in order to up its game and continue to be a premiere recruiting platform for recruiters and job seekers, LinkedIn need to start focusing on how to promote quality interaction on the site. This he feels will be best achieved by providing users with more control over blocking unwanted communications and integrating with workflows better; most specifically, with email, which is universally adopted.
What do you think? Do you agree with Kimmelman? Is LinkedIn becoming less and less effective as a recruitment tool in your experience? Have you started to go elsewhere? Tweet us @SocialTalent with your thoughts.
New App Highlights Gender Bias in Recruitment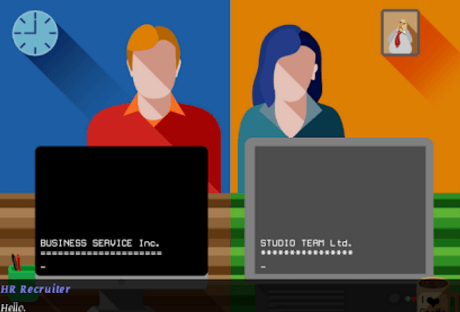 Gender bias within the hiring process is an issue which has received much publicity of late. But does this increased attention necessarily mean that the problem is improving?
Well, that's what Software Developer, Mauro Vanetti, decided to shed some light on by creating a video game app which highlights sexist hiring practices.
The game, entitled Two Interviewees, is a narrative video which aims to spread awareness about recruitment discrimination. As the player, you watch the interview from over the shoulder of the HR Recruiter, interviewing two candidates, one male (Martin) and one female (Irene). Both applicants have identical CVs, backgrounds and answers. However, the recruiter perceives each of them completely differently based purely on their gender.
For example, the recruiter asks the candidates how they see themselves, giving the player three responses to choose from: "As a competent, ambitious professional", "A discreet and diligent person", or "What do you mean, I don't get it?" If the player selects, "As a competent, ambitious professional", the note beneath the man will read "resolute", whereas the woman's read "arrogant".
Similarly, when asked where they saw themselves in the future, the candidates respond: "With an established career and a family." The male candidate is then describing as possessing a "strong work ethic", whilst the woman's character flashes "pregnancy alert".
The game also shows how differing sexualities and races are discriminated against during interviews, as well as salary expectations and personal style.
The game is free to download from Google Play and we suggest all of you reading this download it and give it a try. It will open your eyes big time!
(RELATED: How Badly is Your Unconscious Bias Affecting Your Recruiting Skills?)
Snapchat Now Lets Everyone Pay to Design Geofilters
Snapchat has introduced yet another revenue stream in the form of on-demand geo-filters. Geofilters are special overlays that communicate the "where and when" of a Snap, whether you're sending it to a friend or adding it to your Story:
As it stands now, Snapchat already has 2 types of geofilters:
Community Geofilters
These can not include logos or marketing and can be submitted for free. Residents of Brooklyn in the US can choose between 3 options under which to filter their Snaps: Williamsburg, Bushwick or Brooklyn.
Sponsored Geofilters
These are used by big brands to cover a large area with marketing-based filters.
With these new on-demand geofilters, anyone with a bit of design savvy can pay Snapchat to create and distribute their own CUSTOM geofilters in a specific area for an allotted time.
The minimum size for these geofilters is 5,000 square feet (enough to cover an office building) and the minimum amount of time the geofilter can exist is 30 minutes. On the other side of the spectrum, users can spread their on-demand geofilters as far as 5,000,000 square feet. It only takes SnapChat around 24 hours to approve your custom geo-filter, and pricing starts at $5.
I don't know about you, but we see huge recruiting potential with these new geofilters! Particularly, those looking to target candidates in a certain catchment area. But who will be brave enough to utilise them first?
Interested in how to make your own? Well, those amazing lads over at Techcrunch.com have a handy step by step guide on how to make your own geofilters and get the best out of the brand new functionality.
(RELATED: How to: Use SnapChat for Recruitment)
How to: Destroy Your Employer Brand in One Email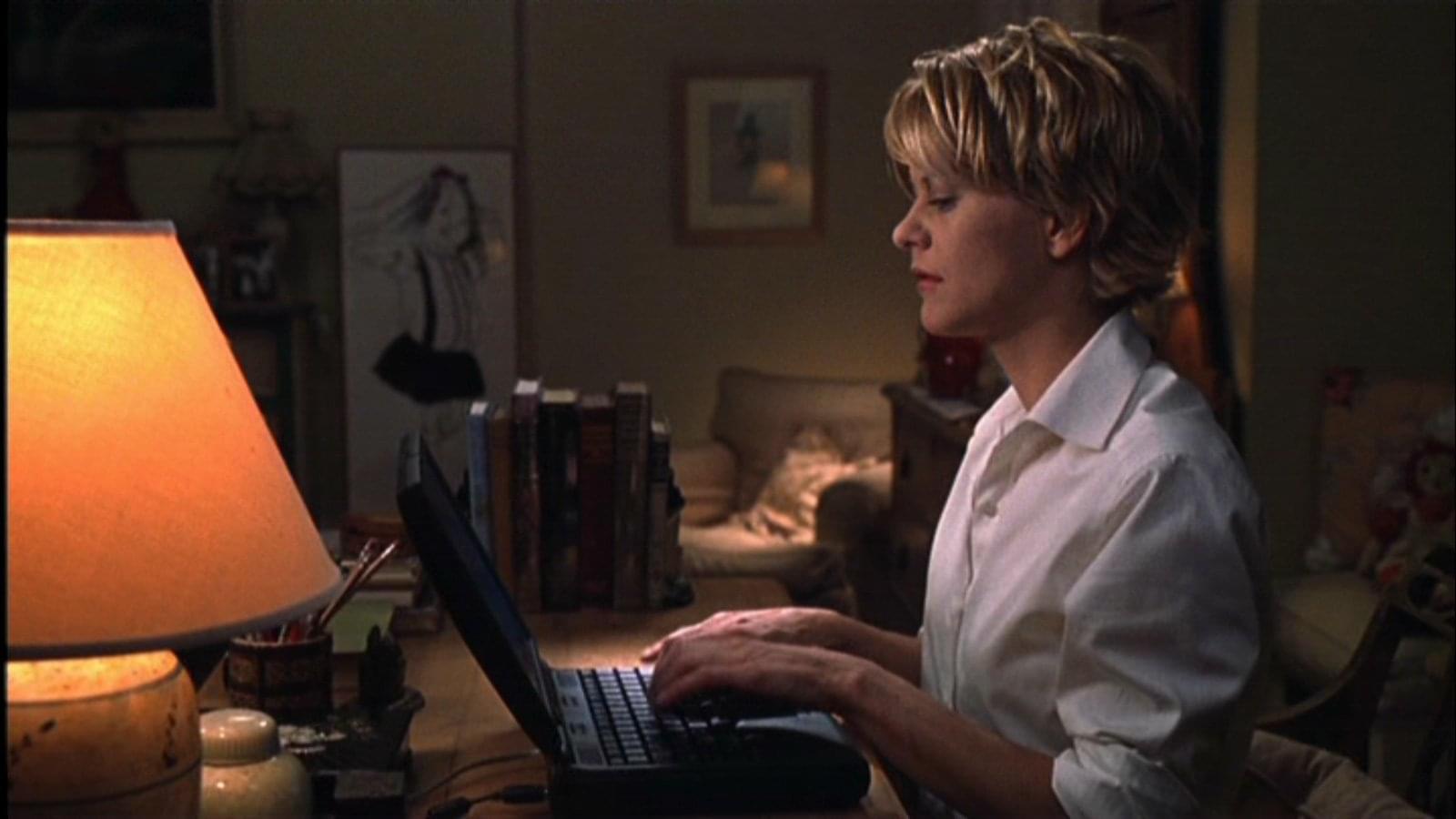 If you haven't seen this story (one which was brought to my attention by J.T. O'Donnell), it's well worth reading – and then swiftly passing it along to your colleagues.
Basically, a young woman who worked at a retail store began posting pictures of herself in outfits from the store on Instagram. How fantastic is that? An employee loves what she sells so much, she's willing to promote the company on her own social channels free of charge to all of her like-minded friends in the hope of inspiring them to come in and buy the clothes.
Well, that was until the store's CEO sent her the following email:
"Something I want to make sure you keep in mind. I want size small, the stereotypical 'model' to model our clothes. Please use our pictures of our models if Stillwater store can't find someone who would be considered 'model material.' This is not to put anyone down but to communicate expectations of presenting our brand. Don't take it personal, all I ask for is really good representation. In exchange for the freedom, I ask you to take down all pictures of anyone that doesn't fit the criteria."
Or as J.T. O'Donnell translated it: "you can work for me, but I don't think you are worthy of representing the company's consumer brand".
Besides losing a lot of customers, this company will likely lose a lot of talented candidates too. In a single email, they have told job seekers the world that their leadership style is discriminatory, the employee attributes they want are unrealistic, their value looks over substance, and they're not above body shaming.
The bottom line is: any and all emails you send from your company email account represent your employer brand. Think before you type! If you aren't investing in creating and promoting the right message, you're sending the wrong message. Moreover, as proven with this PR disaster, without a strong employer brand, you have nothing to back you up when someone in the company makes a mistake.
You have been warned!
(RELATED: How to: Successfully Promote Your Employer Brand on Pinterest)
Philadelphia Police Just Broke the Internet with Their Latest Job Ad
When you've got it, you've got it. And the person behind the Philadelphia Police social media accounts has definitely got it! In fact, they put so-called "social recruiters" the world over to shame!
When the Police Department decided they needed to hire some new patrolmen around the same time Kanye West announced he is $53 million in debt, they decided to seize the opportunity and get really creative with their job posting using a technique known as "trendjacking".
Here are two of their posts: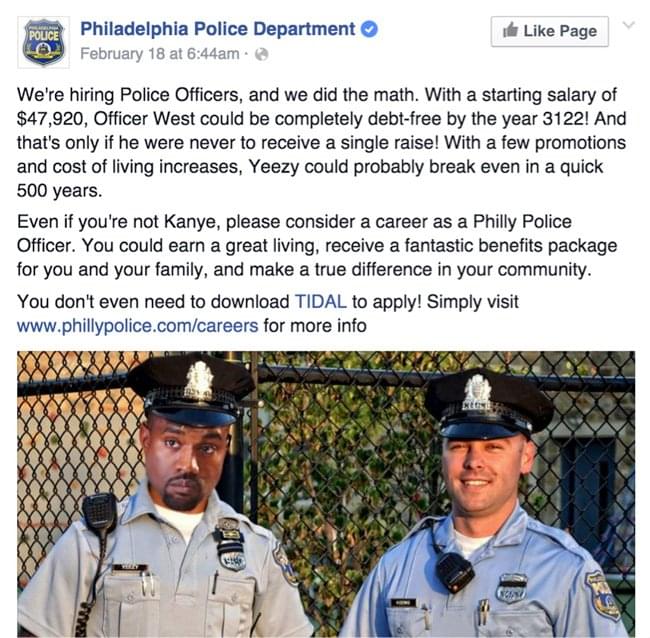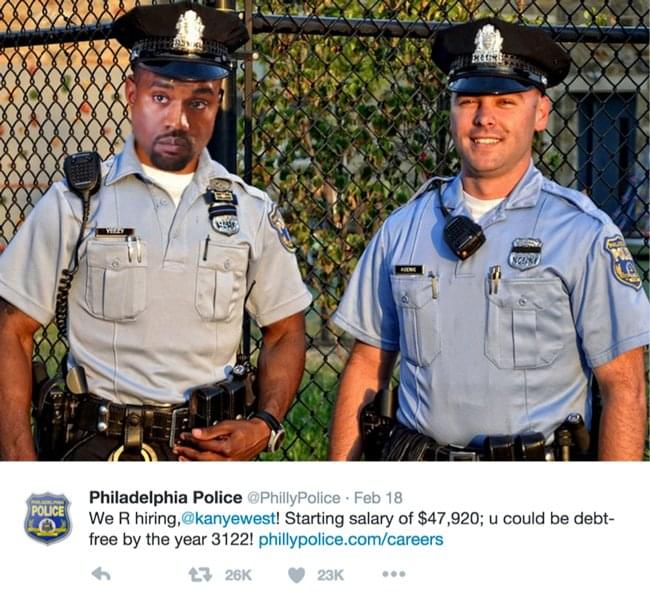 Naturally, the public loved it! While a normal Facebook post on the Department's page gets around 20 to 30 likes and a few shares. This one got more than 14,000 likes and more than 9,800 shares. A similarly themed Tweet was retweeted more than 26,000 times and liked more than 23,000 times. In fact, these social media posts probably drew more interest than any other job advertisement the Philadelphia Police Department have ever ran. And, more importantly, it has fortified its employer brand in the process.
The Job Titles Most Likely to Get You a Match on Tinder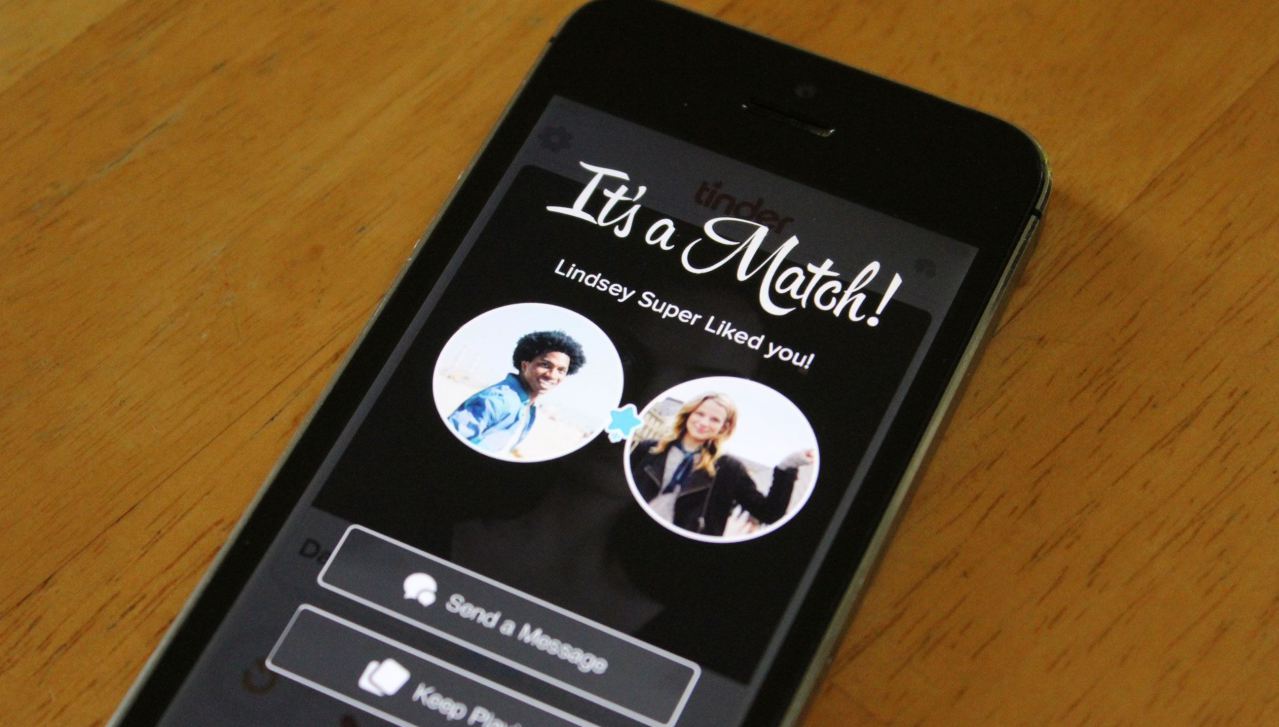 We all know that the infamous dating app is exceptionally shallow in nature, but the app's new feature might have just made it even more superficial!
Since adding the jobs/education tab in November, the brains behind Tinder have collected the data and compiled a list of the most attractive professions according to match success. So, without further ado, here's the Top 15 jobs Tinder users are most thirsty for:
Most swiped right jobs for Men:
Pilot
Founder/Entrepreneur
Firefighter
Doctor
TV/Radio Personality
Teacher
Engineer
Model
Paramedic
College Student
Lawyer
Personal Trainer
Financial Advisor
Police Officer
Military
Most swiped right jobs for Women:
Physical Therapist
Interior Designer
Founder/Entrepreneur
PR/Communications
Teacher
College Student
Speech Language Pathologist
Pharmacist
Social Media Manager
Model
Dental Hygienist
Nurse
Flight Attendant
Personal Trainer
Real Estate Agent
On the surface, this data can be seen to show only which professions are deemed as the most attractive, but with companies turning to the program to hire and the framework being used for a recruiting tool itself, Recruitment Grapevine believe this information could be key in the future. They think that if such frameworks are adopted, this data could show what jobs would work for it, and also the ones that don't.
The most right-wiped jobs for women were; Physical Therapist, Interior Designer and Founder/Entrepreneur, while the most right-swiped jobs for men were; Pilot, Founder/Entrepreneur and Firefighter. The majority of occupations here are specialist which could indicate that Tinder-style job apps should go down this route.
As Geoffroy De Lestrange, Product Marketing Manager EMEA at Cornerstone OnDemand, argued in an interview with Recruitment Grapevine: "With the development of tablets and phablets it will be even easier to target potential candidates on social networks. The idea with recruitment apps is to make the recruiter's life easier. With a smartphone app, recruiters should be able to perform some simple tasks remotely".
"According to an IBM survey, almost 6 out of 10 candidates found companies with mobile recruiting sites more attractive, and already a quarter use mobile for the entire application process. We spend most of our time with a smartphone in our hands, looking for job ads on LinkedIn or Facebook apps and applying directly. It only makes sense for companies to enable further mobile features".
Want to keep up to date?
Join our 75,000+ subscribers who do!