How To Create A Funny Sales Email That Actually Works!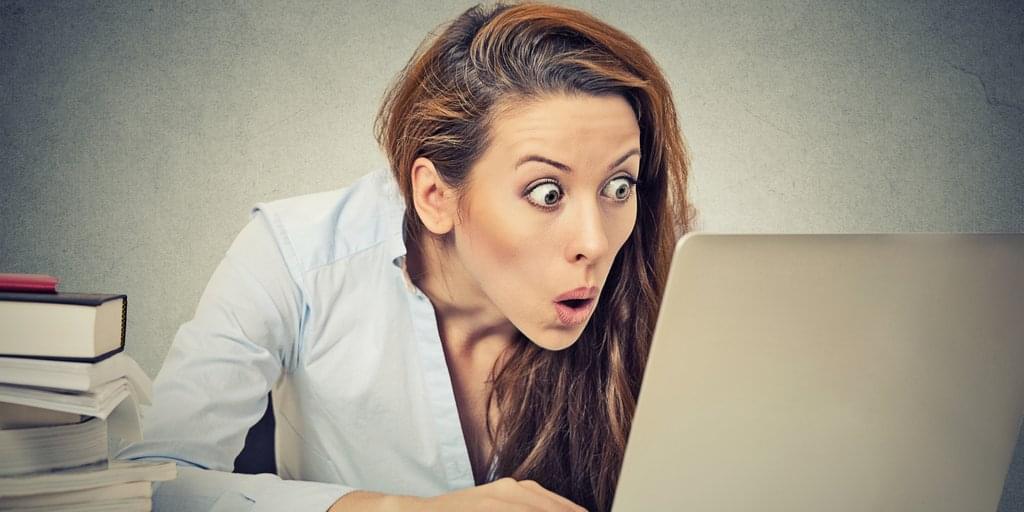 As we've mentioned before in our blog posts, using humour to sell can often work to your advantage. People love a bit of tongue and cheek during the sales process. Not only will it bring a smile to their face, but it will also show your prospect that you're brimming with confidence – an important trait for any sales professional to have.
Sending email after email is one of the most popular methods sales professionals use to reach out to their prospects. However, many of these emails go unnoticed. Think about it, people get bombarded with emails every day and they simply don't have time to read through them all. That's where the use of humour comes in to play! Here are a few examples of how how to write a funny sales email that will make your prospect look twice.
Don't be crude or absurd
Remember to keep your wits about you and be professional when using humour in your email pitch. There are barriers that one can cross, so best off keeping on the safe side of things. Keep in mind that humour is subjective and that their humour may not necessarily be theirs. To put it simply, keep it light hearted and this next example does just that.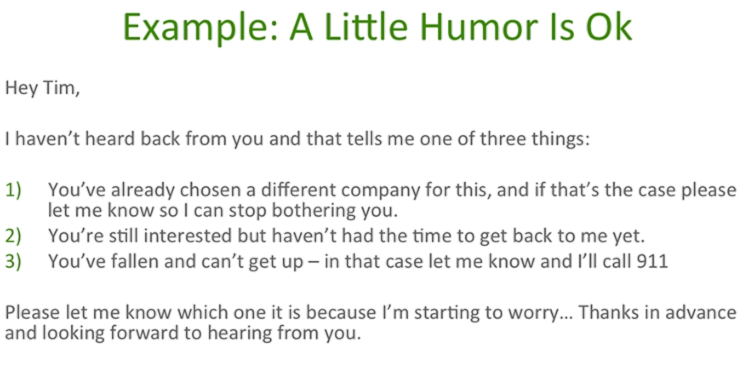 Be creative with video
The use of video is becoming more popular by the day. The great thing about using video in your sales approach is not only is there a possibility that what you're sending may go viral, but it's also engaging. Simply embed share a link with your prospect in your email. The chances of getting a response are significantly increased. Here's an excellent example of using humour in your pitch from the guys over at close.ie
Use famous TV characters in your emails
What better way to bring a smile to your prospects face than using memes or giphs of well known TV characters. Hubspot gave two hilarious examples of this. If your prospect gives you a big fat NO and you know for certain that they're not going to buy from you on this occasion, then why not throw in a bit of Mr. Bean! Of course, it doesn't have to be Mr. Bean, but they are more likely going to remember you next time you decide to reach out to them with humour like this.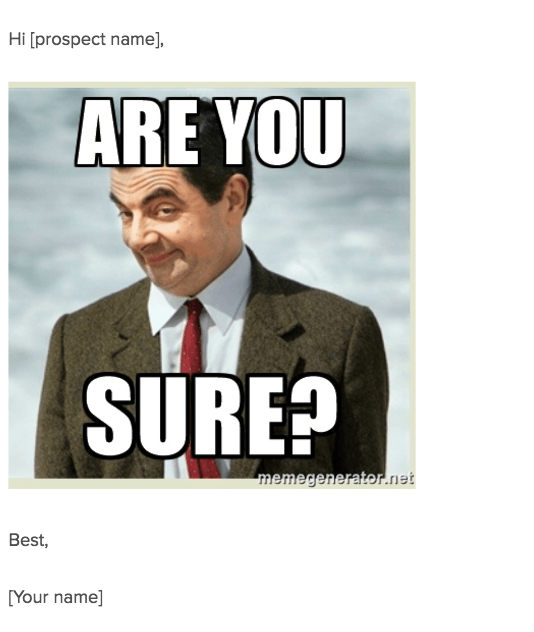 Another funny example from Hubspot…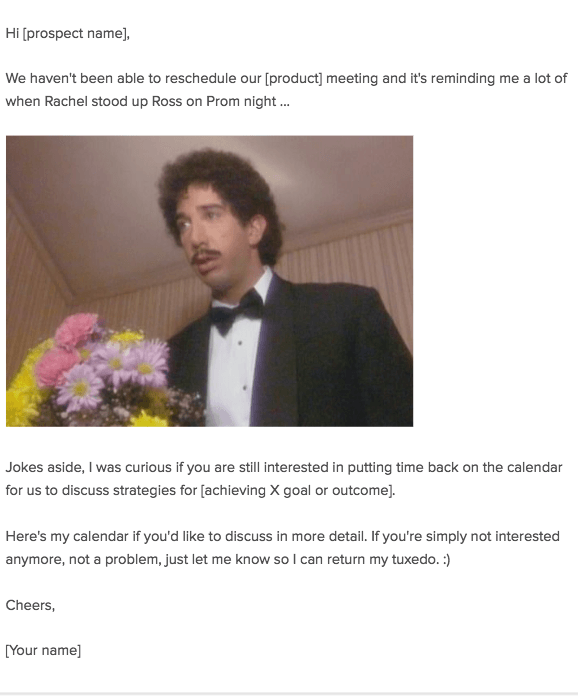 Make 'em laugh with hilarious cartoons
We recently gathered our favourite sales cartoons – which you can find here, and who's to say that you can't use them in your email approach? Use them any way you like, but they can be useful for follow up emails. Using humour for follow up emails can make you seem a little less needy and it may just get you the response you were looking for!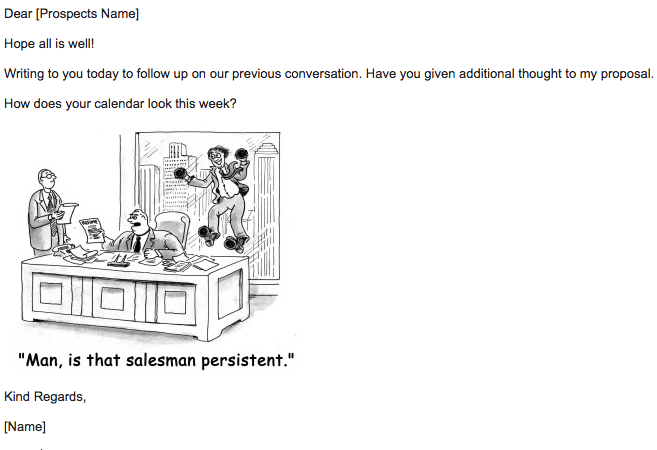 So next time you're reaching out to a prospect, why not engage with them by adding a little bit of humour into your sales email. You never know, it might just get you the answer you were looking for!
Want to keep up to date?
Join our 75,000+ subscribers who do!