Keep up with the latest hiring trends!
10 Years and the Top 10 Things LinkedIn has Done for Us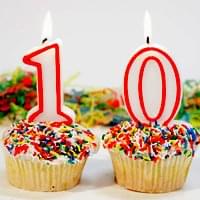 Back in 2003, when 50 Cent was up In Da Club and Beyoncé was telling us she was Crazy In Love, a new little business-related social network by the name of LinkedIn was taking its first steps onto the world stage as an exciting new tool for making business connections. The ten-year milestone of the professional network makes LinkedIn about a year older than Facebook, three years older than Twitter and grand total of eight years older than Google+. Check out how the homepage has evolved over that space of time here:
Evolution of the LinkedIn Homepage
from
LinkedIn
It's not what you know, it's who you know
Or so the old saying goes, and that's exactly the principle by which LinkedIn runs its now highly valued service. Reid Hoffman, LinkedIn's founder, said that back in those early days he set up the website with the mission of connecting the world's professionals to make them more productive and successful after being inspired by the invaluable role relationships played in our own careers. Hence the tagline Relationships matter was born.
Today, 225 million users connect with each other, network with fellow industry members, share great industry insights, manage their own personal brand, find themselves their dream job and ultimately recruit new employees on the site on a daily basis. And we here at Social Talent have always been huge advocates for the platform as the ideal tool for recruiters worldwide.
But how has LinkedIn really benefitted us during its decade long stint on our glorious world wide web so far?
To celebrate their ten years, here's our list of the top ten things LinkedIn has done for the world:
10. Let's Get Connected 
LinkedIn enables us to connect and be introduced with professionals in our business circles, and provide us with one space were we can meet and greet online.
9. Networking, networking, networking!
After it got us all introduced and connected to one another, LinkedIn encouraged us to take that bold step we were possibly too shy to make in person and network with the influential people within our industry online.
8. Helps Us Find Our Dream Jobs
At it's very core, LinkedIn is about using the connections you've made and the networking you've done, along with your professional profile of record, to find that dream job or indeed make yourself available to those who may be looking for someone just like you.
7. There is such a thing as a free lunch!
Companies can use free tools like their official Company Page, including the Products and Services section, as a fantastic way to advertise and market their products and services – free, gratis and for nothing.
6. Pursue New Business
As individuals can search for jobs, companies can search for new business. LinkedIn acts as a business development tool, helping companies find the right people to talk to when nurturing new business ventures and strike up relevant conversations.
5. A Social Network 
At it's very heart, LinkedIn is ultimately a social network and thus provides us with all the wonderful things that that banner incorporates. Social media platforms are something the worldwide population is now comfortable and at ease using. By providing it's service under this banner, it encourages interaction and information sharing. Nowadays, it also lets us use other platforms like Twitter to link with it, making it a thoroughly effective way of getting our message across.
4. Industry Insights
LinkedIn has become a hub of thought and opinion. By connecting us all, it got us talking and invariably conversation leads to opinions and ideas being formed. What better place to share these than with your peers on a global scale. As a forum for such opinion, LinkedIn allows us to equally discover and share the very latest news, thoughts, opinions and stats on what's happening in our industry right now.
3. Keeping You in the Loop
All this sharing, allows every business to have their voice heard within their industry and is a great way to get the name of any business out there for the world to see. The introduction and continual improvement of LinkedIn Today has boosted many professional bloggers onto the world stage.
2. Groups and Announcements 
Sharing within these forums that are unique to LinkedIn can be an effective way to reach out to potential recruits and are far superior to unsolicited personal emails. Make the right announcement in the right group and you have reached your target audience.
1. THE Search Tool for Recruiters

With the continuing growth of LinkedIn's population, it's fast becoming the largest database of professional profiles in the world. Its search tool, when used properly, is one of the most effective ways of finding the right talent for the right roles by every recruiter.
What has LinkedIn done for you or your business? Let us know in the comments.
Find out how the likes of IBM, IKEA and Siemens
drive hiring excellence with SocialTalent
---